How To Find Reliable Information About Homeschooling
For many parents, withdrawing their children from school and starting homeschool is an exhausting but rewarding journey. Not only do you have to be a teacher or coordinator to your child, but you also have to oversee every aspect of their education. This would be impossible without various valuable resources that have helped millions of homeschoolers achieve their educational goals.
Are you wondering how to find accurate information about homeschooling? Look no further—check out our guide and learn from the best! With our tips, you can discover all there is to know about home-based education.
What Homeschool Information Do You Need?
Being a committed parent willing to educate their children isn't enough to be successful in homeschooling. To get familiar with this method, you should gather all the necessary information about:
Basic Homeschool Requirements
The first step should be checking out local homeschool laws. Each state has its rules and sets specific criteria you and your child must meet, such as:
Teaching qualifications—Whether you or someone else should teach your child and if you have to have a high school diploma to do it
Specific homeschool curriculum contents
Mandatory subjects
Knowledge assessment requirements
Possibility of starting homeschool in the middle of the year
The number of hours of instruction the homeschooled student must complete per year
The minimum and maximum homeschool age
Notice requirements—whether you should let the public school know that you intent to homeschool your child
Homeschool Materials
It's usually up to you whether to purchase a homeschool curriculum or design one yourself. If you choose the second option, you should provide the best possible learning assets for the chosen subjects, so accurate information is essential.
Homeschool Associations and Other Ways To Find Support
Being a new homeschooler isn't easy, especially if local legislation imposes strict rules. Parents and children who have already transitioned from a regular school to homeschooling can answer important questions and support newbies. That's why you should find out more about homeschool-related organizations in your district and consider becoming a member.
How Can You Find Additional Homeschool Info?
Once you know what information you need, the question is—where to find it.
Besides local statutes with homeschool laws, you can use various other sources. Some of them are shown in the table below:
Resource
Explanation
State and local support groups
Check out the list of all homeschool support groups in the USA and choose your state. Find the contact details of local organizations and get in touch with them. Not only can you get valuable information, but you can also become a member and enjoy other benefits
Books
It's recommended to choose the books written by experts and people who have demonstrated success in homeschooling. Here are some great suggestions:

"Home Learning Year by Year"—Rebecca Rupp
"Don't Waste Your Time Homeschooling"—Traci Matt
"Teaching From Rest"—Sarah Mackenzie
"Top Picks for Homeschool Curriculum"—Cathy Duffy
"The Homeschool Highway"—Amy Dingmann
"Minimalist Homeschooling"—Zara Fagen
"The Unhurried Homeschooler"—Durenda Wilson

Magazines
Subscribe to multiple homeschooling magazines and keep getting updates each month—not only at the beginning of your homeschool journey. Try with:

Homeschool Life
Practical Homeschooling
Growing Without Schooling
Homeschool Enrichment Magazine
Home Educators Family Times
The Homeschooler
Homeschooling Today

Facebook groups and forums
Online groups attract hundreds or even thousands of homeschooling parents across the USA. Don't be afraid to reach out to them and ask anything you want. People on forums and social networks are usually willing to answer all your questions to help you cope with the new situation and introduce you to homeschooling
Other Preparatory Steps Before Starting Homeschool
Here are a few more factors to consider before you start homeschooling your child:
Possible benefits and drawbacks of home-based education—While for some children this method may do wonders, others may not respond well. Go through the pros and cons to determine whether your child may thrive in such an environment
Expenses—Giving up free public schooling may bring you unexpected costs for the materials and curriculums
Letter of intent to homeschool—If you decide to teach your child at home, you should know that it is not a paperwork-free process. The first document to submit is a notice of intent to the public school superintendent. Besides composing and submitting it yourself, you can sign up for DoNotPay and let the world's first robot lawyer do all the work for you
Get Familiar With DoNotPay's Tool and Create a Letter of Intent in a Snap!
Does drafting a letter of intent seem like a hassle? Instead of wasting precious time piling up unsuccessful drafts, turn to DoNotPay and get this document in an instant!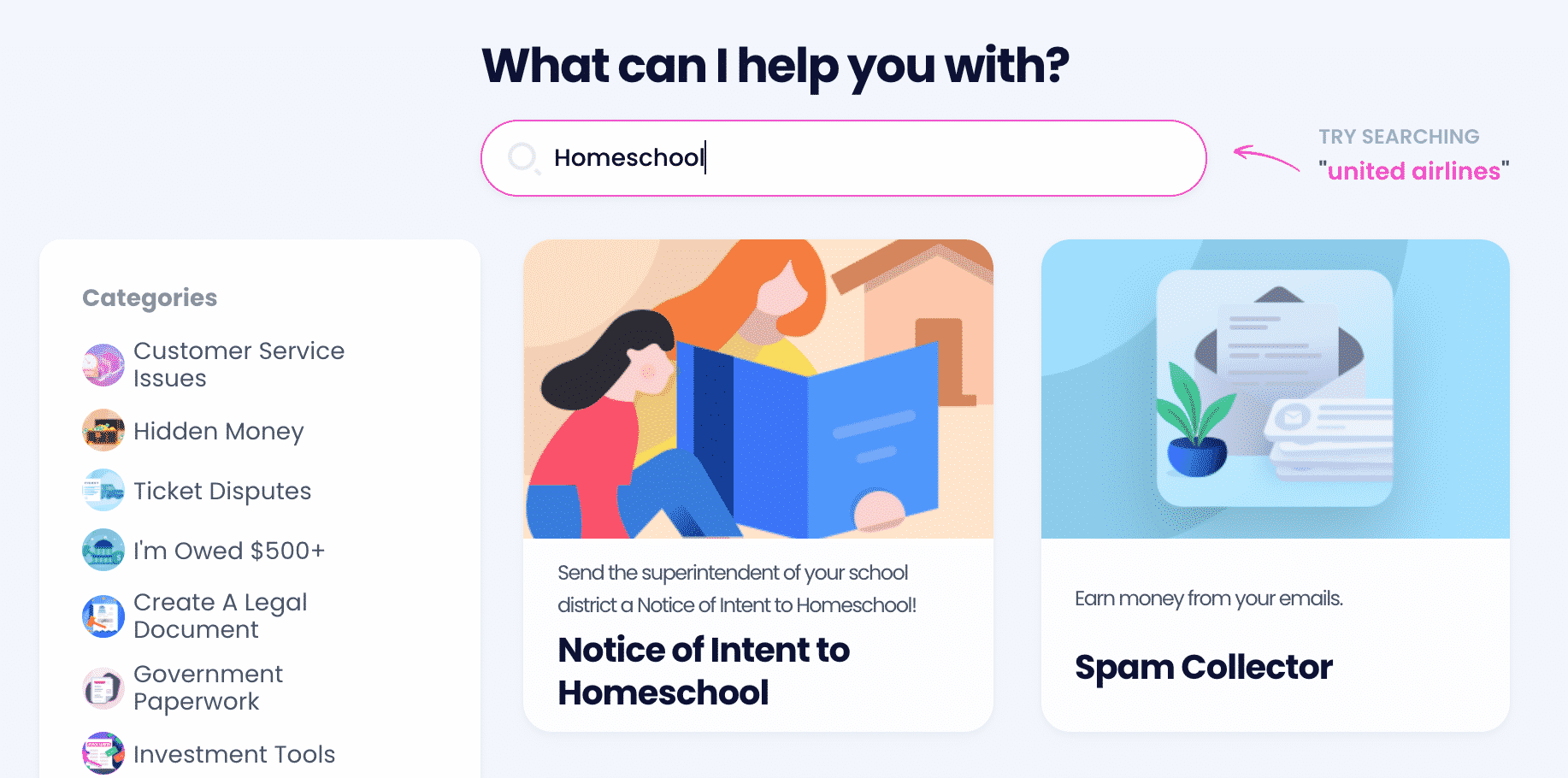 Here's what to do:
Choose the Notice of Intent to Homeschool product
Answer a few brief questions our chatbot asks
The entire process takes less than five minutes! We will:
Generate a notice of intent based on the info you provided
Deliver a digital version of the letter ready for printing
Offer to send the notice on your behalf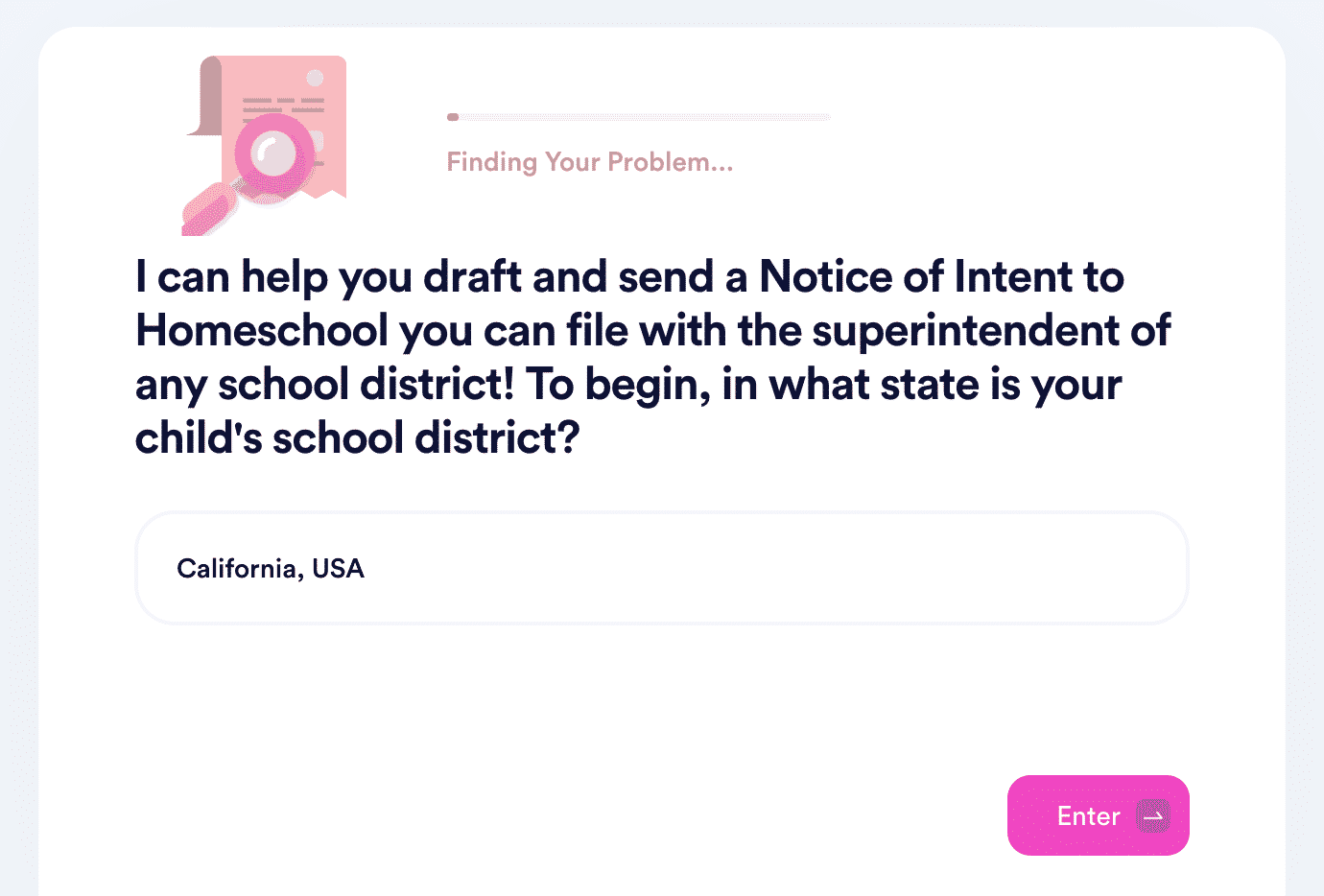 Don't Let Admin or Legal Issues Wear You Down—Hand Them Over to DoNotPay
Do you believe you may have some missing assets? Use DoNotPay's nifty product before the government claims them! Have you ever wanted to enter sweepstakes without purchasing anything? Our app will sign you up for them instantly! Trying to figure out how to reduce your property taxes or utility bills? DoNotPay can show you the way. Want to avoid getting charged for free trials that never fail to auto-renew into paid subscriptions? We'll help you cancel them before they expire.
Anything else you may need? Check out how our app can:
Check Out Our Other Robust Products
It doesn't stop there—DoNotPay can help you send a defamation demand letter, create passport photos, get gift card cash back, get any document notarized, request access to public records, claim insurance and warranty, request a college application fee waiver, appeal parking tickets, and much more.
Sign up now to get access to any of our products for one low monthly fee!