Which Elements Need To Be Included in an Influencer Contract Template?
Influencers are becoming increasingly popular, and brands are investing more in this type of marketing. As online marketing jobs are becoming more popular, so is the demand for an airtight influencer contract template.
DoNotPay can help you with advice for any type of legal document, including contracts for influencers. Even if you are not a legal documents expert, we can teach you how to write contracts and how to choose the best influencer contract template available online by breaking down the key elements it should contain.
What Is an Influencer Contract?
Influencer contracts are pretty new and exciting. They specify the work of an influencer (a person with a sizable following on social media platforms) promoting a brand, goods, or services of a company. In turn, a company has obligations to pay influencers on time and fulfill other legal obligations defined in the contract.
Influencer contracts are also called influencer agreements, social media contracts, or influencer marketing contracts, and they are written agreements. These agreements have to be very specific and thorough so that all parties are on the same page and everyone's interests are protected.
The Most Important Aspects of an Influencer Contract Template
An influencer contract template should include certain elements so that the document is transparent and fair to both sides. The core of an influencer contract should contain the following information:
The work expected from the influencer—What the influencer needs to achieve in a set time, if there is a target goal for the number of followers, traffic, products sold, etc.
Compensation details for providing the described services—How the influencer will be paid, e.g., they can get money, free products, bonuses, etc.
The duration of the contract—How long the influencer will be promoting the brand
Exclusivity—If there is any confidential info or the influencer is limited to promoting only one brand at a time
These are some of the focal points of a simple social media contract template. Consulting a licensed attorney before signing a document like this one is always recommended.
Influencers can't skyrocket a brand's popularity overnight, but some social media metrics can be observed, and the promotion campaign efficiency can be monitored—all of which should be set out clearly in the said contract.
How To Make a Solid Influencer Contract Template
We've divulged the key details of the influencer contract above, but now it's time to get to the specifics. Here are the crucial legal elements an influencer contract template should contain:
Influencer Contract Element
Description
Terms of the agreement
Regular terms included in every contract, like names of the parties, their addresses, and the effective date
Timeline of the campaign
The duration of the influencer promotion campaign, specifically defining the relation of the parties, i.e., whether the influencer will become a long-term brand ambassador
Content creation specifics
The obligations of the influencer:

Requested hashtags
Deadlines
Edits and changes to the content
Brand follower growth and the number of likes
Status and post format
Cross-sharing on multiple social platforms
The requested amount of blogs, posts, videos

Payment
Compensation details including bonuses, free merchandise, and other benefits
Advertiser policies
Every company has specific policies that influencers must follow (e.g., no cussing, mentioning the competition, or avoiding some phrases)
Confidentiality
The influencer must only share information their employer is willing to share, as they will obtain certain sensitive information during their employment
Exclusivity
A non-compete clause prohibiting the influencer from promoting competitor companies for a specified period
Damages clause
A clause specifying the repercussions and damages in case of breach of contract
Signatures
Signatures from both parties to make the contract legally binding and enforceable
DoNotPay Is the Best Tool for Creating Contracts Hassle-Free
Do you want to create contracts in three easy steps without hiring lawyers and paying their expensive retainers? Sign up for DoNotPay and let us help you with your paperwork. Here are the three steps to any contract:
Open our website and log in
Use our Standardized Legal Documents feature and type in the name of the doc you need
Provide the answers to our bot that will help personalize your contract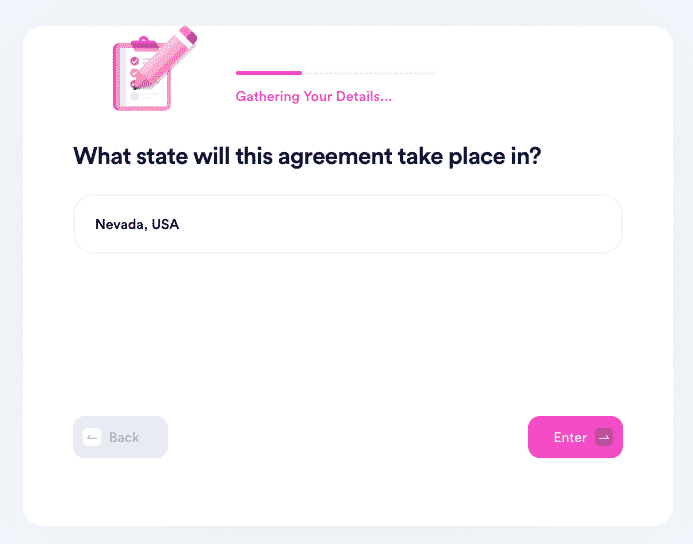 After that, you can download, print, and sign the document for it to be legally binding. Do you need a notary signature on it? We got you covered with our Notarize Any Document feature that finds you a remote notary instantly!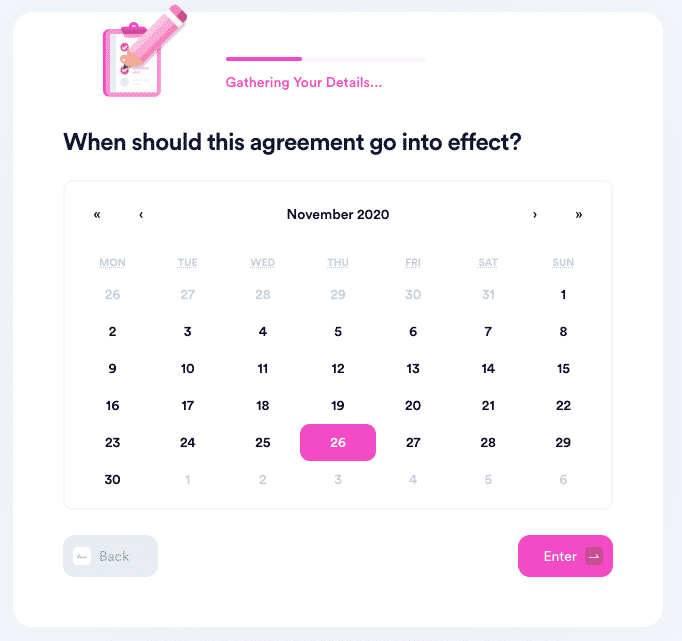 What Are DoNotPay's Most Requested Legal Documents?
We helped many people draft legal documents in the past, and we can certainly help you. We offer aid with various document types, such as business, marital, child care, and real estate documents. Here's a list of the documents DoNotPay can help you create within five minutes:
Quitclaim deed
Child care authorization form
Intent to purchase real estate
General business contract
General affidavit
Promissory note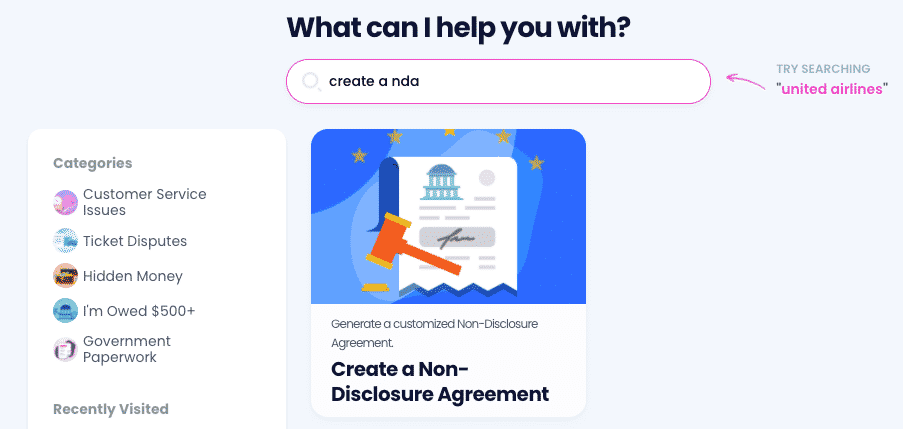 DoNotPay Can Help You Solve Pesky Issues Stress-Free
Dealing with everyday issues can become overwhelming, especially if they include bureaucracy. DoNotPay can help you handle numerous problems in a few minutes. With us, you can schedule your DMV appointments, get documents notarized remotely, and create various legal documents—including child travel consent statements and demand letters for neighbor complaints—in a snap.
Do you need help paying your bills, disputing parking tickets, or getting cash back for your gift cards? Once you register for DoNotPay, you'll be able to manage all of these and many more issues in no time.
What Else Can You Use Our App For?
Besides helping you handle tedious administrative hurdles, DoNotPay can do much more for you! You can use DoNotPay to:
With us, you can send online faxes or mail letters from the comfort of your home. Do you have friends or family members who are serving time? We can help you connect with inmates in a flash by enabling you to locate them and send them letters.