Is the Indiana Sex Offender Registry Too Erratic To Deal With? Turn To DoNotPay
The thought of menacing sex offenders living in your Indiana neighborhood is enough to give you sleepless nights. The trouble with the Indiana Sex Offender Registry is that it fails to provide you with a good insight into a complete list of registered sex offenders.
Indiana has over 12,000 registered sex offenders as per a study from March 2021, but the registry doesn't let you view this list in a consolidated manner straightaway.
While Megan's Law mandates the need for states to maintain individual sex offender registries that are open to the public, many states fail to deliver a convenient mechanism to access their registries. DoNotPay understands these flaws and strives to protect you and your family with our consistent sex offender search and alert feature.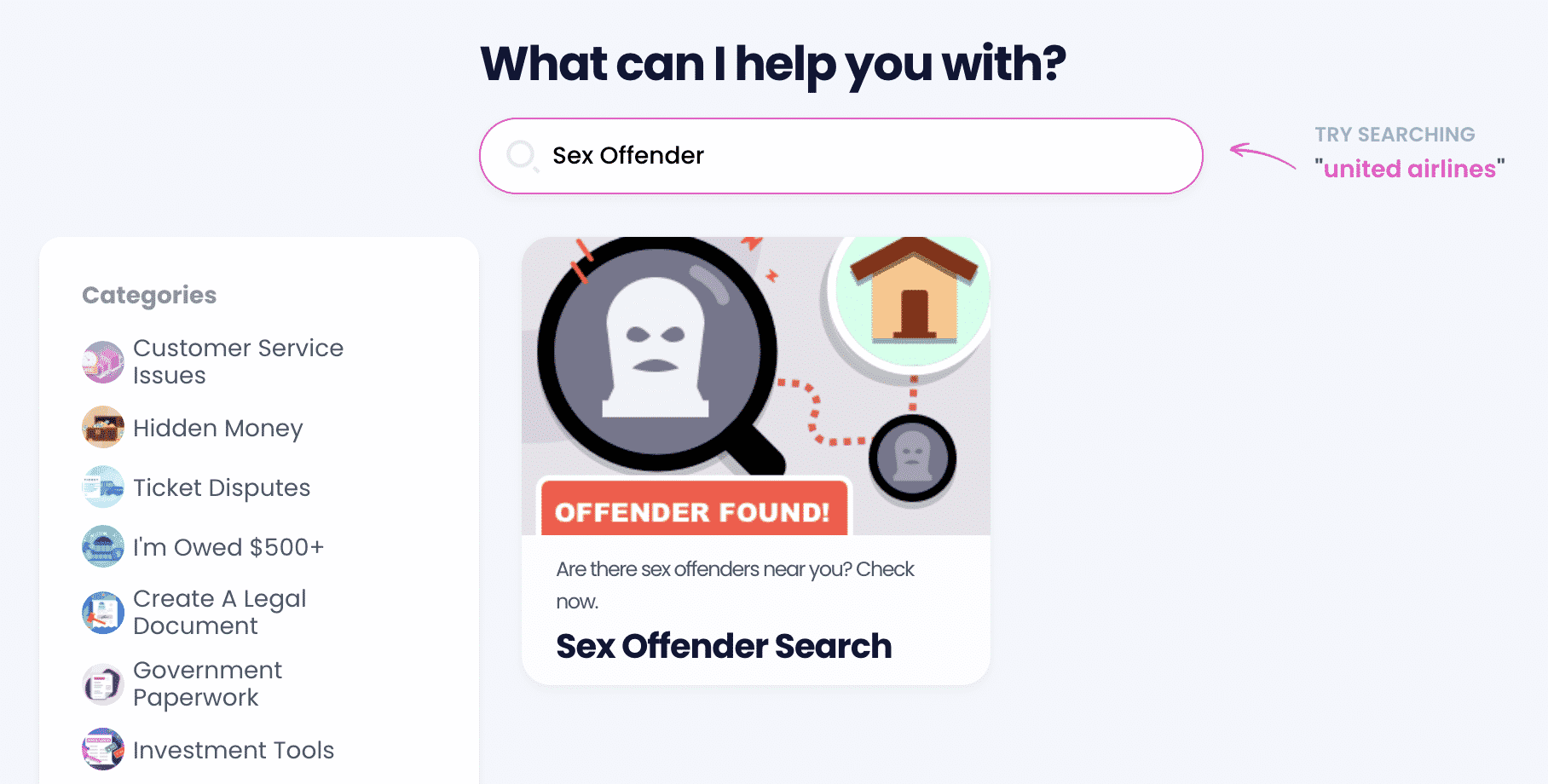 Indiana Sex Offender Registry Search Can Exhaust You
Indiana Sex Offender Registry is maintained by individual county sheriff departments who map the offenders in their jurisdictions. The registry website serves as a common place to access this data, but you can only view it on a county-to-county basis. This can be both annoying and time-sapping.
Here's a summary of what you need to do to access the registry database:
Visit the website and select the county from their visual map to continue your search
Accept the usage terms and conditions specific to that county
Conduct the search based on your required parameters
Search Parameters for Indiana Sex Offender List
Once you arrive at the registry's search window, you can initiate a search based on various parameters.
This table will help you decide upon the kind of search that would fit your purpose.
Search Parameter
When To Use
In your area

Use this when you want to search offenders by a specific address or ZIP code
You will get a report based on the home, work, school, or secondary address of the offender

Name
This option helps you when you need a list of offenders by a first name or last name
City
This will give you the list of all the offenders in a particular city in Indiana
Non-compliant
Use this to get a list of all the registered offenders who are currently non-mappable
Internet names or email

This lets you look for offenders by their internet names or email addresses
You will only get a list of the exact matches for your query

Phone number

Use this when you need to locate an offender by their phone number
Only exact matches will be considered
Indiana Sex and Violent Offender Registry—Disclaimer
While the registry terms and conditions may vary for each county, the Indiana Sheriff's Association makes some common disclaimers for acceptable use of the registry database:
The data on the website may not always be accurate—loopholes in the database may exist because of non-compliant or unregistered sex offenders
The entries on this registry are only the people who have committed a sex offense or a violent offense
Being on the registry does not imply the likelihood of re-offending by committing the same or another crime
Registry Laws for Registered Sex Offenders in Indiana
Indiana dictates the basic rules for their registered sex offenders, including level 3 offenders.
We have addressed some commonly asked questions on Indiana registration laws in the table below:
Question
Registry Rule
How long will an offender appear on the registry?
Depending on the severity of the crime—ten years or for life
Are juvenile offenders included in the registry?
Yes
What is the registration deadline?

Offenders have to register within three days for initial registration
Offenders visiting from another state should also register within three days if they plan to stay for seven consecutive days
Homeless offenders must update their registration info every seven days

Are there any residency restrictions?

Sex offenders of minors cannot live within 1,000 feet of a school property, public park, and certain program centers
Offenders with non-minor victims cannot live within a one-mile radius of their victim—unless they receive a waiver

Can sex offenders use social media platforms like Facebook?

Yes, but they must disclose their online identifiers to the authorities
They must allow search and monitoring of their personal computer and internet history

What else is a sex offender not allowed to do?

No sex offender in Indiana can contact the victim or victim's family
Individual counties may impose other restrictions around movement, employment, and alcohol consumption
Lost in the Indiana Sex Offender Database? DoNotPay Can Run a Quick Search
The Indiana Sex Offender Registry can get too complicated when all you want is a quick search. We understand if you find it impractical to spend oodles of time checking the ever-expanding database every other day.
DoNotPay's sex offender search and alert features are designed to give you superfast access to the database without having to get lost in the registry's procedural maze!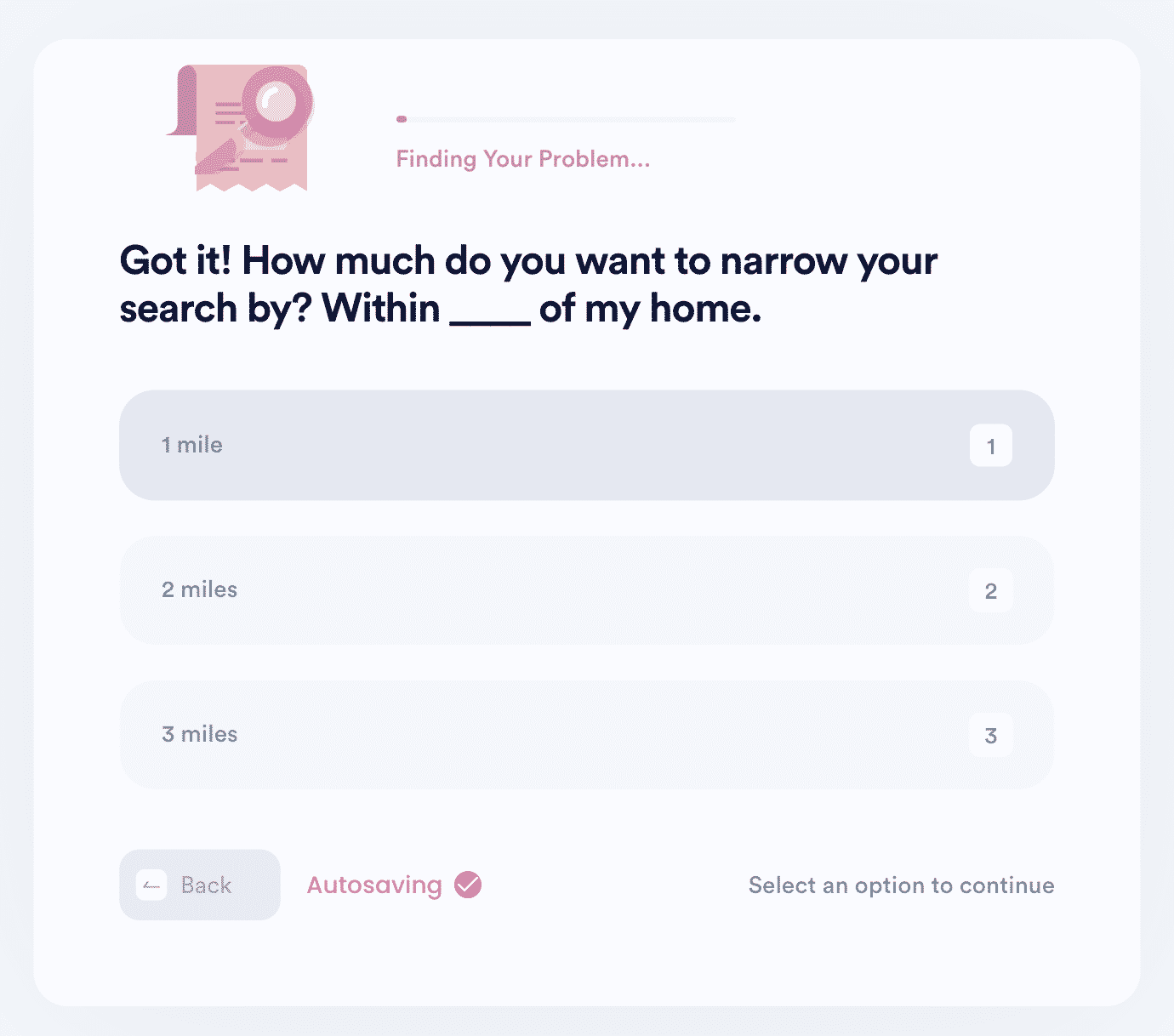 All you need to do is this:
Sign in to DoNotPay and go to Sex Offender Search
Tell us what you're looking for—a specific offender or a comprehensive list
Modify the proximity radius as per your preference
Choose a weekly check option, if desired
DoNotPay will immediately generate a full report for you to view. The report will include the latest details from the database—including the file pictures of the offenders—so you don't have to worry about crucial information lapses. The weekly alert feature will perform a thorough check for your provided address every week and update you through automated alerts.
With DoNotPay looking out for your safety 24/7, you can finally rest easy and have that good night's sleep!
Use DoNotPay To Resolve Administrative Tasks in Minutes!
Tired of brainstorming the easiest way to deal with administrative issues? We know how you feel, and we're here to take the burden off your back!
Once you subscribe to our app, you'll be able to resolve an abundance of bureaucratic issues with ease.
Taking a valid passport photo, reporting workplace discrimination, reducing property taxes, preparing for a government test, applying for a college fee waiver, and appealing a parking ticket are some of the many tasks we assist you with.
In case you need a quick way to draft a legal document, such as a power of attorney, divorce settlement agreement, or a child travel consent form, DoNotPay will do it for you!
Learn How To File Claims the Easy Way
Are you dissatisfied with a certain company and/or its products? You don't have to stay quiet! Use DoNotPay to file your insurance, warranty, or missing/late parcel claim effortlessly! We'll also show you how to request an item return in a few steps.
If you want to cancel a subscription or request a refund or chargeback, you can do it with our assistance without breaking a sweat. Use one app to deal with countless issues!