All About Indiana Property Tax Exemptions for Seniors

Seniors are one of the groups that need property tax reduction the most, as they usually pay their tax expenses with their retirement savings. Despite living in a state with a tax rate below 1%, every dollar they can save means the world to them. 
Almost all U.S. states—including Indiana—have come up with certain ways to help senior citizens lower their property taxes. 
This article will explain the meaning of property tax exemptions for seniors in Indiana and help you pay your tax expenses more easily with DoNotPay's handy service.
Definition of Property Taxes
Law obliges every person who owns a certain property to pay taxes for it. Local government representatives calculate the value of your property and determine your tax amount according to it. 
Tax laws and regulations aren't the same in all U.S. states. These expenses depend on many factors, such as your age, annual income, the market value of your property, and many others.
Why Do You Need To Pay Property Taxes?
The money you set aside for property taxes goes to the local authorities. They use it for enhancing various systems and services within the state, including:
Road constructions

Protective services

Parks and green areas

Education and libraries

Transportation systems

Emergency and hospitals
Strategies for Reducing Your Property Taxes
If you find your tax bills too high, you can try several different approaches to lower them. Here are some of them:
Check the available tax relief programs

Be present during the

property tax assessment

to make sure it's fair

Make sure you don't renovate your home before the assessment

Get informed about available property tax exemptions in the state

Check whether the information on your tax bills is correct and report inaccuracies
Property tax exemptions are one of the best ways to lower your tax bills. Besides the exemptions for senior citizens, you can apply for similar benefits if you are a veteran, disabled person, or agricultural property holder. 
Senior Citizens Property Tax Exemptions in Indiana
The state of Indiana provides two types of senior citizens property tax exemptions:
Over 65 Tax Deduction

Over 65 Tax Credit—or Over 65 Circuit Border
The table below shows the details of both programs:
Tax Exemption Details
Over 65 Tax Deduction
Over 65 Tax Credit 
The applicant needs to be an Indiana citizen

Yes

Yes

The requester needs to be the owner of the property in question

Yes

Yes

The deduction amount should be

Less than a half of the assessed property value or $14,000—for a single tenant

Reduced by a fraction—for multiple tenants

Result of the following equation: tax liability minus the tax liability for the previous year times 1.02 

Adjusted Gross Income (AGI) shouldn't exceed

$30,000 for a single return

$40,000 for a joint return

$40.000 for joint tenants

$30,000 for a single return

$40,000 for a joint return with the individual spouse

Assessed property value shouldn't exceed
You are allowed to apply for both programs if you meet all the requirements.
Apply for the Indiana Property Tax Exemptions Using DoNotPay
Lowering your tax bills can be a true challenge, as the exemptions don't apply automatically—you need to find them on your own. It means you need to comb through tax-related websites and collect application criteria and instructions for each exemption.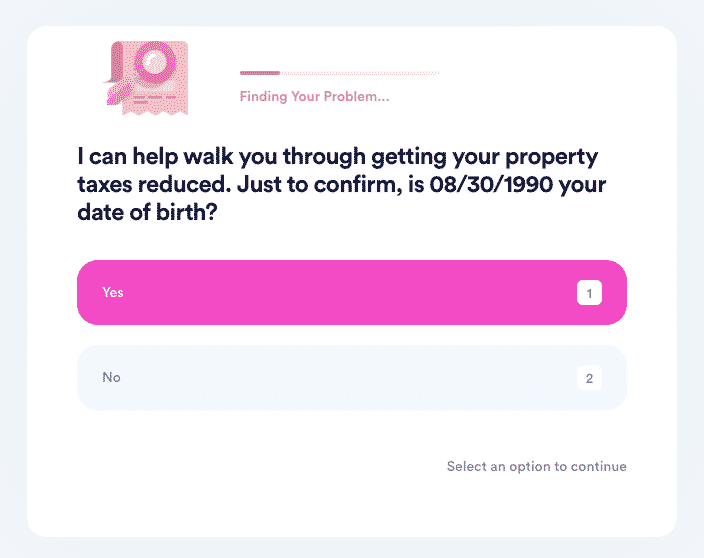 DoNotPay reveals the handiest tips by creating a personalized manual on reducing property taxes. All you need to do is complete a short questionnaire, and we will provide:
Lists of all tax exemptions you are entitled to

Instructions for collecting the necessary application documents

Step-by-step guide on proper application submission
To get your case-specific tax reduction handbook, proceed as follows:
Log in to DoNotPay using your preferred

web browser

Select the

Property Tax

service

Provide us with the relevant details—your location, date of birth, annual income, etc.
Right after you submit your answers, our app will generate a custom-made guide for you! 
With DoNotPay, you can learn how to get the necessary assistance for requesting tax exemptions if you own property in: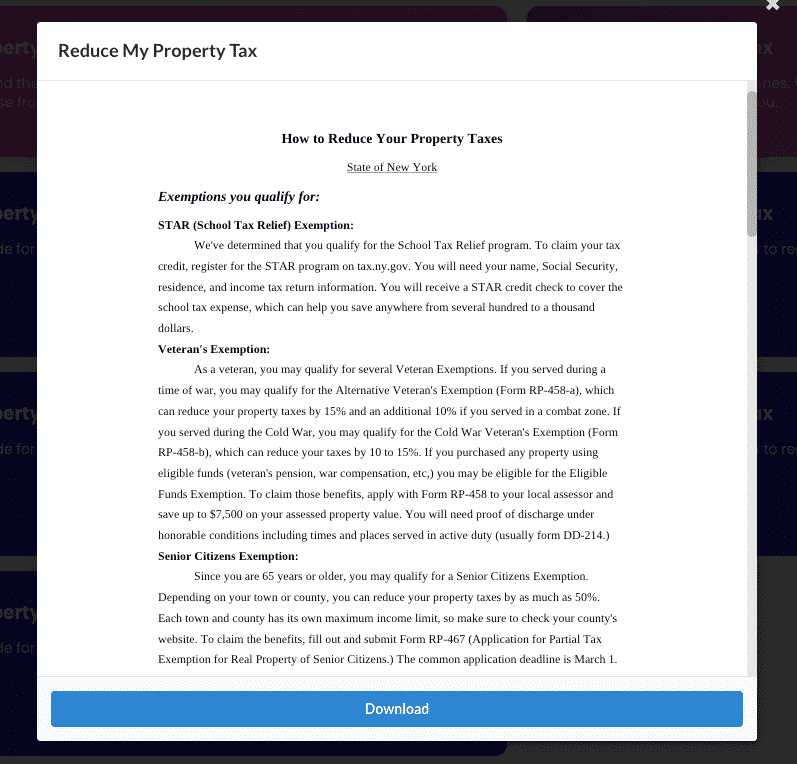 Rock Your Property Tax Assessment Appeals With Our App
Our service provides guidance on filing a property tax appeal if you don't think the assessor's evaluation is fair. 
The manual we create for you provides important guidelines for composing an appeal letter, increasing your chances for a better outcome. It contains:
Tips for negotiating with your local assessor

Instructions on gathering the required evidence

Guidelines for submitting appeal documentation the easy way
Apart from assisting you with senior property tax reductions, you can explore our articles to find the answers to other important questions, such as:
DoNotPay Offers a Variety of Services
DoNotPay is the ultimate virtual assistant that takes over all those annoying tasks you don't want to deal with!
Need to schedule your DMV appointment? Want to get your college fees waived? Have to draft a legal doc quickly?
We can do all that and much more!
Our app waits on the phone line with customer service of any company for you, reports robocalls, and helps you file lawsuits in small claims court. 
We can also help you deal with your parking tickets, get rid of spam emails and texts, or find and sign up for reputable clinical trials!
Keep Your Money in Check With DoNotPay
How often do you sign up for a free trial and then forget to cancel it before it expires? Unexpected charges are the worst, but you can prevent them if you use our free trial card. DoNotPay's virtual credit card is not connected to your bank account, which means that no money can be taken from it. 
We can also help you get refunds for unsatisfactory purchases or compensation from airlines for delayed or canceled flights.
In case you are struggling with warranty claims, bill payments, insurance, or tax reduction, DoNotPay can solve these issues as well. 
Our app also has the largest database of unclaimed assets in the United States, so you can find and claim your lost funds quickly.