Tips for Dealing With the
Indiana Property Tax Assessment
Dealing with property taxes is a tedious task, even in the states like Indiana, where tax rates are relatively low. The first step to handling property taxes is understanding how Indiana property tax assessment is conducted. Figuring out how to lower your taxes is the next step. We can help with that!
Sign up for DoNotPay to get a personalized guide on property tax exemptions in your state. We can find all available property tax exemptions you are eligible for and guide you through the application process.
Indiana Property Tax Assessment
—How It Works
In Indiana, your property taxes are calculated by multiplying your net assessed value with the local tax rate (around 0.81%). The assessment methods can vary depending on whether a property in question is residential or commercial. 
During the assessment, the local assessor will show up at your property and look at its:
Location

Size (including the number of rooms)

Construction type and age

Purpose (residential or commercial)
How To Lower Your Property Tax Bill in Indiana
Finding ways to reduce your property tax bill by yourself can be challenging, so we did the research for you. Here are some of the standard ways to lower your property taxes in Indiana:
Avoiding Home Renovation Projects
Avoiding home improvement and renovation projects will help you keep the property tax bill low. If you do some work on your property before the assessor comes to evaluate it, he or she will most likely consider the value higher. This added value will result in your tax bill increase.
Participation During the Assessment
Being present while the assessor does their job will give you a chance to see everything they are doing. If you notice any mistakes or irregularities during the process, you can point them out. You can also ask the accessor any questions, and they can do the same if anything regarding the property is unclear.
Property Tax Bill Appeal
Are you unsure of when you should file a property tax appeal? We can clear up the confusion! You should file a property tax appeal in case you:
Find any mistakes when checking your tax bill

Conclude that the assessment of your property was done incorrectly in any way
The appeal process can sometimes get confusing, but not to worry! If you use DoNotPay's guide, the process will be a piece of cake!
Indiana Property Tax Exemptions
Applying for property tax exemptions is the best and easiest way of reducing property taxes. There are various exemptions you may be eligible for in Indiana, such as:
DoNotPay Finds Property Tax Exemptions in Indiana for You!
You don't have to search for property tax exemptions on your own! DoNotPay will jump in and present you with all the property tax exemptions you're eligible for. All you need to do is provide us with the info about you and your property. 
We can use the info you provide to find all the exemptions suitable for you and present you with a guide on how to apply to them!
This is how you gain access to the instructions:
Subscribe to DoNotPay

and select the

Property Tax

feature

Provide info about you and your property
DoNotPay will get to work and create your guide instantly! All you have to do is follow it, and you're golden!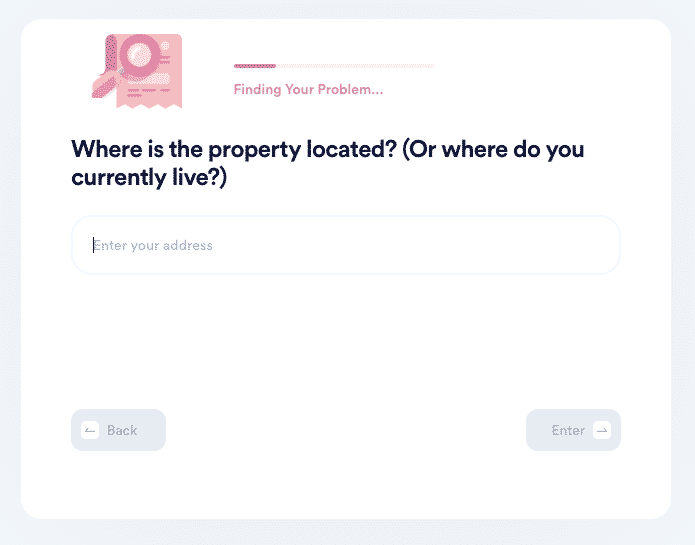 Appeal Your Property Tax Assessment With DoNotPay
Not happy with your property tax assessment? Filing appeals on your tax bill is also something DoNotPay assists with! 
Once you subscribe to our app, we'll provide you with simple steps on appealing your bill and explain what forms and documents you need to gather to do so.
You will also get a comprehensive step-by-step guide on negotiating with your local assessor. 
Can't Afford a Lawyer? DoNotPay Will Jump In!
Did you know that you don't have to waste money on expensive legal help just to get rid of some minor bureaucratic issues? DoNotPay is here to save you hundreds of dollars with ready-to-use solutions that require mere minutes.
Our AI-powered bots gather the most important information via short questionnaires, draft required legal documents, and provide you with online fax services. If you need specific public records to support your case, we'll point you in the right direction.
With our virtual lawyer's help, you will be able to:
Spend Your Time on More Enjoyable Activities
With DoNotPay's help, you're bound to have more free time. If you're considering a new streaming platform subscription, make use of its free trial without worrying about unwanted charges. Need to get rid of other subscriptions? Use DoNotPay to cancel them without contacting customer support centers.
Don't worry about phone number identification at the signup. With our Burner Phone feature, spam text messages won't be bothering you ever again!