Find Out All About Indiana No-Fault Divorce With DoNotPay
Ending your marriage is a challenging experience to go through. Did you know that in some states, you can complete the process without putting any blame on your spouse? This means that the divorce doesn't have to cost you a fortune or drag on forever.
If you don't know where to start, DoNotPay has got your back! We'll tell you everything you need to know about Indiana no-fault divorce and help you part ways on friendly terms. and get the treatment you deserve in a personalized marital settlement agreement.
What Is a No-Fault Divorce?
A no-fault divorce allows you to end your marriage without having grounds (reasons) for the dissolution. You can state that the wedlock is irretrievably broken, and there is nothing your spouse can do to stop the process.
Is Indiana a No-Fault Divorce State?
Indiana is a mixed state. This means that you can file for a no-fault marriage termination or a divorce on the following grounds:
Conviction of a felony
Impotence during the time of the marriage
Incurable insanity for at least two years
To file for divorce in Indiana, you must reside in the state for six months and at least 90 days in the county where you'll submit the papers.
Are There Any Divorce Laws in Indiana for Infidelity?
In some states, you can file for divorce on the grounds of infidelity, but that's not the case with Indiana. In the Hoosier State, the only aspect that infidelity can impact is the alimony.
Uncontested No-Fault Divorce in Indiana
Filing for a no-fault divorce in Indiana makes you eligible for an uncontested (friendly) marriage termination. It allows you to get divorced without hiring a lawyer or going to court. This automatically lowers the cost of the procedure and saves you the time you'd waste at court hearings. To qualify for an uncontested divorce, you should agree on the following issues with your spouse:
If you can't reach a compromise on these matters, try divorce mediation. During the mediation process in Indiana, the mediator will come up with solutions you and your spouse can use to reach a mutually acceptable arrangement.
How Long Is the Uncontested No-Fault Divorce Process in Indiana?
An uncontested, no-fault divorce in Indiana can be finalized quickly if you meet the state's residency requirements. After filing the papers, you'll only need to wait 60 days before the judge grants your divorce.
Stages of a No-Fault Divorce in Indiana
The process for filing for no-fault divorce in Indiana consists of several stages:
Stage
Explanation
Gathering the necessary forms
Visit your local courthouse or the official state website to get the needed forms. Fill them out and file the paperwork with the court in your county. Keep in mind that you'll have to pay a filing fee
Serving the divorce papers
If you're getting an uncontested divorce in Indiana, you don't need to serve the papers to your spouse. Instead, all you need to do is submit a settlement agreement with your divorce petition.

To get a divorce settlement agreement, you can either spend big bucks on expensive lawyers or and get this crucial document—personalized to your needs—in no time at an affordable price

Finalizing your divorce
Once you've filed your initial divorce papers and waited 60 days, you'll need to submit a waiver of the final hearing and the settlement agreement. The judge will then review your documents, and once they ensure everything is valid, finalize the divorce
Use DoNotPay and Get a Divorce Settlement Agreement Hassle-Free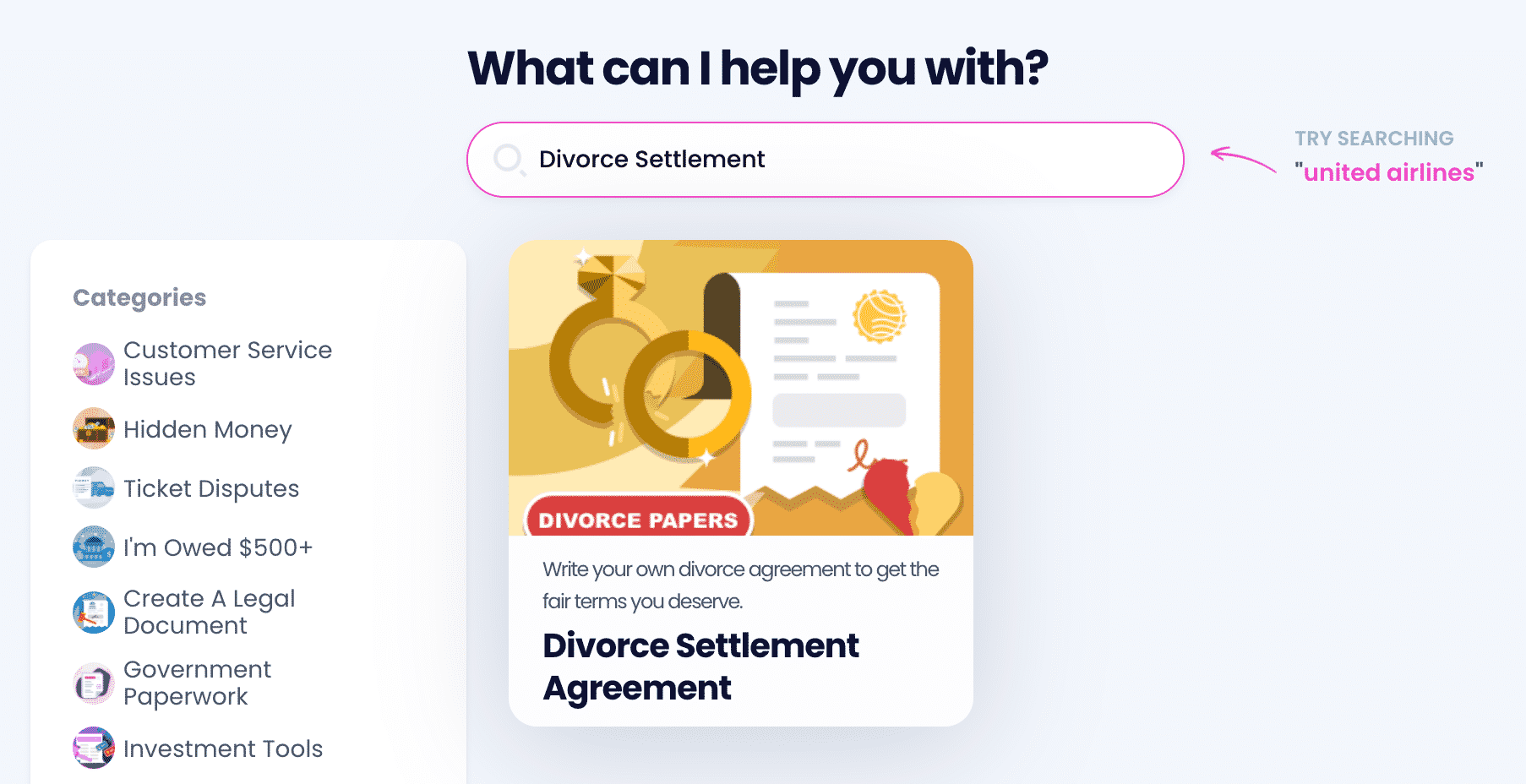 Don't want to waste substantial amounts of money on lawyers to get a divorce settlement agreement? DoNotPay can help! Drawing up this important document is a no-brainer with our AI-powered app. The process is simple and requires you to follow only a few easy steps:
Select our Divorce Settlement Agreement product
Enter the necessary details regarding your:

Spouse and marital children (if any)
Assets and income

Opt for notarization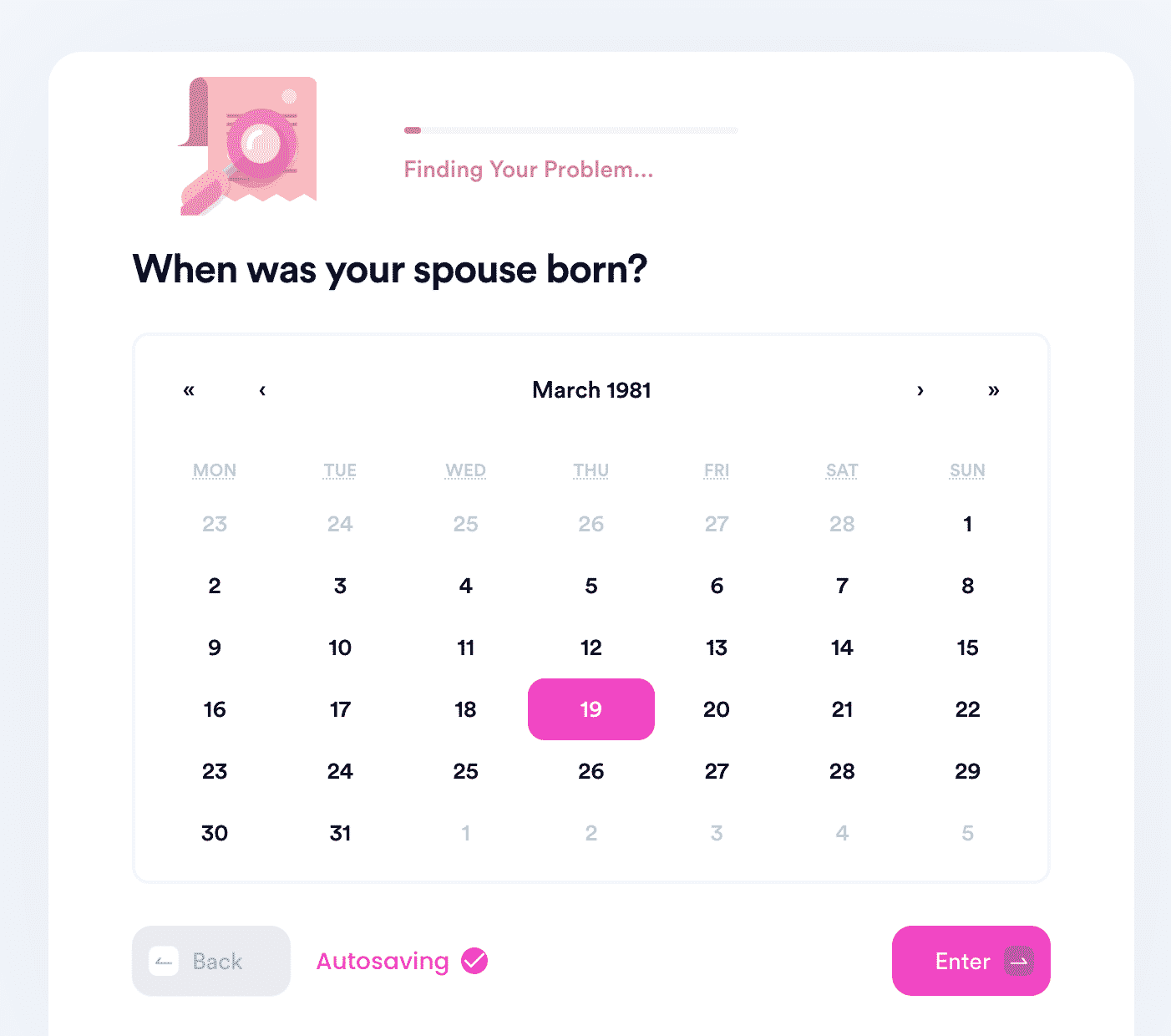 We'll process your request in a snap and use the details you gave us to create a tailor-made divorce settlement agreement for you. Want to have it notarized? Why not do it via video call? Follow the link we send you via email and set up an appointment with an online notary.
To take advantage of this feature, you would have to opt for an uncontested divorce.
DoNotPay's assistance doesn't end here! We can also answer any questions you have about divorces, including:
Use DoNotPay To Resolve Administrative Tasks in Minutes!
Tired of brainstorming the easiest way to deal with administrative issues? We know how you feel, and we're here to take the burden off your back!
Once you subscribe to our app, you'll be able to resolve an abundance of bureaucratic issues with ease.
Taking a valid passport photo, reporting workplace discrimination, reducing property taxes, preparing for a government test, applying for a college fee waiver, and appealing a parking ticket are some of the many tasks we assist you with.
In case you need a quick way to draft a legal document, such as a power of attorney, divorce settlement agreement, or a child travel consent form, DoNotPay will do it for you!
Learn How To File Claims the Easy Way
Are you dissatisfied with a certain company and/or its products? You don't have to stay quiet! Use DoNotPay to file your insurance, warranty, or missing/late parcel claim effortlessly! We'll also show you how to request an item return in a few steps.
If you want to cancel a subscription or request a refund or chargeback, you can do it with our assistance without breaking a sweat. Use one app to deal with countless issues!