Draw Up a Top-Notch Indiana Lease Agreement
When you rent or lease a residence, your primary concern is to avoid disputes and miscommunication with the other party. Making a particular legal document that sets all the rental terms and conditions is the best way to regulate the landlord-tenant relationship. 
Lease agreements bring many benefits, and it's essential to learn how to write them and adapt them to the applicable laws in your state. This article will help you understand all about the Indiana lease agreement and create it hassle-free with DoNotPay's handy templates!
Steps To Take Before Signing a Lease Agreement in Indiana
Landlords and tenants can take some preparatory steps before they draft and sign a lease agreement:
Performing a background check

—Even though Indiana laws don't impose specific rules regarding this step, it's recommendable to do it. The landlord can verify the candidate's credit reports, rental history, and employment info before they decide to let them move in

Negotiating terms and conditions

—If the background check results are satisfying, the parties should discuss the rent-related rules. Everyone must agree upon the proposed regulations
Once these procedures are done, the parties can proceed with creating a contract.
Can You Compose a Lease Agreement Yourself?
Making a written lease agreement can be difficult and time-consuming. Besides understanding the legal terms, you must be familiar with Title 32, Article 31 of Indiana Codes. It's a section with state-specific regulations of the landlord-tenant relationship that helps the parties determine contract provisions.
Below is the table showing a standard lease agreement structure:
Sections

Details

Basic information

Legal names and physical addresses of the landlord and tenant

Number of occupants

Lease type

Start and end date of the lease contract

Optional contact information, including phone numbers and email addresses

Property

Address—street, city, state, and zip code

Property age

Property size

Number of premises, including bathrooms and bedrooms

Description of the leased premises

Rent

Monthly amount

Due date

Payment method

Prorated rent for the first month

Late or missing rent policy

Security deposit

Responsibilities

Utility bills

Property repairs and maintenance

Lawn care

Pet policy—deposit and restrictions

Smoking and noise policy

Notice requirements

Applicable laws

Other optional disclosures:

Move-in checklist

Medical marijuana use

Shared utilities arrangements

Conclusion

Signatures of all parties involved

Date of signing
What Disclosures Do You Have To Include in Your Indiana Lease Contract?
There are three mandatory provisions:
Managers and agents

—This section lists the legal names and addresses of the persons responsible for dwelling management and authorized agents. It's mandatory for all properties

Flood

—The provision applies to all the residential units located in flood plains. The property owner must inform the occupant about the potential risk

Lead-based paint

—All landlords of residences built before 1978 must include this section in their agreements. Its purpose is to alert the tenants about the presence of this dangerous material
How To Get a Perfect Lease Contract in a Flash With DoNotPay
Whether you need a rock-solid lease, room rental, or roommate agreement, creating such a document is a stressful and challenging task. If you fail to adapt your terms to state laws, you will get an invalid contract. Online templates may not contain all the sections you need, and getting professional help requires unreasonable amounts of money.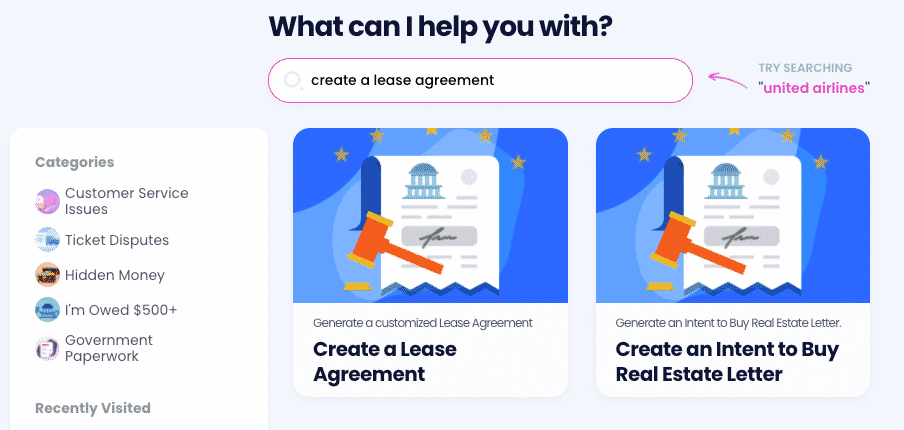 DoNotPay has the right deal for you. We turn basic information into a comprehensive lease agreement! 
Here's how you can use our customizable templates:
Log in to DoNotPay

in any preferred web browser

Choose the template you want to customize

Give us more details to include in your contract
After you complete this short procedure, you get a personalized, state-specific contract you can sign or take to a notary!
Interested in other agreements? We offer practical guides that will teach you more about:
Can DoNotPay Generate Other Legal Documents?
Our main goal is to simplify legal document creation and help you make excellent agreements even if you aren't legally-savvy. The best part is that our template offer keeps growing! With DoNotPay, you can choose from a variety of documents and create a proper:
Residential Lease Agreement

General Affidavit

Promissory Note

Estoppel Certificate

Intent to Purchase Real Estate

General Business Contract

Quitclaim Deed

Child Care Authorization Form
That's not all—our learning base offers many articles explaining lease contracts in other U.S. states, including:
DoNotPay Offers a Variety of Services
DoNotPay is the ultimate virtual assistant that takes over all those annoying tasks you don't want to deal with!
Need to schedule your DMV appointment? Want to get your college fees waived? Have to draft a legal doc quickly?
We can do all that and much more!
Our app waits on the phone line with customer service of any company for you, reports robocalls, and helps you file lawsuits in small claims court. 
We can also help you deal with your parking tickets, get rid of spam emails and texts, or find and sign up for reputable clinical trials!
Keep Your Money in Check With DoNotPay
How often do you sign up for a free trial and then forget to cancel it before it expires? Unexpected charges are the worst, but you can prevent them if you use our free trial card. DoNotPay's virtual credit card is not connected to your bank account, which means that no money can be taken from it. 
We can also help you get refunds for unsatisfactory purchases or compensation from airlines for delayed or canceled flights.
In case you are struggling with warranty claims, bill payments, insurance, or tax reduction, DoNotPay can solve these issues as well. 
Our app also has the largest database of unclaimed assets in the United States, so you can find and claim your lost funds quickly.