Key Information About Indiana Jury Duty
Being called to serve on a jury can be a nuisance, but it is an important civic duty. You have to do your jury service because it enables fair and just trials for all.
This article will tell you all about Indiana jury duty—how it works, who can qualify, how long it lasts, how much you will get paid, and how you can prepare for it. If you don't know how to request time off from your employer, , and we will do it for you.
Indiana Jury Duty Laws
Here's an overview of key aspects of jury duty:
Main Facts About Jury Duty in Indiana
Description
Qualifications
To qualify for jury duty in Indiana, you must be:

A citizen of the U.S.
At least 18 years old
A resident of the court's county for at least one year
Able to read, speak, and understand English

You will not qualify if you:

Have a physical or mental condition that prevents you from fulfilling your duty
Are charged with a felony

Selection process
Prospective jurors are selected at random from a list of local citizens eligible to serve on a jury. After being summoned, prospective jurors must show up in court and answer questions that help determine whether they can be objective about the case
Frequency of being summoned
You can be called for jury duty once a year
Consequences of not attending
If you cannot provide a justifiable reason for skipping jury duty, you may be found in criminal contempt. The court may penalize you by:

Issuing a fine of no more than $100
Sending you to jail for no more than three years

Compensation
When you show up on your first day, you will receive an appearance fee of $15. If you get selected, you will be paid $40 for each day you serve.

Serving on a federal jury will get you the following:

$50 attendance fee for each day
$0.56 per mile for your trip
How To Get Out of Jury Duty in Indiana
You can be exempt from jury duty if you:
Are over 70 years old
Are caring for a child under ten years of age whose health and safety would be jeopardized because of your service
Are on active military duty
Have a physical or mental disability that prevents you from rendering satisfactory jury service
Can You Get Fired Because of Jury Duty?
According to Indiana jury duty law, your employer doesn't have the right to fire you or penalize you in any way for performing jury duty. The employer must give you time off, but they aren't obligated by law to pay you and can ask you to verify your jury duty obligations.
Any employer who punishes their employee will be charged with a Class B misdemeanor, which can lead to a fine of $1,000 or 180 days of imprisonment.
Request Jury Duty Leave With DoNotPay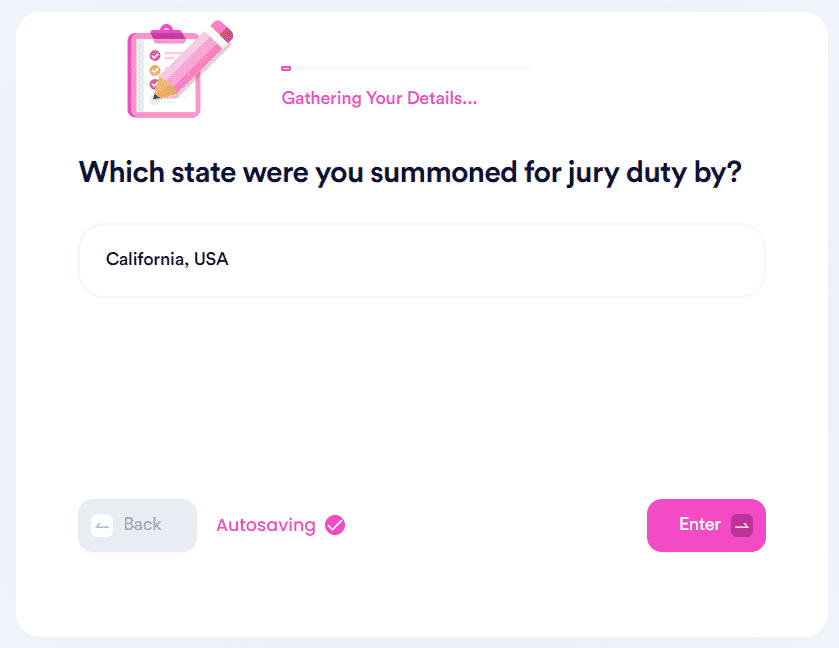 DoNotPay can create a leave request letter that complies with Indiana jury duty laws. To create your letter in a few minutes, and follow the instructions below:
Open the Request Jury Duty Leave product
Add all the necessary information
Indicate the number of days you need off
Upload a photo of your jury summons
Specify whether you want us to send your letter
If you decide to send the letter yourself, you can download it and submit it to your employer.
In case you live in Lake County or Marion County, explore our learning center for more specific details.

Deal With Administrative Issues With Ease
Drafting contracts and agreements, getting your documents notarized, disputing parking tickets, and creating passport photos will become a breeze once you sign up for DoNotPay.
We can also help you:
DoNotPay Helps You Protect Your Consumer Rights
Don't let companies take advantage of you! With our help, you'll be able to cancel any subscription or membership and request a refund.
As a consumer, you may be overwhelmed with endless steps and piles of paperwork you need to go through to get what you're owed. This is where DoNotPay comes in—let us be your assistant and fast-track the following:
Have you forgotten about a free trial you signed up for? Avoid being charged by using our app! With DoNotPay's virtual credit card, you'll get unsubscribed automatically without the company taking any money from you.
Are you getting spammed via email or text? Get rid of spam for good with our nifty app!