The Ins and Outs of an Indiana Homeschool Association
Homeschooling can be the best option for your child and family, but you need the right information to conduct the process efficiently.
You must find out what state laws you need to comply with, how to choose a homeschool curriculum and subjects, and how many hours you should teach a day.
Joining an Indiana homeschool association allows you to share tips with other homeschooling parents and learn from their experiences. If you need help with the paperwork, DoNotPay can jump in.
What Are the Benefits of a Homeschool Association?
While homeschooling is legal in all 50 U.S. states, the process is pretty challenging. Each state has different requirements, with local districts setting specific criteria.
Statewide homeschool associations fight for the rights of parents to educate their children as they deem suitable. Besides protecting your rights, here's what else a homeschool association can offer:
What Indiana Homeschool Association To Join
While homeschooling in Indiana, consider becoming a member of the following associations:
Indiana Association of Home Educators
To understand how IAHE operates, check out some of the services they offer:
Check out the following table to see the specifics of Indiana Association of Home Educators membership types:
IAHE Membership Type
Details
Basic
The fee is $25 per year, and you can get:

Newsletters by email
Printable teacher ID card
Featured convention audio
Access to a support group and co-op directory
Digital issues of Homeschool Indiana (i.e., IAHE magazine)

Premium
You need to pay $40 per year for a premium membership and will get everything from the basic membership plus:

Workshop bundle
Family membership card
Print and digital issues of IAHE magazine
Discounts for certain homeschool curricula and service providers
You could also become a supporting member of IAHE. In this case, you should pay a $40 fee and donate an amount you choose:
Once
Regularly, i.e., every month
Indiana Foundation for Home Schooling
Even though IFHS is a Christian organization, all homeschooling families can join and benefit from it regardless of their religious beliefs. IFHS offers:
Support and resources
Information about financial assistance and scholarships
Speech contest for students attending homeschool high schools
An official graduation ceremony for the homeschooling community across the Hoosier State
What About Other Indiana Homeschool Organizations?
Besides homeschool associations, you can also join or follow state or local homeschool co-ops or groups. You might find it easier to locate an organization near you as in that case you could:
Attend their events regularly
Get information about available homeschool teachers in your area
They also organize field trips, sports, and other activities to promote socialization and teamwork among homeschoolers.
If you're not sure where to look for a support group or co-op in Indiana, check out the following table for ideas:
| Indiana Homeschool Organizations | Indiana Homeschool Co-Ops |
| --- | --- |
| | |
Start Homeschooling With a Notice of Intent To Homeschool
To start homeschooling your child in Indiana, you should:
Provide information about your student to the state—You can do that by filling out a Homeschool Enrollment Form
Withdraw your child from school—You can send a letter to the principal to notify them of your intent to homeschool your kid
Prepare a formal letter of intent to homeschool— to create a notice of intent to homeschool in no time
Generating a Notice of Intent To Homeschool Is a Cakewalk for DoNotPay
While some U.S. states are easy on homeschooling families, others mandate strict procedures.
Do you need to learn your state laws to draft a notice of intent once you decide to homeschool your kid? Not if you opt for DoNotPay. We can help you draw up a notice of intent to homeschool hassle-free.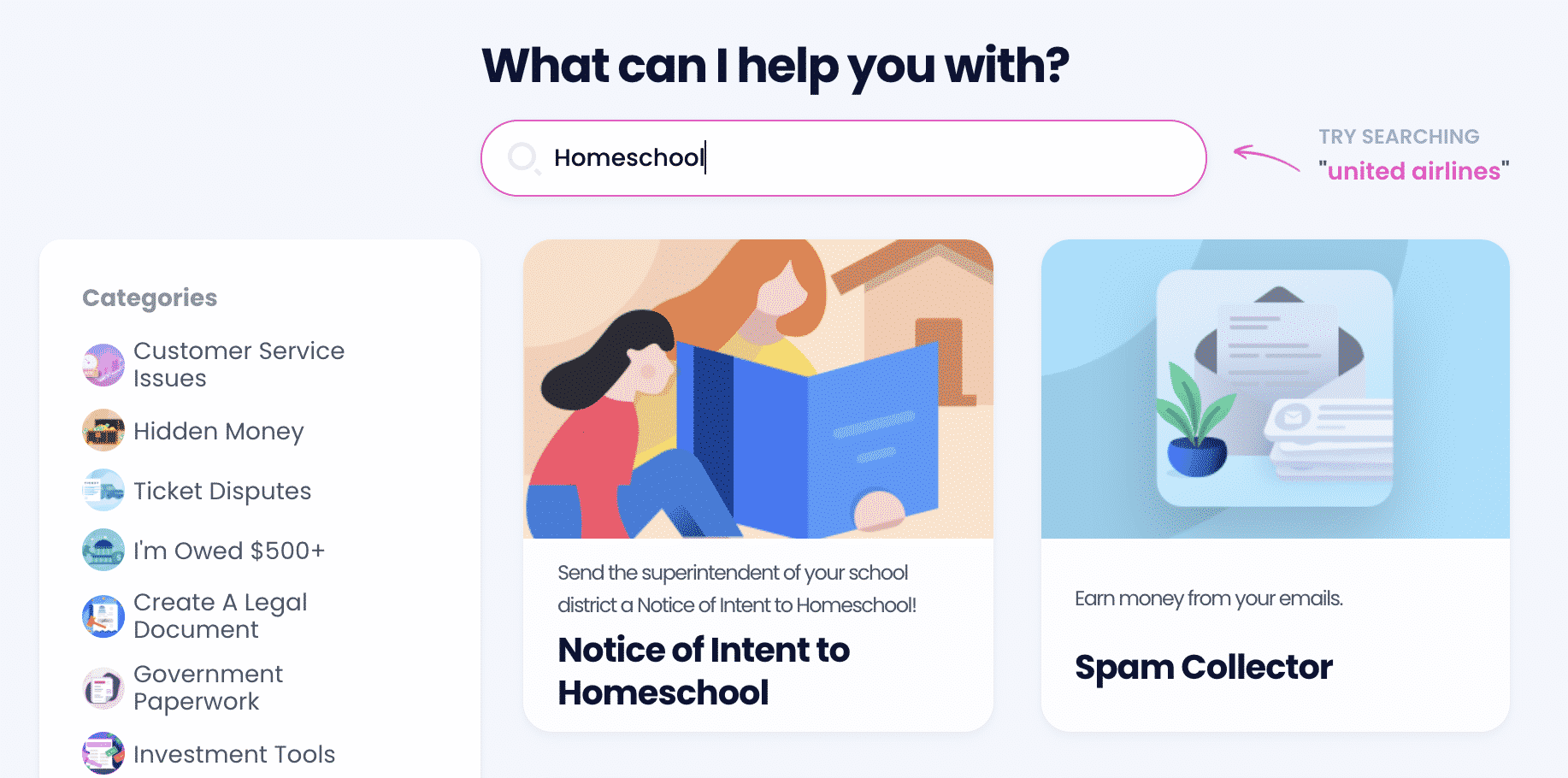 and:
Use our Notice of Intent to Homeschool product
Provide the info about you, your child, and the local school district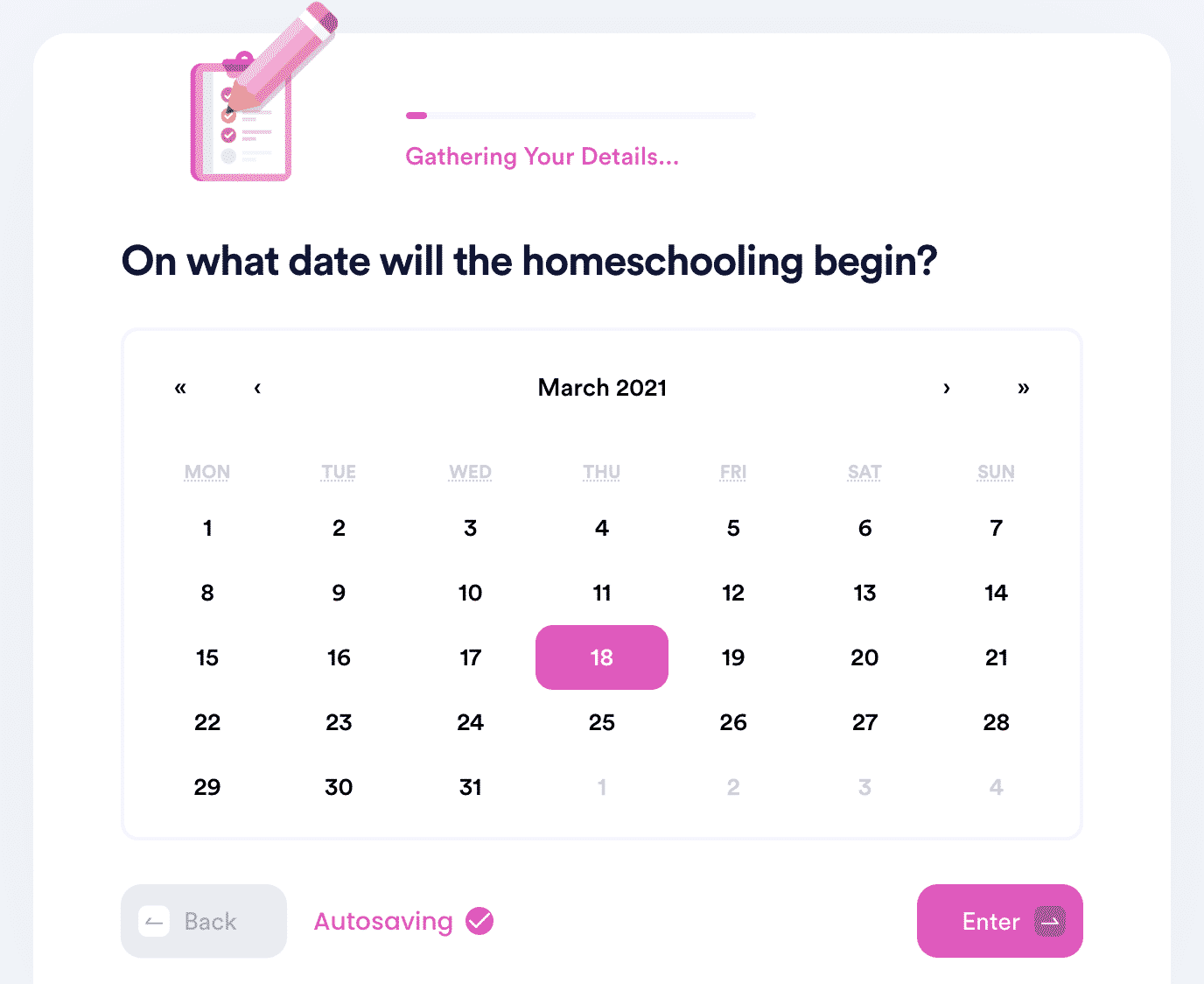 Would you like to have the letter notarized before filing it? DoNotPay can help you do it effortlessly through one of our notary partners.
We can also send the notice of intent to the correct address in your stead. If you prefer to do it yourself, you'll get a PDF file by default.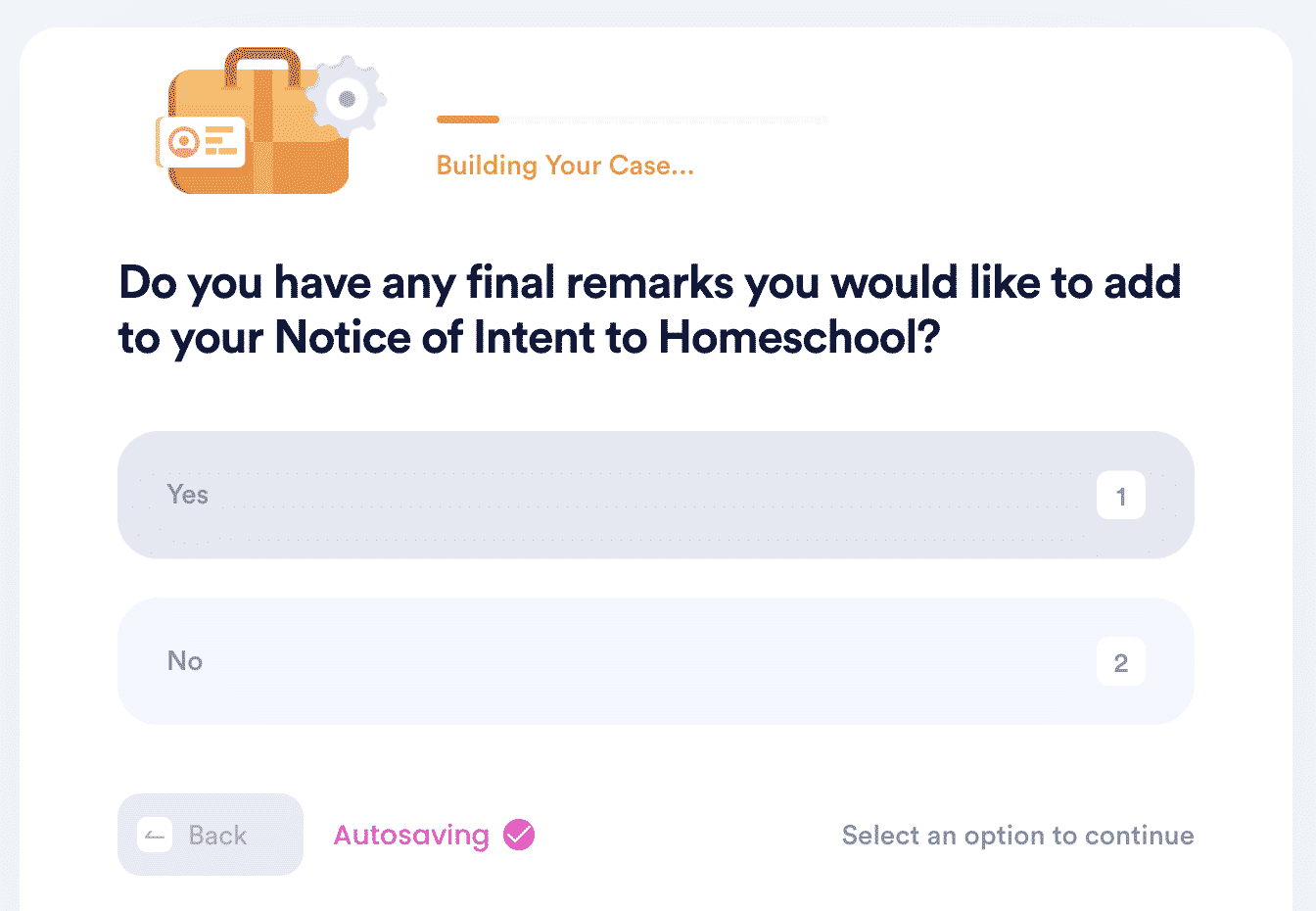 DoNotPay answers various burning questions about homeschooling, such as:
Can DoNotPay Help Me With Any Other Admin or Legal Issue? You Bet It Can!
DoNotPay's robust products can assist you in fighting companies, individuals, and institutions that have wronged you in any way. Once you subscribe to our platform, we'll ensure that you never have to deal with any of the following again:
Our Product Range Offers So Much More
Subscribing to DoNotPay will bring you peace of mind as you won't have to go through tedious task completion on your own anymore. With our AI-powered app, you can get what's rightfully yours in the blink of an eye.
If you want to claim warranty or insurance, find your missing assets, get compensated for a canceled flight or a violent crime that you were a victim of, track your missing parcel, or draw up a child travel consent form, divorce settlement agreement, power of attorney, or any other legal document, you can count on us to lend you a helping hand.
Sign up today to get access to the entirety of our product range and forget about dealing with time-consuming and energy-draining chores!