Need Advice on Indiana Divorce Laws, Alimony, or Settlement Agreements? DoNotPay Is Here To Help!
Filing for divorce in Indiana is the beginning of a process that you hope will be over quickly, cheaply, and with little fuss.
Before your divorce can be finalized, though, you need to reach a settlement with your spouse—which may involve working out alimony payments.
DoNotPay has all the info and advice you need on Indiana divorce laws, alimony payments, and the division of your assets!
How Does the Divorce Process Work in Indiana?
Divorce in Indiana does not need to be a painful experience, but this depends on how much you and your spouse are willing to work together.
While Indiana accepts divorces based on your spouse having done something wrong, most divorces in the state are no-fault cases, meaning that you can cite the irretrievable breakdown of your marriage as sufficient grounds.
The process of a no-fault divorce follows these steps:
Filing divorce papers
Serving the papers on your spouse
Negotiating and signing a settlement agreement
Filing Divorce Papers
As the petitioner in the case, you should file your divorce papers with the clerk of your county court. The papers will include a:
Petition for dissolution of marriage
Summons for your spouse
Financial declaration
Child support obligation sheet—if you have minor children
The filing fee of around $160 is payable when you file, and you should check with your county court how many copies of each form you will need to provide.
Serving the Papers on Your Spouse
Once you have filed your divorce papers, you will need to have them delivered to your spouse, who must confirm receipt in writing.
Serving your spouse with the divorce papers allows them to respond and determines the further course of your case.
If your spouse comes back with an answer or a counterclaim, your divorce will have to be contested in court.
The only way you can avoid court proceedings is to cooperate with your spouse to work out an out-of-court settlement agreement before your case comes to trial.
Negotiating and Signing a Settlement Agreement
If you and your spouse want to keep your case out of court and possibly avoid needing lawyers, it is in your interest to attempt a friendly divorce.
This entails negotiating a settlement agreement that covers everything mentioned in your initial filing, including:
What Is Alimony, and How Is It Calculated in Indiana?
Alimony is the payment of money from one spouse to another to cover specific expenses for a predetermined time.
Under Indiana law, the court presumes that both spouses will work after their divorce but allows either spouse to claim alimony from the other under the following circumstances:
One spouse cannot work due to physical or mental incapacity
A spouse has been awarded custody of a child or children from the marriage but doesn't have enough assets to cover the expenses incurred
One spouse has to retrain or further their education to get a job that pays enough to live on
If any of these criteria are met, an Indiana court can award the following types of alimony or spousal maintenance:
Types of Indiana Alimony
Explanation
Incapacity award
A judge can order a spouse to pay spousal maintenance if the other spouse is unable to work or support themselves. This can be awarded for as long as the incapacity persists
Parenting support
If a custodial spouse doesn't have enough property to support the child or children from the marriage, the judge may award a parenting allowance for as long as is deemed necessary
Rehabilitative support
If the court sees that a spouse needs training or education to gain employment, it can award rehabilitative support to cover the costs of the training or schooling. This will only happen, though, once the court has evaluated:

Each spouse's qualifications before and after their marriage
Situations where one spouse broke off their education at the start of the marriage
The earning potential and employment history of each spouse

A judge will usually award rehabilitative support for as long as is necessary for the spouse to complete their retraining or schooling
Indiana does not have strict guidelines on how alimony should be calculated, so it is left up to the discretion of a judge to set the amounts payable.
How Can You Make Sure Your Alimony Arrangements Are Fair?
The best way to avoid having alimony imposed by a judge is to pursue an uncontested divorce and reach a settlement before your case is heard in court.
Your settlement agreement is the legal document that sets out how you and your spouse will divide all the items declared in your initial filing and should include alimony terms if appropriate.
The rule of thumb is that you should agree on alimony if a judge would likely impose it in a contested divorce.
To draw up your settlement agreement, you may be tempted to engage attorneys to negotiate on your behalf.
While this is the traditional choice, it is also often the most expensive. Allowing lawyers to fight your settlement can often result in costs of over $5,000 per spouse, with higher amounts possible in complex cases.
A cheaper alternative is to negotiate face to face with your spouse using a mediation service, in which a trained mediator helps you reach a mutually acceptable settlement.
The first prize is when you and your spouse agree on the major terms of your settlement and can move on to having it drawn up as an agreement without lawyers being involved.
This is where DoNotPay can assist—we can help you avoid the pitfall of drawing up your settlement agreement with our customized, comprehensive Divorce Settlement Agreement product!
DoNotPay Has Your Indiana Settlement Agreement Covered!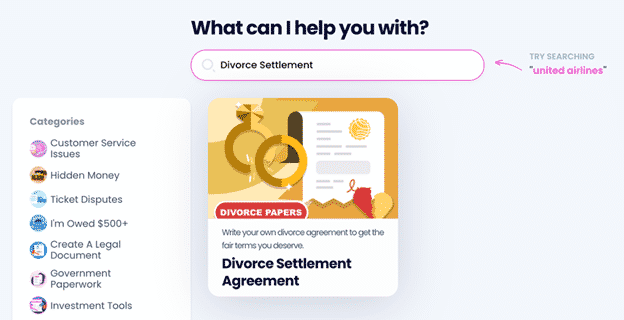 DoNotPay is your go-to resource for a fast, easy, and watertight settlement agreement!
Your settlement agreement is the make-or-break document in your uncontested divorce, so it needs to be well-thought-through.
You can have your agreement drawn up by a lawyer at great expense, or you can opt for one of the many online templates available and try to create your own. Either way, you run the risk of either high cost or an inadequate document that gets rejected in court.
DoNotPay solves these problems with our Divorce Settlement Agreement, which takes the terms you and your spouse have agreed and creates a legal document that ticks all the boxes—with no lawyers' fees to pay.
Here's how to set your settlement agreement up:
Subscribe to DoNotPay in your web browser
Look for our Divorce Settlement Agreement feature
Answer the on-screen questions
That's all—your agreement will be ready in seconds.
All you need to do is print it, sign it together with your spouse, and have it notarized.
If you want to make your life easy, don't bother trying to find a notary in your area—DoNotPay can help you out with our online notarization service!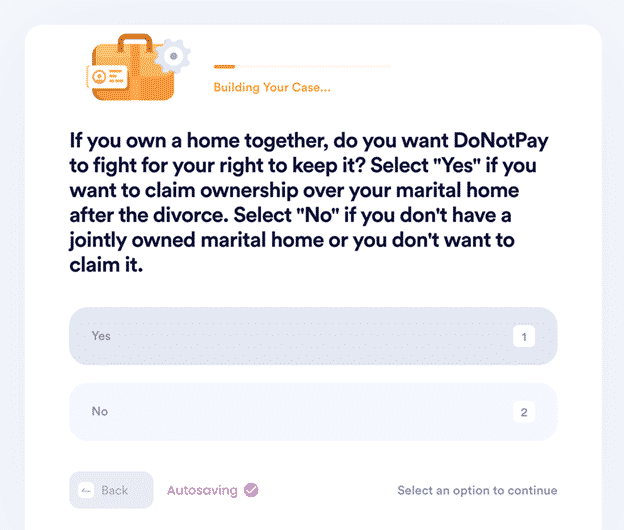 Learn How To Solve Legal Issues in Minutes!
Do you need to draft a legal document? Spending hundreds of dollars on lawyers is not the answer. We came up with a faster and more affordable solution. Not only can our app draft child consent forms, divorce settlement agreements, and powers of attorney for you, it can also provide legal assistance by helping you take anyone to small claims court!
Drafting numerous documents is not all DoNotPay does for you! Aside from drawing up contracts and agreements, we can also assist you in getting them notarized online from the comfort of your home or office!
Explore DoNotPay's Other Nifty Features
There is more assistance on the way! You can use DoNotPay's features to handle various tasks with ease, including:
We can also help you protect your safety. If you don't know how to deal with copyright infringement, stalking and harassment, work discrimination, sex offenses, and disputes with annoying neighbors, DoNotPay has got you covered.