How To Apply for Indiana Crime Victim Compensation in Five Minutes
Being a victim of a violent crime or a family member of a victim usually carries numerous challenges. Healing from physical and psychological injuries isn't the only difficulty victims and their dependents encounter.
If you've ever been a violent crime victim, you know how quickly crime-related costs can pile up. All U.S. states—including Indiana—have funds for violent crime victims to help affected residents deal with any unexpected cost caused by a crime.
If you'd like to learn how to apply for Indiana crime victim compensation, DoNotPay is here to provide the easiest solution. and request the reimbursement of your crime-related expenses in a matter of minutes!
Learn All About the Victim Compensation Fund in Indiana
The Indiana Criminal Justice Institute has created the Violent Crime Victim Compensation Fund (VCVF) to provide financial aid for crime-related costs to:
Innocent victims injured in an eligible violent crime that took place in Indiana

Family members or dependents of homicide victims

Individuals who got injured trying to prevent a crime or help the police
Some of the crimes you can get reimbursement for are:
If you're an Indiana resident who was a victim of a crime in another state, you should apply for the victim compensation program of the state where the crime happened.
The Violent Crime Victim Compensation Fund is the payer of last resort for all crime-related expenses except for forensic exams of sexual assault victims. Before you apply for the program, check if your collateral sources—such as Medicaid, Medicare, insurance, and similar—can cover the crime-related costs. The VCVF will pay only the expenses that other sources can't cover.
The program receives the money from:
Indiana Victim Compensation Eligibility Requirements
Are you wondering whether you qualify for crime victim compensation in Indiana? Consult the following table to find out!
Eligible Victims
Not Eligible Victims

You will get victim compensation if you:

Have incurred at least $100 of crime-related costs

Have reported the incident to the police in the first 72 hours

Cooperate with the proper law enforcement authorities during investigation and prosecution

Apply for crime victim compensation within 180 days of the crime

The Fund won't cover your costs if you:

Weren't injured during the crime

Took part in the crime that caused your injuries

Suffered injuries while in prison

Didn't report the crime in the first 72 hours

Were a victim of a

hit-and-run accident

or a car accident where the other driver wasn't intoxicated

Have a net worth of over $200,000

Don't apply for compensation within 180 days of the incident
Victims of sexual assault who want to get only their forensic exam costs covered don't have to report the crime to the police.
File for Indiana Crime Victim Compensation in a Few Clicks With DoNotPay
You have a few traditional options to choose from when applying for crime victim compensation in Indiana. You can apply:
By filling out an online

victim compensation application form

Via mail

In person

Via fax
Since all of these options can be time-consuming and confusing for most victims, DoNotPay has created a more convenient and efficient solution. We will help you apply for crime victim compensation in a flash and explain everything about various crime victim compensation funds, including:
To apply for the Indiana Violent Crime Victim Compensation Fund's program in under five minutes, follow these steps:
Open the

Compensation for Crime Victims

product

Let us know whether you're the victim or a family member of the victim

Answer our questions and verify your signature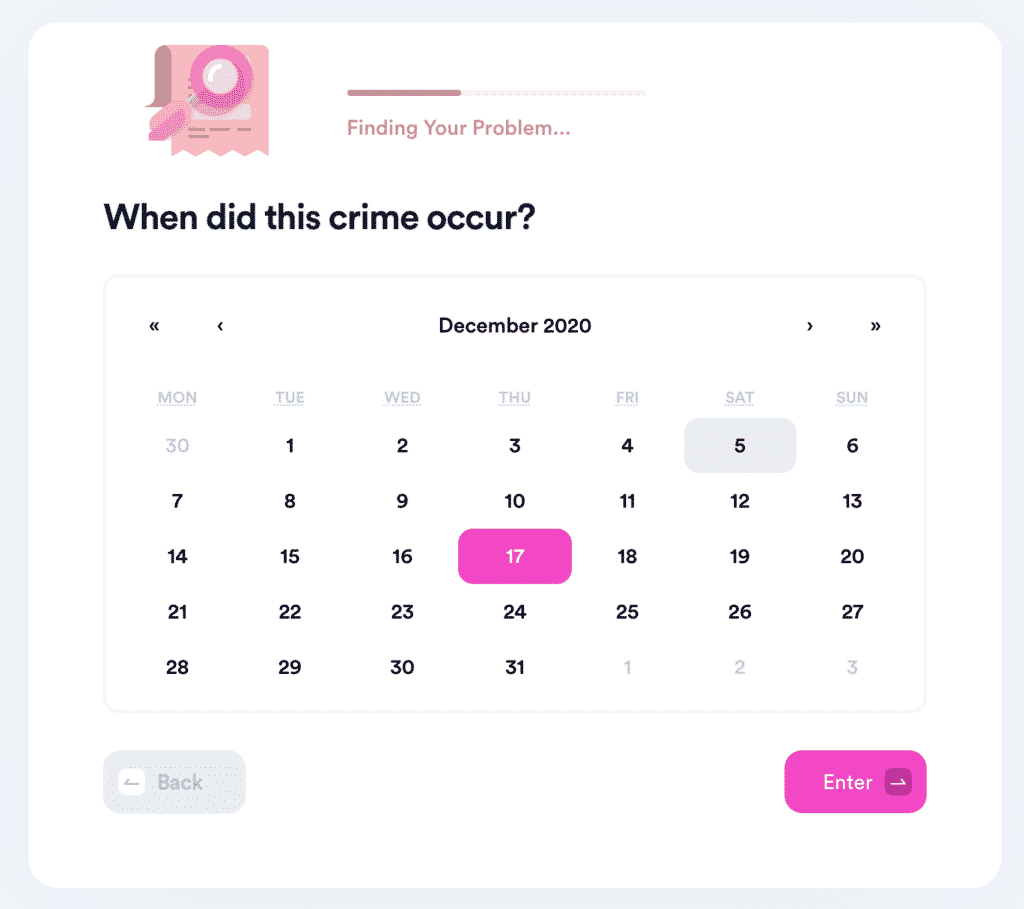 Once you click on Submit, we will fill out all the required forms and send them to Indiana Criminal Justice Institute.
You can use DoNotPay's product to apply for crime victim compensation in any other state, including: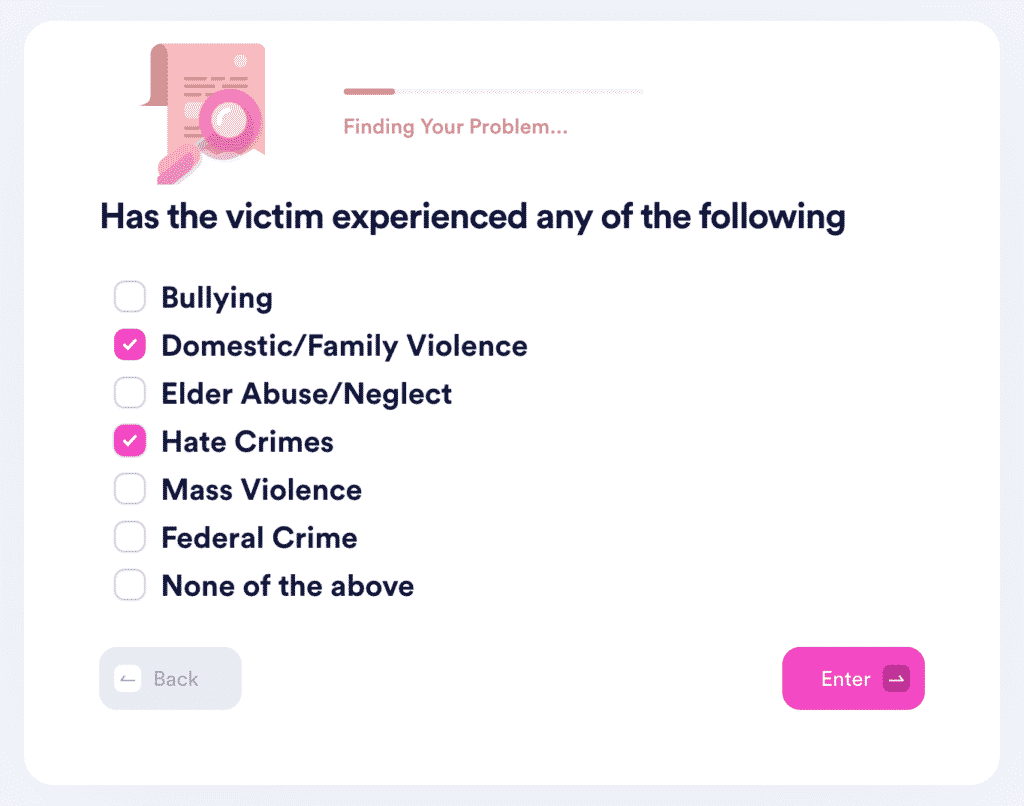 What Crime-Related Costs Does the Indiana Victim Assistance Fund Cover?
The Violent Crime Victim Compensation Fund covers up to $15,000 of crime-related expenses per claim. You can check out the table below to see which costs are covered by the Fund:
Compensable Expenses
Highest Compensable Amounts

Mental health counseling with a licensed professional

$3,000

Funeral (+ burial or cremation) costs

$5,000

Medical exams, prescriptions, treatments, and similar

Not specified

Lost wages or support

Child care services

Attorney fees

Emergency shelter services
The Fund doesn't cover the following expenses:
Property loss and damage

Pain and suffering

Travel costs for court proceedings or to attend funeral services

Relocation costs

Rent

Food

Utility costs

Crime scene cleanup

Burial clothing

Funeral flowers

Food for the wake
Discover What Happens After You Apply for the Violent Crime Victim Fund in Indiana
When you send your application, the program staff will review it and, potentially, request additional info or documents. Once they decide if you're eligible for reimbursement, they will notify you by mail or email.
In case you're not content with the staff's decision, you can request an administrative hearing within 30 days of being informed about the outcome of your application.
More Benefits of DoNotPay
DoNotPay is a useful tool for handling many otherwise annoying life's trifles, including:
What Else Can Our Award-Winning App Do for You?
If you think that's impressive, wait until you've heard about other features we boast!
Our powerful app can draft paperwork for you, locate unclaimed funds under your name, cancel subscriptions, sue robocallers, and protect you from stalkers and harassers—all in one nifty browser app!
Our services have been recognized by the esteemed ABA Brown award, serving as a testament to our abilities to assist you with your small claims issues, college fee waivers, public records, copyright protection, and much more!