All You Need To Know About The Indian Embassy in New York
Namaste! Here you'll find all the details about finding and getting answers from the Indian Embassy in New York. This article will serve as a comprehensive guide for Indian-Americans and American citizens, looking to contact the nearest Indian embassy to New York. Lastly, you will also be introduced to a service feature called DoNotPay that helps you get across to any desired embassy with ease. 
The Indian Embassy New York
The Indian embassy in New York - rightly, known as the Consulate General of India (CGI) New York, is one of the six diplomatic locations of the Indian government in the US.
Established in 1948, the consul's office operates from its 71-year-old building in New York and caters to a wide range of diplomatic services which are listed below in this article. The primary focus of the consulate is to improve Indian-American relationships and promote a wide range of Indian development activities cutting across culture and tradition, technology, economy, trade and investment, environmental concerns, and more.
What Areas the Indian Embassy Serves
There are five Indian consulates (which simply means Indian diplomatic offices in cities other than the US Capital) across five states and one Indian embassy in the capital of the US. If you are looking to contact the Consulate General New York, you should reside in any of these ten states:
New Jersey
New York
Connecticut
Maine
New Hampshire
Pennsylvania
Rhode Island
Ohio
Vermont.
Massachusetts
If you cannot find your state in the list above, you can click here to check if this Indian consulate covers your location. 
Finding The Indian Consulate in New York
The Indian consulate is at the center of 5th Avenue (to the left), Madison Avenue (to the right), and close to New York Central Park. Around the area, you'll also find other consulates like the consulate of Pakistan and that of Congo. Here is the official address:
Consulate General of India
3 East 64th Street (Between 5th and Madison Avenue)
New York, NY 10065
Contacting The Consulate General of India in New York
The Indian consulate provides a range of channels that you can use to communicate your inquiries. You should note, however, that responses may take between 2 - 3 days because of the COVID-19 pandemic. Here are the embassy contact details:
Address

Consulate General of India

3 East 64th Street

New York, NY 10065 (Between 5th and Madison Avenues)

Email
Phone

Official contact 347-721-9243
Emergency contact (outside office hours) 917-815-7066

Fax

N/A

Social Media 

Youtube: @IndiainNewYork
Twitter: @IndiainNewYork
Facebook: @IndiainNewYork
Instagram: @IndiaInNewYork
LinkedIn: CGI New York

Office Hours

9:00 am to 5:30 pm

Monday to Friday (excluding public holidays)
As general advice, because of the number of daily visitors and the lack of adequate parking, it is strongly advised that you travel by public transport.
Services Offered At The Indian Consulate New York
The Indian consulate in New York is one of the busiest Indian consulates in the US. Here are some issues you can solve at the consulate:
Visa application, renewal, and processing.
Passport application, renewal, and processing
Transfer of possessions and remains of lost loved ones.
Processing and granting of Overseas Citizenship of India (OCI)
Inquiries about the Global Entry Program (GEP) for Indian Citizens.
How to go about renouncing your Indian citizenship.
Documentation and travel advisory for emergency travel
Notarization services
Other miscellaneous services such as affidavits and document attestation, birth, death, and marriage certificates, police clearance, and others.
Child adoption guidelines
Vaccine and COVID-19 guidelines
Custom and import guidelines
Contact The Consulate of India New York With DoNotPay
The Indian Consulate in New York has a few spaces available in its waiting area and encourages you to seek other methods of contact before you make an appointment. Alternatively, you can use DoNotPay to make an inquiry and contact the embassy easily. Here's how:
1. Type in "Contact Embassy" on DoNotPay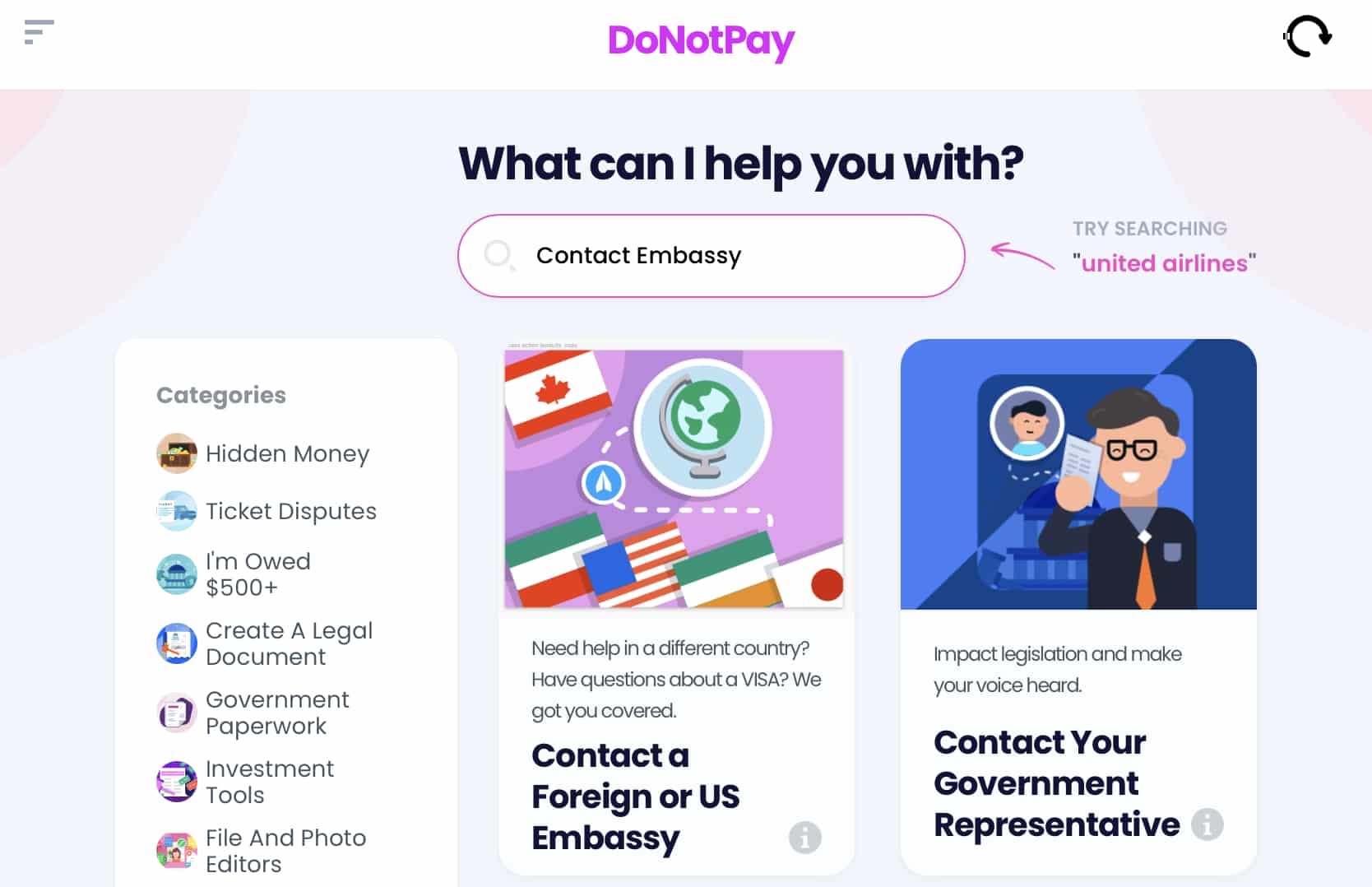 2. Select whether you want to contact an international or domestic embassy or consulate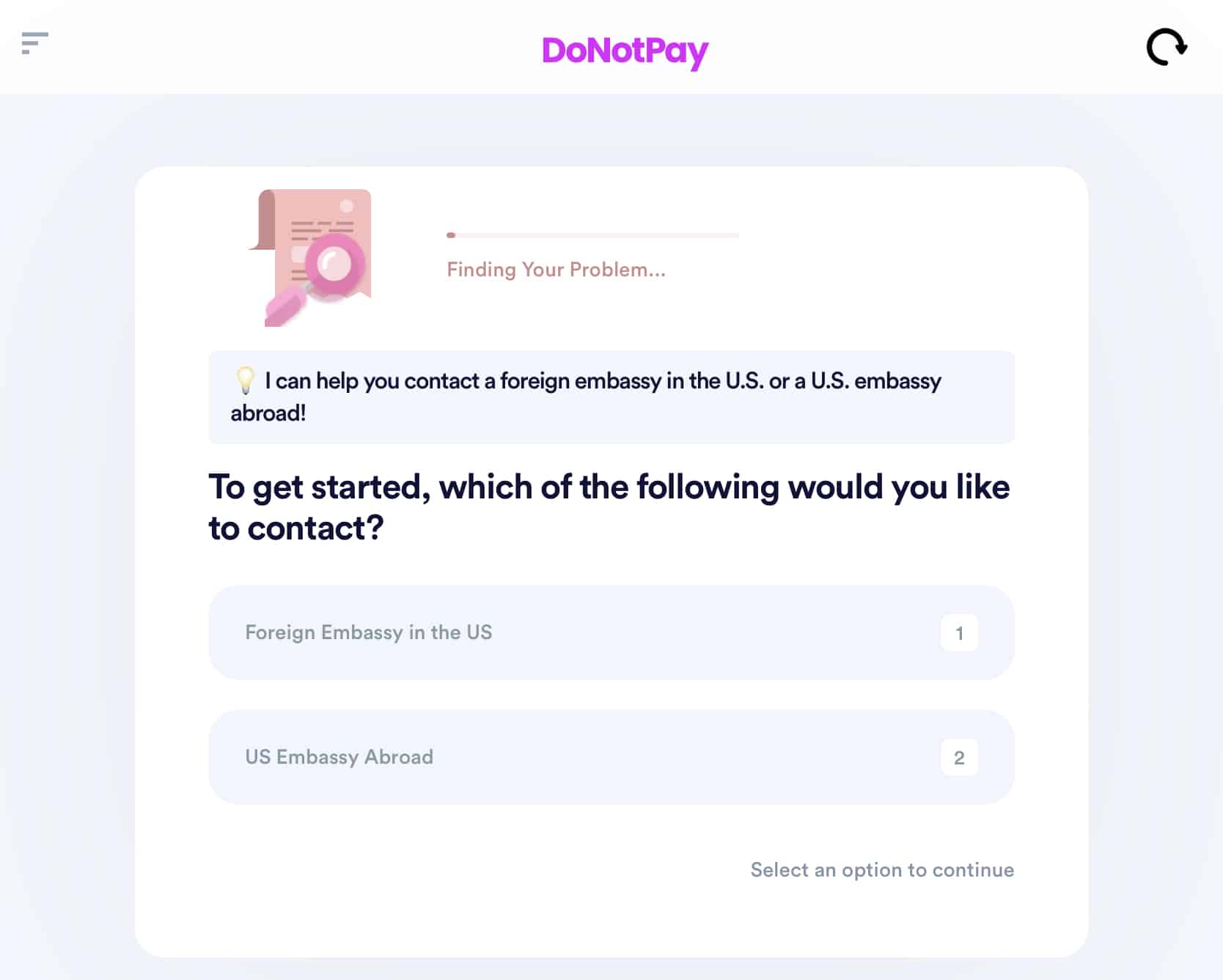 3. Briefly explain the questions you have or the issue you wish to resolve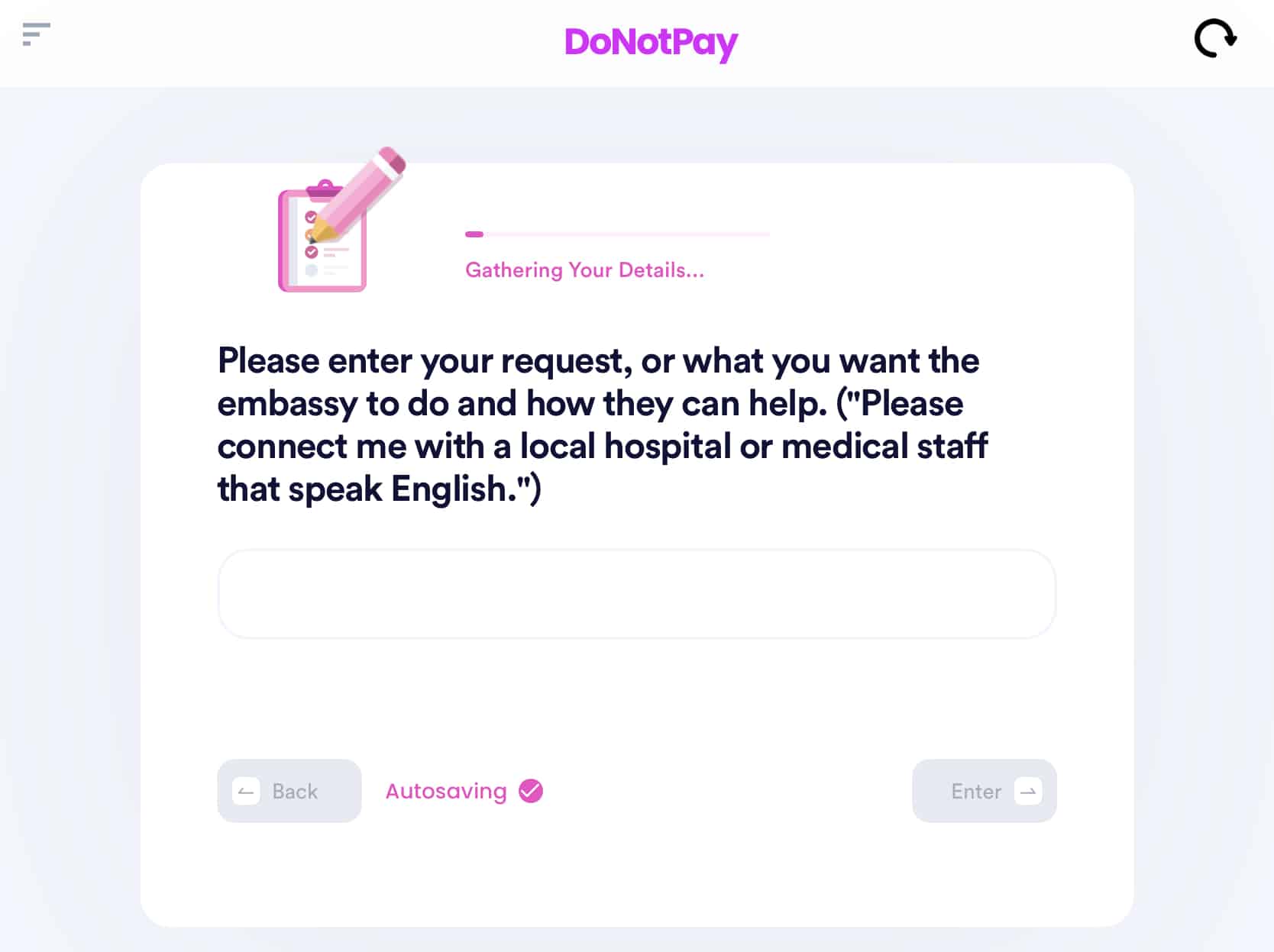 4. Tell DoNotPay which country you need to contact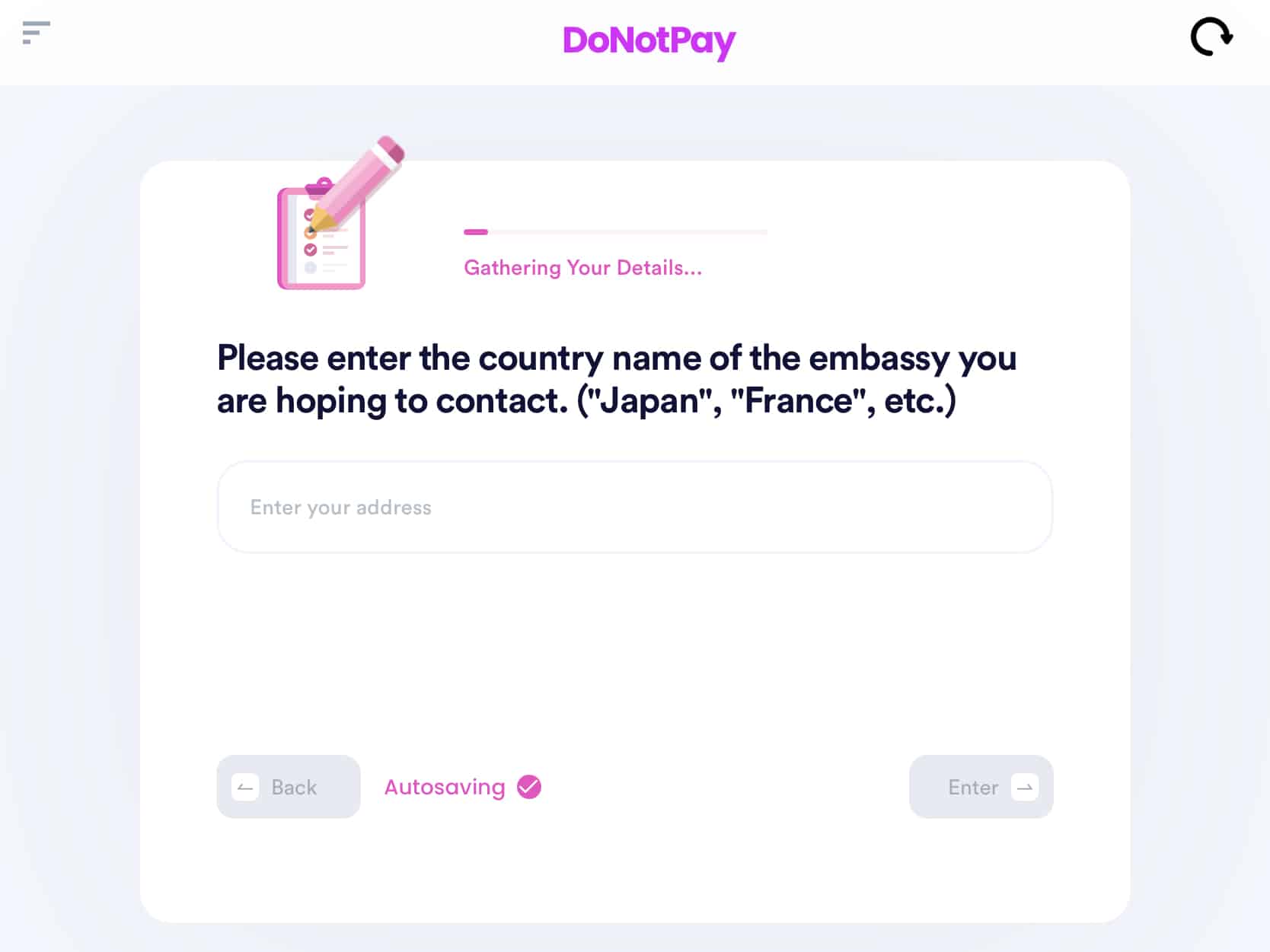 That's it! You can expect a direct response to your email afterward!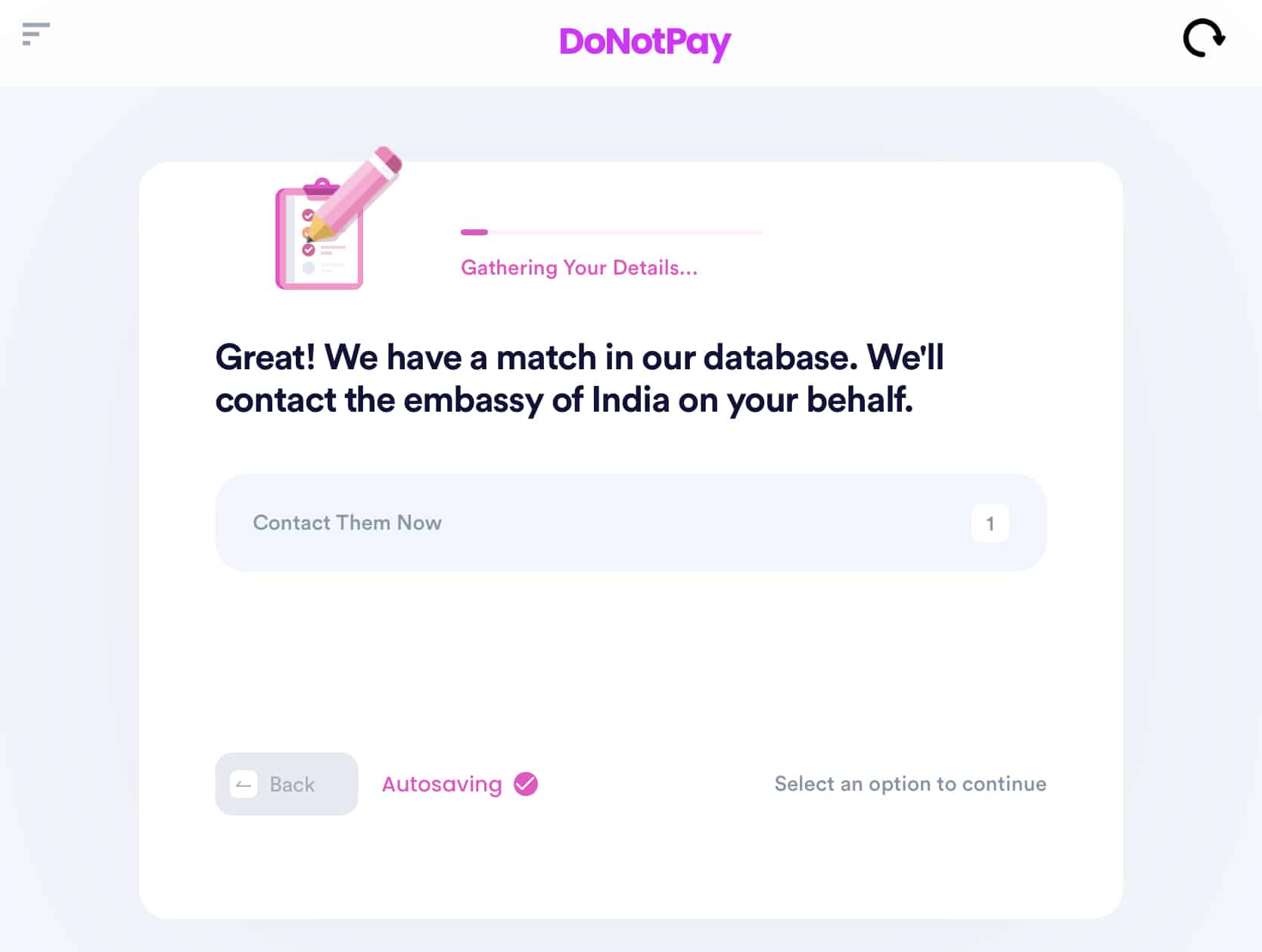 DoNotPay Helps You Reach: