Contacting the Indian Embassy, Chicago
If you are an Indian citizen, are of Indian descent, or wish to visit the Country anytime soon, this article is your ultimate guide on how to get in touch with the Indian Consulate General in Chicago.
Where is the Indian Consulate in Chicago?
The Indian consulate is located near William P. Fahey Bridge. The exact address is:
455 North Cityfront Plaza Dr
 NBC Tower Building, Suite No 850
Chicago, IL 60611
If you want to take public transportation to reach the consulate, here are some ways you can do so:
If you are going to take a CTA bus, you can take the following lines: 2, 29, 65, 66
You can ride the following CTA trains: ME, SSL, UP-N, UP-NW
Or you can take the following subway lines: Green, Red
How to Contact Indian Consulate in Chicago
It can be pretty tiring trying to find a way to reach the consulate. If you have a problem the Indian consulate must help you with, we've compiled a list of the ways you can contact them.
Address

455 North CityFront Plaza Dr. NBC Tower Building, Suite No 850, Chicago, IL 60611

Email
For Consul General Amit Kumar: cg.chicago@mea.gov.in For OCI & Head of Chancery:

For Economic, Commercial, Community Affairs:

For Press, Information, Culture, Education:

For Passport and Consular Matters:

For Visa and Renunciation:

For Admin, Account, DDO, and OCI:

Phone
Working Days:

For general queries during working hours from 9:30 to 13:30 and 14:00 to 17:00: +1 312-595-0405
For emergency only from 08:00 to 20:00 : +1 312-753-8530

For Weekends and Public Holidays:

For emergency visa services from 09:00 to 20:00 : +1 312-753-8530
For emergency cases other than visa services:

 from 07:00 to 14:00 : +1 312-687-3642
from 14:00 to 21:00 : +1 312-468-3276

Fax
N/A
Office Hours
Monday to Friday

9:30 AM - 5:30 PM

(except Indian & US Holidays)

By Appointment Only
The Indian consulate's services for passports, OCIs, and the Renunciation of Indian citizenships are handled through VFS Global, a third-party provider. Therefore, if your needs involve any of these three reasons, you should submit your request through VFS Global's website:(https://visa.vfsglobal.com/usa/en/ind).
Furthermore, walk-in services are not available in both the consulate and VFS Global until further notice.
Areas the Indian Consulate in Chicago Serves
There are currently five Indian Consulate Generals and one Indian Embassy in the US. There are five consulates in the cities: Atlanta, Chicago, Houston, New York City, and San Francisco.
The Indian consulate in Chicago currently serves the states of Illinois, Indiana, Iowa, Michigan, Minnesota, Missouri, North Dakota, South Dakota, and Wisconsin. If you're living in one of these states, your point of contact would be the Chicago location!
Reasons to Get Help from the Indian Consulate in Chicago
Both US citizens and Indian citizens living in Chicago might need the help of the Indian consulate in international issues regarding visas, travel, and much more. Here are the general services offered by the Indian consulate in Chicago: 
Visa
eTourist Visa
Passport Services
Emergency Certificate
OCI Cards
PIO Cards
Renunciation of Indian Citizenship
Miscellaneous services
Complaints and Suggestions
How to Contact the Indian Consulate in Chicago Through the Easy Way, DoNotPay!
Finding the contact information, trying to find out which email to write or which number to call, and even writing a proper email can be very overwhelming. Instead of doing this all yourself, let DoNotPay help you! All you have to do is:
1. Search "Contact Embassy or Consulate" on DoNotPay.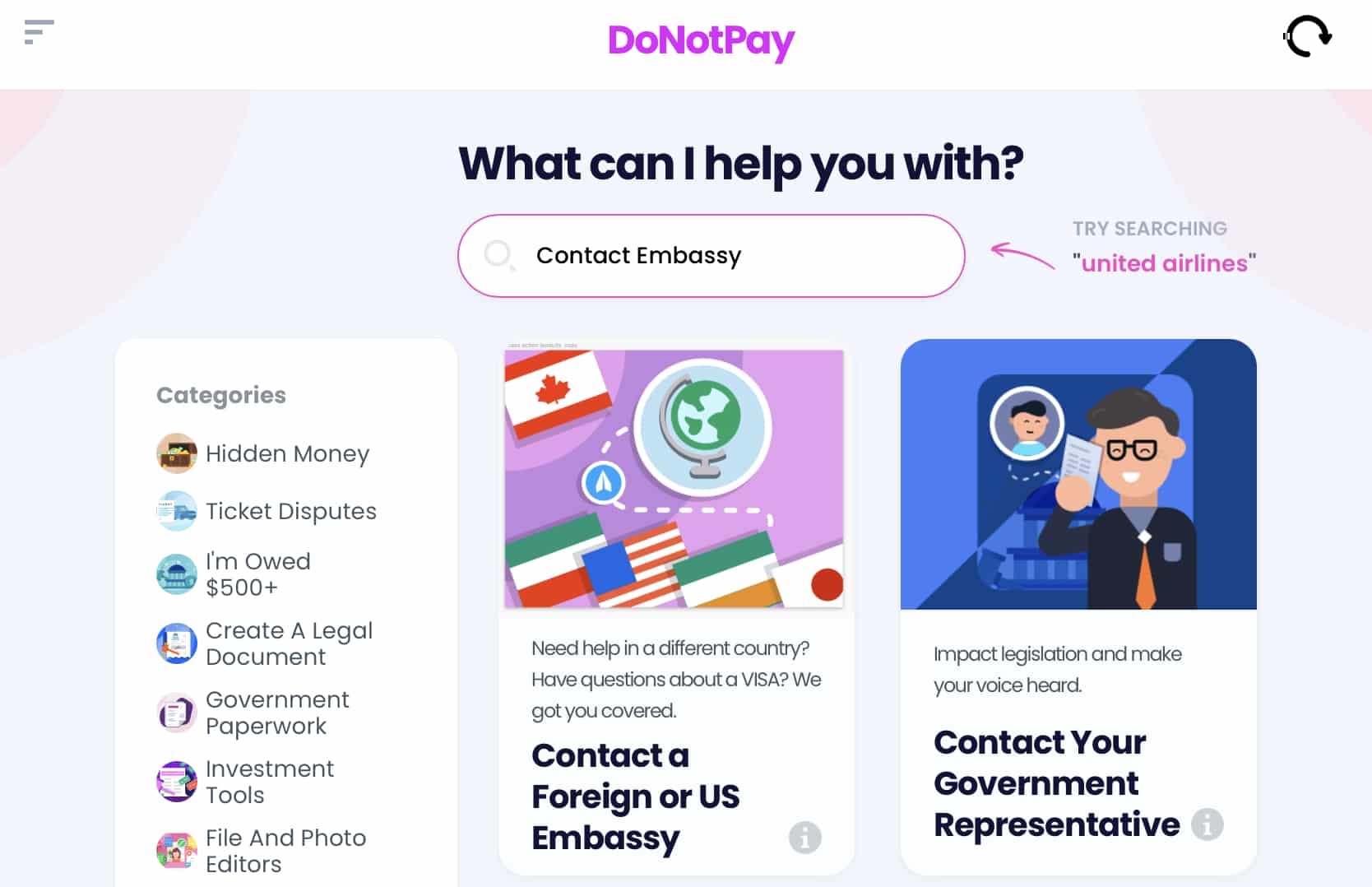 2. Make a choice between contacting a foreign embassy/consulate or a US embassy/consulate.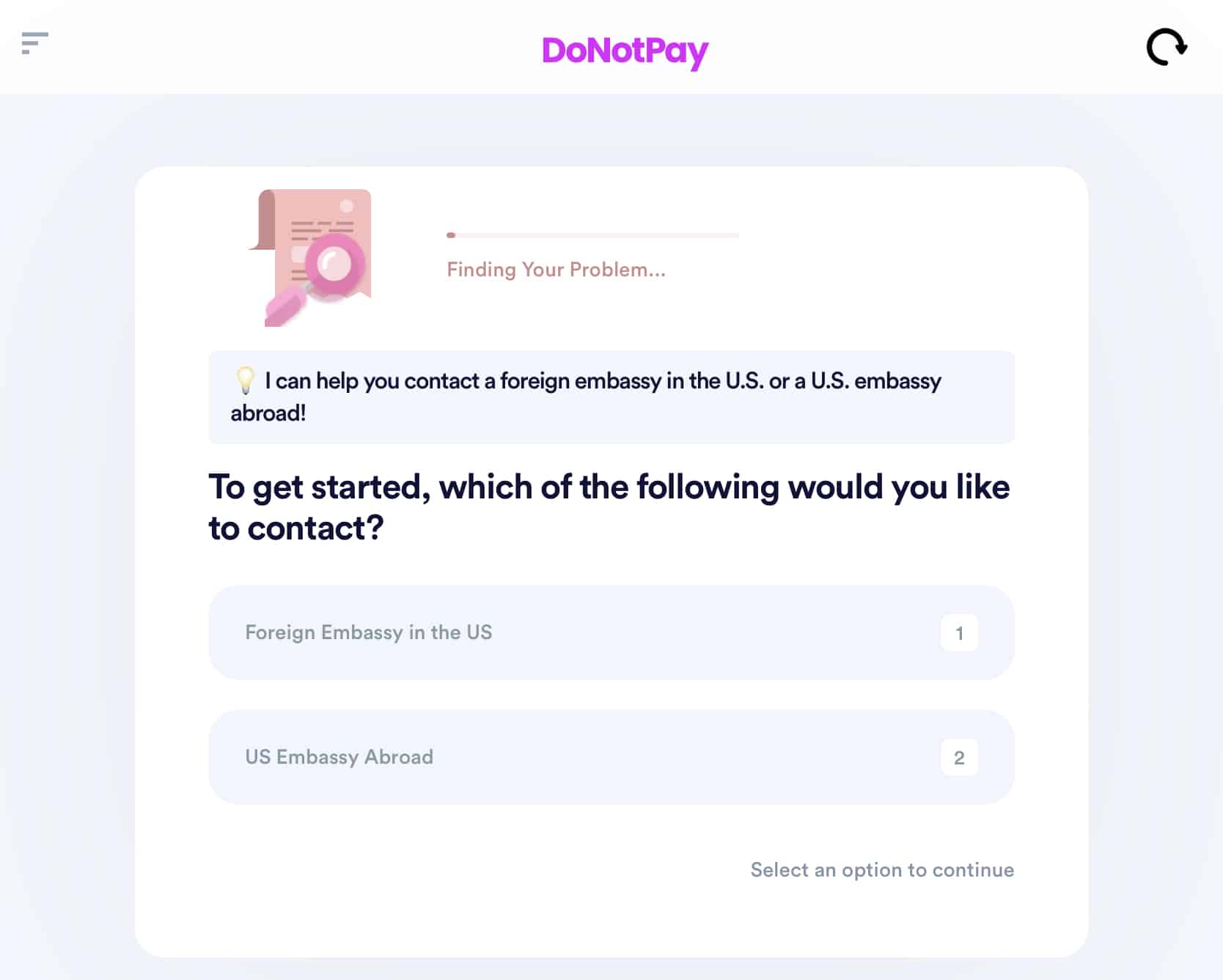 3. Provide us with the information on why you want to contact them and what your questions are.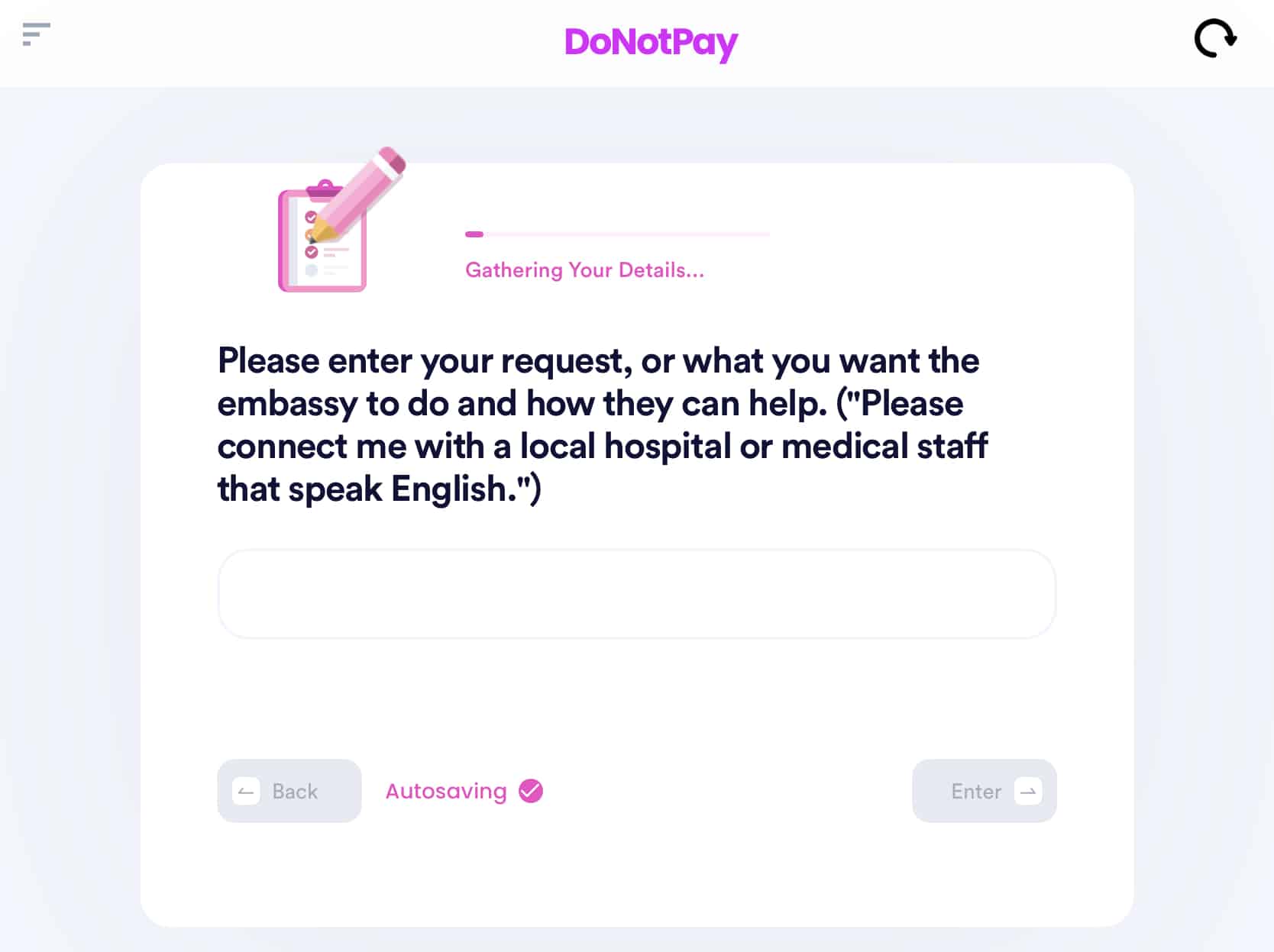 4. Enter the country of the embassy or consulate you hope to reach, and we'll connect you to the closest location!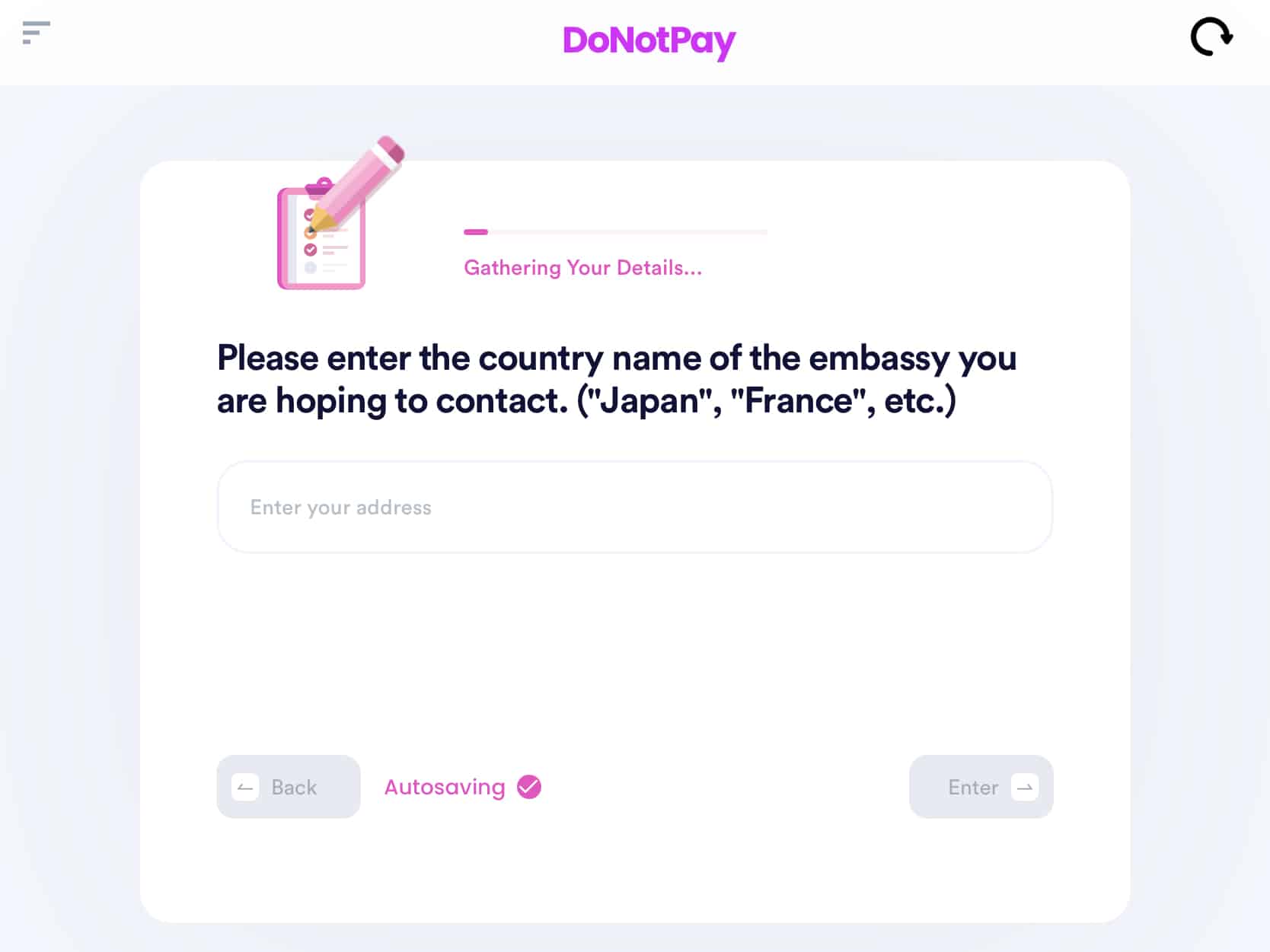 That's it! You are done! Don't spend time and let DoNotPay contact the consulate for you! All responses will be directed to you, so there is no need to come back and ask for an update.
What Other Embassies/Consulates DoNotPay Can Help You Reach?