India Tourist Visa Propositions in the Palm of Your Hand
As one of the cradles of ancient culture and mesmerizing art, India is one of the most sought-after travel destinations in the world. Before you plan your trip, you must complete a series of administrative tasks to obtain a specific type of visa and enjoy your stay there.
India's tourist visa application process can be arduous and quite time-consuming, especially if you are having trouble finding accurate information. To help you overcome this issue, we created a special guide revealing all you should know about getting an Indian tourist visa with zero stress! You will learn:
How you can apply for a tourist visa
What the processing time of your visa request will be
How to simplify the application process by subscribing to DoNotPay
Is Getting a Tourist Visa for India Necessary?
Yes—obtaining a tourist visa is required for all U.S. citizens who want to visit India, including U.S. government officials. To receive this document, you must comply with the official requirements and choose one of the available types of tourist visas based on how long you wish to stay.
Due to the COVID-19 pandemic, getting this type of visa isn't allowed at the moment, but the situation may change. Since this is only temporary, keep checking the official website of the Bureau of Immigration and Ministry of Home Affairs to get the newest updates regarding the situation.
Indian Tourist Visa Requirements for U.S. Citizens
A tourist visa for India lasts for five years and allows you to enter the country multiple times within this time frame. To request it as a U.S. citizen, you must have:
Valid passport obtained at least six months before the application and two blank pages in it
A passport-size photo that must:

Be in JPG format
Measure from 10 KB to 300 KB
Show your entire face, with your eyes open and without grimaces
Be taken in front of a light-colored or white background
Be border-free

Accepted payment method for the related fees
Proof of residency
Proof of your planned travel to India, such as a computer-generated itinerary
How Do You Get a Tourist Visa for India?
There are two types of tourist visa applications for India:
Regular application—for tourists staying in India for up to six months
e-Visa application or ETA—for tourists staying in India for no longer than two months
Regular Tourist Visa Application
Here are the instructions for submitting a traditional visa application for India:
Go to the Online Visa Application page
Complete the form with your personal and passport details
Submit the online application
Keep the application ID as you may need it for your further communication with the agency that provides your visa
Choose if you want to:

Print out the completed application form and bring it to a suitable local Indian Mission for submission
Schedule a meeting with a suitable local Indian Mission first and pay the fees online
Make sure you check each piece of information provided, as you won't be able to correct inaccurate details once you submit the form.
Electronic Tourist Visa Application
Here's how to apply for an electronic tourist visa:
Navigate to the e-Visa application page
Fill out the required fields
Upload your photo and the requested page of your passport
Pay your visa-related fees electronically
Submit the form
Wait for your Electronic Travel Authorization (ETA) to be sent to the email address you provided
Print your ETA and bring it with you when the travel date comes
You must show the authorization at the Immigration Check Post so that the staff can stamp the e-Visa on your passport. It also must be submitted at least four days before arriving in India.
How Long Does It Take To Get an Indian Tourist Visa?
Regardless of the type of visa you apply for, the average processing time is three days after the request submission.
Can DoNotPay Help You With the Visa Application Process?
Yes, it can! If you are confused by the sea of information from multiple sources and don't know if you need a visa to travel to a particular country, we have got your back.
All you should do is:
Create an account with DoNotPay and sign in
Look for the Tourist Visa Guide product
Confirm that you are a U.S. passport holder
Pick the country you want to travel to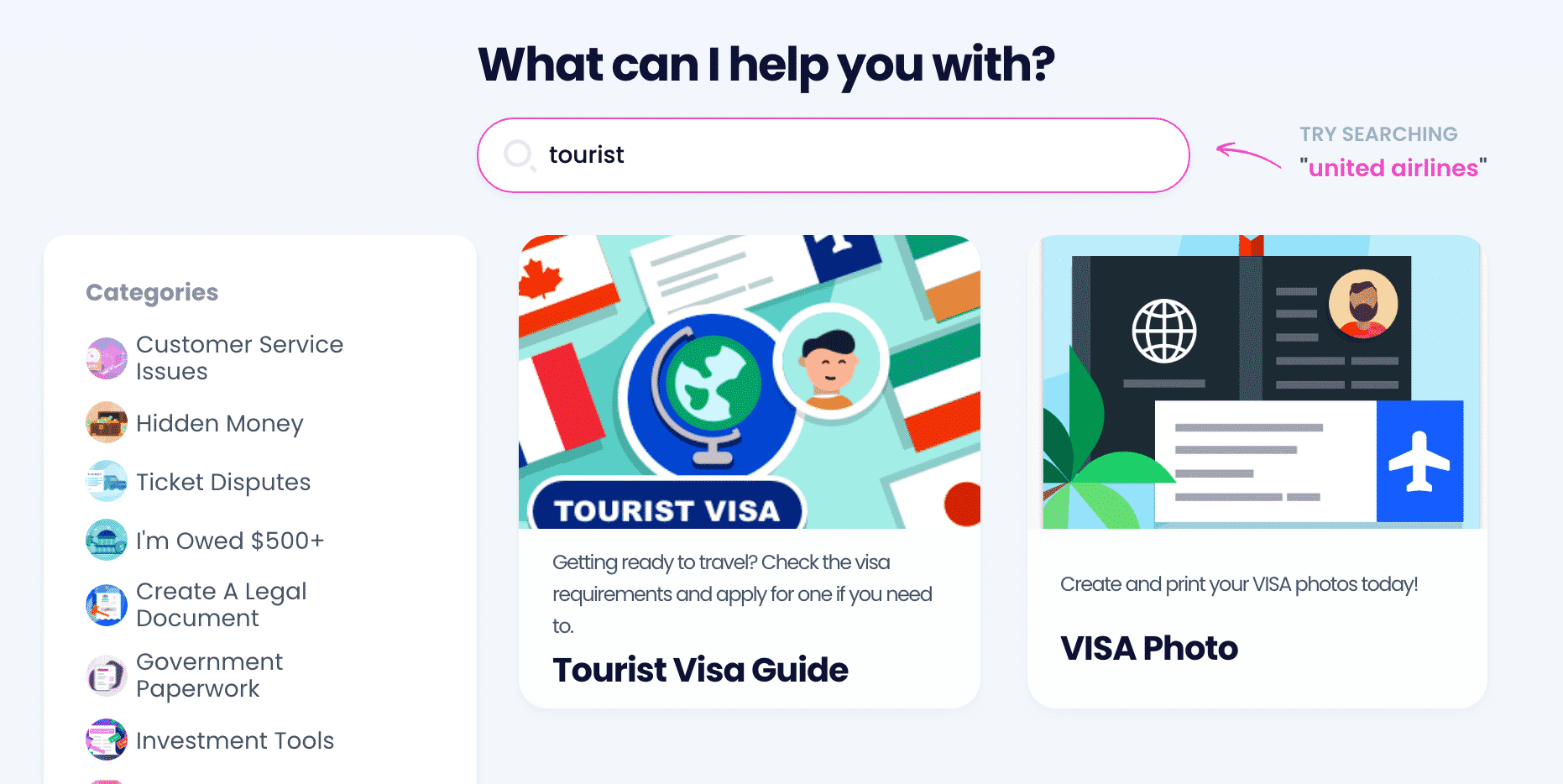 Our app will need only a few moments to check whether you need a tourist visa for the specified country. If you do, we will help you by providing a checklist containing all the documents and forms you need for the application process and save you precious time!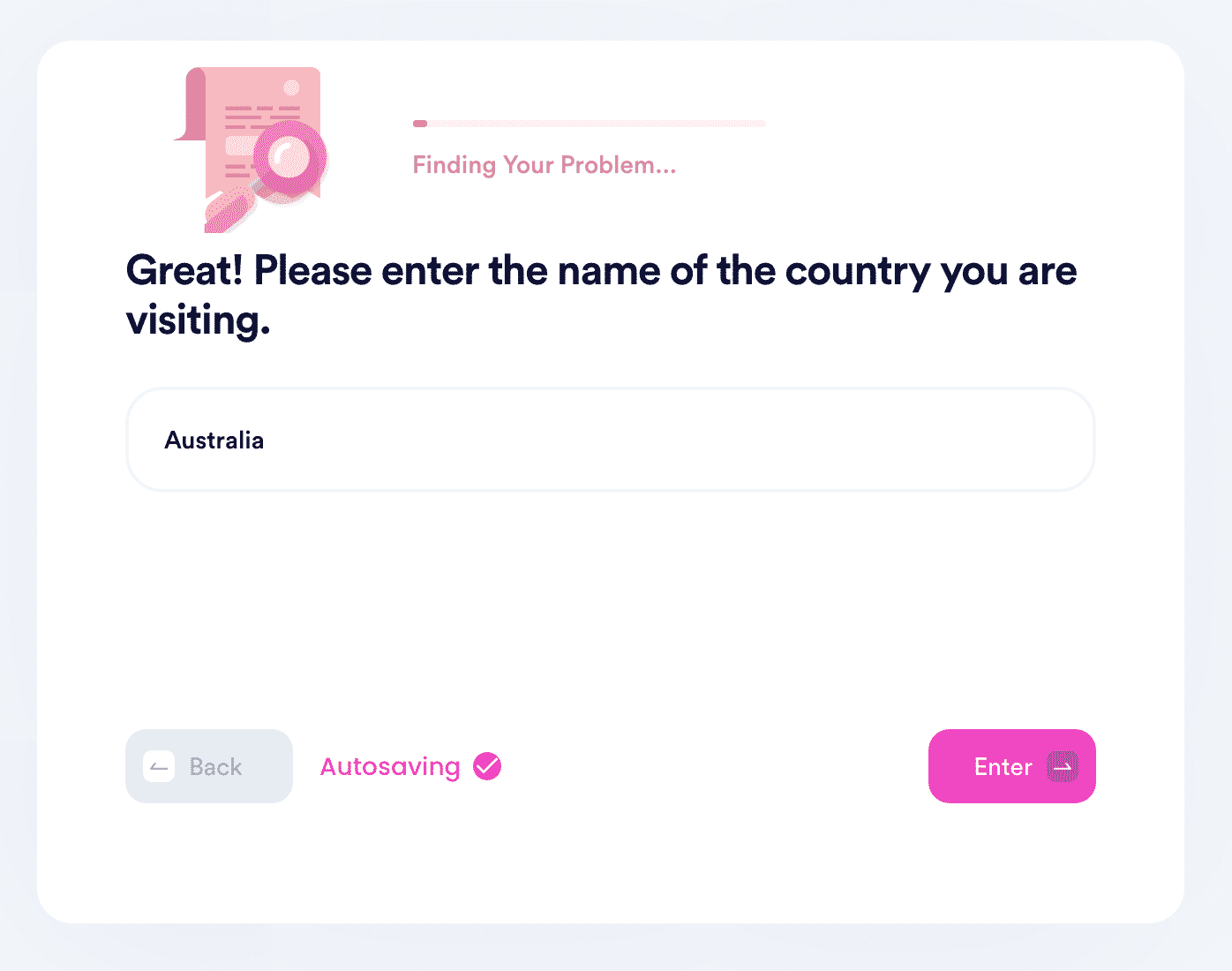 The good news doesn't stop here. Once you are sure that all the required paperwork is ready, DoNotPay can contact the embassy in your stead and ask if you can submit an email application. This way, you won't need to wait in queues or travel to the office.
Last but not least—we will provide you with a direct application link and spare you the trouble of looking for it yourself! If there are no online applications, our system will generate a PDF application form and allow you to print it out and complete it manually.
Discover How To Get Any Tourist Visa for Visiting Asia!
Looking forward to seeing other beautiful parts of Asia? Don't let bureaucracy issues ruin your travel mood—find the best tips for obtaining tourist visas in:
Is Bureaucracy Giving You a Headache? DoNotPay Can Help!
Bureaucracy is a big part of our lives that we can't escape. We understand the struggle over at DoNotPay—that's why we've created various features that can help you out! The world's first robot-lawyer app can assist you with:
DoNotPay's Arsenal of Features Doesn't Stop Growing
DoNotPay's number of handy features keeps growing by the day. Our platform can help you with various issues ranging from filing insurance claims to finding clinical trials. Want to save money on unused subscriptions? DoNotPay has got your back! We can help you cancel them and fight any subscription spam email that you get. Your AI assistant can also get you free raffle tickets or find any missing money in no time!
With DoNotPay, you'll have access to countless features that grow in numbers by the day! You'll be able to block robocalls, deal with tedious neighbors, and much more!