How Much Will an India Tourist Visa Cost You?
If you're estimating your expenses for your trip to India and wondering whether a tourist visa might cost you a pretty penny, don't worry! DoNotPay explains how much an India tourist visa can cost you and what you need to successfully apply for one!
India Tourist Visa Cost for Every Category
To find out how much a tourist visa to India costs, take a look at the following table, which states the price of every type of tourist visa:
| Validity | Allowed Number of Entrances | Price for an Indian Tourist Visa per Tourist |
| --- | --- | --- |
| 30 days (from July to March) | Two | $25 |
| 30 days (from April to June) | Two | $10 |
| One year | Multiple | $40 |
| Five years | Multiple | $80 |
If you decide to apply for an Indian visa online (e-Visa), expect an additional 2.5% bank transaction charge that's calculated based on the type of visa you opt for.
Now That You Know the Price for an Indian Tourist Visa, Prepare Your Application
Other than the tourist visa fee, India imposes the following additional requirements for all tourist visa applications:
A valid passport with two blank pages for the visa and entrance stamps
A passport-size photo of yourself that meets the following conditions:

The format of the photo must be JPG
You mustn't apply any borders or frames to the photo
The size of the photo mustn't be less than 10kb or over 300kb
You must show your entire face, without coverings or grimaces
The background must be as blank and light as possible

Access to any accepted payment method
A completed Indian tourist visa application form
Statement of your residency
Proof of your reason for visiting that can be

An itinerary
A tour guide
An invitation letter
Ways You Can Apply for an India Tourist Visa
If the tourist visa fee for India suits you, you can submit your application in two ways:
Through the regular online application form
By submitting an e-Visa application
The application process is the same for both and includes entering all of the required information and uploading the necessary paperwork. The difference is that the e-Visa grants you an Electronic Travel Authorization while the regular application requires you to visit an Indian diplomatic mission to pick up a physical tourist visa.
Other Entry Requirements for India
Because crime, civil unrest, and new COVID-19 cases are on an all-time high, India imposes the following entry requirements:
India is not issuing any visas nor validating issued ones at the moment of writing this article
Tourists are not allowed entry until further notice
Check the website of the Bureau of Immigration website regularly to keep up with updates to these restrictions.
Who Can You Contact To Inquire About Any Changes in Fees for the Indian Tourist Visa?
If you have any questions about the requirements or cost of a tourist visa to India, you can contact one of the Indian diplomatic missions in the United States using the information from the table below:
Diplomatic Mission
Phone Number
Email
Address
Embassy of India, Washington DC
202-939-9888
visa.washington@mea.gov.in
2107 Massachusetts Ave NW, Washington, DC 20008
Consulate General of India in New York
347-721-9243
cg.newyork@mea.gov.in
3 E 64th St, New York, NY 10065
Consulate General of India in Chicago
312-595-0412
cg.chicago@mea.gov.in
455 N Cityfront Plaza Dr Suite 850, Chicago, IL 60611
Consulate General of India in Atlanta
404-963-5902
visa.atlanta@mea.gov.in
5549 Glenridge Dr, Sandy Springs, GA 30342
Consulate General of India in San Francisco

415-668-0662
415-668 0683

N/A
540 Arguello Blvd, San Francisco, CA 94118
Consulate General of India in Houston
713-626-2148
info.houston@mea.gov.in
4300 Scotland St, Houston, TX 77007
DoNotPay Helps You Apply for a Tourist Visa for India or Any Other Country Hassle-Free!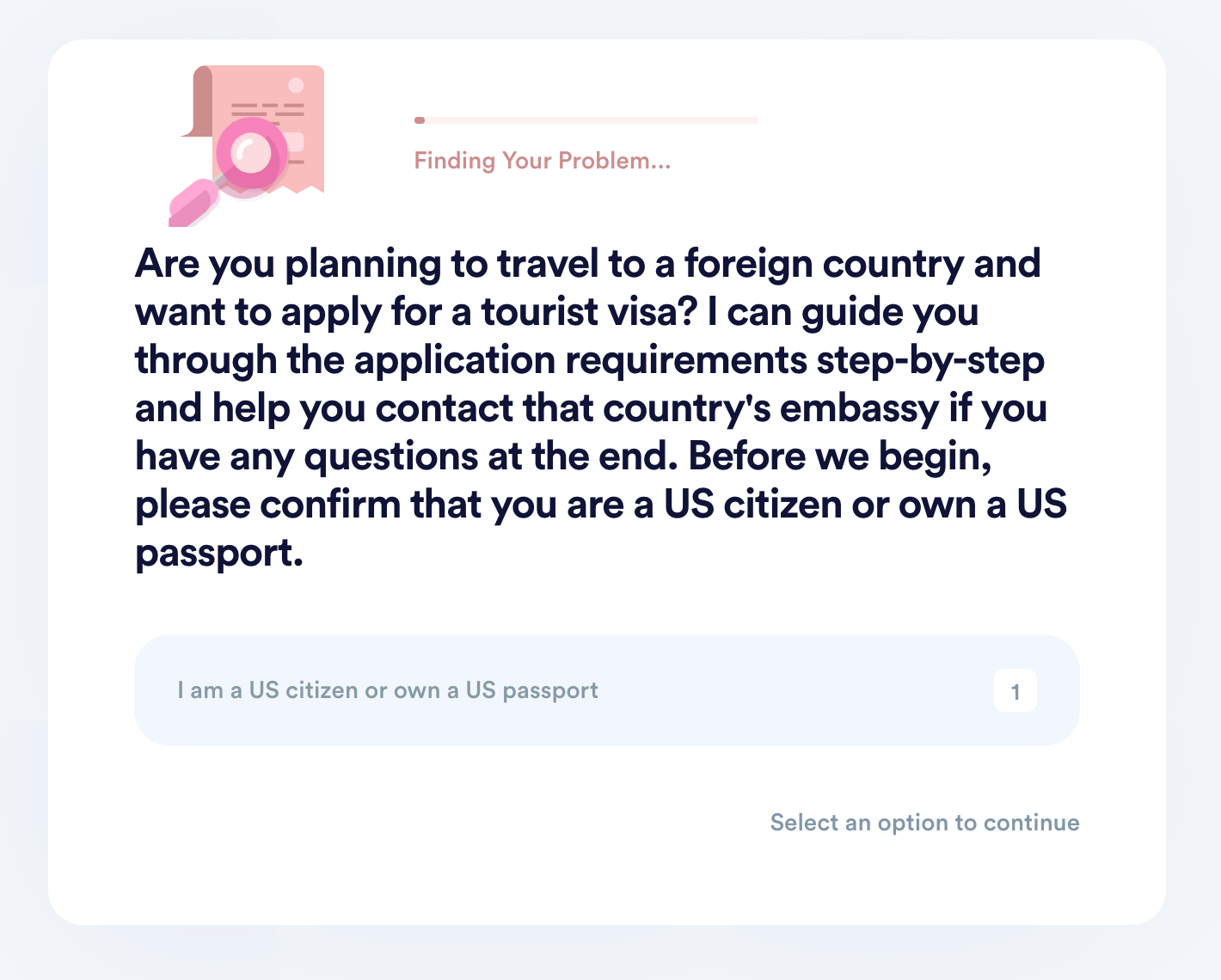 Learn all about tourist visa requirements and available application processes from the comfort of your home. DoNotPay helps you check whether you have all of the necessary paperwork and shows you the fastest way to a tourist visa for any country! Our app is a perfect choice if you want to:
Rid yourself of bureaucratic hurdles
Avoid searching through tons of websites for information about a specific tourist visa only to find out all of them are out-of-date
Streamline your tourist visa application process
To get started:
Search for Tourist Visa Guide
Confirm that you're a U.S. passport holder
Enter the country you plan to visit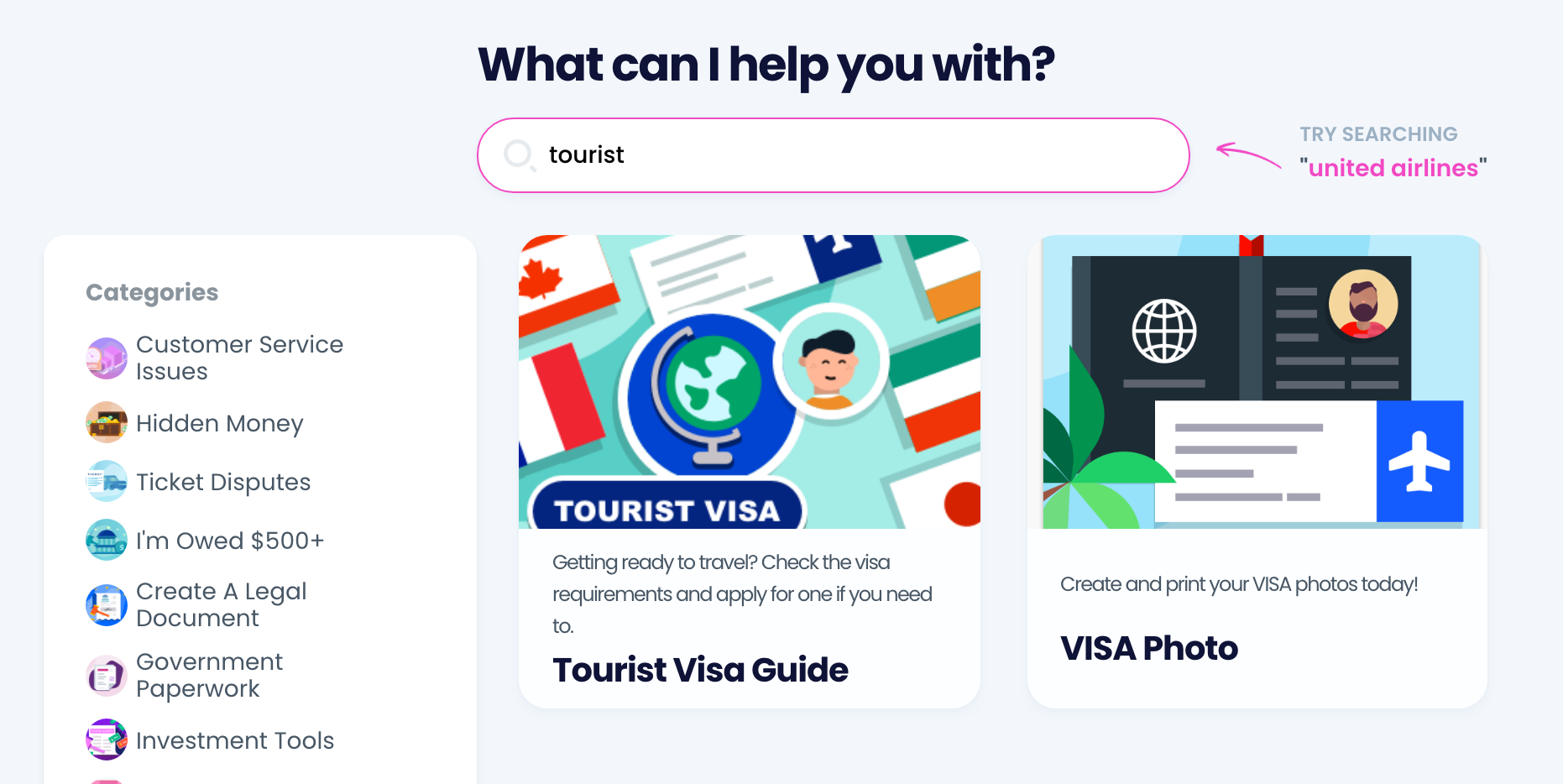 DoNotPay Ensures a Smooth Visa Application Process for Any Asian Country
Besides India, Asia is full of diverse cultures, people, and cuisine you can explore. If India isn't your final stop or you're planning your next vacation, access DoNotPay to find out whether you need a tourist visa and how to apply for one for the following Asian countries: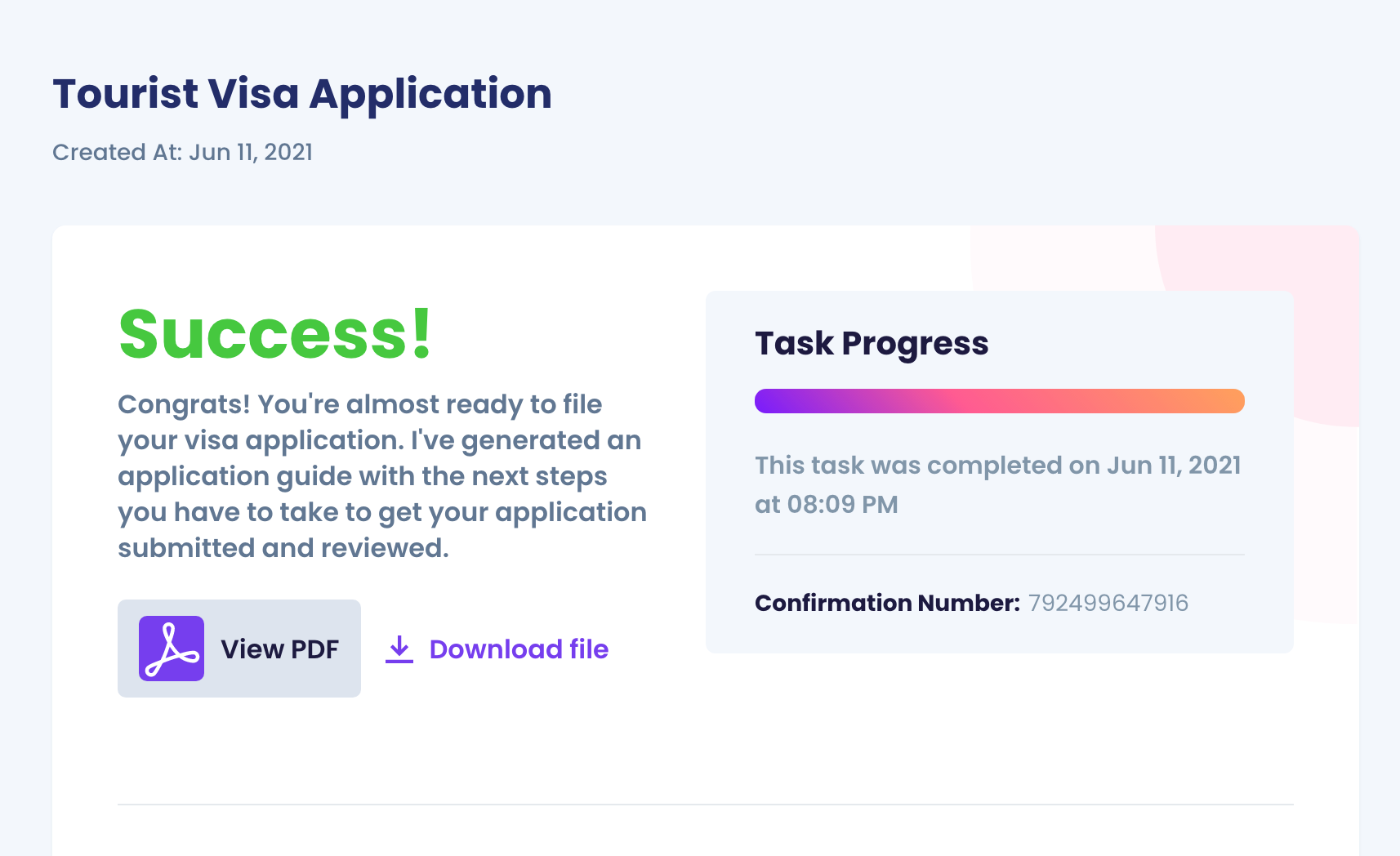 DoNotPay Helps You Tackle All Kinds of Problems From the Comfort of Your Home
Are you too busy to go to Target, Walmart, or photo studios to get your passport photos taken? DoNotPay offers you the possibility of taking them yourself and having them edited without going anywhere!
Thanks to our app, you don't need to visit the post office if you want to initiate a return. You can also skip going to a notary office because we'll help you get your documents notarized.
Here are some other tasks you can complete with ease using DoNotPay:
We Help You Get Fuss-Free Subscriptions to Any Service
Interested in a specific service or platform? Make sure to get the best out of your free trial without getting charged and ending up with an unwanted paid membership. Even if you make a mistake, DoNotPay can end your subscription in a few simple steps!
Our system allows you to generate virtual credit card numbers to prevent platforms from getting your real bank details and using them for unauthorized transactions. We also offer burner phone numbers that will help you go through any subscription or verification procedure without disclosing personal details.