A Rundown on an
Independent Sales Rep Agreement
Independent sales representatives are usually the best option for small and startup businesses. There are no upfront investments, and the risks are minimal.
This article will help you understand the basis of an independent sales rep agreement and show you how to write a contract on your own. 
What Is an
Independent Sales Rep Agreement
?
An independent sales representative agreement is a legal document that a business and a person that sells a service or product for appropriate compensation sign upon starting to work together. The contract lays down terms of all the activities and rights and obligations of both parties.
Sales rep agreements protect both the company and independent sales representatives. Here's what the agreement should define:
How much the products cost

What people sales reps sell the products to

Where sales reps sell the products
What Should a
Sales Representative Agreement Include
?
Every independent sales rep agreement should outline the terms that can vary depending on the state. Every sales rep contract includes several main provisions, and you can find their brief descriptions in the table below:
Independent Sales Rep Agreement Elements

Explanation

Classification of the Sales Representative

It should define whether the sales representative is an

independent contractor

or employee. Determining this is important because of the issues like taxes, legal liability, and insurance coverage

Duties and Responsibilities of the Sales Rep

The provision should identify the sales rep's duties and responsibilities, including:

Preserving the image and reputation of the company

Having trained and capable staff

Promoting service and selling products

Products

The clause should identify which products a sales representative can sell, to whom, and where

It should also define any limitations that the business might have regarding the products

Compensation

It is one of the most important sections of every independent sales rep agreement. This provision should determine how the sales rep will be paid and specify the basis of commissions and possible bonuses. It should address any other issues regarding commissions

Confidentiality

This provision must specify the type of information the sales representative is not allowed to share with anyone outside the company. Confidential information may include:

Sales lists

Vendor lists

Customer lists

Business plans

Financial information

Price structures

Commission rates

Business trade secrets

Computer programs

Operating procedures

Contract Termination

It should state the ground rules for agreement termination. Reasons for termination can be classified as:

For cause

For convenience

The agreement should also cover what happens after the termination
How To Draft
Sales Rep Agreements
on Your Own
If you want to create an independent sales rep agreement by yourself, you can download a contract template from the internet. There are free versions available, but you should be careful as they can be too general.
Here's how to write an independent sales rep agreement:
Add the contact information of both parties

Insert a statement confirming that the sales representative is an independent contractor and not an employee

Include an explanation of what the sales rep can and cannot sell

Explain how the commissions are going to be handled

Add a non-disclosure clause about confidential information

Specify the terms of termination

Provide a statement about the company's property—clarify that all the property should be returned after the agreement ends

Include signatures of both parties
Draw Up Different Legal Documents Using DoNotPay
Creating contracts and other legal documents is complicated if you don't have any knowledge on the subject. One small mistake can make your document unenforceable in court. It's known that attorneys overcharge their services, which makes people reluctant to hire them.
You can try a different route—DoNotPay! The world's first robot lawyer offers to draft various legal documents for you while making sure they are legally valid.
The process couldn't be more simple. Here's what you should do:
Open DoNotPay in a

web browser

Enter the name of the legal document you want to create

Provide information by answering our chatbot's questions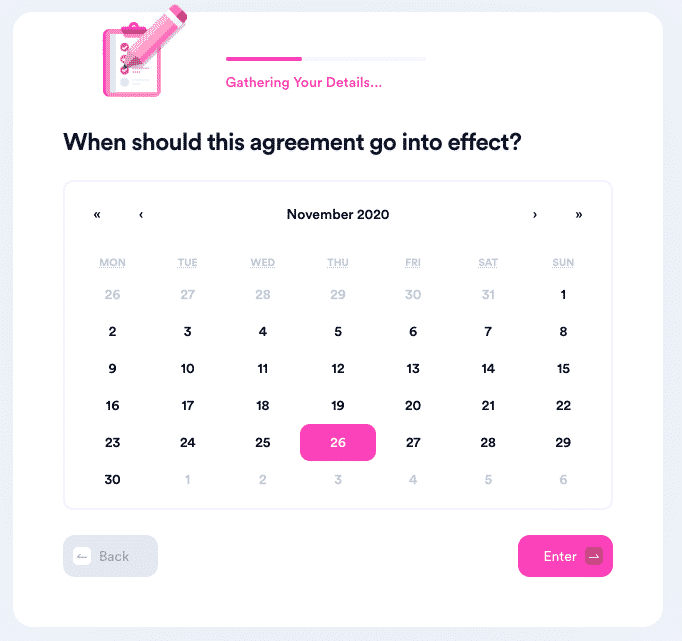 Once you give us the necessary information, we will generate a personalized legal document. You can use DoNotPay to e-sign and fax the document to other parties.
What Legal Documents Can DoNotPay Customize for You?
With DoNotPay's Standardized Legal Documents feature, you can create various contracts and legal documents, but that is not all you can do. You can use our learning center to inform yourself about many other legal documents. 
Check the following table to see the documents you can create with DoNotPay and those you can learn about:
Templates
Guides

Quitclaim Deed

General Affidavit

Independent Contractor Agreement

General Business Agreement

Estoppel Certificate

Intent To Purchase Real Estate
Keep Your Data Safe With DoNotPay
Do you love free trials but are reluctant to disclose your credit card details, phone number, or email address?
Our app lets you try out different subscriptions in a risk-free way!
Use DoNotPay's Burner Phone feature to sign up for services without providing your phone number! We'll make sure robocall scammers and text spammers cannot harass you!
With our virtual credit card, you can sign up for any free trial and not worry about canceling it! Since the card is not linked to your bank account, no one will be able to charge you once the trial expires. An additional perk is that the card comes with a free email address, which means no spam emails from the company. 
DoNotPay Helps You Fight for Your Consumer Rights
Did you know that companies often reject first-time warranty claims?
You're probably familiar with how complicated the process of appealing parking tickets is. Trying to get a refund for an unsatisfactory purchase or a delayed flight has likely made you mad at least once.
Not anymore! DoNotPay makes all these issues go away in less than five minutes, and that is not all we can do for you!
You don't have to deal with customer service reps of any company on your own anymore—we do it all for you!
DoNotPay bypasses any bureaucratic obstacle for you—scheduling DMV appointments, delaying bill payments, getting in touch with your incarcerated loved ones, filing lawsuits in small claims courts, and claiming insurance policies.