A Guide to Creating an Independent Contractor Sales Commission Agreement

If you want to save hours spent searching for an adequate sales commission contract, we have got you covered! DoNotPay can guide you through the independent contractor sales commission agreement and explain how to deal with legal documents easily!
What Is an Independent Contractor Sales Commission Agreement?
An independent contractor sales commission agreement is a legally binding document between a business and a professional selling the other party's product or service. It outlines the percentage of the revenue the independent contractor gets based on the sales they generate. The contract also defines the duties and responsibilities of both parties.
A sales commission agreement can either be a one-time or recurring arrangement based on the product being sold and the needs and overall satisfaction of the parties involved.
Benefits of Sales Commission Agreements
Sales commission agreements are essential because they:
Motivate workers to be more proactive
Measure performance accurately
Optimize performance because the contract is commission-based
Enable an easy and efficient payroll management process
What Should an Independent Contractor Sales Commission Agreement Cover?
Sales commission agreements for independent contractors vary from state to state, but every contract should have the following provisions:
Provisions
Explanation
Details of both parties
Names, addresses, and contact information of the business owner and the independent contractor
Responsibilities of the independent contractor
What the contractor can sell and who they can sell it to. This clause should clearly state if they have any restrictions or reservations.

This section also outlines the expectations regarding the contractor's training, professionalism, and behavior

Compensation
This provision outlines the independent contractor's negotiated fee, the basis of commission, and any other important information
Confidentiality
The business owner must ensure that the contractor does not disclose any confidential information to a third party. Confidential information can include:

Business strategy
Financial information
Marketing information
Operating procedures
Trade secrets
Vendor and customer lists
Sales lists
Design formulas

Breach of contract
How to handle breach of contract
Termination
This clause indicates the following:

How the contract can be terminated
The required notice period for termination
Responsibility of each party during the process

Signature
Signatures of both parties to confirm they understand and accept the terms and conditions
Formulating and signing the sales commission contract helps prevent potential misunderstandings and disputes.
What Happens if a Business Fails To Honor the Independent Contractor Sales Commission Agreement?
When creating your agreement, make sure to add provisions about what happens if any party violates the pact. It can be financial compensation, termination of the contract, or pressing legal charges.
The clause prevents any unpleasant situations since both parties know what to expect. The contract is legally binding, so if any party violates it, they risk facing legal action.
If there is no provision for dealing with breaches, no disciplinary or legal action can be taken against the guilty party.
How To Create a Sales Commission Agreement Yourself
Whether you're an independent contractor or a business owner, you should know what to include in the sales commission contract.
Writing a contract is a challenging process. If you want to draft a sales commission contract, take a look at templates online to get a gist of how it works.
Here are a few essential guidelines to follow:
Make sure the agreement is in writing. Verbal contracts are not legally binding or enforceable in court
Clearly explain how the independent contractor earns the commission. You should also state the metric you use to calculate the bonus
State your expected target in the contract
Every state has a different definition of sales commission and bonus. You should follow your local regulation to draw up a valid document.
What Is the Difference Between an Independent Contractor and an Employee?
In sales commissions, independent contractors have different monetary compensation, perks, and benefits compared to an employee, so it is important to differentiate between the two.
There are several key differences between an independent contractor and an employee, as mentioned in the table below:
| | |
| --- | --- |
| Independent Contractor | Employee |
| Self-employed | Works for an employer |
| Short-term | Long-term |
| Owns their equipment | Employer provides the required equipment |
| Signs an independent contractor agreement | Signs an employment agreement |
| Not covered by employment laws | Protected by state and federal employment laws |
Draw Up Various Legal Documents Using DoNotPay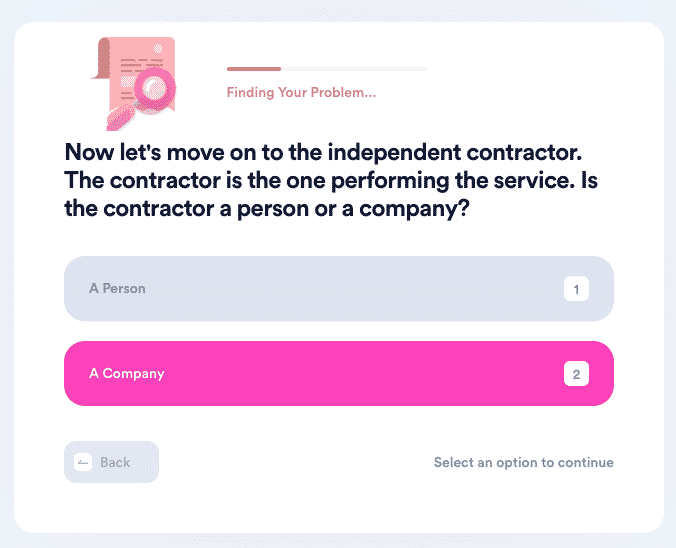 Creating legal documents can be pretty intimidating if you are not an expert. A minor error can cost you a lot. Consulting a lawyer is a good option, but attorney fees are high.
Try a different route—use DoNotPay to create your contracts. For a small monthly fee, we generate a myriad of documents.
If you're worried that the process is complicated, you shouldn't be! All you have to do is follow these easy steps:
In the search box, enter the name of the agreement you need
Provide information to our chatbot
DoNotPay will create the document, personalized according to your requirements, and you can download, print, and sign it immediately.
DoNotPay's Standardized Legal Document tool can help you draw up various contracts and agreements, such as:
General Business Contract
Intent To Purchase Real Estate
Quitclaim Deed
General Affidavit
Promissory Note
Child Care Authorization Form
When You're In Over Your Head, DoNotPay Swoops In
With your virtual assistant extraordinaire, many tasks will be a breeze to deal with.
No fax machine? No problem! Use DoNotPay to send faxes online. If you don't want to waste time waiting in lines or on the phone, we come to the rescue with many of our products that will help you:
What Else Does DoNotPay Have in Store for You?
You can count on our assistance when you want to get rid of:
Our app has even more to offer—try out our hacks that will save you money and do the heavy lifting in numerous tasks: