The Hassle-Free Way to Draft an Independent Contractor Agreement
Earning money by working for more than one company is beneficial for your income, but you have to deal with legal documents or contracts on your own. Getting a lawyer to do it for you is an easy yet expensive solution.
If you want to bypass browsing the internet in search of an adequate independent contractor agreement or avoid hiring a lawyer, we are here for you! DoNotPay can help you create an independent contractor agreement easily.
What Is an Independent Contractor Agreement?
An Independent Contractor Agreement is a contract that stipulates the arrangement between a contractor and a client. This document outlines why the party is hired as an independent contractor and not as a regular employee. It is also known as a:
Subcontractor Agreement

Consulting Agreement

Freelance Contract

General Contractor Agreement

Consulting Services Agreement
Freelancers or contractors who wish to sign a legal document with their clients should create an independent contractor agreement. Businesses and clients who decide to hire contractors, and regulate the arrangement through a written contract, should also resort to this particular document. 
This agreement includes the:
Description of the services provided

Duration and terms of the service

Payment details

Confidentiality, dispute resolution clauses, and non-solicitation
What Is the Difference Between an Independent Contractor and an Employee?
While both an independent contractor and an employee have legal documents signed to protect their labor rights, there are several vital differences between them. Take a look at the table below for more details.
Independent Contractor
Employee

Self-employed 

Short term cooperation

Controls what will be done and how

Owns the equipment needed

Purchases the work insurance

Buys health insurance 

Responsible for paying the taxes

May sign an Independent Contractor Agreement

Responsible for personal injuries on the job 

Not covered by employment and labor laws

Works for an employer

Long term cooperation

The employer provides the equipment needed

Work insurance covered by the company

The company covers health insurance

The company pays for the taxes

Must sign an Employment Contract

The company covers any injuries on the job

Covered by several state and federal employment and labor laws
Who Owns the Intellectual Property Created by an Independent Contractor?
Determining ownership of intellectual property can be a challenge, especially when it is created by an independent contractor. Even though there have been disputes regarding this matter, under U.S. copyright law, the owner of the intellectual property in the case of an independent contractor agreement is usually the party commissioning the work and not the person who created the work. 
A contractor can retain the ownership of the intellectual property and give the company license to use the material. This must be arranged before signing the contract, and it should be clearly defined.
What Happens if a Client Fails To Honor the Independent Contractor Agreement?
When creating an independent contractor agreement, you should try to be as detailed as possible. A good independent contractor agreement must have:
A termination provision

that describes the termination conditions for both parties

A notice provision

explaining the notice period that must be given to legally terminate the agreement
These clauses allow you to avoid any unpleasant situations. An independent contractor agreement is legally binding, so you are entitled to compensation should you experience any difficulties with the company that hired you, and the termination and notice provisions are clearly stated. 
If there is no written proof regarding the cancellation of the independent contractor agreement, the best option is to come to an arrangement with the company and avoid lawsuits. 
A lawsuit might be the only thing to do if an independent contractor has spent money on materials and supplies necessary to finish the project, and the company suddenly terminates the agreement. 
Create an Independent Contractor Agreement With DoNotPay
If you are not familiar with the law and hate going through all the necessary paperwork to create an independent contractor agreement, use DoNotPay! We'll generate an ironclad agreement for you in no time. What you need to do is:
Open DoNotPay in any

web browser

Type

Independent Contractor Agreement

in the search bar

Our chatbot will need some information, so add the required details
That's it! DoNotPay will create the contract for you. Once it is ready, you need to sign or notarize it to make it official.
We have a massive database of various documents at your disposal, and more are on their way! Check out the list below to see the legal documents DoNotPay currently offers:
Quitclaim Deed

General Business Contract

Intent to Purchase Real Estate

Estoppel Certificate

General Affidavit

Promissory Note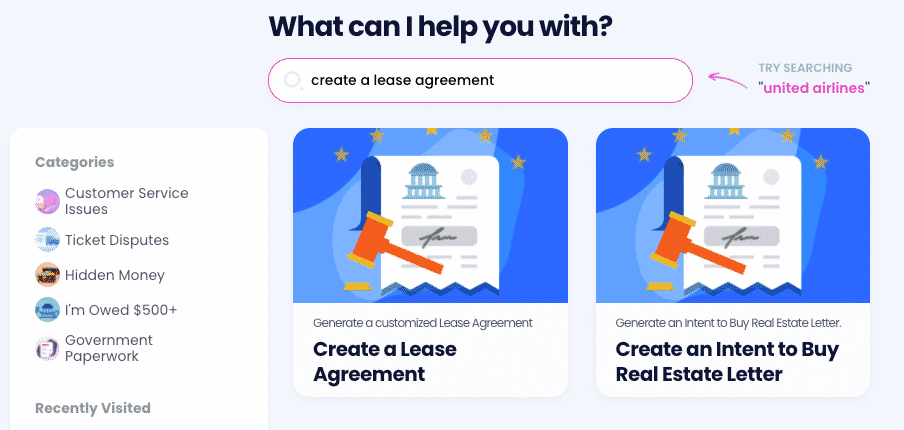 Falling for Scams Is Less Likely With DoNotPay
Thanks to AI technology, DoNotPay is a great resource for protecting your privacy and finances from potential scammers. Our bots can help you report robocalls, keep your inbox clean from spam email and shady text messages, or even deal with stalking and harassment, if it comes to that. 
In case the issues escalate, skip the expensive lawyers and sue the offenders in small claims court with ease. 
Another great way to increase your online security is to use our virtual credit cards and sign up for any free trial without risking unwanted charges. You can even avoid sharing your contact info with our Burner Phone feature. 
The Solution To Your Driving Woes
DoNotPay provides invaluable help to future and current drivers. By helping you ace that driver's license test, scheduling a DMV appointment the easy way, or contesting parking tickets, our app saves you money and time. 
If you need to file a car warranty or an insurance claim, we will help you deal with the necessary paperwork within minutes. Trying to get out of a car wash membership? DoNotPay can cancel it in an instant. 
Our platform works above ground as well. You can use DoNotPay to secure refunds from airline companies or compensation for delayed and canceled flights.