What Are Indemnity for Breach of Contract Clauses?
While finding yourself in a breach-of-contract situation is never pleasant, it is common. That is why you need to get familiar with available solutions. Is it less expensive for you to give up on the agreed-upon goods, services, or payment than sue the breaching party?
Can an indemnity for breach of contract clause help you compensate for losses you have suffered? DoNotPay provides information to help you resolve the dispute.
What Is Indemnity?
An indemnity is a promise or contractual obligation of one party to compensate the other contractual party if the latter suffers harm or incurs a loss due to a certain event.
While this event needs to be specified in the contract, it can include, for instance, a:
Specific action
Breach of contract
Negligence or fault of one party
Indemnification vs. Breach of Contract
An indemnification occurs when a third party (not a contractual party):
Suffers harm and injury
Makes a claim against one or both contractual parties
Keep in mind that indemnity is not an appropriate remedy for breach of contract claims since they include only the parties to the contract.
Why Are Indemnity Clauses Useful?
Indemnity clauses manage the risks by protecting one contractual party from being liable for the other party's actions.
Whether you should give indemnities depends on:
Different contractual circumstances—For instance, whether the agreement is of high risk
Willingness and positions of both parties—A contractual party with a stronger negotiation position tends to require an indemnity from the other party
You should ask for indemnity in case:
A (commercial) transaction is likely to cause harm or injury to you
Remedies associated with damage claims would be insufficient compensation for the suffered loss
When To Use Indemnity Clauses in Contracts
Here are some contracts where indemnity clauses are often used:
Type of Contract
Details
Share purchase
When purchasing shares, a buyer usually asks for an indemnity against the target company's tax liabilities
Intellectual property rights assignment
In contracts where intellectual property (IP) rights are assigned, the party transferring the IP rights can give the other party an indemnity in case the latter suffers loss from potential defects
Software licensing
When companies get the right to use software, they often ask for an indemnity clause to protect themselves against potential liability, e.g., if it turns out that:

A developer has copied the software from a third party
The third party sues the company for the use of the software
When Is It Better To Avoid Indemnity Clauses?
Indemnities should not be part of the following types of contracts:
Consumer agreements—It is unfair and prohibited for consumers to pay indemnities to companies
Confidentiality contracts—In confidentiality agreements, an indemnity for breach of contract could:

Increase the liability of the party receiving confidential information
Make the other contractual party compensate for all liabilities, claims, and costs resulting from the breach
Liability Limitation Under Indemnity for Breach of Contract Clauses
Contractual parties should limit the liability of the indemnifying party—i.e., the contractual party that needs to pay for the suffered loss—since in some cases:
The risk of loss as a result of a breach of contract could be greater than the contract price
The indemnifying party might not be able to afford an uncapped indemnity amount
The amount of the indemnity should:
Be reasonable
Not exceed what state laws allow as damages for breach of contract
How To Claim Breach of Contract Damages
To compensate for the losses you have had because a party has not fulfilled the terms of the contract, you could:
Sue them for the breach—You will have to prove the elements of the breach and prepare for lengthy and expensive proceedings if the other party raises affirmative defenses
Reach an out-of-court settlement—While suing for damages is always an option you can resort to, you should try to sort out the problem by sending the breaching party a demand letter
Why Creating a Demand Letter Is Effective?
Drafting a breach of contract demand letter can be a good way to resolve the dispute since the letter serves to:
Formally remind the breaching party of the unperformed obligations
Show you will not give up on the agreed-upon contractual terms
Provide evidence that you have tried to settle the matter before initializing a lawsuit
If you are not sure how to draw up a convincing demand letter, register for DoNotPay—we can generate an airtight letter for you in a matter of minutes.
Create a Demand Letter With DoNotPay
Our AI-powered app knows what legal requirements you should meet when drafting a demand letter for a material, anticipatory, or any other type of breach. We also ensure the details of your contract are presented in the right way.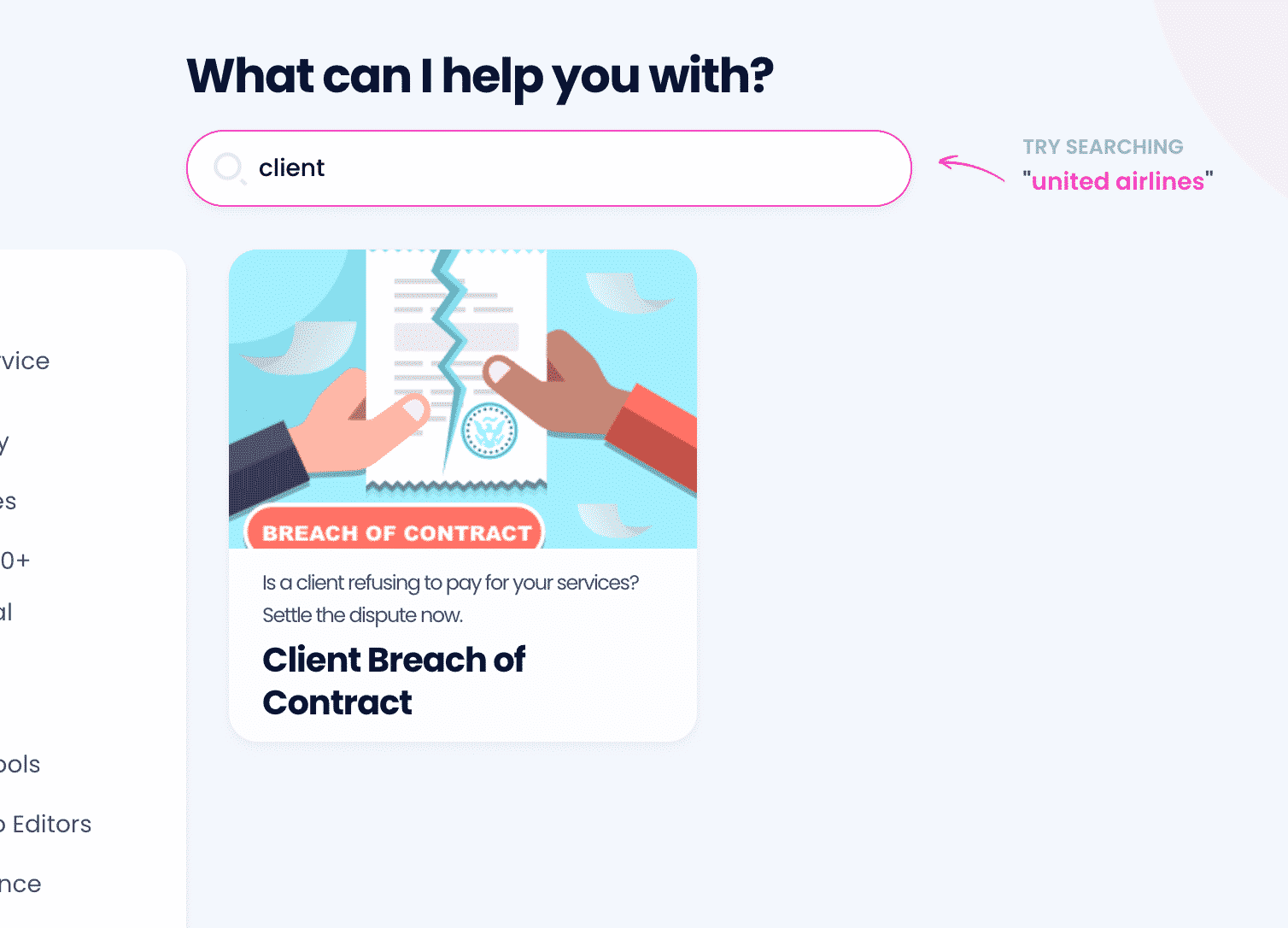 There is no need for you to consult lawyers or tailor undependable online templates to your case. Instead, subscribe to DoNotPay and:
Access the Client Breach of Contract product
Answer our chatbot's questions about the contract and breaching party
Insert the final payment or delivery deadline
Describe the services that have been performed
Upload photographic evidence to support your claim (if available)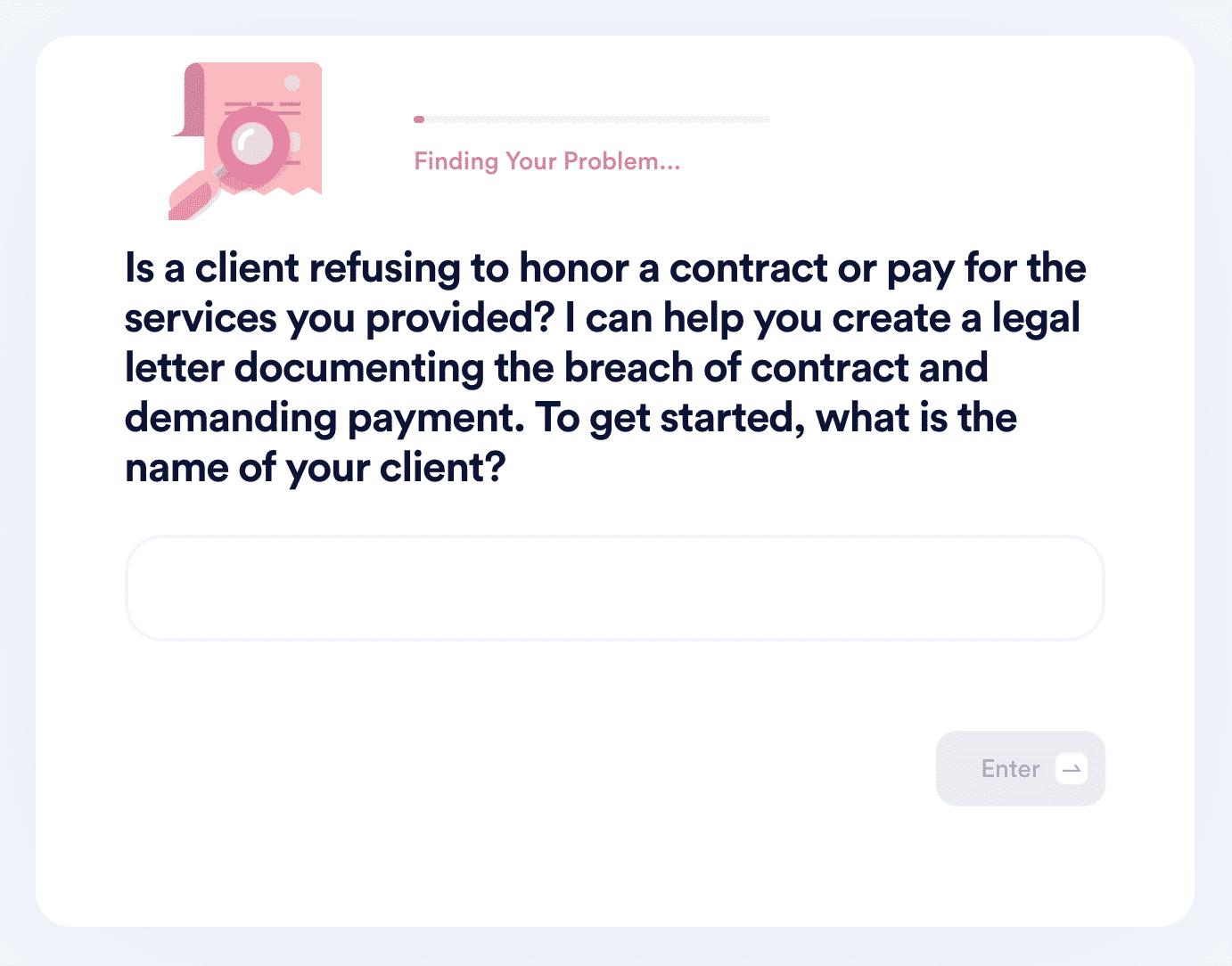 In case the other party does not want to negotiate, we can help you sue them in small claims court.
Get the Specifics of Breach of Contract Procedures
If you would like to learn about your state legal requirements, you should consult the following table:
Get the Upper Hand With DoNotPay
The business world is extremely competitive—that is why it is always good to have some extra capital set aside when you need to invest in your company. You can leave the bureaucratic task to us—DoNotPay will draw up business loan request letters in your stead.
If your finances are taking a hit, rely on our app. With our assistance, you will be able to:
Fight fraudulent chargebacks
Remove fake negative reviews online
Register and protect your trademark
Send mail and faxes at no additional cost
Handle clients breaching contracts and get what you are owed
Whatever the task at hand, our AI-powered app will see it through successfully.
DoNotPay—The Assistant Every Business Needs
You cannot escape bureaucracy in business. What you can do is let DoNotPay deal with it. Whether you need to register a DMCA agent or complete an Employer Identification Number (EIN) registration, our app will lead the way.
Using DoNotPay, you will also not have to worry about 83(b) election forms or Privacy Shield self-certification. From generating to filing important documents and from dealing with employees to handling clients on your behalf, our AI-driven app is your go-to solution.
Grow and protect your business with the world's first robot lawyer!