Give Yourself Indemnification With a Hold Harmless Agreement!
If you want to give yourself protection from liability during a business transaction, you should sign an indemnification/hold harmless agreement with the other party. can guide you through the specifics of what this contract entails. We'll also show you how to write a contract and help you figure out how legal documents work. 
What Is a Hold Harmless Indemnity Agreement?
An indemnification/hold harmless agreement—also known as a waiver of liability or release of liability agreement—is a legal clause added to construction contracts and other agreements involving contractors to ensure protection against liabilities, damages, or losses. These liabilities can result from the action of one party in the contract. It is usually up to subcontractors to draft the agreement, reduce risk, and claim indemnity in case of an injury or loss.
What Protection Can a Hold Harmless Agreement Provide?
The hold harmless indemnity contract provides the following types of protection:
General

—Provides indemnity if there is a specific incident already incorporated in the contract

Services

—Protection against incidents during the provision of service

Use of property

—Applicable to individuals who rent out their property for events. This deal also requires the renter to provide event insurance
Types of Hold Harmless Agreements
There are three basic types of hold harmless agreements as described below:
Hold Harmless Agreement

Brief Explanation

Broad form

The

subcontractor

takes responsibility for all accidents and negligence of both the contractor and subcontractor. Since the terms are too broad, most states don't allow this form to be incorporated into the document

Intermediate form

The subcontractor is responsible for all liability for accidents and negligence but will not be responsible for the

general contractor

's accidents and negligence. This is the most typical agreement, based on who is responsible for negligence. If both parties are negligent, the subcontractor will be liable

Limited form

A subcontractor's liability is limited. They will be held accountable only if they were responsible
Prerequisites for Entering a Hold Harmless Agreement
You need to include the following details in a hold harmless arrangement:
The name of the person who wants to be held harmless

The person providing protection

Details of the hold harmless protection, including the event or activity details

Information about the individual hosting the event

The average duration of the agreement, including the date when the document becomes effective

Signatures of all parties
A hold harmless contract entails specific clauses, such as:
Terms definition

Indemnification

Lists of exceptions for indemnification

Notice of claim

Authorization of indemnification

Failure to defend

Settlement and consent

Expenses, payment, and insurance

General provisions
When Do You Need a Hold Harmless Indemnity Agreement?
A hold harmless indemnity agreement can protect against liability, but it does not provide complete protection against lawsuits. 
Add the indemnification clause to your document in the following situations:
Real estate—

Most

lease agreements

include a hold harmless clause to protect the landlord from liability

Construction

—Applicable to both parties during the construction period

Rental

—Applies to venue rentals for events 

Sports

—Athletes have to sign the hold harmless waiver to release the property owner from any liability

Amusement

—Amusements companies usually ask participants to sign the indemnity form to relieve themselves of any liability
Would a Hold Harmless Indemnity Agreement Hold Up in Court?
The validity of the agreement varies from state to state. Some states don't honor vague or ill-defined clauses. Other states consider the contract void if the signers confirm they did not sign the document of their own free will. 
On a case-by-case basis, some jurisdictions also have anti-indemnity laws to nullify hold harmless agreements. If you are not sure about the local regulation, you might want to consult a lawyer.
DoNotPay Can Create Legal Documents for You
Creating legal documents can be intimidating and time-consuming. It requires hours of research and an understanding of the legal system and business jargon. Even if you take the time to learn the legalese, drafting a contract can be confusing. 
You can look for contract templates online, but most generic templates do not meet the requirements of a valid agreement. Consulting a lawyer is the safest option, but it can be quite expensive.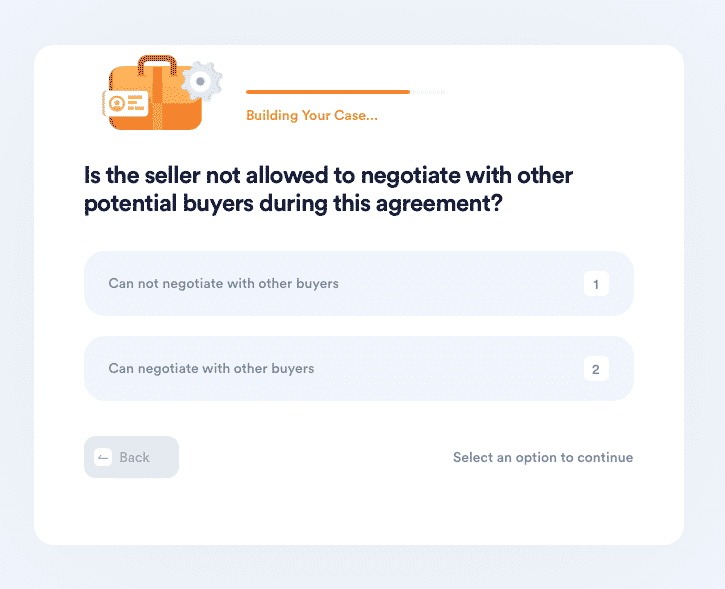 If you face these challenges, turn to DoNotPay! Forget about pricey lawyers or iffy templates! All you have to do is follow these simple instructions:
Type the name of the agreement you want to create

Provide the details (names, dates, etc.) to our chatbot to create a personalized document

Print the document
Here is a list of the documents DoNotPay can draft for you:
Real Estate
Business
Other

Quitclaim deed

Intent to purchase real estate

Promissory note

General affidavit
Easy-Breezy Ways To Deal With Not So Breezy Issues
Administrative and similar tasks don't have to be as complicated as we've known them to be. With DoNotPay, dealing with paperwork and companies is done in a few clicks. Let the world's first robot lawyer help you:
Money Troubles? I Don't Know Her!
As our app's name says, DoNotPay's mission is to put a stop to losing money and overpaying. We will help you get your hands on free trials and snatch free raffle tickets. DoNotPay can also provide solutions for you to get help covering bills and reduce your property taxes.
If you want to get some additional funds, use our app to sign up for clinical trials. You may also take our practice tests to ace a government test and land a better-paying job.
It doesn't hurt to check whether you are owed some unclaimed money, and we can help you with the application.