Find Out How an
Indemnification Agreement
Works
An indemnification agreement—also known as a hold harmless agreement—is one of the handiest legal documents you can make. Drawing up this contract is an easy job for a lawyer, but not for people who don't know much about the law. 
Before you sign an indemnification agreement, you should learn its essentials, and this article will help you find out more about it. We will solve all your dilemmas about writing such a contract and show you how to create legal documents in no time with DoNotPay's handy templates!
What Is an
Indemnity Agreement,
and Are There Any Subtypes?
Indemnity is a special regulation that guarantees one of the signing parties will be exempt from responsibility for any damage or loss. You can create a full contract based on indemnity or include it in any other agreement as a special clause.
Two parties should sign an indemnity agreement—an indemnifier who agrees to cover potential claims and an indemnitee who is free from any liabilities. 
This contract can have three forms, presented in the table below:
| | |
| --- | --- |
| Agreement Type | Details |
| Broad Form Indemnity Agreement | This type of contract obliges the indemnifier to accept responsibility and bear the consequences for damage that isn't their fault in the name of the other party. They are also responsible for mistakes or losses caused by a third party |
| Limited Indemnity Agreement | If the parties sign a limited indemnity contract, the indemnitee must pay for any loss or damage they caused. It means that the indemnifier doesn't have to accept the fault for the mistakes that the other party made. They are responsible for mistakes caused by a third party |
| Comparative Form Agreement | Such a document requires the faults of both parties to be compared. The entities need to rely on the local laws and regulations to determine the details of the contract |
When Can You Use an Indemnity Agreement?
Indemnity agreements are common in the construction business, but they are applicable in many other fields that include high-risk contracts. Besides construction companies, the parties using them the most are:
Event fundraisers

Rental car companies

Landlords and tenants

Employers and employees

Companies offering extreme or dangerous activities, such as parasailing, amusement park activities, etc. and their customers

Pet kennel owners and clients

Surety bond companies and their clients
As a separate clause, indemnity is usually a part of:
Commercial contracts

Loan agreements

Intellectual property licensing agreements

Software licensing agreements

Share purchase agreements
What Should an Indemnity Agreement Cover?
The purpose of an indemnity agreement is to stipulate all liability regulations both parties need to stick to. For this document to be valid and effective, you must define the conditions in as many details as possible. By doing it, you will avoid disputes, misinterpretations, and stressful court proceedings if something goes wrong.
Here are the essential sections your indemnity agreement should contain:
Names of the parties

Definitions of the most important terms in the contract

Amount of money securing the contract

Thoroughly described terms of indemnitee protection

List of potential losses the indemnitee could suffer

Exclusion to the agreement

Claim procedure description

Signatures of both parties
Creating Legal Documents Is Much Easier With DoNotPay
If you don't know much about the law and your local legislation, making a contract can turn into a tiresome and time-consuming procedure. You can easily find some samples and templates on various websites, but it's hard to check their validity and be sure they contain all the necessary sections and clauses.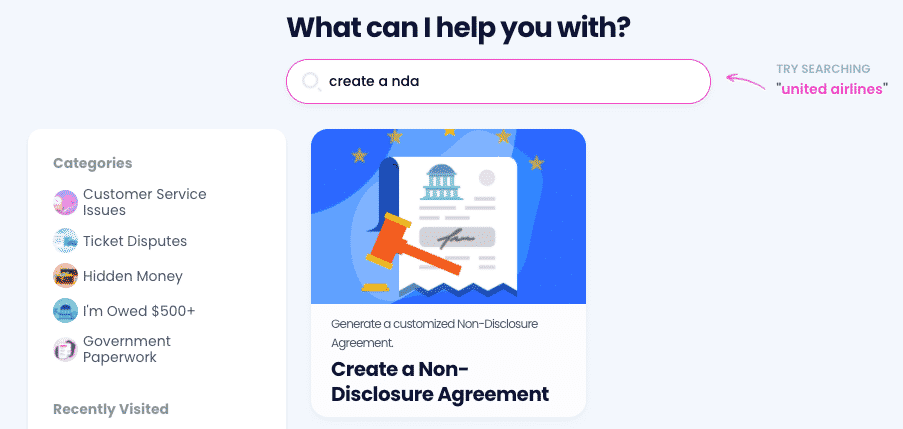 DoNotPay, an awarded virtual lawyer, enables you to create an unlimited number of various legal documents. 
To use our service, follow these steps:
Sign in to DoNotPay in your preferred

web browser

Look for the specific document you want to generate

Go through a brief questionnaire with our chatbot
We will use your answers to create a fully customized version of the desired document in less than five minutes! The only remaining step is to make your contract legally binding by notarizing or signing it with the other party, depending on the agreement type.
If you are interested in learning the ins and outs of room rental, subordination, commission, non-solicitation, asset purchase, or real estate purchase agreement, you can get more handy guides in our knowledge base!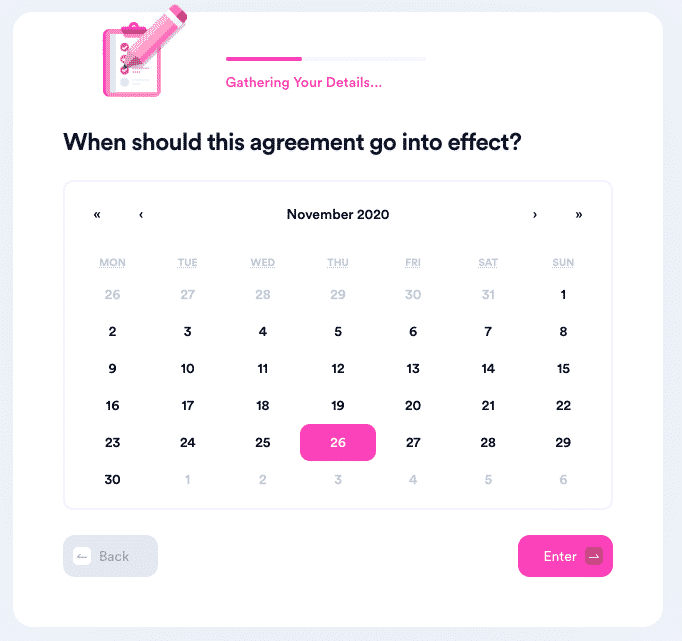 DoNotPay Has Many Types of Contracts in Store
The good news is that our standardized legal document database gets richer every day. DoNotPay keeps introducing various templates, perfect for creating a great contract quickly and with no sweat! 
Here's the list of the documents we offer:
General Business Contract

Promissory Note

Quitclaim Deed

Intent to Purchase Real Estate

General Affidavit

Estoppel Certificate
DoNotPay Offers a Variety of Services
DoNotPay is the ultimate virtual assistant that takes over all those annoying tasks you don't want to deal with!
Need to schedule your DMV appointment? Want to get your college fees waived? Have to draft a legal doc quickly?
We can do all that and much more!
Our app waits on the phone line with customer service of any company for you, reports robocalls, and helps you file lawsuits in small claims court. 
We can also help you deal with your parking tickets, get rid of spam emails and texts, or find and sign up for reputable clinical trials!
Keep Your Money in Check With DoNotPay
How often do you sign up for a free trial and then forget to cancel it before it expires? Unexpected charges are the worst, but you can prevent them if you use our free trial card. DoNotPay's virtual credit card is not connected to your bank account, which means that no money can be taken from it. 
We can also help you get refunds for unsatisfactory purchases or compensation from airlines for delayed or canceled flights.
In case you are struggling with warranty claims, bill payments, insurance, or tax reduction, DoNotPay can solve these issues as well. 
Our app also has the largest database of unclaimed assets in the United States, so you can find and claim your lost funds quickly.