What Can I Do About Inconsiderate Neighbor's Parking?
Imagine being late for work and starting up a car fast only to realize that your neighbor blocked the entrance to your driveway. It's maybe even more infuriating than coming home from a long day at work and realizing that someone occupied your parking space.
If you're having parking issues with your neighbors, it might be time to take some action. This article will show you how to deal with your inconsiderate neighbors parking in front of your home!
Are you also sick and tired of having to deal with bad neighbors and their noisiness, loud pets, and constant harassment? to make a demand letter and put a stop to all of that!
Types of Parking Issues With Neighbors
In the following table, you can learn about the most common parking issues you might come across if your neighbors are drivers:
| | |
| --- | --- |
| Parking Issues With Inconsiderate Neighbors | Description |
| Parking in front of your house | If you don't have a garage or driveway, you might need the space in front of your house to park the car. While there are no laws that prohibit your neighbor from parking their vehicle outside your home, experiencing it can be a real nuisance |
| Occupying your parking space | Residents of some buildings—usually in blocks of flats—sometimes have labeled parking spots. Unless you have a marked parking space, there is not much you can do when your neighbor occupies it |
| Blocking the view | When your neighbor parks their car on the curb in front of your driveway, it might be more than annoying. You need an unobstructed view to back out of your driveway. Blocking that view with their car can be hazardous and potentially life-threatening |
| Blocking your driveway | A neighbor who parks their car in your driveway is a whole new level of thoughtless. On top of it being irritating, there is not much you can do about it besides calling the cops on the counts of trespassing or getting a towing service |
Neighbors Parking in Front of Your House—What To Keep in Mind
Before you file a complaint against a neighbor parking their car in front of your house, you should consider the following:
Parking space that's on the street doesn't belong to you, even if it's in front of your property
Local bylaws set the rules and restrictions regarding the day, usage, and location of street parking—check them out to see whether they apply to your situation
Your neighbor can park in front of your house if they have a residential parking permit
Parking signs or markings—such as yellow lines—indicate whether your neighbor (or anyone else) is allowed to park there or not
What To Do if a Neighbor Keeps Parking in Front of My House
If you decide to take matters into your own hands, we recommend some of these strategies:
Talking to your neighbor
Documenting the complaint
Writing a complaint letter to your neighbor
Getting a mediator
Contacting your city or county officials
Talking to the Neighbor
You should always talk to your neighbor before considering any other approach. They might not be aware of the problem they're making, and they might be willing to move their car without further discussion. When discussing the matter, don't accuse the neighbor—lay out your concerns instead.
Documenting the Complaint
A friendly discussion won't always work. In case that happens, you should gather the evidence to file a complaint. Here's how to do it:
Take photos or videos
Write down notes
Get a witness
Research the local bylaws
Writing a Complaint Letter
The most important aspects of a complaint letter to your neighbor include:
Specifying your concerns
Providing evidence of the issue
Offering potential solutions
Describing what you plan on doing if they don't cooperate
Getting a Mediator
If you can't reach an agreement with your neighbor, you should seek mediation. A neutral third party will help you find the solution that works for both sides.
Involving a City or County Official
If your neighbor's inconsiderate parking is violating the municipal bylaws, you can contact your local government and have them deal with the problem.
Rely on DoNotPay To Solve Your Disputes With Neighbors
Many disputes between neighbors can be easily resolved with good communication. Sometimes, harmony is out of reach, and one party needs to make demands. That's when DoNotPay jumps in! With our Neighbor Complaint product, you can resolve various neighbor-related problems, such as:
Annoying or dangerous pets
Harassing behavior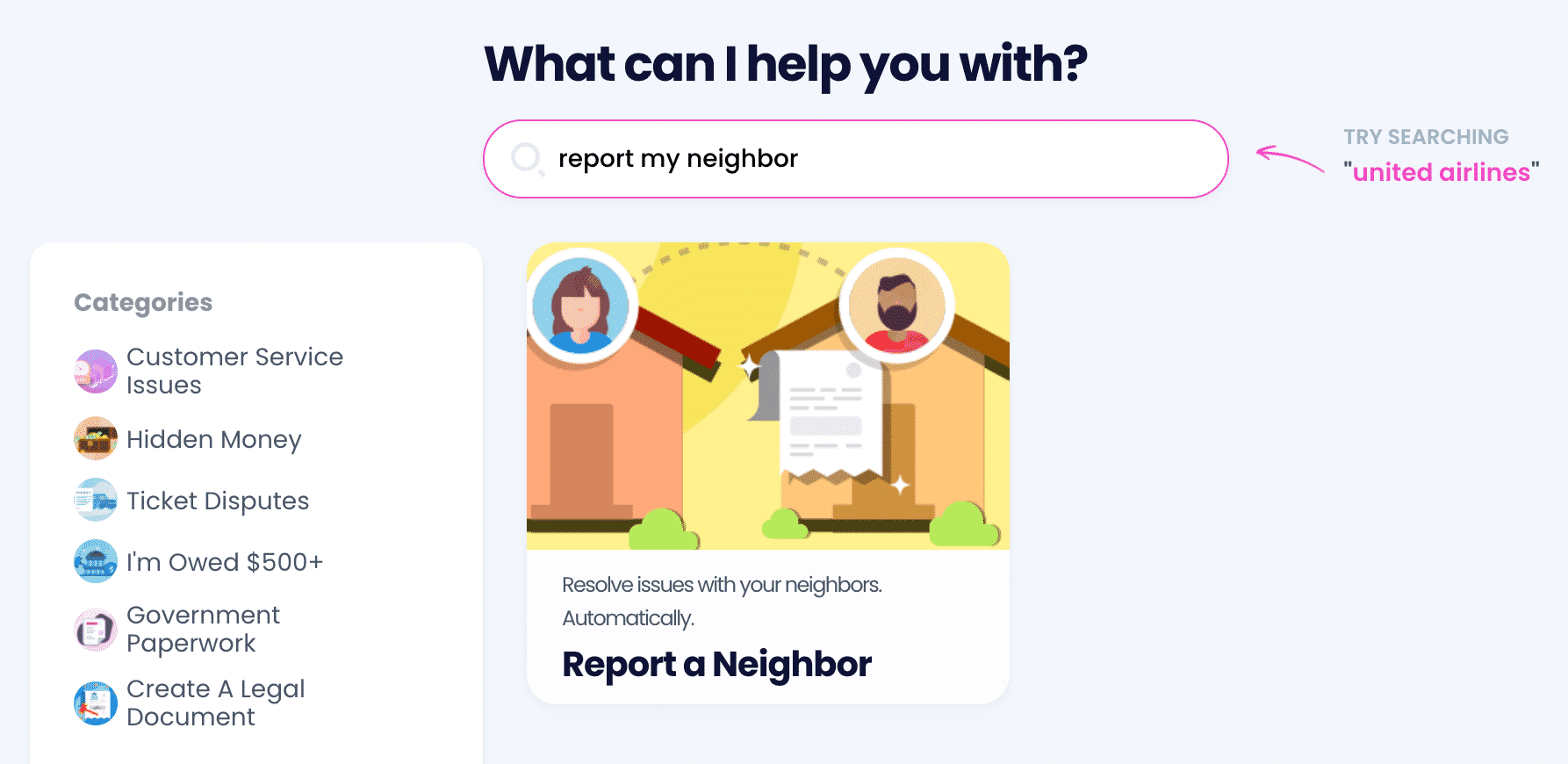 and follow these step-by-step instructions to send a demand letter to your neighbor:
Navigate to the Neighbor Complaint tool
Select the problem you're having
Provide us with some details about the issue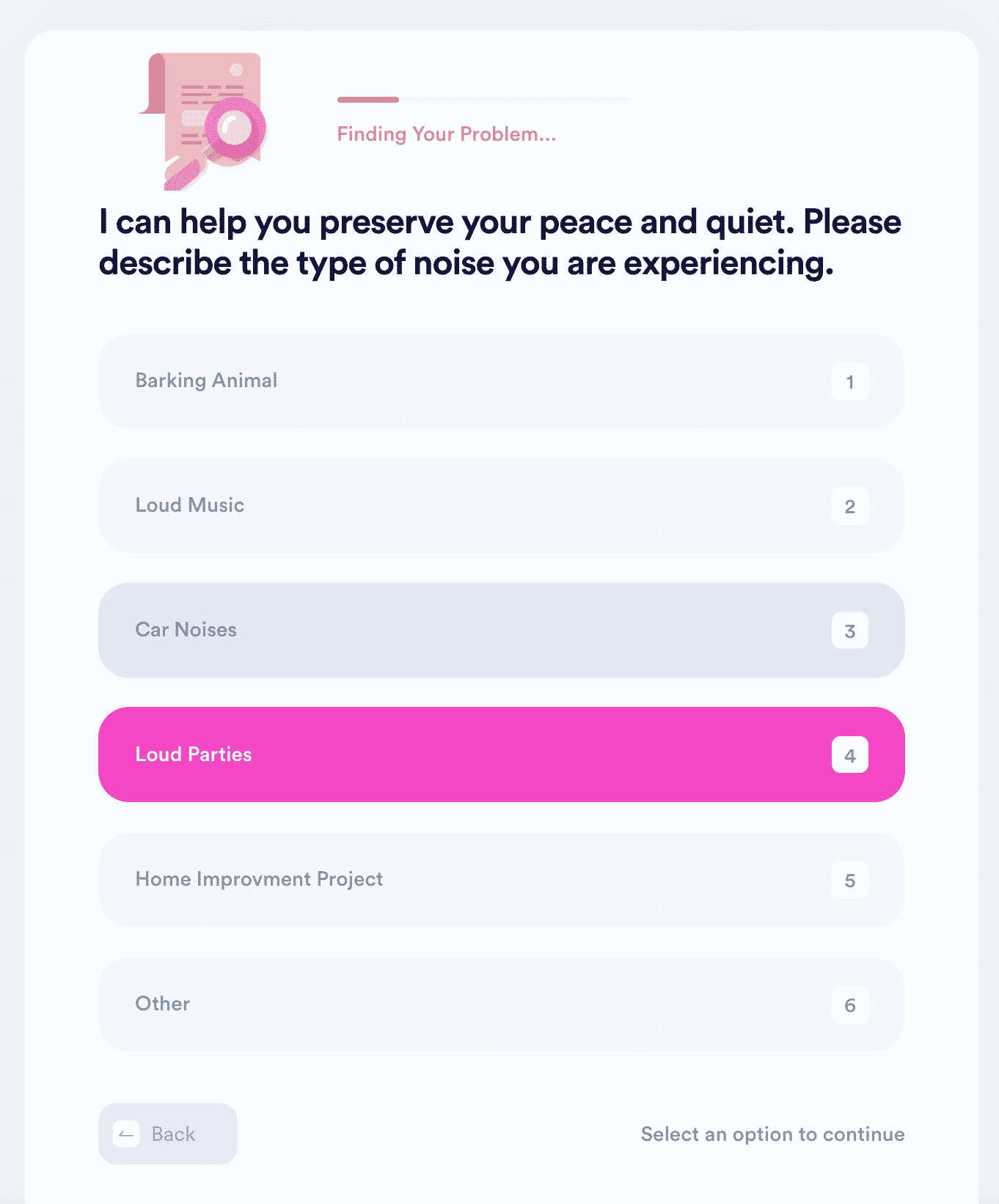 We will create a personalized demand letter containing your complaint, arbitration notice, compensation amount you're seeking, and warning about the legal actions you're considering.
No Lawyer—No Problem! Rely on the World's First Robot Lawyer
When you're in a bind but you can't afford a lawyer, there is still something you can do—sign up for DoNotPay and let our award-winning app give you a hand. With our expertise, the following tasks will be a piece of cake:
Free Yourself From Boring Tasks With DoNotPay's Help
Our AI-driven app comes in handy for numerous bureaucratic or administrative chores that usually take up a lot of time. With DoNotPay's speedy service, even the most tiresome task will be complete in a flash!
You can forget all about waiting in line at the DMV and being on hold with customer service—we will get you to the finish line in a few clicks. Tired of the old snail mail? Use DoNotPay to mail letters fast. Better yet—fax your documents using our app. If your document requires a notary's signature, we can assist you in scheduling a virtual appointment.