Income Share Agreements—The Good, the Bad, and the Ugly
To borrow or not to borrow? Student loans are infamous and a running joke among 25–30-year-olds claiming they are still paying them off. While income share agreements are not the same as loan agreements, you would still take money to fund your studies and pay back more or less than what you were given.
We'll help you understand how income share agreements operate and what they entail, and we will weigh their pros and cons.
What Is an ISA agreement?
An income share agreement (ISA) is a legal document that students and universities or other organizations enter into. The agreement describes the terms and conditions of funding your education. Based on the ISA, your college fees or a portion of them will be covered, and you will use an agreed-upon percentage of your future salary to repay the funding for a set amount of time.
An ISA is more of an investment than a loan as your college is essentially paying for your studies to prepare you for a well-paying job so that you can repay them in the future.
How Does an Income Share Agreement Work?
Unlike student loans, income share agreements are unregulated and can cover specific terms based on your major and the college you're attending. Here's how ISAs work:
The college estimates the amount of money they'll give you and want back based on your major and potential future earnings

Your college and you agree on how much of your college fees will be covered

You agree on when you'll start repaying them, which percentage of your salary, how long you should pay them back, etc.
Depending on the terms and your earnings, you may end up repaying less than what the college gave you. For example, if you agreed on 5% of your income over five years, 5% of your income may be more in the first year but less later on as you get a raise.
In case you stop working, or your income is lower than the amount stipulated in the agreement, you could pause your payments.
Should I Enter Into an Income Share Agreement?
Before you decide to sign an income share agreement, you should consider its advantages and disadvantages:
Pros
Cons

Flexible

Delayed payments

Good idea if you know you'll be getting a high-paying job (e.g., STEM majors)

Unable to accrue interest over time, unlike student loans

Unregulated

Legal uncertainty

Possible to end up paying more than what you received

Potential overestimation of your future earning
Can I Sign Income Share Agreements With My College?
Not all colleges offer ISAs, so you should check whether you have that option at the college you're attending. Many universities and schools offer ISAs, including:
Holberton School

Redwood Code Academy

Awesome Inc

Lambda School

Northeastern University

Norwich University

The University of Utah

Colorado Mountain College

Clarkson University

Messiah College

Purdue University

Lackawanna College

Allan Hancock College

Make School
What Should an ISA Contract Cover?
Income share agreements are unique to each student's situation, but most of them would consist of some or all of these terms:
Income share percentage

—the fixed percentage of your monthly income, typically between 2.5% and 17.5%

Minimum income threshold

—the minimum income you have to earn to start making payments

Payment window

—the length of your income share agreement, usually from two to ten years

Payment cap

—the highest possible amount of money you have to pay, ranging from 1.5 to 2 times the tuition amount
Create Contracts and Other Legal Documents With DoNotPay
We can't escape legal paperwork. If you're in the loop and you understand what an agreement entails, you will be able to benefit from it more. If you're not a lawyer, how would you negotiate and draft terms in your contract? With DoNotPay, you'll get everything done in one fell swoop!
Learn about and let our app generate the following legal documents:
Read Up On
Draw Up

General affidavit

Promissory note

Intent to purchase real estate

Estoppel certificate

Quitclaim deed

General business agreement

Residential

lease agreement
Here's how to use DoNotPay to create any legal document that we offer:
Access our app from a

web browser

Search for the document you want to create

Answer our chatbot's questions to customize your doc
As soon as you provide us with the necessary info, your virtual assistant and the world's first robot lawyer will prepare your agreement.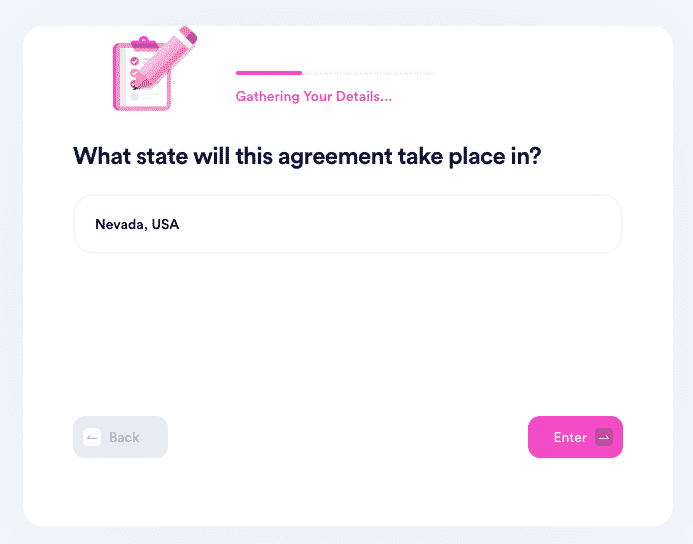 Why Should I Use DoNotPay To Write a Legal Document?
The perks of using DoNotPay to write contracts and other legal documents include:
Creating contracts in a matter of minutes

E-signing and faxing your documents

Generating an unlimited number of the same legal documents

Not downloading unreliable

contract templates

Not wasting money on lawyers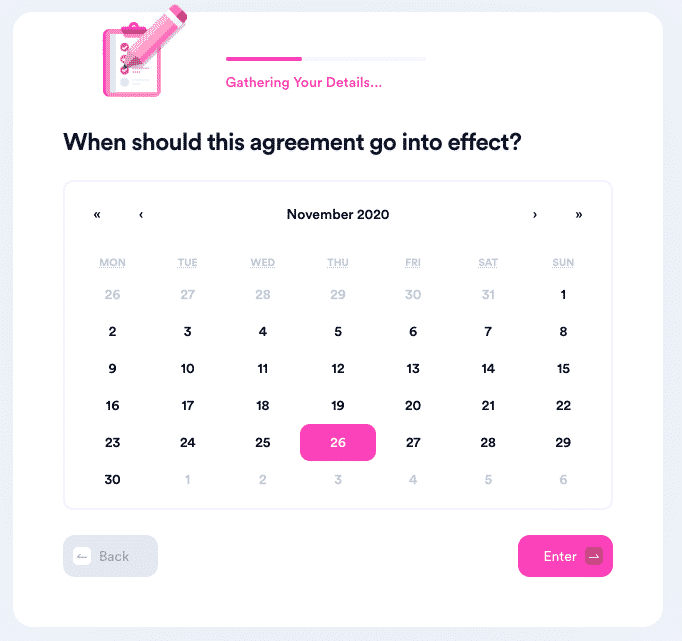 Fighting Administration Is Easier With DoNotPay 
Bureaucracy is a disease of the modern world, and we finally have a cure. Thanks to artificial intelligence, DoNotPay knows how to handle numerous rules and regulations and make your life so much easier. 
Our bots ask you a few questions, gather the necessary info, and off they go! Filing warranty and insurance claims, requesting property tax reductions, getting access to public records, or claiming unclaimed funds under your name—you can deal with these bothersome tasks from the comfort of your home and within minutes!
If you need to get in touch with customer service representatives to ask for refunds or contact airline companies regarding compensation, our platform will make the process painless and care-free.
Don't hesitate to put our app into service if you need to contest parking tickets or avoid long lines at your local DMV!
How Else Can We Help?
Not only does DoNotPay handle bureaucracy, but it also saves you money in the process. Whether you're looking for the best learning materials for government tests or planning to comb through and cancel streaming subscriptions you don't use, DoNotPay can give a helping hand.
Our platform grows every day and comes with user-friendly features that will help you manage unpaid bills, stop copyright violation, or solve problems with credit cards faster than ever!