Create an In-House Separation Agreement in the Blink of an Eye

Separation can not only be emotionally draining but also involve lots of legal procedures. Have you and your spouse decided to part ways? Do you need to draw up a separation agreement but don't want to hire a lawyer? We are here to help!
Whether you need help with drawing up an in-house separation agreement or writing contracts in general, DoNotPay offers the information you need!
What Is an In-House Separation Agreement?
If you and your spouse have decided to part ways but stay in the same house, you should draw up an in-house separation agreement. This document will establish the terms and conditions of the separation, lay out the duties and responsibilities of each spouse, and clarify the division of assets.
In-house separation contracts are ideal for couples who're not sure they want to end the relationship, so they continue living in the same house as separate individuals. They can work on fixing their marital issues or live as roommates, making the final decision whenever they feel ready.
It is essential to establish clear guidelines in this agreement because it can be the basis of your settlement contract. It lays down the following information:
Detailing out the separation while living in the same house
Parenting and childcare arrangements
Bill payment details
Alimony
Distribution of financial assets
Debt payment
There are several reasons why opting for an in-house separation would be more convenient than the permanent separation:
It's more affordable for both spouses to live in the same house, especially if they're on a budget
Children can enjoy the presence of both parents
Fixing the marriage is easier when both individuals live under the same roof
How To Create an In-House Separation Agreement

It's ideal to draw up a prenup or postnup to address all these potential issues in advance. In case you haven't signed such contracts, an in-house separation agreement is your best bet.
There are two ways to create it:
Mediation—An impartial third party will negotiate on behalf of the spouses and come up with a contract acceptable for both parties
Consulting a lawyer—The spouses can consult their respective lawyers to get legal advice and create the most suitable contract
When drafting legal documents, it's ideal to hire a lawyer to confirm that all crucial elements are included. If you can't afford professional legal help, look for contract templates online and use the one that meets the specific requirements. The problem is that most templates are generic without any option to customize them, so they can only serve as a starting point.
Here are a few essential elements you should include:
Key elements
Brief explanation
General information

Names, address, and contact information of the couple
The marriage start date

In-House Separation

How the in-house separation would work
Who pays the bills

Separation information

Confirmation that the couple wants to separate
The effective date of separation

Asset details

Tangible and intangible property, including real estate, cars, equipment, and other assets
How the assets will be distributed

Children

Child custody and support
Parenting and childcare responsibilities
Educational, medical, and recreational costs

Debt
Taxes
Spousal support

Who is responsible for spousal support and alimony
Is a Separation Agreement Legally Binding?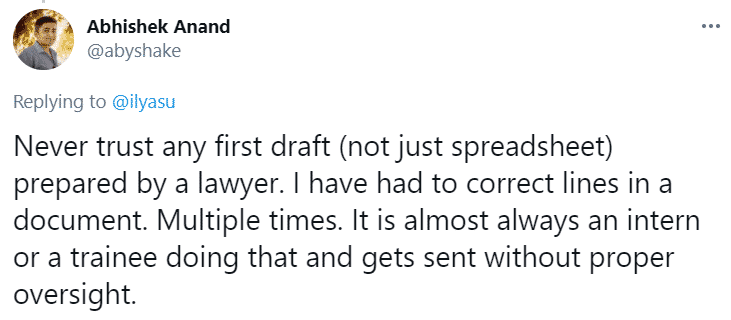 If both parties have willingly signed the agreement, it is legally binding. In case one spouse breaches the contract, the non-guilty party can file a lawsuit.
The court can reject the agreement in the following situations:
One party is forced to sign the contract
One party does not have enough time to understand the terms and conditions properly
Either party has missed important information, or the information is incorrect
The terms aren't equally fair to both parties
DoNotPay Makes Generating Contracts Easier!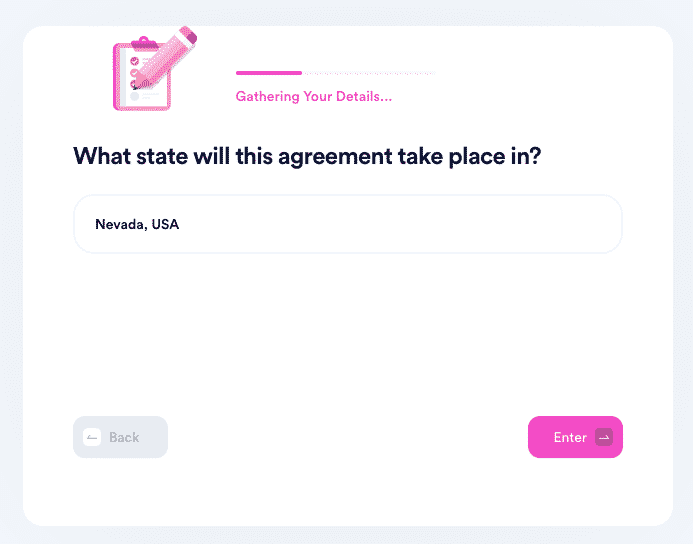 Drawing up a contract yourself is challenging, especially if you don't have the required legal knowledge. If lawyers are out of your budget, use DoNotPay! For an affordable fee, we can draft various agreements for you.
Our easy-to-use tool can help you create legal documents in no time! Say goodbye to expensive lawyers and generic templates—let us help you out!
Here's what you need to do:
Enter the name of the document
Personalize your agreement by answering our chatbot's questions
DoNotPay will generate a customized contract, ready for download. Once you print it, you can also get it notarized. If you're not sure where to find a notary, we can help you out!
If you need other legal documents, here's a list of the ones we can draft:
General Business Contract
Intent To Purchase Real Estate
Quitclaim Deed
General Affidavit
Promissory Note
Child Care Authorization Form
Can't spot the one you're looking for? We're adding more documents to the list, so stay tuned!
Easy-Breezy Ways To Deal With Not So Breezy Issues
Administrative and similar tasks don't have to be as complicated as we've known them to be. With DoNotPay, dealing with paperwork and companies is done in a few clicks. Let the world's first robot lawyer help you:
Money Troubles? I Don't Know Her!
As our app's name says, DoNotPay's mission is to put a stop to losing money and overpaying. We will help you get your hands on free trials and snatch free raffle tickets. DoNotPay can also provide solutions for you to get help covering bills and reduce your property taxes.
If you want to get some additional funds, use our app to sign up for clinical trials. You may also take our practice tests to ace a government test and land a better-paying job.
It doesn't hurt to check whether you are owed some unclaimed money, and we can help you with the application.