Illinois Trademark Registration Explained by DoNotPay
If you are looking to get a trademark for your small business in Illinois but are confused by the requirements and the law, you have come to the right place! We will break down the Illinois trademark registration for you and equip you with the perfect tool for the job!
What Is a Trademark?
By registering an aspect of your business as a trademark, you will protect your brand's reputation from competitors who might try to steal your idea. A trademark serves as proof of ownership, and you have the right to sue anyone who tries to use your trademark as their own for as long as your mark is active.
Unlike copyrights, which are used for protecting original artistic, literary, or intellectual work, trademarks can be filed for various business elements, such as:
What Are Different Types of Trademarks?
In Illinois, there are three types of trademarks:
Standard character trademark—This type of trademark has words, letters, or numbers with no design element, and it is not in a particular font or size
Special character trademark—These marks include logos, symbols, and words that have a particular color and font
Sound mark—Sound marks usually represent a sequence of sounds related to a brand (e.g., the MGM lion roar)
How To Register a Trademark
You can register your mark either on a state or federal level. If you register your mark in Illinois only, it will be protected from infringers in the state. Filing a trademark on the federal level will give you more protection nationwide.
To register a trademark on the federal level, you have to:
Conduct a trademark search
Complete the trademark application
Choose a filing basis
Conducting a Trademark Search
Your first step should be to check whether your desired trademark is available or already registered by someone else. You can conduct the search by using the United States Trademark and Patent Office (USPTO) search system, but you should also check:
State-wide online records
National and local company registrations
Specific records related to your product or service
Completing the Illinois Trademark Application
Once you do thorough research and make sure your trademark isn't already in use, you will have to file the application form. The form consists of the following sections:
Section
Details
Your information
You must include your:

Name and address
Citizenship
Type of legal entity
Legal representatives contact information

Drawing of the mark
If you wish to register a special character trademark, you need to include a drawing of it. In case it's a standard character mark, you can type the letters. If it's a sound mark, include a detailed description of it
Description of the goods or services
List what you're offering and describe your goods or services in detail
Trademark class
You need to select one or multiple international trademark classes for your services or goods. For example, class 36 is for financial and monetary affairs, while class 45 is related to legal, social, and security services
Verified statement
Either you or your legal representative must add the date and sign a declaration, which will serve as verification that the form has been submitted
Keep in mind that completing the form correctly is crucial as making a mistake can result in the rejection of your trademark. If you don't want to go through the hassle of filling it on your own, and you want to ensure that it is completed properly, use DoNotPay! We will complete the registration for you in no time and forward it to the USPTO.
Choosing a Filing Basis
There are four filing basis choices that you can make, including:
Use in commerce—If you plan to offer your goods or services internationally or only in Illinois and are already using them in commerce, this option is your go-to choice
Intent to use—Choose this option if you want to use your trademark within the next three or four years
Foreign trademark application exists for the same goods or services—This application is for you if your trademark application in the U.S. is based on an existing foreign trademark application
Foreign trademark registration exists for the same goods or services—If your desired trademark already exists in another country, this option is for you
Paying the Application Fee
After completing the application and choosing a filing basis, you will have to pay the application fee. The price depends on the filing option you opt for and the number of classes you register under:
TEAS Plus—$250 per class
TEAS Standard—$350 per class
Once you pay the fee and file the application, a trademark attorney will review it within three months. If no one opposes your registration and everything is filled correctly, your mark will be registered.
Trademark Registration Made Easy With DoNotPay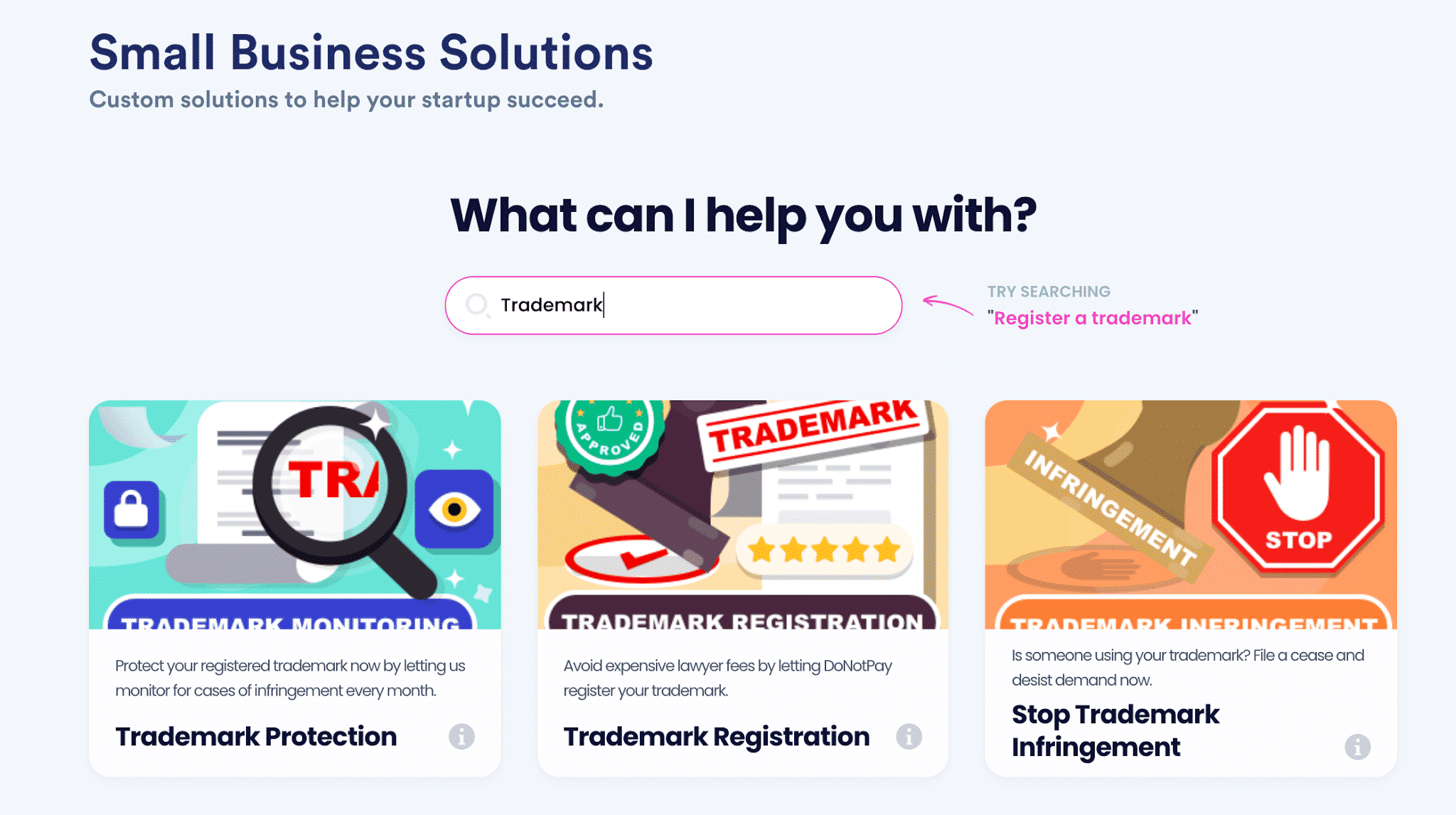 Filing a trademark can be a tedious and costly process, especially if you hire a lawyer to help you. If you want it to go as smoothly as possible and not spend a small fortune along the way, DoNotPay has you covered! Our AI-powered app will:
Do a clearance search
Complete the form using the details you give us
Send you the application so you can review it and e-sign it
Forward it to the USPTO
Give you a tracking number so you can follow its status all the time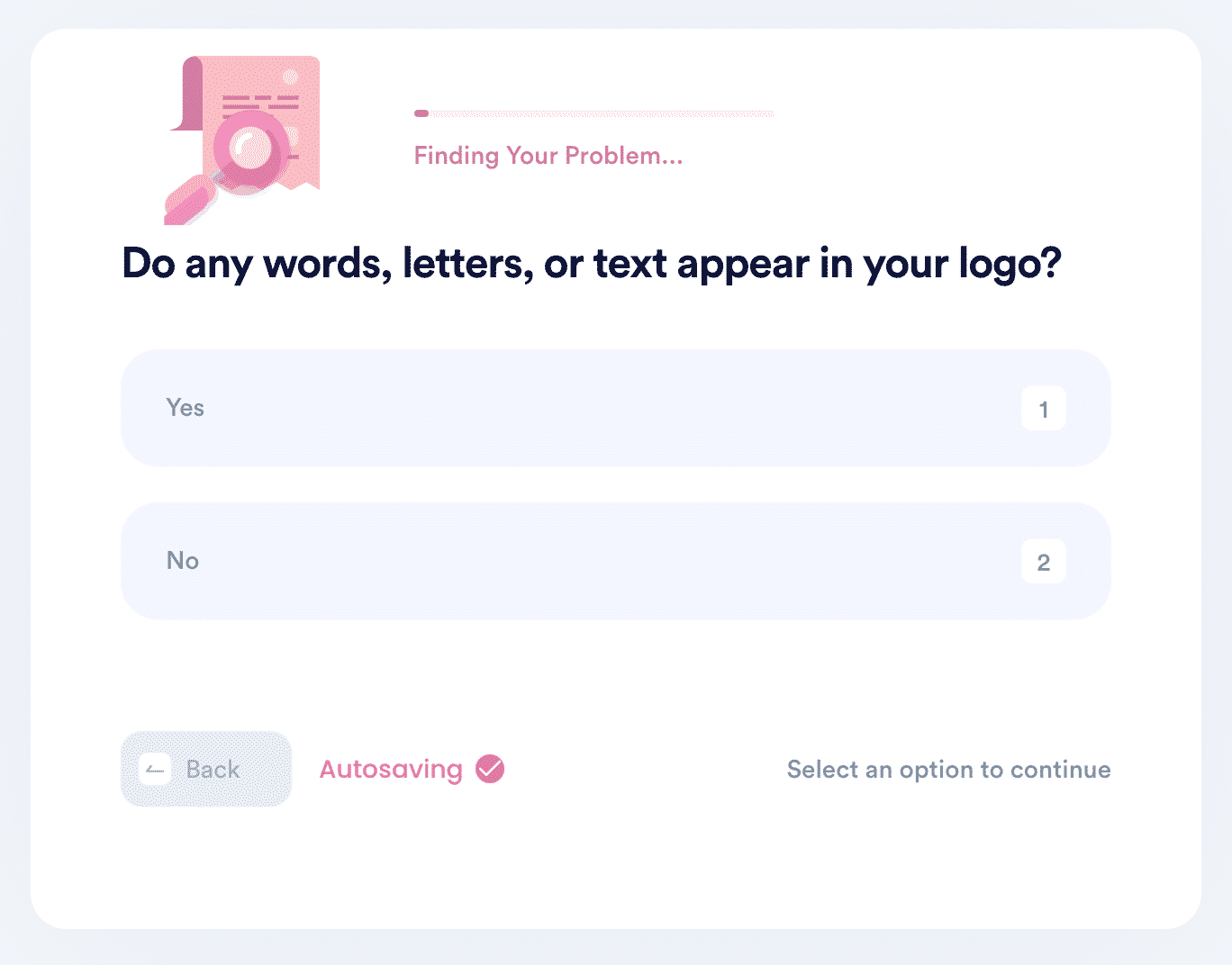 DoNotPay is easy to use as it requires you to follow a few simple steps:
Select our Trademark Registration tool
Answer our chatbot's questions
Hit Submit
Run Your Business Worry-Free!
Every beginning is challenging, which is why DoNotPay has everything you need to start running your business stress-free! We have created numerous easy-to-use products that will make boring administrative tasks easier to manage.
To help you get started, DoNotPay will assist you in taking care of trademark, Employer Identification Number (EIN), and DMCA agent registration, Privacy Shield self-certification, and business loan requests.
We can even help you maintain a good business reputation by:
Monitoring your trademark and filing a cease and desist letter in case someone tries to use it
Reporting fake negative reviews that could harm your business
Disputing illegitimate chargeback requests in a matter of minutes
DoNotPay Helps You Create and File a Number of Legal Documents
Why waste time worrying about how to draw up and file various legal documents when you can have the world's first robot lawyer do that in your stead? You do not have to waste thousands of dollars on lawyer's fees—our extensive database has a myriad of documents on offer.
DoNotPay will help you automate the procedure of completing and filing 83(b) election forms, write a formal demand letter requesting payment from clients who try to avoid it, and deal with other important paperwork.
Don't want to waste time going to the post office to mail a contract? Now you do not have to! With DoNotPay, you can fax and mail any document in a matter of clicks!