Get To Know Your Illinois Statutory Power of Attorney Laws!
One of the most secure ways to make sure you and your assets are looked after when you can no longer do it yourself is to grant a power of attorney (POA).
As an agent, you will be asked to take responsibility for someone else's financial affairs.
In both cases, if you are a resident of Illinois, it is worthwhile knowing the state laws that apply to powers of attorney—getting it right guarantees security all around.
DoNotPay has all the information you need on Illinois statutory power of attorney laws—the better you know the law, the more secure you will be!
When Do You Need a Power of Attorney?
A power of attorney is a legal document that gives control of certain aspects of the principal's life to an agent or attorney-in-fact.
A POA can regulate:
The principal's healthcare if they can't make decisions for themselves
Decisions on when the principal's life ends and what should happen
How the principal's finances are managed before and after they are incapacitated
Financial powers of attorney control what happens to the principal's monetary affairs if they become unable to manage them on their own.
Power of Attorney Types
Different kinds of POA are needed for different circumstances, as follows:
| | |
| --- | --- |
| Type of POA | Explanation |
| General POA | If the principal needs help with financial management but is still able to make decisions, they can use a general POA. This hands full control over to their agent but terminates when they become incapacitated |
| Durable POA | A durable POA remains in force after the principal is declared incapacitated and is useful as a preparatory measure to make sure they and their family are looked after |
| Springing POA | This POA type kicks in when the principal is declared incapacitated, meaning they retain control of their finances up to that point. It is useful to safeguard against sudden incapacities, such as a stroke or heart attack. It may be difficult to administer if the principal suffers from gradual deterioration of their faculties, as is the case with Parkinson's disease, Alzheimer's, or other forms of dementia |
| Limited or special POA | If the principal expects to be incapacitated for a short time before recovering or needs help performing specialized financial tasks, a limited POA is the perfect solution |
What Is the Illinois Statutory Power of Attorney?
Illinois legislates for powers of attorney under the Illinois Power of Attorney Act, Ill. Com. Stat. 755/45.
Under article three of the act, the state provides a statutory form that must be used for property transactions.
The POA gives the attorney-in-fact—in these transactions, usually a realty agent or realty broker—the power to act on behalf of the principal to conduct property purchases and sales.
The statutory form should be filled out and signed by the principal, then given to the agent to file with the local deeds office.
Using a standard form for all property transactions in Illinois goes a long way towards:
Eliminating fraudulent property transactions
Regulating realty agents
Controlling the transfer of property deeds
All other financial powers of attorney in Illinois can be drafted by the principal.
Does an Illinois POA Need To Be Witnessed?
Whether it is a statutory short form POA or a non-statutory one, all Illinois power of attorney documents need to be countersigned by at least one witness.
Witnesses must be:
Aged 18 or over
Of sound mind
The following people are not allowed to witness a POA in Illinois:
Any attending physician or mental health provider
The owner or operator of a healthcare facility where the principal is being treated
Any family member of either the principal or the agent
The agent designated in the POA
You also need to have all POAs notarized in Illinois. The notary's job is to:
Verify your identity
Check you are of sound mind at the time of signing
Make sure you are not signing under duress
Having your POA witnessed and then notarized by an Illinois notary means that it fulfills all the legal requirements.
If you want to draw up a POA letter in Illinois, you may feel you need a lawyer to do the work for you. DoNotPay disagrees—we can prepare a non-statutory power of attorney online for you in a few clicks!
Create an Illinois POA in a Snap With DoNotPay!

DoNotPay is on a mission to make legal processes as easy as possible for you. Setting up a power of attorney is no exception!
If you need a power of attorney for property in Illinois, you can download it from the state government website. Getting your non-statutory POA for Illinois is a matter of a few clicks with DoNotPay—here's how:
Sign up with DoNotPay in your web browser
Click on our Create a Power of Attorney product
Follow the prompts and fill in the details you need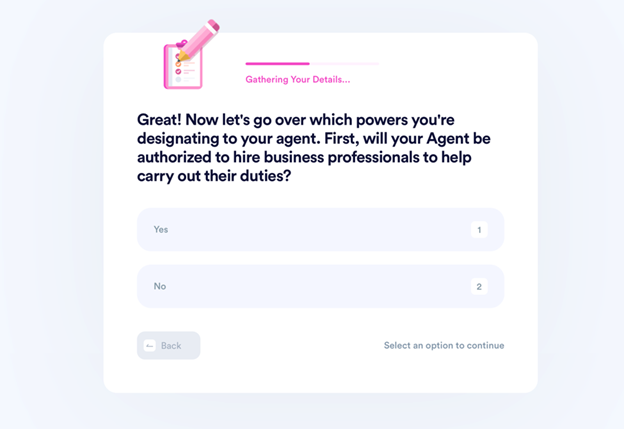 DoNotPay will generate your POA in an instant—all you need to do now is sign it and have it notarized.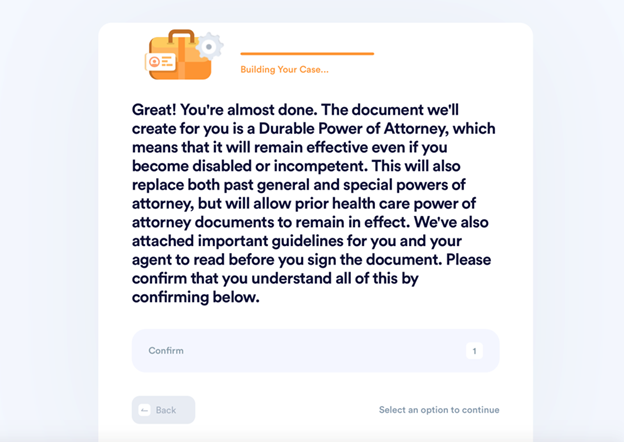 Not Sure if You'll Have Enough Money at the End of the Month? We Can Help
Most Americans go through financial hurdles daily. You don't need to put up with it all—as soon as you sign up for our app and voice your struggles, we will provide our assistance! DoNotPay is capable of:
Dealing With a Greedy Company? No Need To Worry
Are you dealing with a company that doesn't want to cooperate and keeps ignoring your consumer rights? No problem—DoNotPay can help you sue the company in small claims court and win your case.
If you need us to draw up a legal document, get it notarized, and fax it to the court, we can do that as well.
Have you been trying to reach the company's customer support reps with no success? Don't get stressed—our app will gladly wait in the phone queue in your stead and notify you as soon as someone picks up.