Illinois Statute of Limitations—Breach of Contract Related Deadlines
When one of the parties violates the contract, you need to act appropriately and on time. The deadline for filing a lawsuit is state-specific, so it is paramount to be well-informed on local laws and punctual. DoNotPay will provide you with all the relevant information about the Illinois statute of limitations for a breach of contract.
We can also help you send a demand letter to the breaching party before taking the case to court because you may resolve the matter more quickly.
How Long Is the Breach of Contract Statute of Limitations in Illinois?
Before filing a breach-of-contract lawsuit, you need to determine how much time you have for this task. The deadline for taking legal action is called a statute of limitations, and it varies across the States. Not respecting the set time frame will lead to your claim being time-barred and dismissed.
Take a look at the list below to see how much time you have to file a lawsuit for different types of contracts:
Oral contract—five years
Written contract—ten years
Contracts for the sale of goods—four years
When Does the Illinois Breach-of-Contract Statute of Limitations Accrue?
The statute of limitations period for breach-of-contract actions in Illinois does not accrue when you sustain damage but when the violation occurs. In case a contract entails a demand for performance, accrual starts on the day the demand is rejected.
Special Rules and Exceptions for Statute of Limitations
Illinois has special rules and exceptions that may toll the statute of limitations. Depending on the case and the cause of action, these rules and exceptions could affect the statute of limitations timeline:
Fraudulent concealment rule—If the defendant conceals a cause of action from you, it is your right to sue at any time within five years after the discovery
Equitable tolling—This rule stops a statute of limitations from running under specific circumstances, such as:

The defendant has actively misled you
You being prevented from asserting your rights in some way

Defendant's absence from the state—The running of the statute of limitations may be tolled if the defendant:

Resides outside of Illinois
Is not subject to jurisdiction in Illinois

Minority and legal disability—If you are under 18 or have a legal disability at the time the cause of action accrues, you can take action within two years after you turn 18, or the disability is removed
What Are the Elements of Breach of Contract Illinois?
To be able to take legal action against the violating party, you will need to prove a breach occurred by demonstrating the breach-of-contract elements. Check out the table below for more information:
| Elements | Brief Explanation |
| --- | --- |
| A valid and enforceable contract | It is essential to prove that both parties agreed to the terms of the agreement |
| Performance by the plaintiff | You should provide evidence that you have completed all of your obligations listed in the contract. If you have not, you must explain why and whether the defendant's actions prevented you from doing so |
| Breach by the defendant | You must demonstrate that the defendant failed to complete their obligations. The breach should be material, i.e., rendering the deal broken |
| Damage inflicted by the defendant's actions | Once you prove the previous element, you need to show that the defendant's action incurred significant losses |
Create a Letter of Demand in Illinois With DoNotPay's Help
The first step you should take when dealing with a breach of contract is to send a demand letter to the breaching party. This document should state why you believe there has been a breach, what actions should be taken next, and what you expect in terms of compensation.
While you might not be able to write the letter on your own, hiring expensive lawyers is not the only solution you have. DoNotPay has a product you can use! With us, you can get a professional, case-specific document instead of using generic online templates or paying a pretty penny for lawyer fees. These are the only steps to take:
Choose the Client Breach of Contract product
Answer a few questions about the client and the agreement you made
Include a payment deadline for the client
Attach photos as evidence, if you have any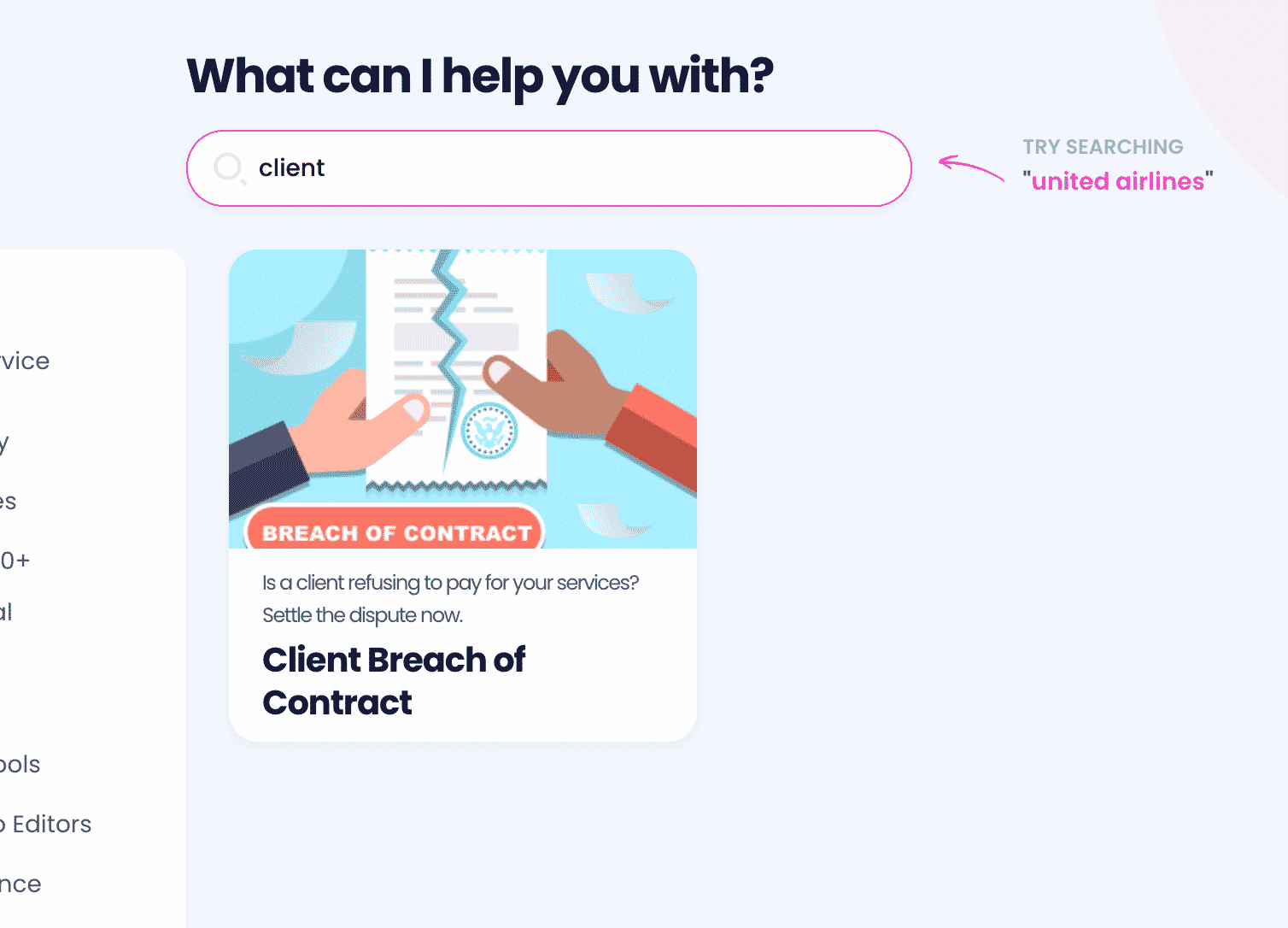 Sue the Client in Small Claims Court With DoNotPay's Help
If your breach-of-contract demand letter yields no results, and the violating party ignores your requests, you should sue them in small claims court. We received the Louis M. Brown Award for Legal Access in 2020 and can assist in this tricky legal matter.
DoNotPay streamlines the process entirely by:
Gathering the essential paperwork
Filling out the required court forms
Making a script with solid arguments to boost your chances of winning
Submitting the complaint on your behalf
You can also learn more about the breach-of-contract remedies and affirmative defenses in our extensive guides.
DoNotPay Has Everything You Need for Your Small Business
Navigating numerous business procedures can be overwhelming, especially if you don't have much experience. DoNotPay strives to make the situation easier for business owners, which is why we offer a number of simple-to-use products that can help you take care of various processes, including DMCA agent and Employer Identification Number registration, Privacy Shield program self-certification, and trademark registration and protection.
If you are not sure how to manage the filing of 83(b) election forms, DoNotPay has a solution that will automate the entire process and help you save time. Our app can even generate a convincing small business loan request letter for you. Don't feel like walking or driving to the post office to send the letter? Use DoNotPay to fax or mail any document in a matter of clicks!
DoNotPay Helps You Deal With Bad Clients
If you need help handling unpleasant situations with your clients, you can rely on DoNotPay. We have created various products to assist you in:
Making sure your business is free of negative, illegitimate online reviews—DoNotPay will analyze the review in question, estimate the best reason for reporting it, and report the review until it is deleted
Dealing with clients who breach the contract and refuse to pay—We will generate and send a demand letter requesting what's rightfully yours
Fighting unjustified chargebacks—Our app will create a personalized chargeback rebuttal document to help you keep your revenue
Resolve various business issues without wasting time or money—DoNotPay has got your back!