Automate the Illinois Sex Offender Registry Search With DoNotPay
There are roughly 780,407 registered sex offenders in the U.S. as of May 2021. Over 32,000 of them are listed in the Illinois Sex Offender Registry.
You may think you are safe in your neighborhood, but statistics say differently. An appalling 77% of sexual assault victims were attacked in their homes or neighborhoods. Keeping up to date with the background of your neighbors is crucial.
Sign up for DoNotPay and gain access to our automated notification system. This way, you can have peace of mind without performing endless and irregular manual searches.
Illinois Sex Offender Registry and Related Laws
Thanks to Megan's Law, all American citizens are allowed access to the sex offender registry of each state. This way, everyone can get info about their surroundings and the registered predators residing in the vicinity.
According to the sex offenders registration laws, Illinois sex offenders have to appear in the State's Sex Offender Registry in case they are:
Convicted of a sexual offense (tier 1, 2, or 3). The most common convictions include:

Crimes involving child pornography
Criminal sexual assault
Criminal sexual abuse
Aggravated criminal sexual assault
Aggravated criminal sexual abuse

Found not guilty of the sexual offense by reason of insanity
Subjects of a finding that does not result in an acquittal of the sexual offense
The Illinois counties where you'll find the highest number of sex offenders are:
Cook County
Lake County
Winnebago County
Peoria County
Will County
What Type of Restrictions Can a Registered Illinois Sex Offender Face?
People whose names appear on the Illinois sex offender list need to respect certain sex offender laws and restrictions, including those regarding:
Location of their residence—Offenders are not allowed to live within 500 feet of a school or a park
Social media usage—They cannot use any social media while serving parole or probation or being under supervised release
Traveling—Sex offenders have to report to the local authorities any residence where they are staying longer than three days in a year (not necessarily consecutive)
Living with children—They must report their intention to move into a household where a child below 18 years of age lives. This doesn't apply to the offender's children
What if a Convict Fails To Comply With the Illinois Sex Offender Registration Requirements?
The potential restrictions offenders may face while on the Registry can lead some of them to try and bypass the law and remain unregistered.
Failure to register as a sex offender can lead to harsh and often lengthy punishments.
| | | |
| --- | --- | --- |
| Offense | Observed As | Punishment |
| Failing to comply with the Registration Act once | Class 3 felony | Two to five years of imprisonment |
| Failing to comply with the Registration Act for a second time | Class 2 felony | Three to seven years of imprisonment |
How To Search the Illinois State Police Sex Offender Registry
Many state sex offenders registries, including the Illinois State Police website, offer a couple of ways you can search the registry:
Keyword search
Keyword-Based Search of the State of Illinois Sex Offenders List
The search fields you'll find on the Illinois State Police website are:
First name
Last name
City
ZIP code
County/Incarcerated/Out of state
Compliance status
Offender type
You can use one or a combination of several parameters for your search.
Illinois Sex Offender Locator Map Search
To search Illinois sex offenders geographically:
Go to the Sex Offender Mapping page on the state police website
Type in your address or pinpoint a location on the map
Select a yellow marker to get info about the specific offender whose house is pinned
Both these methods are time-consuming since you can't sign up for regular notifications. DoNotPay is here to help you set up a more effective system of updates on the changes in the Illinois Sex Offender Registry.
Get Sex Offender Registry Updates in a Flash With DoNotPay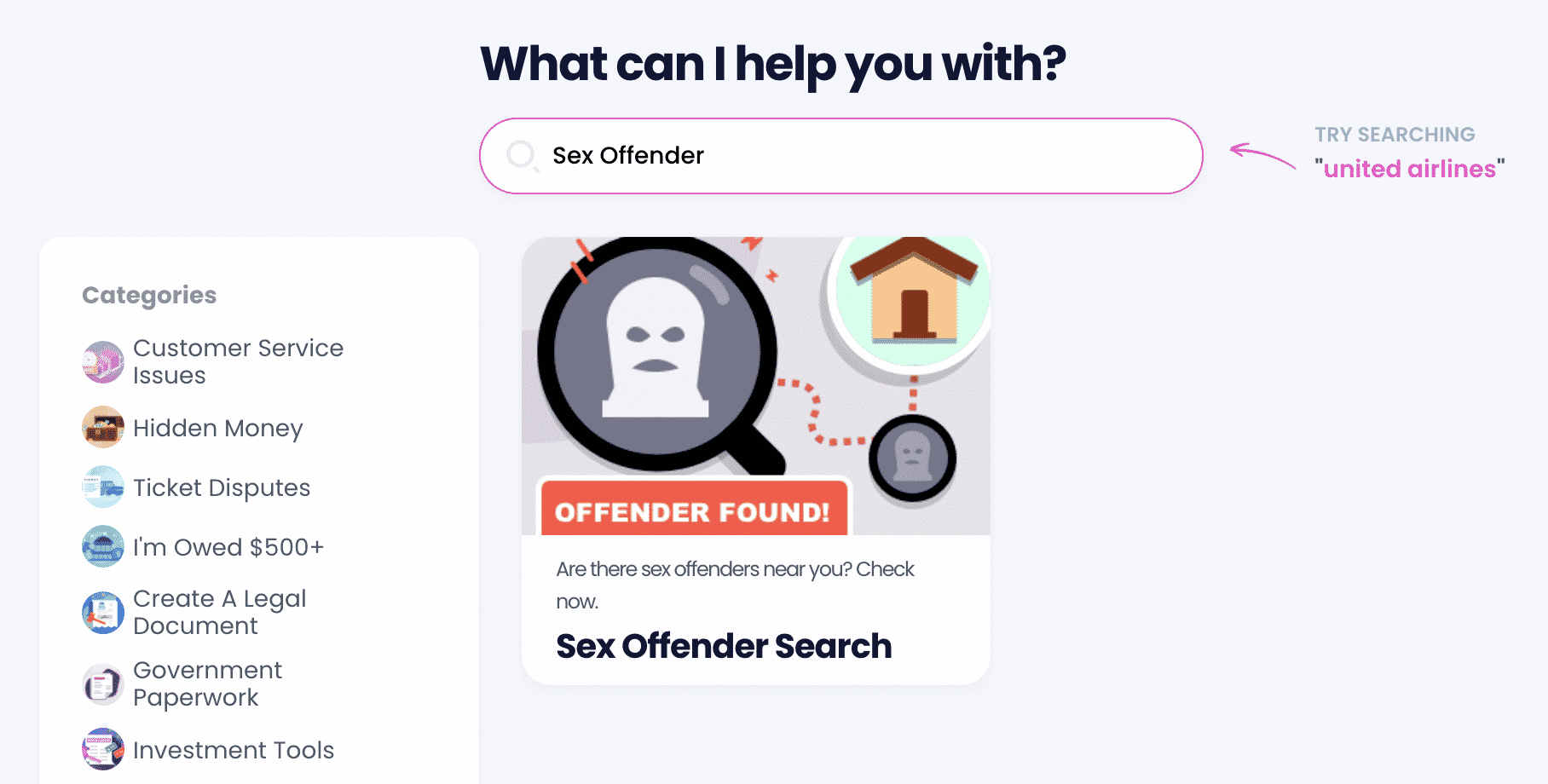 The number of sex offenders in the registry of every state is growing. You should take no chances—regular checks of your neighborhood's safety are essential.
A manual search of the Illinois Sex Offender Registry may work for one-time inquiries. It's impossible to keep up this approach in the long run, though—today's busy life doesn't allow for it.
DoNotPay can cut out the typing and browsing from your regular sex offender registry searches. Our tool runs automatic searches for sex offenders in your area. Your job is to set the parameters and relax.
Here are a few benefits of using DoNotPay:
It's fast and easy to use
You can search for a specific person or set an automatic scan of your vicinity
You can request a customized weekly update, depending on your search parameters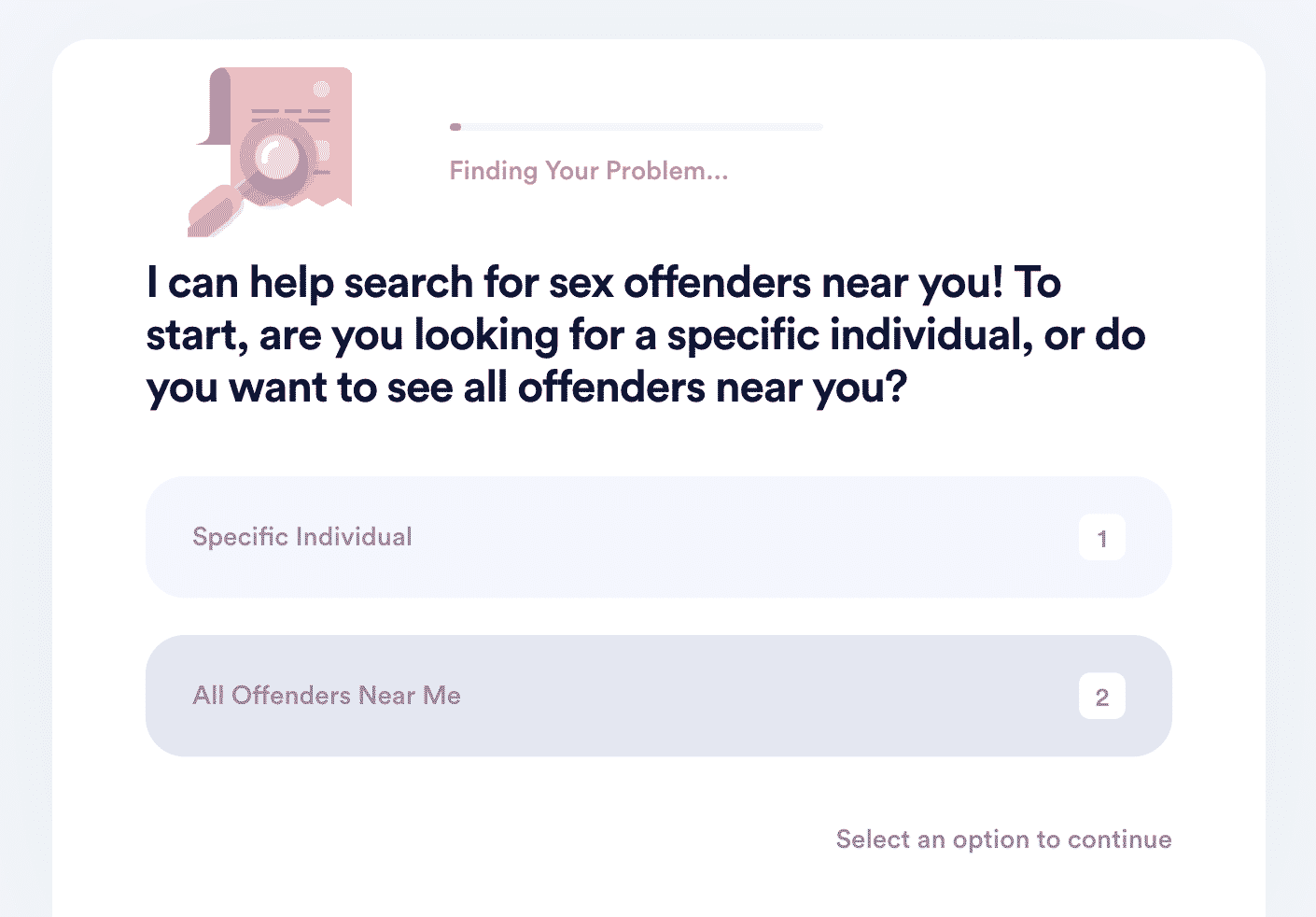 The steps you need to take are as follows:
Go to Sex Offender Search on your DoNotPay account
Pick the search method

Offender's name
Area scan

Pick the proximity to your location that you want to check
Drowning in Paperwork? DoNotPay Comes to the Rescue!
Dealing with administrative procedures is never a fun experience. Not only is it time-consuming, but it's also extremely inconvenient and impractical. Luckily, we have a practical solution!
Use DoNotPay to cut through the red tape and handle any bureaucratic issue that comes your way stress-free! Check out the list below to see a fragment of tasks you can tackle with our help:
Explore DoNotPay's Other Services
DoNotPay provides you with a ton of other services you can find useful when completing your everyday tasks.
You can contact customer service support without waiting for hours, request refunds from various companies, file a missing package claim, and get compensation for missed or delayed flights in a few clicks!
If you want to earn some money, we can help you with: