Understanding the Illinois Residential Lease Agreement
A residential lease agreement is necessary for shielding the rights of a landlord and tenant during the rental period. It's a specific contract that allows the renter to live in the landlord's property for a predetermined period while paying a fixed monthly fee.
The main purpose of this legal document is to dictate lease-related conditions and rules both signing entities must follow. If written correctly, a lease agreement can prevent stressful arguments between the parties and help solve misunderstandings that may arise. In case you want to get informed about the Illinois residential lease agreement and learn how to write a contract, we are here to help you!
What Are the Terms Your Lease Agreement Should Have?
Each state—including Illinois—has a specific set of rules dedicated to the relationship between landlords and tenants. The Illinois Compiled Statutes (or Section 765 ILCS 705, to be precise) provide a clear insight into this state's rent-related rules. It contains all requirements and limitations you must bear in mind while drawing up a lease agreement.
Here's the table showing the crucial parts your contract should include, but also the sections that you should drop:
You Should Include
You Shouldn't Include

Full name and address of the landlord

Full name and address of the tenant

Contact information of both signing entities, including their phone numbers and email addresses

Start and expiration date of the agreement

Rent amount and due date

Additional fees as a consequence of late rent payment

Security deposit amount and return deadline

Landlord's and tenant's responsibilities

Potential modifications of the premises

Repair restrictions

Notice requirements

Entry to rental property provision—the state doesn't require any specific notice landlords should give to tenants if they want to visit the property, but the parties can add this clause to the document if they want to

Sublease provision

—it's usually forbidden in Illinois unless the landlord allows it

Termination and restriction clauses

Signatures of the landlord and tenant

Optional disclosures:

Marijuana use disclosure

Move-in checklist

Late and returned check fees

Bed bug, asbestos, and mold policies

Smoke and carbon monoxide detectors

Concession granted

Terms that allow the tenant to waive their right to sue the landlord in case of personal injury

Sections that allow the tenant to waive any other right provided by the state law

Clauses that enable the landlord to evict the tenant without prior notice or a court order

Provisions that confirm the landlord can evict a pregnant tenant

Terms that state the landlord can refuse to lease out the property to a person based on their race, gender, sexual orientation, nationality, or any similar criteria
Do Illinois Laws Propose Any Obligatory Lease Agreement Disclosures?
The Illinois Compiled Statutes propose several mandatory provisions that apply to most lease agreements signed in this state. These are:
Radon hazard disclosure

—This section refers to all rental units with structures containing traces of this radioactive substance. The landlord must alert the tenant about this by creating a specific statement within the agreement

Lead-based paint disclosure

—The structures of certain buildings and objects dating before 1978 may contain traces of lead-based paint. The landlord's statement about it must be included in the agreement

Shared utility arrangements

—If multiple tenants share a single utility meter, or if a landlord shares it with the tenant, the agreement needs to contain a clause that explains how the utility bills will be paid
Is the Illinois Residential Lease Agreement Legally Binding?
The lease agreements in Illinois become legally binding once both parties sign them. There's no need to have the document notarized.
Let DoNotPay Draft Your Contract in the Blink of an Eye
If you want your contracts to be valid and protect your rights, they need to be thorough and comprehensive. Unfortunately, only people with knowledge of the law can write such documents, and they tend to charge too much. Online templates are often too vague and don't include all the necessary statements, which can cause ambiguities and disputes.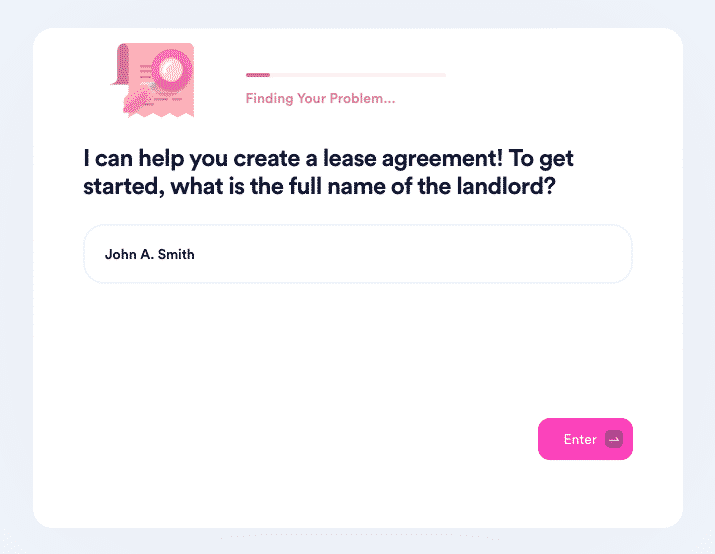 Too many obstacles? Choose DoNotPay and say goodbye to all of them! Our app lets you pick a modifiable contract template and make a detailed document in a snap.
Here are the steps to follow:
from any web browser

Search for the document you want to personalize

Give us the details you want to include in your agreement
Using the information you provide, we will generate a complete lease contract based on the applicable laws in your state, whether you live in Illinois, Massachusetts, Oklahoma, Missouri, Indiana, Wisconsin, Alabama, or any other part of the USA! After completing this short procedure, sign your agreement to put it into effect.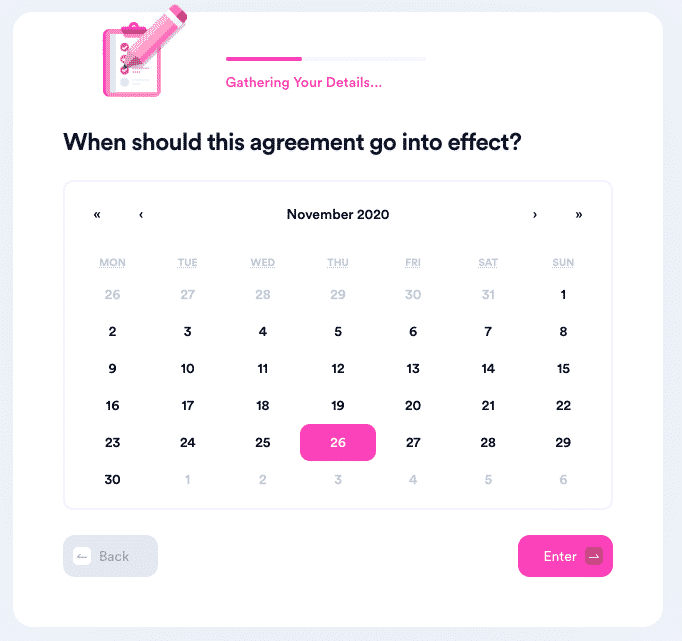 Are There Other Legal Document Templates in DoNotPay's Offer?
Below is the table showing the list of all templates allows you to customize:
Residential Lease Agreement

Intent To Purchase Real Estate

General Business Contract

Quitclaim Deed

Estoppel Certificate

General Affidavit

Child Care Authorization Form
Not only do we help you rock your residential lease contracts, but we also provide other handy guides in our knowledge base. You can read loads of useful articles about:
DoNotPay Offers a Variety of Services
DoNotPay is the ultimate virtual assistant that takes over all those annoying tasks you don't want to deal with!
Need to schedule your DMV appointment? Want to get your college fees waived? Have to draft a legal doc quickly?
We can do all that and much more!
Our app waits on the phone line with customer service of any company for you, reports robocalls, and helps you file lawsuits in small claims court.
We can also help you deal with your parking tickets, get rid of spam emails and texts, or find and sign up for reputable clinical trials!
Keep Your Money in Check With DoNotPay
How often do you sign up for a free trial and then forget to cancel it before it expires? Unexpected charges are the worst, but you can prevent them if you use our free trial card. DoNotPay's virtual credit card is not connected to your bank account, which means that no money can be taken from it.
We can also help you get refunds for unsatisfactory purchases or compensation from airlines for delayed or canceled flights.
In case you are struggling with warranty claims, bill payments, insurance, or tax reduction, DoNotPay can solve these issues as well.
Our app also has the largest database of unclaimed assets in the United States, so you can find and claim your lost funds quickly.