How Does the Illinois Real Estate Contract Work?
If you don't work in the legal justice field, you may be baffled when dealing with a legal document. Buying or selling a home is an important life decision—and that process itself is complicated.
If this is your first time entering into an Illinois real estate contract, DoNotPay has your back.
A real estate sale and purchase agreement is the most common real estate contract people use. Find out:
How this real estate contract works in the state of Illinois

What you need to pay attention to when reviewing and writing your terms and conditions

How to write different documents

when you
What Is a Real Estate Sale and Purchase Agreement?
A real estate sale and purchase agreement is a legally binding document between a buyer and a seller of real property.
The parties need to define clearly the most important items in the contract before drafting the agreement, such as:
Buyer and seller

Real property that is being exchanged

Purchase price
What You Should Know About the Real Estate Contract in Illinois
Buyers and sellers of real estate in Illinois usually use the standard Multi-Board Residential Real Estate Contract. It's intended for the sale and purchase of real property, and it details all the terms and conditions of this exchange.
When either party signs the contract, they have five days to review it with their attorney. This is called the Attorney Review. You'll often find the clause in the contract that includes the Attorney Review provision.
Here are a few details about the Illinois Multi-Board Residential Real Estate Contract you should keep in mind:
Signatures on the contract can be digital or electronic

Date when the parties sign the agreement is referred to as the Date of Acceptance

Deposit money the buyer pays is called the earnest money, and it's held by an escrowee

Seller may be identified as OOR—the owner of the property—and not by their full name if a real estate agent is acting on their behalf 
Note also that licensed agents often write real estate contracts for their clients. The clients usually review real estate contracts with their attorneys to determine whether they should modify the offered terms and conditions.
What Sections To Include if You're Writing Your Illinois Real Estate Contract
Although you can have your realtor write you a real estate contract, you can also do it yourself! Check out the table below to see what sections you should include in your agreement:
Illinois Real Estate Contract Sections

Details To Include

Parties

Buyer name

Seller name

Names of any third parties involved in the exchange, such as a realtor or a broker

Property description

Location

Square footage

Number of rooms

Fixtures

Any fixtures on the property that will be included in the purchase

Price

Purchase price of the property

Earnest money amount

Closing credits

Financing contingency

The loan amount and the lending institution

Date when the buyer will get a loan to purchase the property—Loan Contingency Date

A statement that the buyer can back out of the deal if they don't get a loan

Transfer of property

Closing time and place

Date when the buyer gains possession

Tax prorations

Property tax bills that the seller pays the buyer for the months the seller owned the property

Inspection

A statement that says whether the buyer will take the property "as is" or do an inspection

Improvements that the buyer wants the seller to make after the inspection

Escrow

Name of the escrowee—the third party that keeps the buyer's earnest money

Under which conditions the buyer can back out of the deal and keep the earnest money

Signatures

Blank space at the end of the agreement for the parties' signatures
Let DoNotPay Write Contracts for You in One Fell Swoop!
People usually use free contract templates when they need to draw up a document. The issue with templates, though, is that they aren't reliable or professional. The other option is to hire a lawyer, but their service is too expensive.
This is where DoNotPay steps in. We designed a feature that generates complete, up-to-date, and personalized legal documents in three steps! 
When you , follow this short process to get a customized contract:
Type in the name of the legal document you need

Give our chatbot the information your document should include

Download your contract or agreement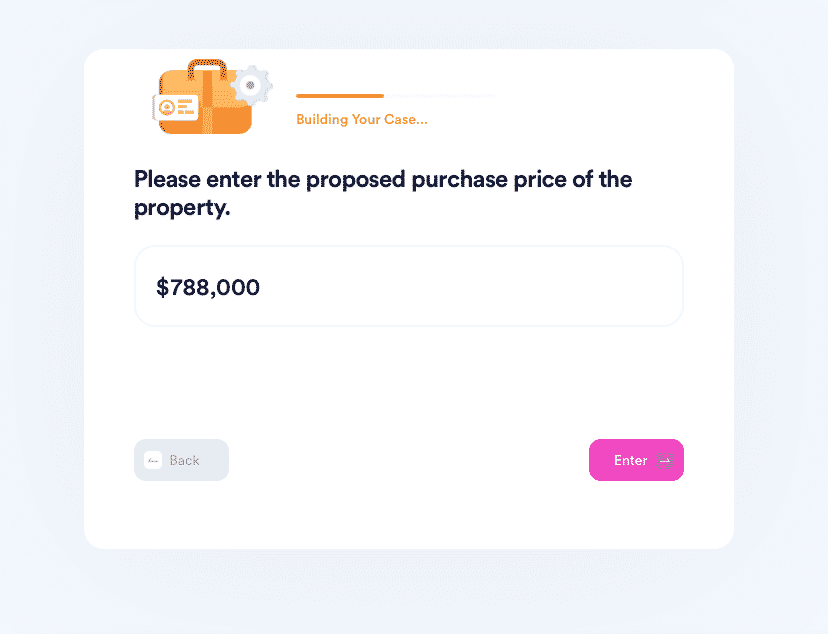 Our robot lawyer takes only a few moments to generate your contract. Once you download it, you can use your DoNotPay account to e-sign your document and get it notarized online quickly!
Check out the table below to see what kind of contracts you can learn about and create with DoNotPay:
Real Estate Topics You Can Learn About
Contracts DoNotPay Can Generate

Quitclaim deed

Promissory note

Child care authorization form

General business contract

General affidavit

Intent to purchase real estate
Free Yourself From Boring Tasks With DoNotPay's Help
Our AI-driven app comes in handy for numerous bureaucratic or administrative chores that usually take up a lot of time. With DoNotPay's speedy service, even the most tiresome task will be complete in a flash!
You can forget all about waiting in line at the DMV and being on hold with customer service—we will get you to the finish line in a few clicks. Tired of the old snail mail? Use DoNotPay to mail letters fast. Better yet—fax your documents using our app. If your document requires a notary's signature, we can assist you in scheduling a virtual appointment.
No Lawyer—No Problem! Rely on the World's First Robot Lawyer
When you're in a bind but you can't afford a lawyer, there is still something you can do—sign up for DoNotPay and let our award-winning app give you a hand. With our expertise, the following tasks will be a piece of cake: