File an Illinois Property Tax Appeal Without Any Trouble
According to some assessments, Illinois occupies second place among the U.S. states with high property taxes. Many Illinois citizens feel like the property tax rates have gone out of hand. While the Illinois government is working on a long-term solution, citizens are trying to find ways to reduce property taxes on their own. One of the ways to do so is to file a property value assessment appeal. 
DoNotPay is here to explain what the Illinois property tax appeal process looks like and help you build a strong case!
Illinois Property Taxes in a Nutshell
Local governments in Illinois collect property taxes and use them to fund services for their citizens. The majority of the tax money is used to finance public education. Other services that benefit from property taxes are recreation, road maintenance, and fire and police departments.
Your local officials will determine your property taxes based on two factors:
Equalized assessed value (EAV) of your property

Amount of money your local government needs to operate throughout the following year (levy)
The assessment of your property is established as the means to distribute the property tax charges evenly between other property owners in the community. The amount that comes from that assessment is deemed the property tax base. As a result, your property tax bill can: 
Remain the same or decrease if the tax base increases or taxing districts don't increase their levies

Increase because the tax base decreased or taxing districts increased their levies
Property tax rates are different every year, depending on the changes in tax base and levies among districts. Illinois has faced a significant increase in property taxes over recent years. Luckily, you can apply several strategies to reduce your property tax bills.
How To Lower Property Taxes in Illinois
If you are struggling to make your property tax payments in Illinois, certain tricks can help you lower them. They may require a little effort but will pay off in the future. 
Here is the overview of the ways to reduce your property taxes:
Method for Lowering Property Taxes
Details

Obtaining property tax breaks that Illinois offers

Illinois grants

property tax relief

to citizens that meet certain requirements. Possible

property tax exemptions

include:

Primary residence (up to $10,000)

Senior citizens

older than 65 ($5,000

–

$8,000)

Disabled persons ($2,000)

Home improvements ($75,000)

Disabled

veterans

($100,000)

Returning veterans ($5,000)

Natural disasters 

Appealing the taxable value of your home

You can reduce your home taxable value, which will lower your property taxes. Check your home's value in your local clerk's office. If you are dissatisfied with the assessment of your home, you can file a property tax appeal.
How Do I Appeal My Property Taxes in Illinois?
You can appeal the assessment of your home's value for several reasons, including the following:
Assessment value of your home is higher than the market value

—you can support that claim if you hired a professional assessor or have recently purchased the property on the open market 

Assessed value of your home is higher than that of neighboring homes

—this can be a result of inaccurate calculations of your property's measurements
There are two ways to file an appeal in Illinois—the formal and informal way. The informal way includes contacting your township assessor with a complaint early in the year. That can result in lowering your property taxes without going through the formal appeal process.
If you decide to file a formal appeal, you have to do it in writing and submit it to your county's board of review.
If you don't get the expected results, you can appeal your county's board of review's decision to the State Property Tax Appeal Board or submit a tax objection complaint in circuit court. You have to pay your property taxes according to the original assessment until your objection is resolved.
How To Appeal Property Taxes in Illinois With DoNotPay
Filing a property tax appeal is not an easy feat—it involves lengthy research that can leave you exhausted even before the appeal process begins. DoNotPay has an easier solution!
Our app uses the basic data you provide to create a property tax guide customized to your needs. You will find information on necessary forms and documents, and even negotiation techniques you can apply in front of your county's board of review.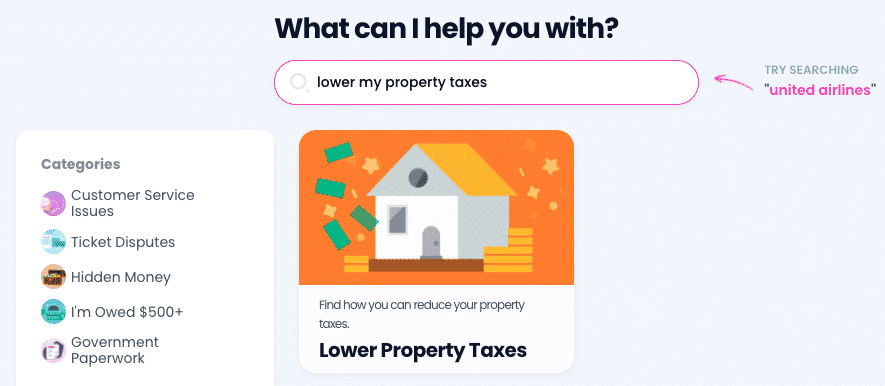 Here's what you have to do first:
Access DoNotPay from a

web browser

Select the

Property Tax

feature

Provide necessary info about you and your property
All you need to do now is wait for your personalized guide to arrive. You can use the guide to identify an Illinois property exemption you qualify for and study the steps you need to take to get it. 
You can check out our learning center if you need help making your property tax payments or want to know which state has low property taxes!
DoNotPay Leads the Way Against Spammers
Browsing the internet has never been more popular than today, but you must not forget to keep your private and financial information safe. You know you can cancel any streaming service or magazine subscription easily, but that won't stop them from using your personal details for marketing purposes.
DoNotPay has a solution for that! 
Is a company pestering you with incessant robocalls, spam emails and text messages? Use our Virtual Credit Card to catch them in the act and claim compensation for your troubles. 
To prevent that from happening ever again, use our card to sign up for free trials—not only will you not pay a dime for the service, but you will be automatically unsubscribed as soon as the trials are up! 
If you want to avoid revealing your personal phone number, we'll generate a temporary burner phone for you so the company won't have any way to reach you.
Already Been Scammed? DoNotPay Knows the Way!
If you've already made the mistake and divulged your personal info to the wrong party or experienced any other kind of crime or injustice, you don't have to sit tight and suffer the consequences. DoNotPay can assist you in taking anyone to small claims court!
We'll help you gather evidence—correspondence proving stalking or harassment took place, customer service call recordings, denied chargeback and refund claims, online fax transcripts, or proof of copyright violation. Then, we'll fill out the relevant legal documents for you and draft a court script that you can use in your hearing.