How to Connect With an Inmate From Illinois Prisons Jails
There are over 40 correctional facilities and boot camps in Illinois, making it harder to locate an inmate, especially when you don't know where to start.
There are rules and regulations that you should know if you want to connect with an inmate from  Illinois prisons jails, and DoNotPay will walk you through most of them.
Physical Address
Illinois Department of Corrections

1301 Concordia Court

P.O. Box 19277

Springfield, IL 62794-9277

(217) 558-2200 x 2008

Phone Number
(217) 558-2200
Website
Illinois Correctional Facilities
How to Find an Inmate in Illinois Prisons
Finding an inmate can be very confusing if you don't understand the Illinois correctional system. Usually, you will need the inmate's birthday, last name, or Department of Corrections number to search for them in the registry. You can register with DoNotPay for a hassle-free search of the inmate's location.
Here's how you can connect with an inmate after locating them in one of Illinois's prisons and jails:
1. Send mail
You can write letters to inmates at any time during their jail term. You will write the letter just like any other, and remember to include the inmate's identification number alongside their name. Here's what a typical mailing address for an inmate should look like:
Inmate Name, Inmate Number
Illinois Prisons Jails (Replace with prison name)
1234 Example Street (Replace with street address)
Some County, IL 12345 (Replace with state address)
United States
Anyone can write to a prisoner, and prison pen pals are encouraged to help them get through the loneliness and desolation. If you don't know what to write in your letter, DoNotPay has a helpful resource showing you how to draft one and ensure it reaches the inmate.
The prison officials will scan any document that arrives through their mail system.
The Illinois Department of Corrections prohibits sending classified contraband to prisoners, and you risk prosecution should these be found in your letters. You should also avoid sending postage stamps, stickers, pre-stamped envelopes, or plain envelopes in the mail.
2. Send money or a package
Illinois correctional facilities provide food, clothing, and healthcare, the essentials needed to live a dignified life in jail. Better still, prisoners can buy approved items like snacks and toothpaste from the facility's canteen.
Usually, each prisoner will have a custody account to receive the funds used to buy these items. You can send money to inmates using MoneyGram, Western Union, Global Tel*Link, JPAY,  and money order, or you could use the hassle-free service from DoNotPay. The DOC has specified limits on how much you can send using these channels.
If you want to send a package, it's good to run through the list of approved items, so neither of you gets into trouble. Prison authorities will inspect all packages to ensure they do not constitute a safety or security threat to the facility. Typically, the following packages are usually the only ones allowed:
Approved books, magazines, newspapers, and catalogs
Photos
Birthday cards and anniversary cards
If you need help sending a package to an inmate in Illinois correctional facilities, contact DoNotPay for the perfect assistance.
3. Plan a visit
Illinois prisons jails will limit the number of visits any prisoner can have, and they won't allow you if you're not on the inmate's approved visitation list. Here's what you can do if you're curious about inmate visitation:
Find the person you want to visit, and if you don't know their facility, use the Connect With an Inmate service from DoNotPay to locate them. Here's how to plan your visit:
Write a letter to the inmate asking them to confirm if you're on their approved visitation list.
Book your visit online at least one week ahead. Ensure that you complete the online process within 30 minutes before it times out to avoid having to do it all over again.
On the day of your visit, ensure you arrive at least 10 minutes ahead of the scheduled time.
Connect With an Inmate From Illinois Prisons With Help From DoNotPay
DoNotPay has better ways of getting in touch with your loved ones imprisoned from anywhere across the US. Using these easy-to-follow steps, you can connect with an inmate from any of Illinois' prisons jails:
1. Locate the Connect With an Inmate service on DoNotPay.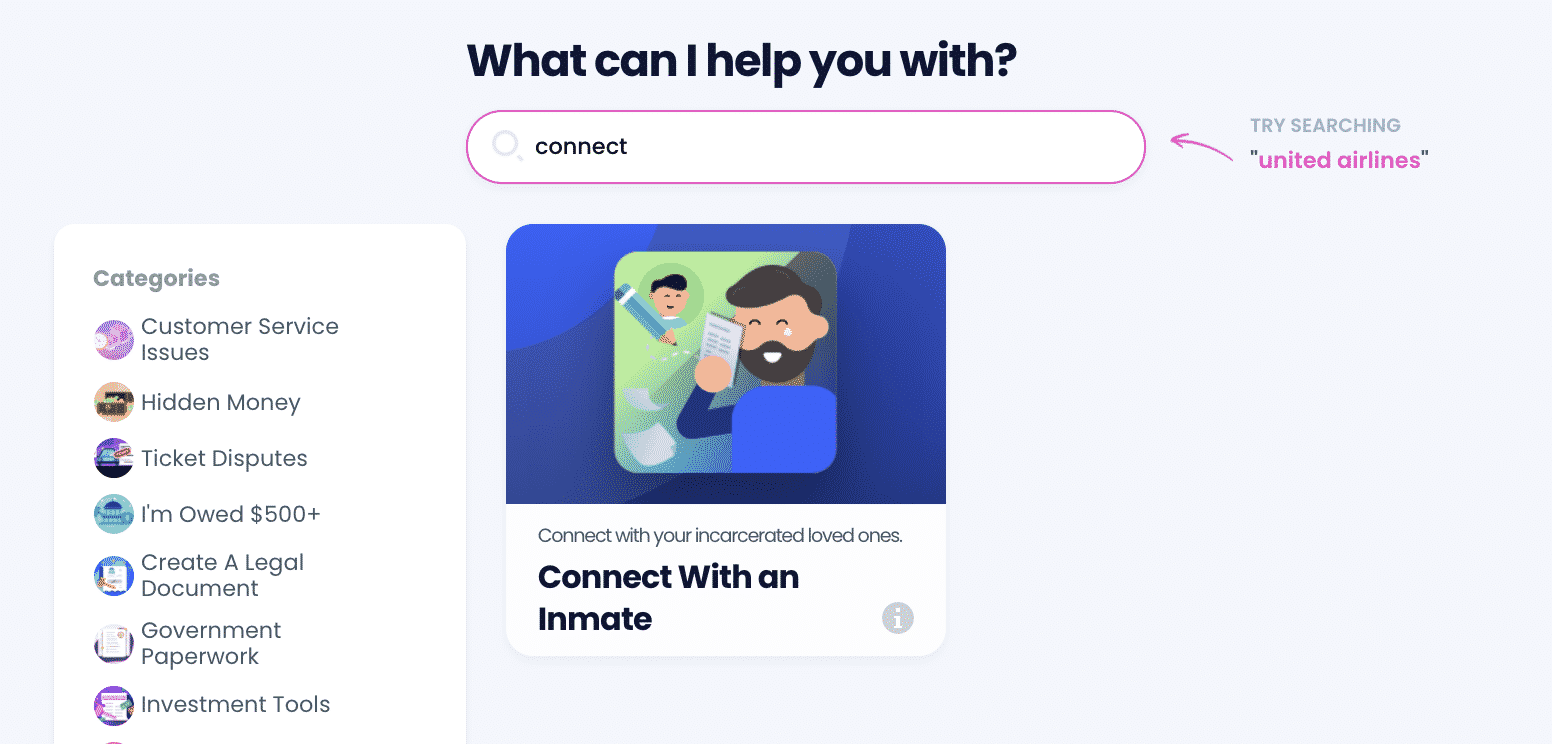 2. Choose whether you want to locate a loved one, create a virtual mailbox, or send a personalized letter.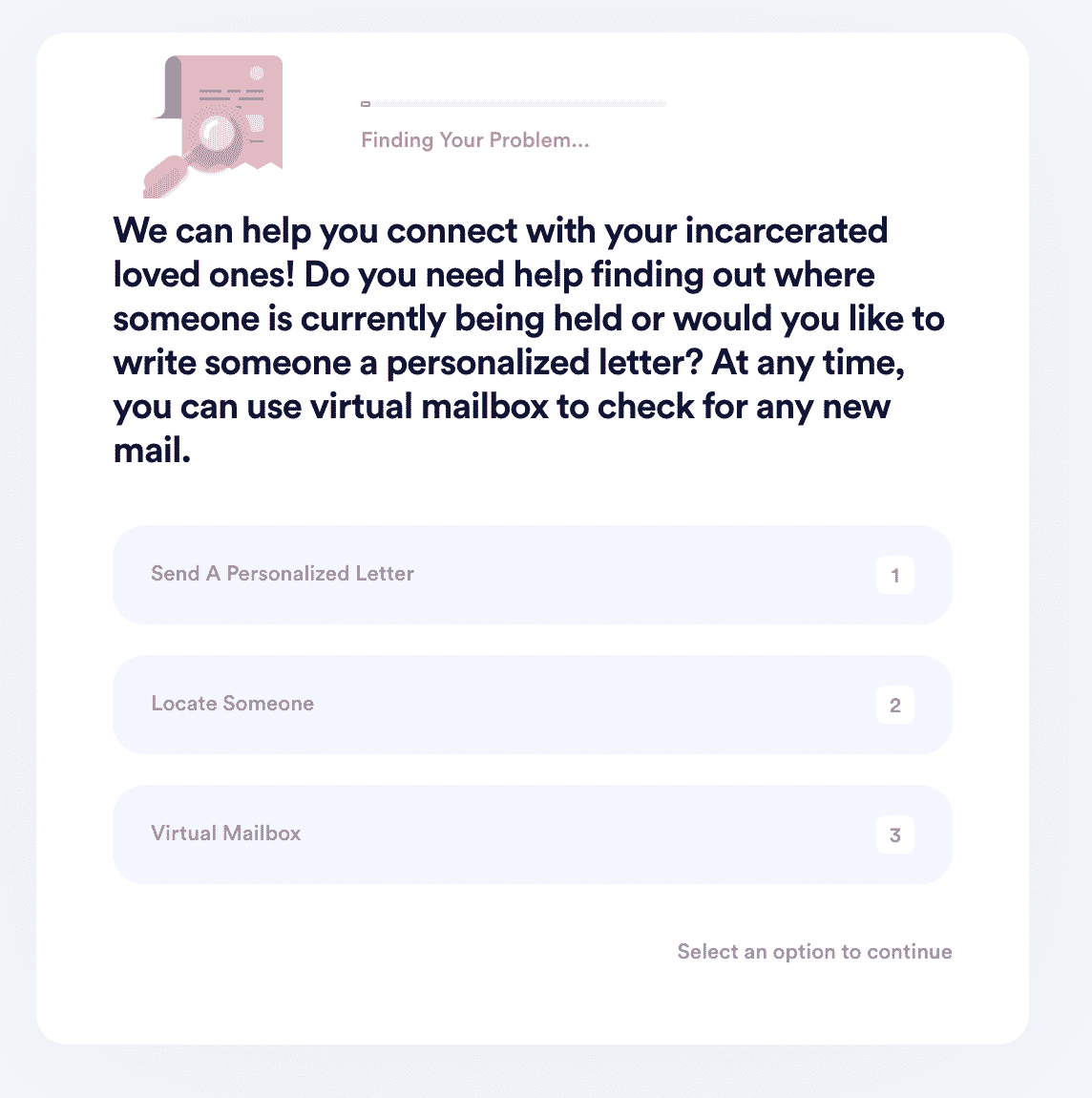 3. If you want us to find your loved one, provide his or her personal details and the state they are located in. We'll then conduct a search on the appropriate state database.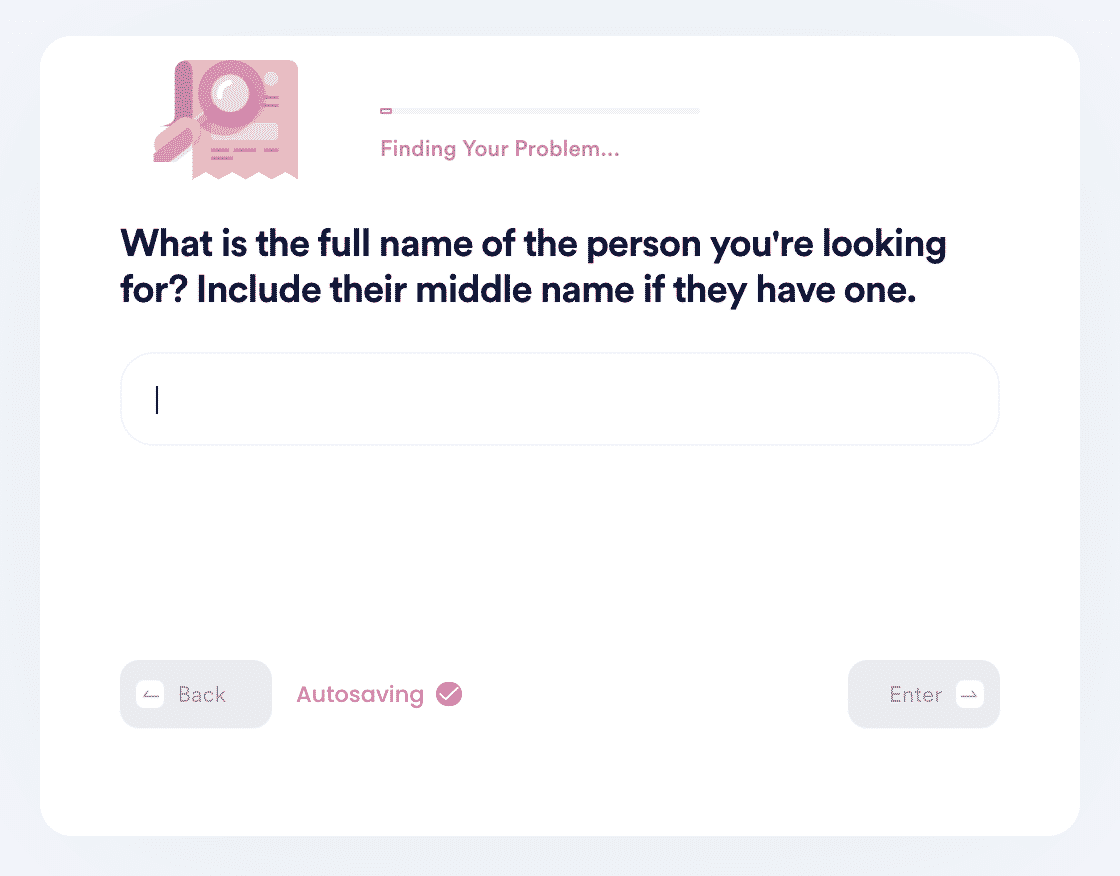 4. If you want to create a virtual mailbox, just provide your full name! We'll set one up for you so you can easily receive incoming mail from your loved one.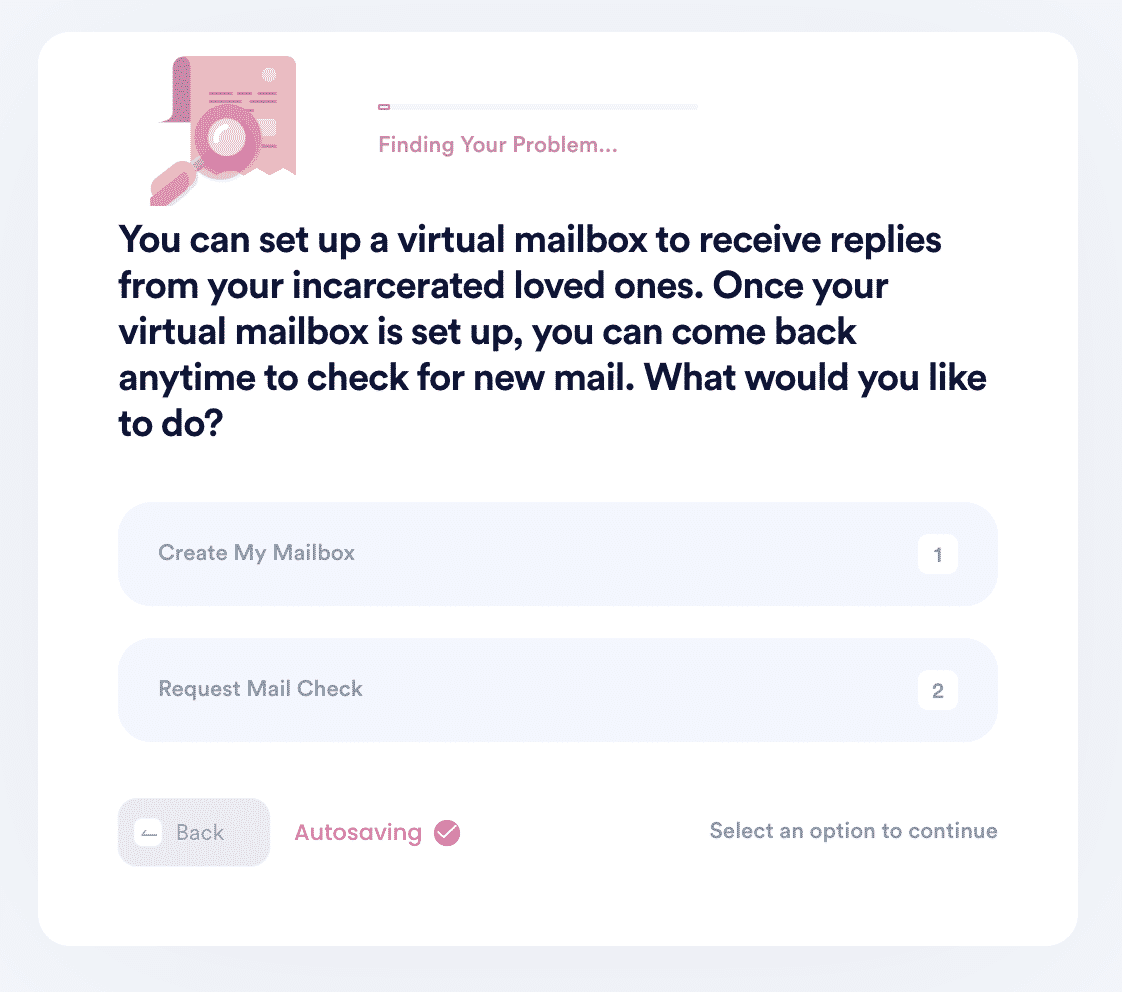 5. If sending a personalized letter, tell us which facility your loved one is located in and what you would like to say to them. You can even include a photo! Your letter will be delivered automatically - just wait 10 days for it to arrive to your loved one!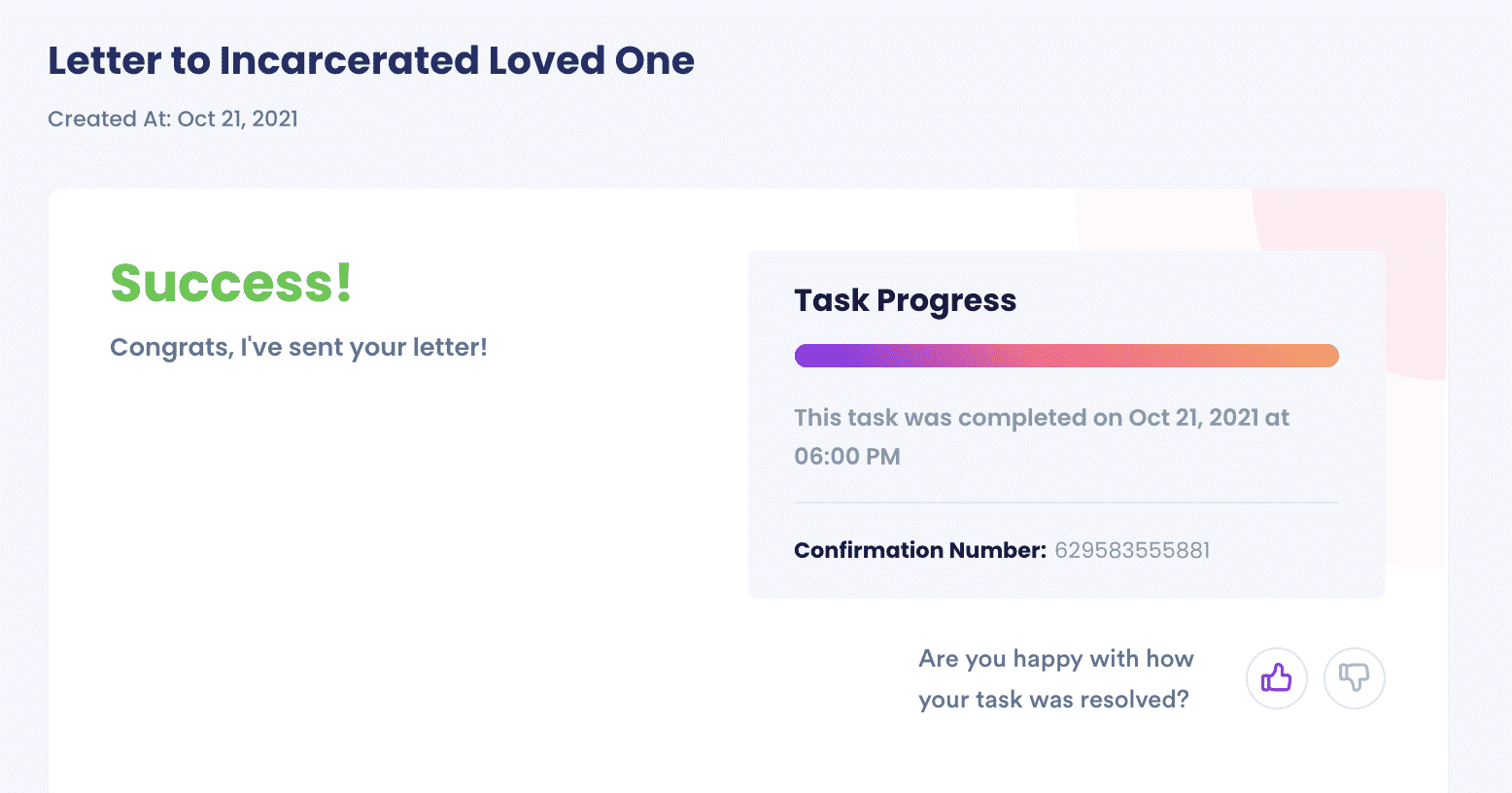 Reach out to DoNotPay for easy and reliable services to connect with an inmate in Illinois prison jails.
What Else Can You Do With DoNotPay?
DoNotPay makes it easy to manage most of life's hassles, including the usual inconveniences with credit cards, parking tickets, spam mails, and robocalls.
When you subscribe to our service, you'll discover more ways we can lessen the burden in your life, such as:
Transacting online without sharing your credit card information
Filing for unclaimed funds
Sign up today and let us help you connect with an inmate from any of Illinois prisons.