Prepare a Rock-Solid Illinois Power of Attorney for Health Care
In most U.S. states, a medical power of attorney (POA)—in some places also known as a health care proxy—is one of the most popular advance directives. Preparing this legal document could be an adequate answer if you would like your health care preferences to be recognized and respected in case you become ill or incapacitated.
This article explains the fundamentals of an Illinois power of attorney for health care and shows you how to use DoNotPay to create a health care directive smoothly.
What Is a Medical Power of Attorney in Illinois?
An Illinois health care power of attorney is a legal document that serves to appoint a person—called an agent—to make medical decisions on your behalf if you cannot:
Speak for yourself any longer
Make health care decisions on your own
This Illinois advance directive form allows you to specify your wishes regarding advance-planning medical procedures, such as:
Organ donation
Burial arrangements
Life-sustaining treatment
Medical tests, surgery, and other treatments
This document is not to be confused with a standard power of attorney, which can also manage financial, estate, and legal matters.
Keep in mind that:
A doctor must determine that you are not able to express your medical decisions for the document to become effective
An Illinois medical power of attorney does not address mental illnesses directly—in case of a mental illness, you should:

Consult your doctor or lawyer
Prepare a durable power of attorney
Illinois Health Care Power of Attorney vs. Living Will
A health care power of attorney in Illinois is not the same form as a living will.
While you should use a medical POA to name an agent to make health care decisions for you, an Illinois living will lets you specify that no death-delaying treatments will be utilized to prolong your life in case of a fatal illness.
Keep in mind that:
A living will may be useful in a state that doesn't recognize the Illinois health care POA
You should create this document if you do not wish to select an agent and prolong your life if you have a terminal condition
Who To Appoint for an Illinois Power of Attorney for Health Care
To complete an Illinois health care power of attorney form, you need to appoint an agent and get an adult to witness your signature.
The following table outlines who you:
Could consider for your agent
Cannot use as a witness
Who Can Act as an Agent
Who Cannot Act as a Witness
You should appoint a person you trust as your agent, such as:

Parent
Friend
Sibling
Spouse
Relative

Your agent cannot be:

A minor (younger than 18)
Your physician
A health care professional who is providing you with health care services at the time of signing a medical POA

A witness cannot be your:

Parent
Sibling
Descendant
(Successor) agent
Doctor
Dentist
Physician
Optometrist
Advanced practice nurse
Mental health service provider
An operator or owner of a medical center where you are a patient
Relatives and spouses of the above-listed
Keep in mind that the Illinois statutory short form power of attorney for health care mandates that you are 18 years of age or older and have at least one adult:
Witness your signature
Sign the Illinois power of attorney for health care form
Prepare a Power of Attorney for Health Care With DoNotPay
While you can hire a lawyer to draft your medical POA, this option is usually the most expensive one. You could also use online templates, but you need to be careful with these since they:
Are often unreliable
Will require you to inspect the whole form and amend some sections to make sure the document covers all necessary elements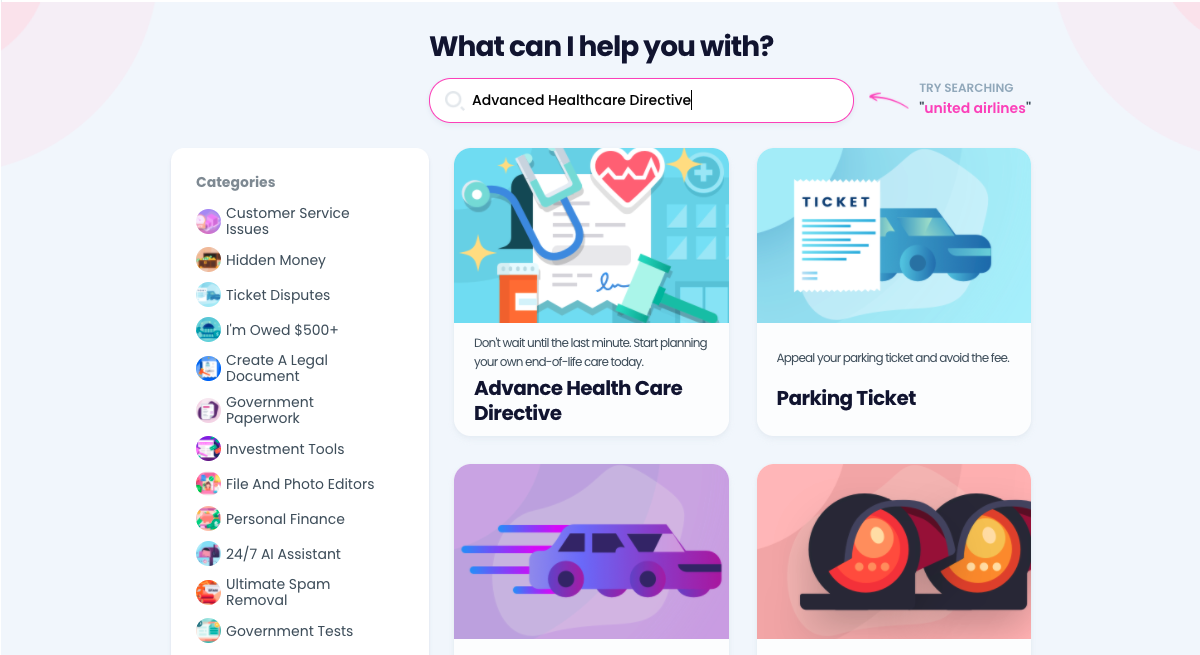 Don't waste time on risky templates and money on attorneys—sign up for DoNotPay and:
Access the Advance Health Care Directive product
Appoint your agent and provide medical information (e.g., about your primary physician, hospital, etc.)
Specify which powers you appoint to your agent and what treatments you approve or disapprove of
Enter the names of the witnesses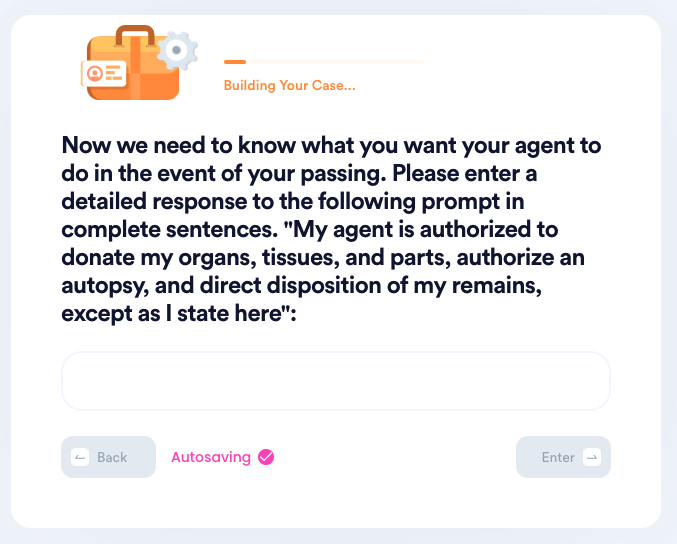 Once you have completed this straightforward entry process, our AI-powered app generates a document tailored to your specific situation and wishes.
DoNotPay Has More Products in Store for You!
Our app is adept at solving numerous issues and completing various tasks in your stead.
You may want to use DoNotPay to protect your work from copyright infringement, reduce your property taxes, send defamation demand letters, or file FOIA requests.
Through the same app, you'll be able to skip many bureaucratic hurdles. Here are more tasks DoNotPay can help you with:
Use DoNotPay To Keep in Touch
If your friend or family member is in jail, we can help you locate them and send and receive letters with ease. Do you need to send other letters but hate going to the post office? You can use our Mailing Service product and save time.
We can also help you send online faxes, reach customer service, and contact embassies or government representatives.
In case you're drowning in email and text spam, our app can end it for good. Even if robocalls are bothering you, we have a solution!