A Guide to the Illinois Jury Duty Exemptions
Although jury duty is obligatory for all U.S. citizens, there are various reasons you might want to skip it. If you have been summoned for jury duty in Illinois, you should know how it works and how to excuse yourself from jury duty without facing any legal repercussions.
In this article, we will explain everything you need to know about Illinois jury duty exemptions. If the court does not grant you an exemption, you'll need to prepare for jury duty. You can to take time off from work.
Illinois Jury Duty FAQs
Jury duty ensures a fair and legal trial for people accused in civil or criminal cases. Check out the list below for more information:
Eligibility—A potential juror should be:

A U.S. citizen
A resident of Illinois for at least a year
Physically and mentally sound
Fluent in English
Above 18 years old
Of sound mind and judgment

Selection—Potential jurors are selected from a list of registered voters, licensed voters, and registered ID cardholders. The court sends a jury summons to all selected candidates to appear in court at a scheduled date and time. In court, you will have to answer a series of questions to determine if there is a conflict of interest
Frequency—You do not have to attend jury duty more than once every 12 months
Pay—Whether you serve in a federal or county court, you will be paid for attending jury service, as mentioned below:

County jurors—$12.5–$17.5, depending on the county you're serving in
Federal jurors—$50 per day

Duration—The average length of jury service in Illinois is one month. While you do not have to show up to court every day, you have to be available
How To Get Out of Jury Duty in Illinois
Unlike other states, Illinois does not exempt jurors on the basis of their age. You can only get an exemption from jury duty if you are:
Physically or mentally unwell
Member of the Illinois National Guard or Illinois Naval Militia
Nursing mother
Parent or legal guardian of a child under the age of 12
You can also request the court to postpone your jury duty if you believe that missing work will cause financial hardship to you or your employer. To get an exemption, you need to submit an Excuse Form with the jury summons to the clerk's office at least five days before you need to show up in court.
What Happens if You Miss Jury Duty in Illinois?
Jury duty is mandatory in Illinois, and you cannot skip it without a valid reason. If you do, you can be held in contempt of court and are liable to pay fines between $5 and $100.
Having a job does not automatically exempt you from jury duty. If the court has summoned you, you need to let your employer know so they can verify your jury duty.
Your employer cannot penalize or fire you for missing work. If they do, you can file a petition against your employer. In case the court finds your employer guilty, they are liable to pay you for the following:
Loss of wages
Loss of other benefits
Attorney fees
Send a Leave Request for Jury Duty Using DoNotPay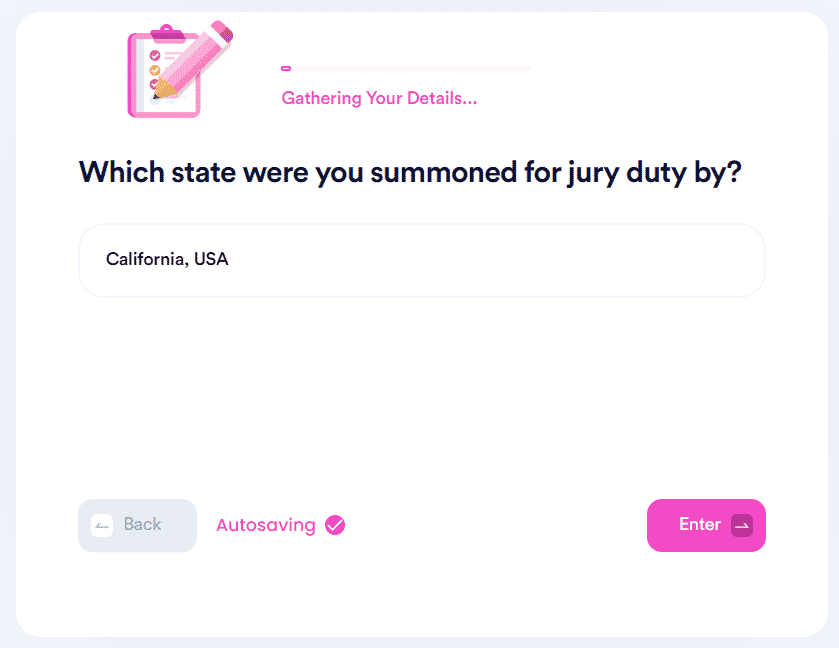 If you have not been excused from jury duty, you need to take steps to prepare for it. As soon as you receive the jury summons, you should inform your employer. Are you worried about having that conversation? Let DoNotPay swoop in! Our app can help you write an airtight leave request letter that leaves no room for any compromises.
Not sure how to get started? Here is what you need to do:
Search for the Request Jury Duty Leave tool
Provide a few details about the jury duty
Attach an image of your jury summons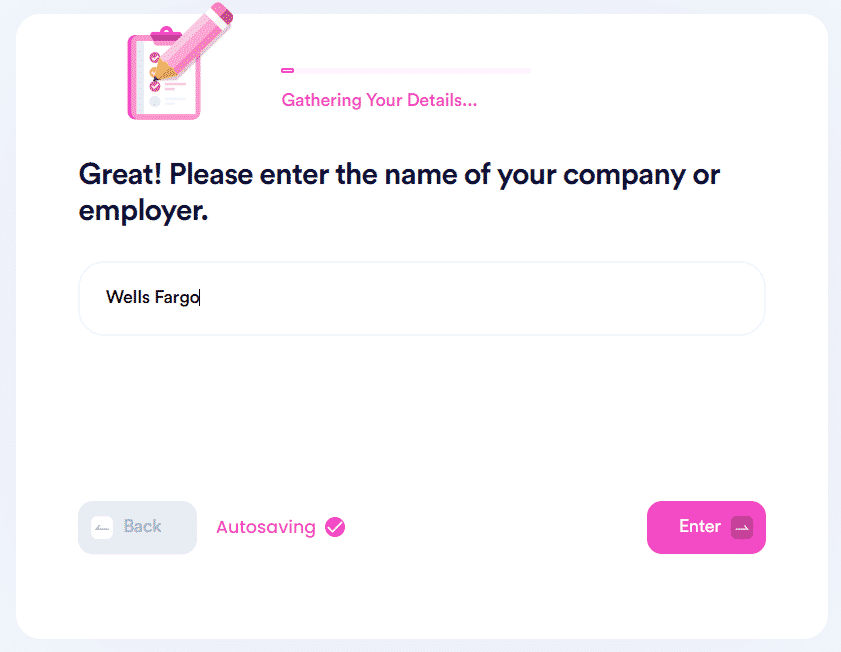 You can choose whether you want to print the letter and send it yourself or have us email it in your stead.
In case you need information about jury duty in other states, consult the table below:
Expect More Help From DoNotPay
Do you want to know what else DoNotPay can do for you? Have a look at the following lists and discover some of our most prominent services:
| Type | Particular Services |
| --- | --- |
| Getting more cash or saving the existing funds | |
| Fighting various issues | |
| Other helpful services | |
Let Our App Fight Grabby Merchants in Your Name
Have you received a damaged item? DoNotPay helps you file a return request and get a replacement for the faulty product. We can reach out to companies and demand refunds or chargebacks in your stead or request late delivery refunds. This way, you avoid paying for the goods that didn't meet your expectations and standards.
Our app can also send refund requests to airlines and help you get compensated for postponed or canceled flights. You won't need to contact the particular company yourself—DoNotPay does the grunt work and lets you enjoy the results!