How Long and How Much Can a Spouse Receive Illinois Divorce Maintenance?
Not losing your nerves during a divorce in Illinois is a real challenge. Where to start from, what to pay attention to, what papers to gather?
What about Illinois divorce maintenance? Should you reach an out-of-court agreement with your spouse on alimony and other divorce matters before filing for divorce?
DoNotPay offers relevant information in this article and shows you a way to a low-cost, friendly divorce!
Who Can Get Illinois Divorce Maintenance?
The basic purpose of alimony—also called spousal maintenance or support in Illinois—is to help a spouse achieve financial independence after the divorce. The Illinois Marriage and Dissolution of Marriage Act governs whether a spouse will get alimony.
Keep in mind that spousal maintenance is not awarded in all divorces. The criteria taken into account when establishing whether divorce maintenance will be awarded include the following:
The length of your marriage
The life standard during the marriage
Your and your spouse's:

Financial needs
Current and future earning potential
Prenuptial and postnuptial agreements
Income, property, and tax obligations after the division of marital assets
Contributions to the education and earning potential of another spouse

Possible impairment to the earning potential of the spouse who is:

Paying maintenance
Asking for alimony, e.g., because of child support and other arrangements

How long the spouse receiving maintenance needs to finalize training or education to improve their employment and earning potential
Additional factors influencing employability, including a spouse's age and health
Illinois Divorce Maintenance Calculator
The basic formula used for the Illinois divorce alimony calculator is the following:
| Column | A | B | Yearly Maintenance |
| --- | --- | --- | --- |
| Formula | 33% of the payer's net income | 25% of the recipient's net income | A - B |
| Example | $70,000 x 33% = $23,100 | $20,000 x 25% = $5,000 | $23,100 - $5,000 = $18,100 |
There is also a limit on the annual maintenance amount received—40% of both spouses' combined net income.
It means that—in the example presented in the table above—the recipient's annual income after the divorce will be: $20,000 + $18,100 = $38,100. As this figure is $2,100 higher than the maximum limit, i.e.: ($70,000 + $20,000) x 40% = $36,000, the maximum annual maintenance amount will be: $18,100 - $2,100 = $16,000.
Divorce in Illinois—Alimony Duration
How long a spouse will receive maintenance depends on the length of the marriage. For more details, check out the table below:
Marriage Length (Years)
Illinois Divorce Maintenance Duration (Years)
Up to five
Marriage length x 0.2
Five–six
Marriage length x 0.24
Six–seven
Marriage length x 0.28
Seven–eight
Marriage length x 0.32
Eight–nine
Marriage length x 0.36
Nine–ten
Marriage length x 0.4
More than 20

Equal to the marriage duration
Indefinitely
You and your spouse have the option of negotiating and agreeing on the exact duration and amount of alimony. If you don't, the judge will make a decision for you.
Create a Solid Divorce Settlement Agreement
A no-fault, uncontested divorce is the least time-consuming, complicated, and expensive process. It implies sitting down with your spouse and discussing all relevant divorce matters, including child custody and property division—in addition to alimony.
If you and your spouse work out the terms of your divorce yourselves, you won't need to hire a lawyer, which will reduce your total divorce costs significantly. If you can't agree on certain aspects of your divorce, you can always hire a mediator to help you resolve your issues peacefully.
Once you've reached an understanding, you should prepare a divorce settlement agreement to list everything you and your soon-to-be ex-spouse have agreed to. You could draw up this document in one of the following ways:
Alone—Make sure you're familiar with your state and local divorce requirements before you create and sign the document
Use an online divorce service—While helpful, uncontested divorce forms that online divorce services offer are typically generic and may not comply with your state laws
Hire an attorney—Be prepared to settle a significant sum if you choose an experienced lawyer to draw up an agreement for you
Register for DoNotPay—Our AI-powered app knows about all relevant state laws and will ensure your divorce settlement agreement meets them
Once you create it, you should file the divorce settlement agreement with the court for review. Once the judge approves the document, it becomes legally binding.
DoNotPay Is a Practical Way to a Rock-Solid Divorce Settlement Agreement
We can help you create a divorce settlement agreement efficiently if you subscribe to DoNotPay and follow these steps:
Type in Divorce Settlement Agreement in the search box
Answer our chatbot's questions
Provide information about any debts, income, and assets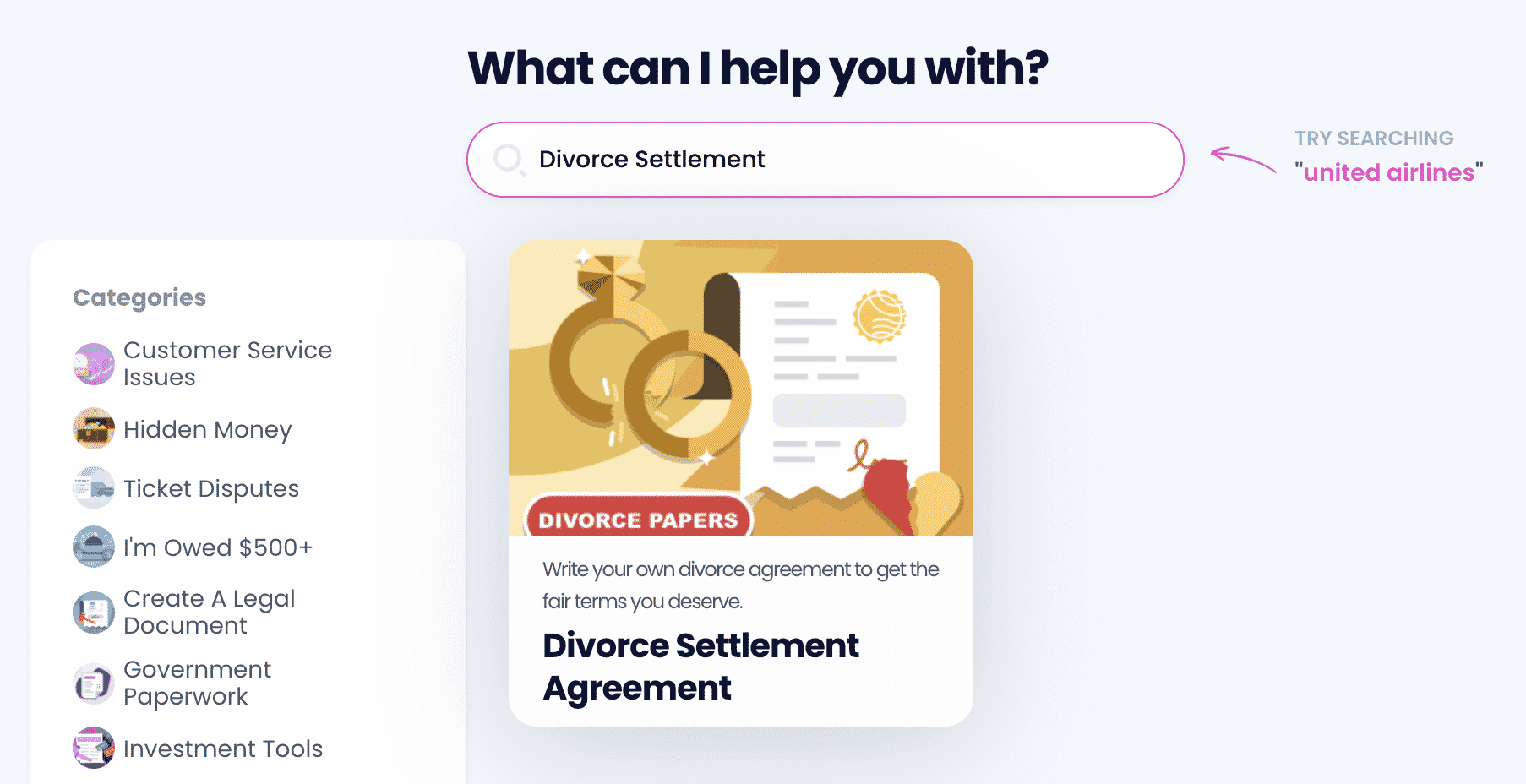 Our app incorporates the data you provide within the required legal framework to generate a document that measures up to those created by legal professionals.
If you want to get the document notarized, choose the appropriate option in our questionnaire. We will connect you with one of the notaries public we cooperate with. They provide an online service 24/7!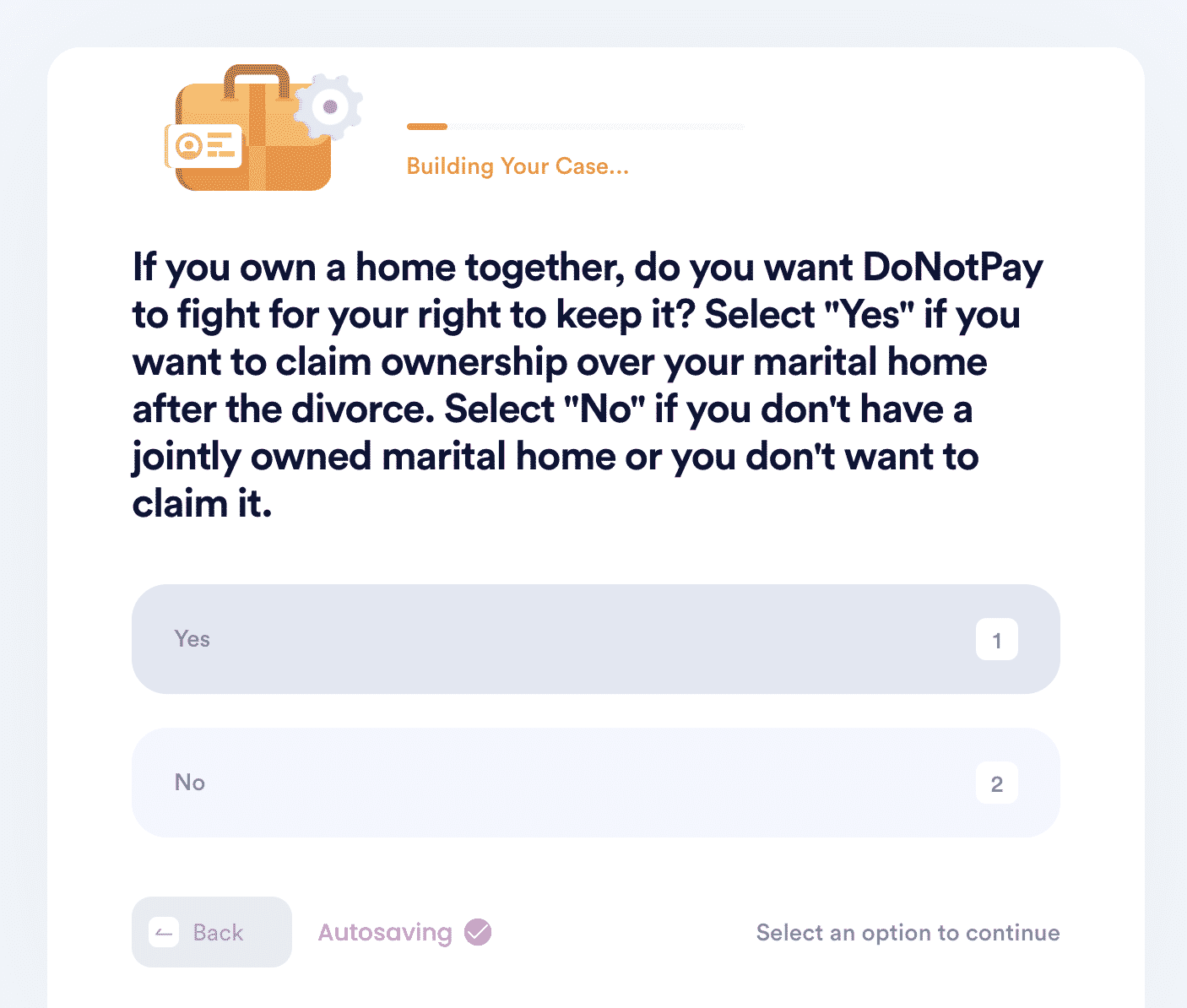 If you'd like to get more information on divorce-related topics, you should visit our website. You'll be able to find answers to lots of important questions, including the following:
DoNotPay Helps You Tackle All Kinds of Problems From the Comfort of Your Home
Are you too busy to go to Target, Walmart, or photo studios to get your passport photos taken? DoNotPay offers you the possibility of taking them yourself and having them edited without going anywhere!
Thanks to our app, you don't need to visit the post office if you want to initiate a return. You can also skip going to a notary office because we'll help you get your documents notarized.
Here are some other tasks you can complete with ease using DoNotPay:
We Help You Get Fuss-Free Subscriptions to Any Service
Interested in a specific service or platform? Make sure to get the best out of your free trial without getting charged and ending up with an unwanted paid membership. Even if you make a mistake, DoNotPay can end your subscription in a few simple steps!
Our system allows you to generate virtual credit card numbers to prevent platforms from getting your real bank details and using them for unauthorized transactions. We also offer burner phone numbers that will help you go through any subscription or verification procedure without disclosing personal details.