Illinois Disabled Veteran Property Tax Exemption Explained

With an average property tax rate of 2.16%, Illinois is one of the most expensive states for homeowners. Low-income residents—mostly seniors, veterans, and disabled citizens—need to spend a large percentage of the income on property taxes.
Are you a disabled veteran who can't afford annual property taxes? You can apply for the Illinois disabled veteran property tax exemption and save money. DoNotPay will help you determine if you qualify for the exemption in a few clicks!  
What Are Property Taxes, and Who Needs To Pay Them?
As a homeowner, you're aware of the obligatory annual property taxes. Many people usually don't know that the government uses the tax money to fund various services in the jurisdiction, including:
Road constructions

Law enforcement

Fire department

Libraries

Healthcare
Each county has different property tax rates that are determined according to the financial needs for the above-mentioned services. The following table shows the state with the highest and lowest average property tax rates:
| | |
| --- | --- |
| States With the Highest Average Property Tax Rates | |
| | |
The first component of your property tax bill is your property assessment, performed by the local assessor. Once the assessor evaluates the property, he or she will multiply it by the county's property tax rate to calculate your bill. 
Can You Lower Property Taxes?
If you wish to lower your property taxes, you should do one of the following methods:
Participating during the property tax assessment

Avoiding renovations before the assessment

Reporting inaccuracies on your property tax bill

Filing a

property tax appeal

Applying for a property tax exemption
Learn About the Disabled Veteran Property Tax Exemption in Illinois
Illinois counties offer three types of veteran property tax exemptions:
Standard homestead exemption for disabled veterans

Disabled veterans exemption for specially-adapted housing

Returning veterans homestead exemption
Standard Homestead Exemption for Disabled Veterans in Illinois
Veterans disabled due to a service-related injury can request a property tax exemption for their primary residence if the assessed value is less than $250,000. The exempt amount will depend on the percentage of disability:
| | |
| --- | --- |
| Disability Percentage | Exempt Amount |
| 30%–50% | $2,500  |
| 50%–70% | $5,000 |
| More than 70% | Full exemption |
A surviving spouse who doesn't remarry is eligible to:
Continue receiving the exemption on the veteran's primary residence

Transfer the exemption to a different primary residence if the original property is sold
Disabled Veterans Exemption for Specially-Adapted Housing
If a disabled veteran used federal financial assistance to purchase or build specially-adapted property, the exemption of up to $100.000 applies. A surviving, unremarried spouse is also eligible for the disabled veterans' property tax exemption in Illinois as long as he or she resides on the property.
Returning Veterans Homestead Exemption
Veterans who return from active duty in an armed conflict will receive a $5,000 reduction of their primary property's assessed value for two consecutive years.
What Other Illinois Property Tax Exemptions Are There?
If you're not eligible for the IL property tax exemption for veterans, you might qualify for one of the following property tax reliefs: 
General homestead exemption

—Every homeowner will get an exemption of up to $10,000 for their primary residence, regardless of age and income

Homestead exemption for disabled citizens

—Any disabled Illinois citizen will get a $2,000 exemption for the primary residence

Homestead improvement exemption

—Home improvements that add up to $75,000 to the property's market value will receive the exemption for four years from the date of renovation

Senior citizens assessment freeze

—65-year-old seniors who have a total income of up to $65,000 can "freeze" the property's assessed value. They will pay the same property taxes if the tax rate doesn't increase

Senior citizens homestead exemption

—65-year-old seniors can get a $5,000 reduction of their primary property's assessed value.

Cook County

grants an $8,000 exemption
Apply for the Veteran Property Tax Exemption in Illinois With DoNotPay
Do you need help paying property taxes, but you're not sure how to apply for an exemption? DoNotPay's Property Tax feature will determine if you qualify for the Illinois disabled veterans property tax exemption based on your answers. Once we establish which exemption you qualify for, we will generate a guide to help you reduce your property taxes.
To take advantage of our feature, sign in to DoNotPay and follow these steps:
Select the

Property Tax

feature

Respond to all required questions

Follow the instructions provided in the guide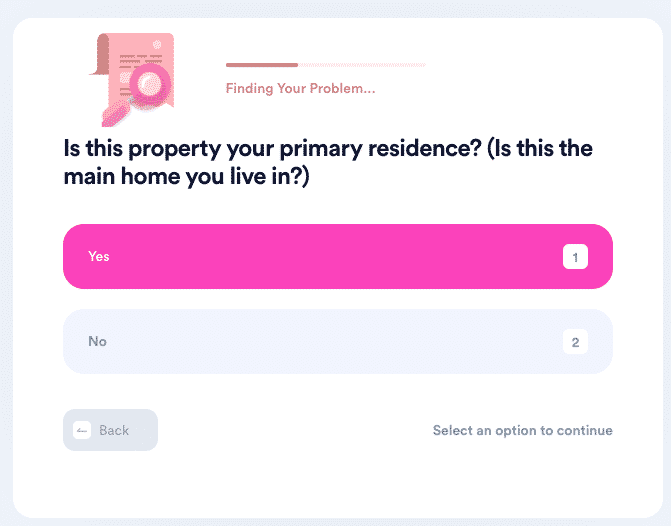 With our service, you can lower your property tax bill in any U.S. state, including Arizona, California, New York. 
Don't Know How To File a Property Tax Appeal? DoNotPay Has Got Your Back!
If your property tax bill is too high and the county rejects your exemption request, you should file an Illinois property tax appeal. DoNotPay's guide will tell you how to:
Complete the appeal forms

Negotiate with the local assessor

Find comparables

and gather evidence to support your appeal
DoNotPay Never Ceases To Amaze
Where there's one useful feature, there are nifty features galore!
Use our Virtual Credit Card to sign up for free trials and stop robocalls and spam text messages from reaching your phone. If you feel a free trial unrightfully turned into an expensive paid membership, we can help you request a refund or chargeback for the inconvenience.
We can further assist you in exercising your consumer rights by making a warranty claim in your place and verifying your online accounts with temporary phone numbers.
We can also break down the Freedom of Information Act for you and introduce you to online fax options and property tax reductions.
Clear Your Schedule With the Help of DoNotPay
DoNotPay is renowned for making our users' lives infinitely easier. Not only can we root out unwanted subscriptions for you—you don't need to do it manually one by one any longer—but we can unsubscribe you from unwanted email and snail mail lists.
Fire up our app and let it navigate the phone tree instead of you or use it to make a DMV appointment at your earliest convenience. Forget about googling clinical trials near you—DoNotPay can sort them out according to your needs and their individual eligibility criteria. 
We can fill out the paperwork that you need to file at your local small claims court to initiate a dispute. You can work around the U.S. penal system and have DoNotPay locate an imprisoned loved one instead of you trying to reach individual prisons attempting to do it yourself.
You don't need to go to great lengths to get in touch with a counselor to sign your college fee waiver either—DoNotPay does it for you and then forwards the necessary documents on your behalf.