If Jury Duty Is Cancelled, Do I Have To Go To Work? Learn Here!
Getting a jury duty summons can be a real nuisance, especially when serving on a jury will cause undue hardship for you or your employer. It can get worse—your jury duty might be cancelled. You're probably wondering: "If jury duty is cancelled, do I have to go to work?" DoNotPay will answer this question for you, and we'll also tell you how to:
Send a formal leave request letter by using DoNotPay
Do I Have To Go To Work if Jury Duty Is Cancelled?
If your jury duty is cancelled, you should contact your employer and ask them whether you should come to work—it depends entirely on them and your company's policy. Keep in mind that you might not be able to go to work if you don't have enough time to:
Go home and change into your uniform
Get to work from the court
If your employer doesn't let you come back to work, they might be punishing you for serving jury duty—they don't have the right to do so, and they are breaking the law. You can report them to the summoning court's Legal Department.
Jury Duty and Working Nights
Working night shifts is already difficult enough without jury duty—that's why some states forbid employers to force their night shift employees to work the shift. Check your state's jury duty laws in the table below:
In most cases, you won't be required to work after midnight on the night before your first day of jury service. Your employer shouldn't ask you to work even after your last day of service if the court releases you after 4 p.m.
Since jury duty is important and mandatory, you shouldn't skip it no matter how difficult it is to work it into your schedule—you may be fined or even imprisoned if you don't respond to the summons.
Is My Employer Obligated To Pay Me During My Jury Service?
In most states, there are no laws regulating payment for serving on a jury. Your employer cannot fire you for serving jury duty, but they aren't obligated to pay you either unless you're an exempt employee who has done some work during jury duty service.
Still, there are a few states that obligate employers to pay their employees during service—they are:
Alabama
Colorado
Connecticut
Louisiana
Massachusetts
Nebraska
Tennessee
Do I Get Compensated for Jury Duty?
How much you'll get paid for jury duty depends on your state, county, and the type of court (state or federal). Check out the table below to see the most common compensation amounts for state and federal courts:
Informing Your Employer About Jury Duty Is a Breeze With DoNotPay
You will keep being called for jury duty even if you're exempt from it once. If you want to be excused permanently, you'll need to have a valid reason. Once you're called, the most important step when you're preparing for jury duty is notifying your employer about it. You will need to tell them roughly how long it will last, which is information you'll get from the judge. You must inform your employer of your absence in time so that they can give you the required time off. DoNotPay will help you create a professional leave request letter that will remind your employer that they must provide time off for jury service by law.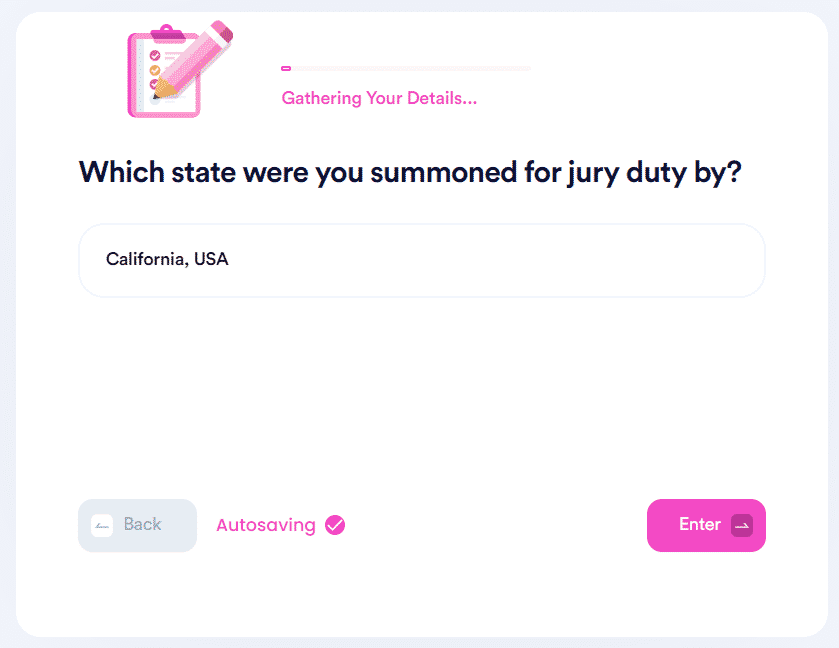 To request time off, sign up for DoNotPay and follow the steps below:
Select the Request Jury Duty Leave product
Provide the required information
Upload a photo of your summons
If you want to learn more about which questions you might be asked during the selection process or other related topics, consult DoNotPay's learning center.
Turn to DoNotPay and Remove Bureaucratic Issues in a Snap
Does paperwork bring you to the edge of a nervous breakdown? With our help, you will skip all administrative impediments and get ready-made legal documents before you know it! No failed drafts or huge legal fees!
DoNotPay can generate:
Once you create the desired document, you can fax it online without a faxing machine or have it notarized with zero complications in the same app!
Your Info Is Safe With Our App
You don't need to leave your credit card info or personal details if you want to start free trials that won't turn into paid subscriptions without notice. DoNotPay will create a virtual credit card with a fake name and generic credit card number for you in just a few clicks. This way, greedy companies won't take a single penny from your account without your authorization!
Our app can also help you file anonymous HR complaints or create burner phone numbers to avoid disclosing your real info when signing up for apps and platforms.