What Happens If an Employee Files a Complaint With OSHA and an Inspection Results in a Citation
OSHA stands for the Occupational Safety and Health Administration. This federal agency was established in 1971 in response to public outcry over the high number of workplace accidents. At that time, there were over 14,000 job-related deaths, 2.5 million workers disabled from accidents and injuries, and over 300,000 cases of occupational diseases.
OSHA's goal is the same now as it was then: to prevent work-related injuries and deaths before they happen. To do this, they set and enforce workplace safety standards. In addition, they provide employers and employees training, outreach, education, and assistance to establish safer work practices and environments.
OSHA offers protections at the federal level and the state level. Most private sector employees are protected by Federal OSHA. However, OSHA does not protect:
Workers for state and local governments

The self-employed

Industries that are regulated by other federal agencies (e.g., mining, aviation, etc.)

Farming families who do not hire outside workers
When Should Employees File a Complaint with OSHA?
Employees have the right to work in a safe environment. If that right is violated, employees may file a complaint with OSHA to report hazardous working conditions and ask for an inspection. The table below outlines the most commonly cited standards that warrant complaints and OSHA protections for each standard.
| | |
| --- | --- |
| Standard | OSHA Requires Employers To: |
| Fall Protection | Cover floor holes, provide guardrails and toe-boards, and depending on the job, safety nets and stair railings. |
| Hazard Communication | Provide labels and safety data sheets for hazardous chemicals, and train workers how to handle the chemicals properly. |
| Respiratory Protection | Protect employees subject to insufficient oxygen, dust, fog, smoke, mist, gas, and sprays with respirators that either remove contaminants from the air or supply clean oxygen. |
| Control of Hazardous Energy | Train employees on lockout/tagout practices to protect them from hazardous energies releases that threaten electricians, machine operators, and craft workers with the risk of injury and even death. |
| Powered Industrial Trucks | Make sure each industrial truck operator has been trained properly and is familiar with the work site. |
How Does the OSHA Inspection Process Work?
OSHA conducts over 30,000 inspections a year. Worker complaints receive a high priority, with nearly a quarter of all inspections stemming from employee complaints. The inspection process follows these steps:
Prior to the on-site inspection, OSHA compliance officers check the inspection history of the workplace in question to see what measurement tools and equipment will be necessary to test the work site.

The compliance officer will detail the purpose and scope of the inspection. During this time, the employer will choose a representative to follow the officer during the inspection. A representative of the employees can also join the officer during the inspection.

During the inspection, the compliance officer will walk through the work site. They will talk to employees and check the areas mentioned in the complaint as well as for any other hazards that could cause injury. At this time, they may also notify employers of minor infractions that can be fixed right away.

Finally, the compliance officer delivers his/her findings to the employer and other representatives. At this stage, possible courses of action—including citations— are considered.
You've Been Cited By OSHA: Now What?
If you receive an OSHA citation, it will include:
A list of infractions

Proposed penalties for each infraction

Timeframe by which the employer must correct the infraction (typically 30 days, unless special circumstances require an extension)
Upon receiving the citation, an employer has four options:
Pay the citation.

In this case, the

employer

will not take any action to rectify the violations and the employer may become a repeat offender and be subject to higher penalties in the future.

Request an informal conference with OSHA.

With this course of action, the employer can discuss the citation and propose a reduced fine based on several criteria.

Agree to the citation, correct the violations, and possibly pay any penalties.

Then, the employer needs to post the citation either at the location of the infraction or in a place where all relevant employees will see it.

Contest the citation.

File a

notice of contest

to the OSHA Area Director via U.S. mail within 15 working days of receiving the citation.
Using DoNotPay to File an Anonymous HR Complaint
With , you have the ability to file a fast, easy, and anonymous complaint. Sounds too good to be true? Just follow these steps.
1. Search for the Anonymous HR Complaint product on .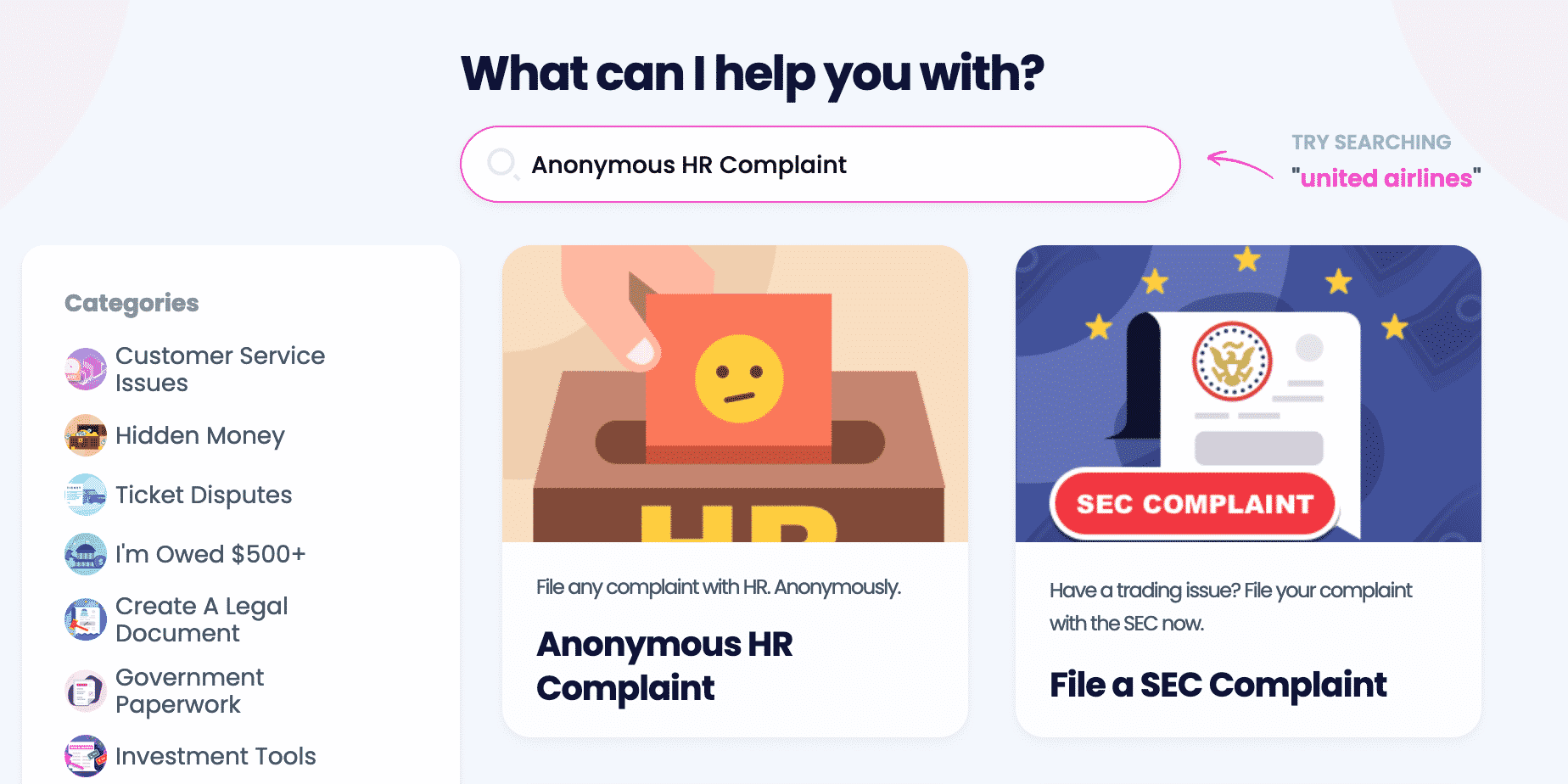 2. Input the name of your employer and HR department's mailing address.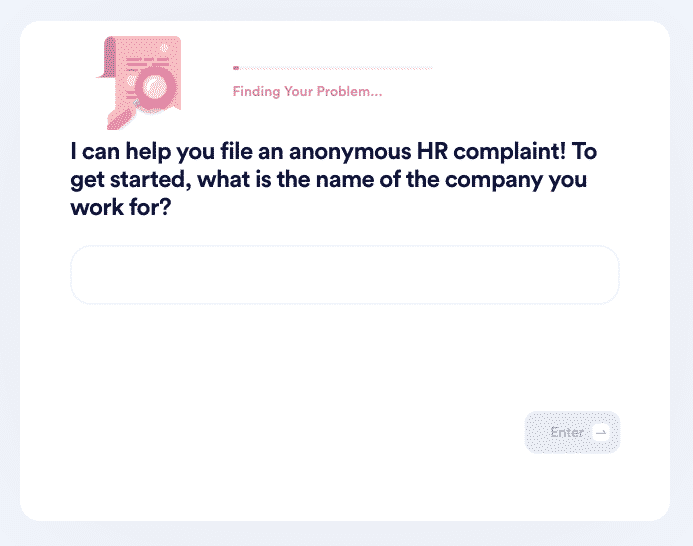 3. Write out the issues you've experienced and how you want them to be addressed.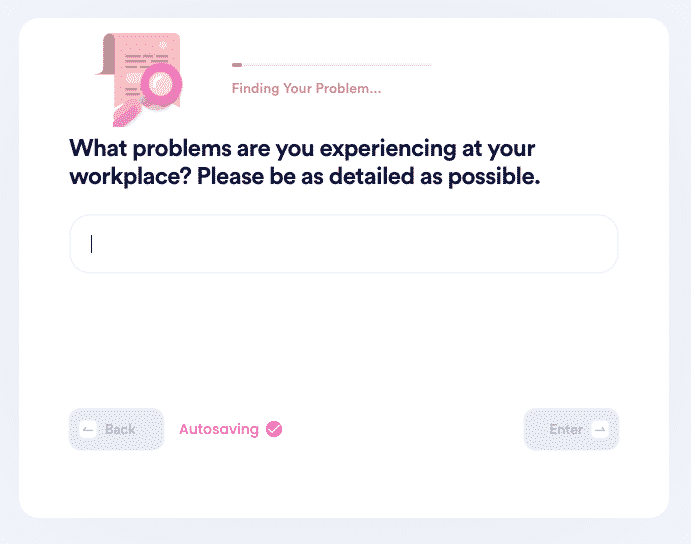 You're done! No need to worry because DoNotPay will take care of it by sending the report to HR anonymously!
DoNotPay Has All the Answers
provides all the protections of a lawyer. Whether you're appealing parking tickets or signing up for a free trial credit card, there's a service to help you out. Check out some of the ways DoNotPay's robot lawyer can assist you today: