What You Need to Know About Identity Theft in North Carolina
Identity theft in North Carolina is a serious problem. If you have been the victim of identity theft, DoNotPay can help.
There are 1.4 million incidents of fraud reported in the United States each year. Statistics shown in the FTC's Consumer Sentinel Network Data Book identify the top three fraudulent activities are imposter scams, debt collection, and identity theft. These same statistics rank North Carolina as 15th in the US for the number of identity theft cases reported each year.
While more members of the younger generations report losing money to fraud, the median loss of members of the older population was significantly higher. `Unfortunately, nobody is immune from identity theft. Keep reading to learn everything you need to know about identity theft in North Carolina.
What Is Identity Theft?
Identity theft is when someone uses your information to open or use accounts pretending to be you.
Identity theft can take many different forms. At its most basic, it can be defined as when someone steals your information and uses that information to pretend that they are you while they commit fraud in your name.
Types of Identity Theft
| | |
| --- | --- |
| Type of Fraud | Description |
| Credit card fraud | Includes fraudulent use of existing accounts and setting up a new account with your information. |
| Employment or Tax-Related Fraud | If someone stole your stimulus check or filed for unemployment in your name. |
| Phone or Utility Fraud | Includes new mobile phone accounts, new utility accounts, new landline phone accounts, and existing utility accounts. |
| Bank Fraud | Includes debit cards, electronic funds transfer, new accounts, and existing accounts. |
| Loan Fraud | Includes business or personal loans, real estate loans, auto loans, and student loans. |
| Lease Fraud | Apartment or house rental fraud |
| Government Documents Fraud | Forged driver's license, forged passport, other forged government documents |
| Benefits Fraud | Government benefits both applied for and received. |
| Other identity theft | Includes medical services, online shopping, email or social media, evading the law, insurance accounts, securities accounts. |
Signs You May Be a Victim of Identity Theft
There are several clues that you may be the victim of identity theft that you should be aware of. Here are some important warning signs that your personal information may be compromised:
Notifications of login alerts that you do not recognize.
Inability to gain access to your Apple ID.
Fluctuations in your credit score.
Suspicious activities on your bank or credit card accounts
Loan or credit denial
Tax refund denial
Debt collector harassment for accounts that you know is not yours.
If you see any of these signs that your personal information has been potentially compromised, you will want to take steps to report your identity theft to the appropriate authorities.
How to Prevent Identity Theft in North Carolina
Preventing identity is half the battle. Here are steps you can take to prevent identity theft in North Carolina:
Never carry your Social Security card in your wallet. This includes any document that has your social security number on it.
Protect all of your financial information.
Check your credit report at least once a year.
Always review your bank and credit card statements for transactions you do not recognize.
Keep all your personal information secure inside your home. A small lockbox is a good investment for this.
Don't divulge personal information over the phone, over the internet, or through the mail unless you are the one who initiated the contact and are confident in who you are dealing with.
Protect your home computers by installing anti-virus software, installing firewalls, and changing your passwords for all of your internet accounts on a regular basis.
Only give out your Social Security number when it is absolutely required.
Hopefully, you can avoid identity theft with these simple practices.
How to Report Identity Theft on Your Own
If your identity is stolen, you will need to take action to protect yourself. You will need to take the following steps to report your identity theft:
File a police report This report should be filed both with your local police as well as the police department in the city where the identity theft took place. Maintain a copy of these reports for your records.
Change every password on all of your accounts A lot of identity theft occurs because someone has hacked into one of your accounts.
Notify the Credit Bureaus You will need to notify the fraud departments of Experian, TransUnion, and Equifax credit bureaus both by phone and in writing. They will provide you with a copy of your credit report so that you can look for any discrepancies. Notify them by phone and in writing of any problems. They will place a fraud alert on your accounts and will have to call you before they can open new accounts or change existing accounts. Every few months, you should request another credit report to check for further discrepancies.
Notify your bank This is especially important if your wallet is stolen. Their fraud unit will flag your account and take care of issuing you a new atm card.
Stop payment on stolen checks You will also need to contact the check verification companies such as TeleCheck so that retailers will not accept your checks.
Close all accounts that you did not open or that have charges you did not make. This includes bank accounts and credit card accounts.
Report to the NC Department of Motor Vehicles If your name or social security number is being used to get a driver's license, report to the DMV.
File a formal complaint with the Federal Trade Commission (FTC) You can either call the FTC or file your report online.
Contact the IRS Identity Protection Specialized Unit If you are at risk because your purse or wallet was lost or stolen, you can protect yourself by notifying the IRS Identity Protection Specialized Unit so they can watch for documents filed under your name that could be fraudulent.
Contact Social Security Social security should be notified so that you can be alerted if your social security number is used by someone other than you.
Identity theft that is reported the fastest can hopefully be ended the fastest as long as you make sure you take all these steps.
How to Report Identity Theft to The FTC
Filing a report with the FTC is one of the most important steps you can take when your identity has been stolen. To file your identity theft report with the FTC, you can call 1-877-IDTHEFT, or you can file your report online at the FTC's dedicated identity theft reporting site.
Report Identity Theft in North Carolina Using DoNotPay
If you are having trouble reporting your identity theft in North Carolina by yourself, DoNotPay can help.
To have DoNotPay take care of reporting your identity theft, follow these simple steps:
1. Search "identity theft" on DoNotPay and select the type of incident you would like to report.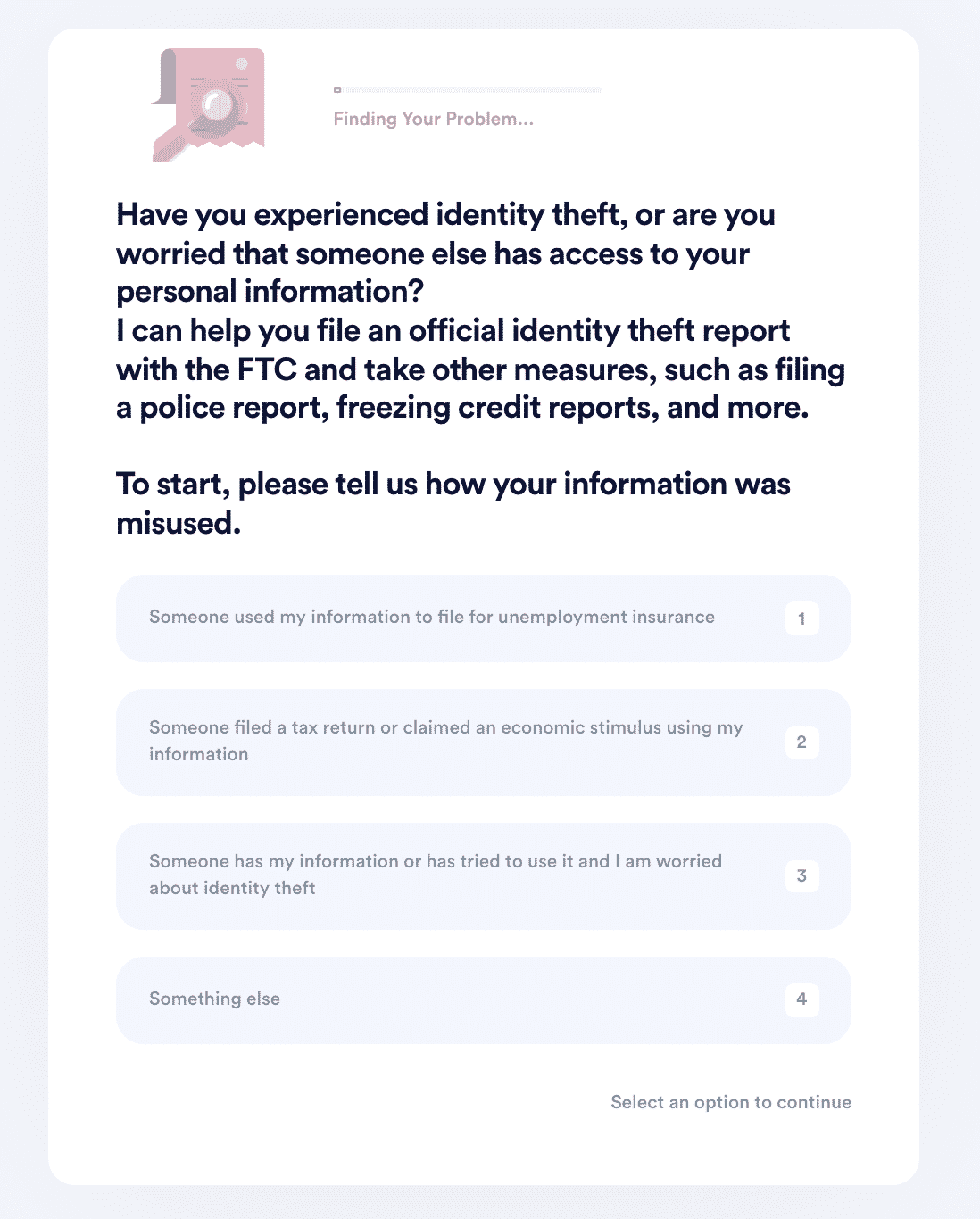 2.  Tell us more about the incident that occurred, including the location, date, time, financial loss, and any suspect information you may have.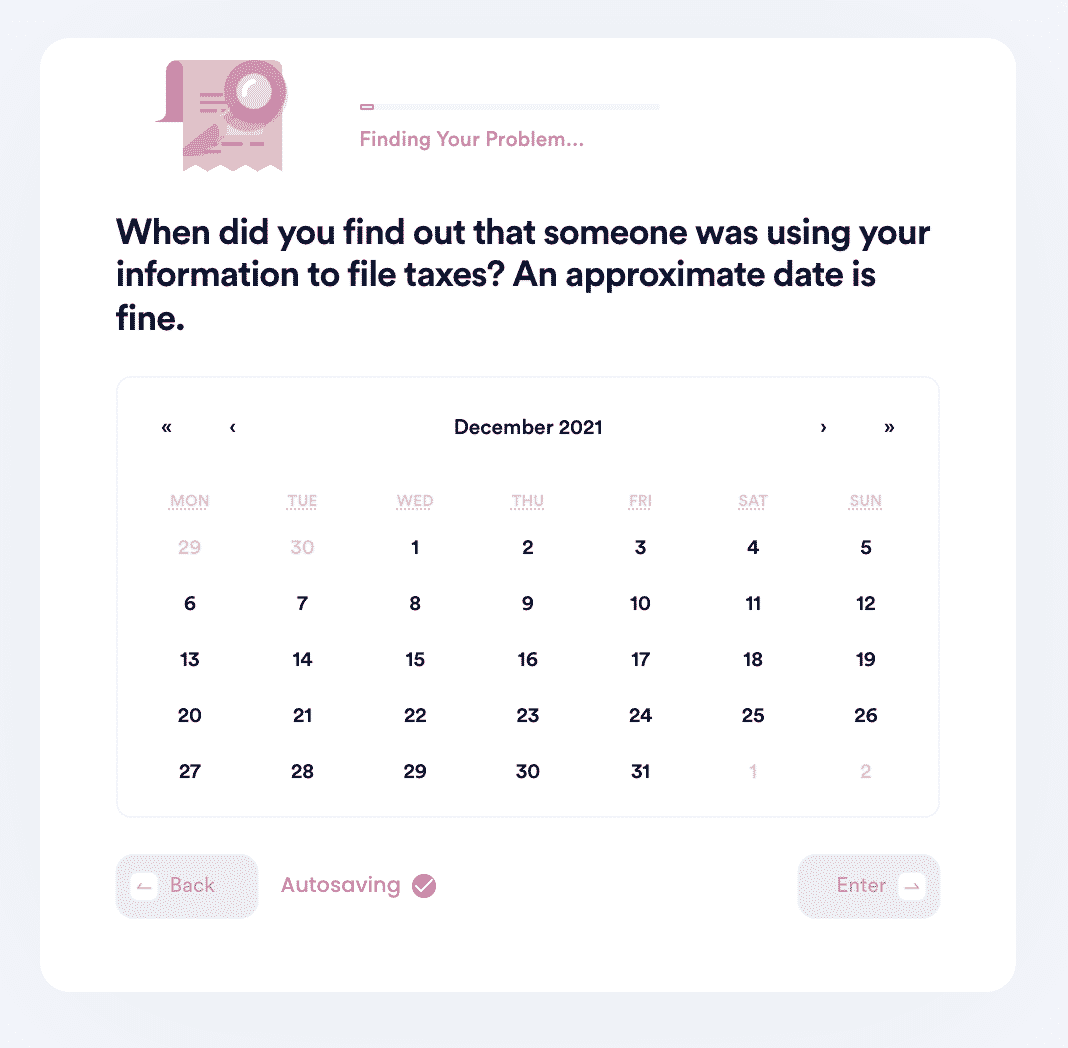 3. We'll identify whether you should file an FTC report, contact the IRS, freeze your credit report, contact state agencies, or file a police report. Once we guide you through the best options, we'll automatically submit the reports on your behalf.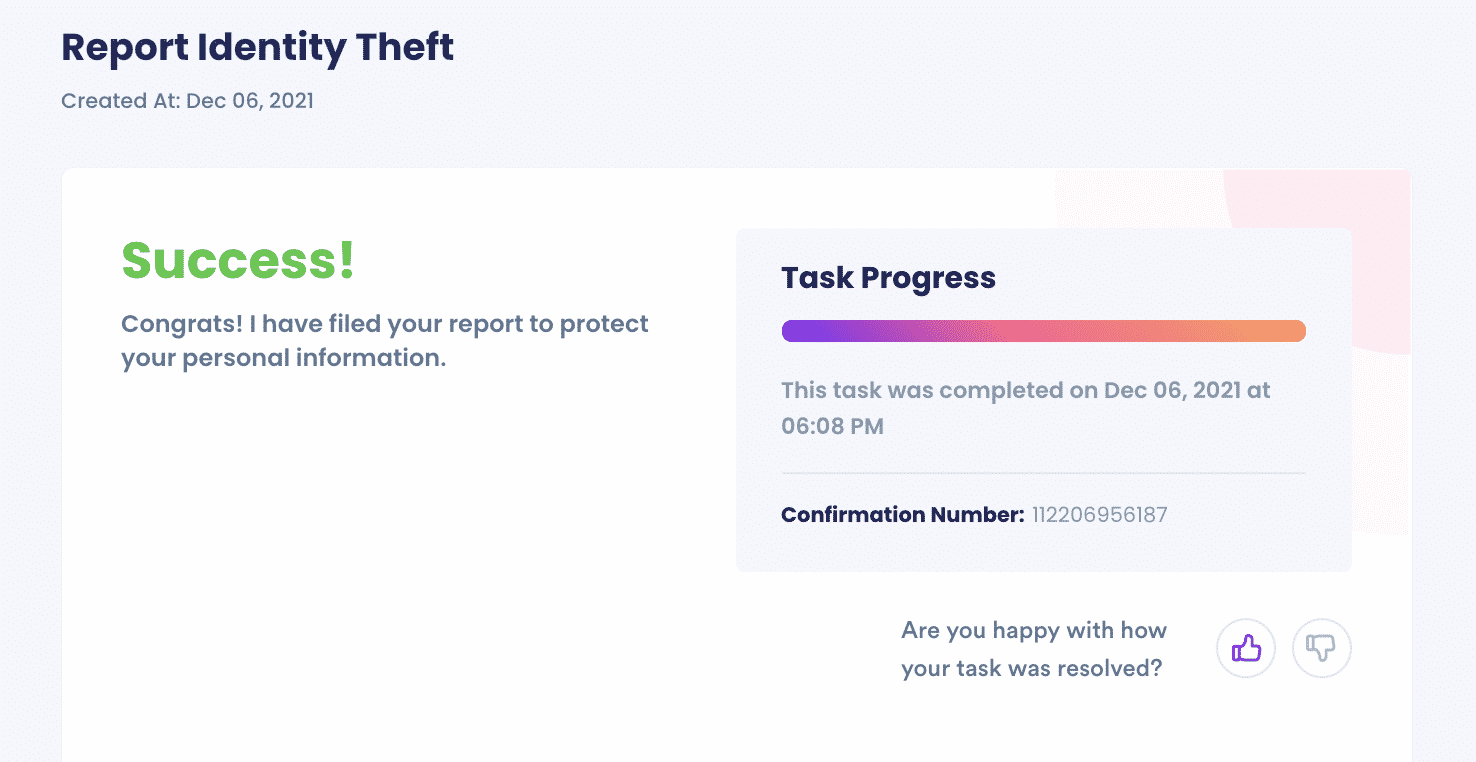 And that's it. DoNotPay will make sure your issue gets sent to the right place. We'll upload confirmation documents to your task for you to view, and if the contacts need more information, they will reach out to you personally via email or mail.
Why Use DoNotPay to Report Identity Theft
With the simple click of a button, DoNotPay will get started on reporting your identity theft. DoNotPay is:
Fast. Nothing is faster than clicking a button to get started.
Easy. Just supply DoNotPay with the information and let them take care of all the rest.
Successful. DoNotPay will take care of all of the steps that need to be taken to report your identity theft.
When you use DoNotPay to report your identity theft, they will:
File the official report with the FTC.
File a police report.
Notify state agencies.
Notify the credit bureaus.
Alert the IRS.
DoNotPay can take a lot of the stress off, and you know that it will be done right.
DoNotPay Works Across All Areas
DoNotPay can help you solve problems in every area. When you make DoNotPay your go-to source, you can accomplish a lot of things easily.
Do you need to consolidate Payday loans? DoNotPay can help.
If you need to get a copy of your birth certificate from your home state, DoNotPay can get that done for you.
Do you need to lower your property tax? DoNotPay can help.
If you want to delete your old PayPal account because you never use it, DoNotPay has you covered.
DoNotPay also offers online notary and fax services.
What Else Can DoNotPay Do?
DoNotPay can also help you get:
To see all of the services that DoNotPay has to offer, visit DoNotPay today!