Stress-Free Identity Theft Reporting in Maryland
You live in Maryland, and your identity has been stolen. Do you have any idea how to begin reporting this to the proper authorities? During this time emotions, as well as frustrations, will be at all-time highs.
In this post, we will show you what needs to be done to report your identity theft on your own accord. Then after you have had a moment to catch your breath, we will show you how easy it can be to report your identity theft in Maryland using DoNotPay!
How to Report Identity Theft in Maryland by Yourself
According to Brian E. Frosh, attorney general for the state of Maryland, if any of the following has recently happened to you, chances are you are a victim of identity theft.
Your monthly financial statements suddenly do not arrive on time
You receive notices that new accounts have been opened on your behalf
You are getting calls from collection agencies over a debt you did not create
Mysterious charges on your bank/credit cards
Accounts you did not open appear on a recent credit report
Unfamiliar activity on your credit report
Denied credit or offered credit at very high-interest rates
Law enforcement has a warrant for a crime committed in your name
Treat any unusual or suspicious activity on your credit report as possible identity theft and address those issues as soon as possible. Ignoring them will not make them go away!
The Necessary Steps to Report Identity Theft in Maryland
Once you have determined your identity has been stolen, you will need to follow these next six steps closely. Also, you will need to keep detailed notes on each step and who you spoke with, and on what date. This process is going to take anywhere from six months to one year to navigate on your own, so keeping good notes will benefit you when the time comes to prove your innocence in the matter.
1. Fraud Alert
Place a fraud alert on your credit reports. If you place a fraud alert on your credit report with any one of the three agencies in the U.S., they will automatically notify the other two about your situation.
Your credit report will most likely be the place you discover the identity theft because it will show the accounts opened in your name without your authorization. If it takes longer than one year to resolve your case, you will need to renew the fraud alert as they are only good for one year.
2. Report It
Report the crime to the police. Maryland's law states that the police need to have a report on file and to leave you with a copy regardless of where the identity theft occurred.
3. Credit Report Copy
Get a current copy of your credit report. Keeping an annual copy of your credit report is the most proactive approach to preventing/catching identity theft. You can get a free copy every year by;
Calling 1-877-322-8228
Go to www.annualcreditreport.com
Mailing the individual credit agencies
4. Contact the FTC
Contact the Federal Trade Commission (FTC). You can reach the FTC by calling 1-877-438-4338, where you can file an Identity Theft Document through the FTC to dispute the fraudulent activity on your credit report.
5. Dispute Fraudulent Activity
Disputing fraudulent activity on your credit report will vary from business to business according to policies and procedures. You can see some samples of different letters to different companies by going to the state attorney general's identity theft unit. In each case, you will need to provide your affidavit of fraud along with your police report, and any documentation toil supports your claims.
6. Freeze Your Credit
Consider a credit freeze. A credit freeze will block your credit report from being seen by would-be lenders. Even someone who has your information cannot use it if the credit agencies can't look at your report. This is by far the most effective tool at your disposal in the event of identity theft. If you are going to do your credit freeze by mail, you need to;
Provide your current name, address, phone number, social security number
Prior address and prior names if any of that information has changed in the last five years.
A copy of a state-issued ID card
A copy of bank statement or utility bill confirming your current address
You will also need to notify each of the three credit bureaus about your intent to freeze your credit and why.
Going through these steps is both time-consuming and confusing. Even keeping good notes you will still feel as though you are wasting your time based on all the extra leg work and documentation you will be providing.
Would you like to know how to quickly and efficiently report your identity theft in Maryland? Keep reading and see just how easy it can be to report identity theft in Maryland.
How to Report Identity Theft in Maryland Using DoNotPay
DoNotPay was designed to level the playing field and make issues like your identity theft in Maryland an easy process to go through. Look at how DoNotPay can take some of the sting out of your identity theft issues!
| | |
| --- | --- |
| Be mindful of your passwords | Always create strong passwords and ensure that you don't use the same password twice. Additionally, you can opt for two-factor authentication and always ensure you password-protect all your devices. |
| Be careful with public WI-Fi | Ensure that you only use secure and trusted networks when paying bills, banking, or doing online shopping. |
| Never share your personal data over the phone | Authentic institutions – including the IRS, Social Security Administration, and banks – will never call you to demand things like your bank account number or Social Security number. On the other hand, scammers will. |
| Periodically check your credit reports | Like earlier said, coming across suspicious activities in your credit report, such as unfamiliar new accounts, could indicate potential fraud. Constantly checking the reports, therefore, helps you detect any such activity early enough. |
| Stop keeping your social security card in your wallet | This also goes for credit cards you rarely use. The fewer items you have in your wallet, the easier it will be to sort out the mess in case your wallet is stolen or lost. |
| Review notices from your insurance company and healthcare workers | Check for anything out of normal, such as unfamiliar dates of service or bills, as these could be indicators of medical identity theft. |
DoNotPay can handle all of these identity theft issues fast and easily!
File an official report with the FTC
Alert state agencies about unemployment insurance fraud
Alert the U.S. Department of Justice's National Center for Disaster Fraud (NCDF) about unemployment insurance fraud
Contact the IRS about tax fraud
File a police report
Contact the credit bureaus to set up fraud alerts and freeze credit reports
How to deal with identity theft using DoNotPay:
Search "identity theft" on DoNotPay and select the type of incident you would like to report.

 

Tell us more about the incident that occurred, including the location, date, time, financial loss, and any suspect information you may have.

 
We'll identify whether you should file an FTC report, contact the IRS, freeze your credit report, contact state agencies, or file a police report. Once we guide you through the best options, we'll automatically submit the reports on your behalf!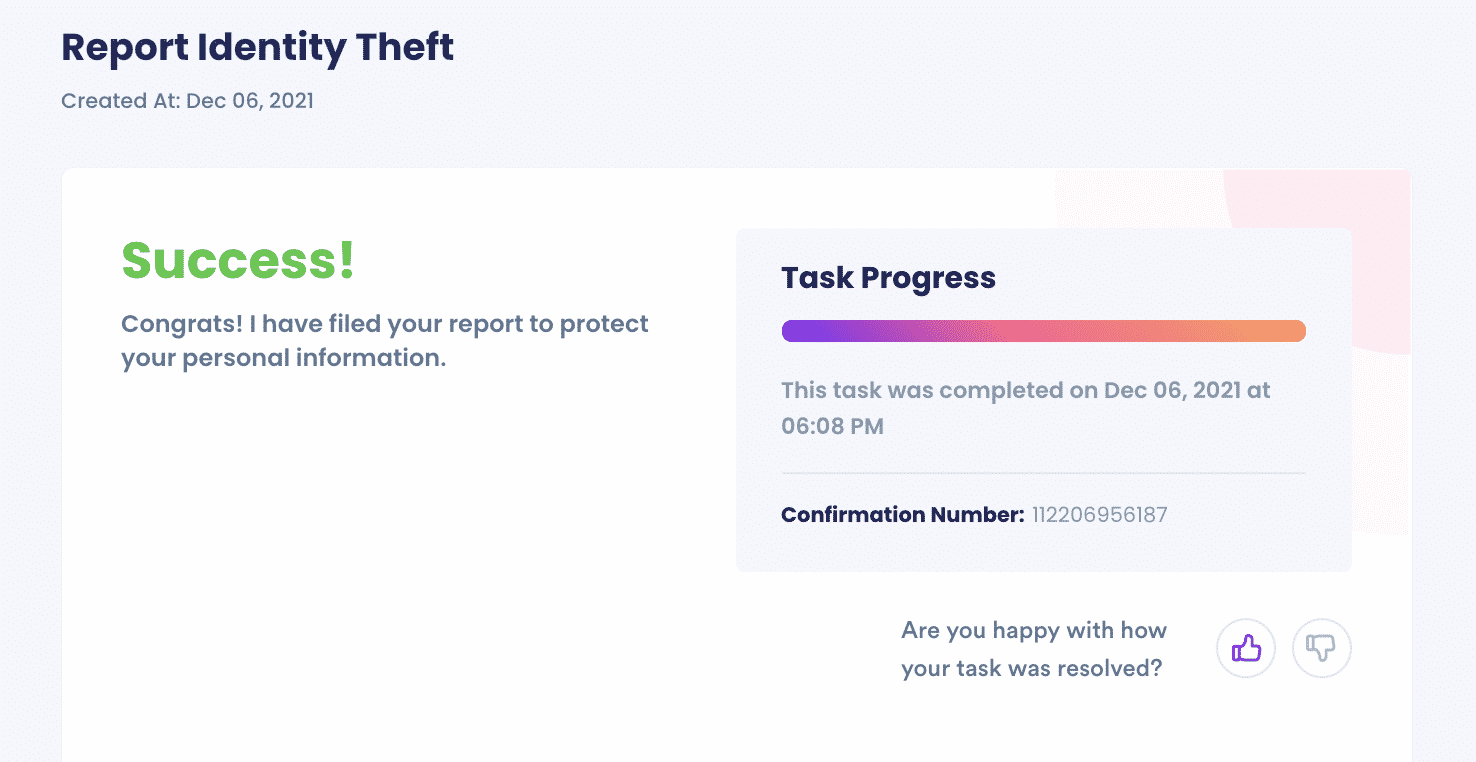 And that's it! DoNotPay will make sure your issue gets sent to the right place. We'll upload confirmation documents to your task for you to view, and if the contacts need more information, they will reach out to you personally via email or mail.
Do something you enjoy instead of running around with identity theft problems.
What Else Can DoNotPay Do?
Your identity theft problems in Maryland are just a small piece of what you can accomplish by using DoNotPay's identity theft/credit fraud services. Look at these other related issues you can successfully navigate through with DoNotPay.
Let DoNotPay show you how fast and easy it can be to report identity theft in Maryland.