Everything You Need To Know About Idaho Scholarships
Idaho is home to 15 colleges and universities and over 330 high schools. These institutions require students to pay tuition fees and other education-related expenses to receive a degree. Some schools are cheaper than others, but most tuition fees are sky-high, forcing students into debt they struggle to repay.
Luckily, plenty of scholarships and grant programs offer financial aid to students in Idaho, regardless of whether they are citizens of the Gem State or out-of-state students. In this article, we'll explain how Idaho scholarships work by showing you:
What requirements you need to meet
How DoNotPay can help you secure a scholarship hassle-free
Requirements for Idaho Scholarships
Scholarships in Idaho have various requirements, depending on what students they cater to. Usually, the requirements are different for financial aid that's based on:
Merit
Need
Merit-Based Idaho Scholarships
Merit-based awards require students to show a certain level of academic excellence and personal success to be considered eligible for the program. Merit scholarships are more rewarding than need-based ones, but they have stricter sets of rules and require more paperwork.
Award providers judge students' academic achievements on a variety of criteria and documentation, including:
Scholarships for Idaho Students in Need
It's not the end of the world for students who don't have high GPAs or don't meet other merit criteria. They can still receive financial aid if they can prove their financial standing stops them from pursuing education.
To qualify for a need-based award, students need to fill out the College Scholarship Service (CSS) Profile or the Free Application for Federal Student Aid (FAFSA) form and get an estimate of their Expected Family Contribution (EFC). By handing in their and their parents' tax returns, students can show the annual income they have.
The income needs to be below a certain level, depending on which program students apply for. Most need-based programs come in the shape of non-repayable grants, but some act as loans that need to be paid back—usually with interest.
Idaho Scholarships—Who Offers Them?
When it comes to the source of awards, Idaho scholarships can be divided into three groups:
University programs
Federal and Idahoan grants
Outside scholarships
University Programs
All universities in Idaho have internal financial aid programs available only to their students. University awards focus on students of different levels of study, including:
Some awards also offer help to high school seniors who have already been admitted to the university in question or have selected the institution as their first choice. Take a look at the following table for some examples of scholarships Idaho universities offer:
University
Scholarship Programs
Idaho State scholarships

Brent 'Jake' Jacobson Scholarship
Monnett Scholarship
Kasiska Health Science Scholarship
Laura Moore Cunningham Foundation Scholarship

College of Idaho scholarships

Lienhart-Minnick Scholarship
Whittenberger Fellows Scholarship
The Irma Frisch Farrington Fund-George Wolfe Pre-Law Scholarship
Presidential Merit
The George Wolfe Endowed Scholarship

University of Idaho scholarships
Federal and State Grants
Federal and State of Idaho scholarships can be both merit- and need-based. Some examples include:
Idaho Promise Scholarship
GEAR UP Idaho Scholarship
Tschudy Family Scholarship
Idaho Governor's Cup Scholarship
Federal Pell Grants
Federal Supplemental Educational Opportunity Grants (FSEOG)
Teacher Education Assistance for College and Higher Education (TEACH) Grants
Outside Scholarships
Outside scholarships come from private organizations—companies, funds, and donors. These programs often focus on specific groups of students that best represent organizations' values. Various student profiles are taken into account, including:
Idaho Scholarships—Where To Find Them
Scholarships in Idaho—like most other financial aid programs—are difficult to come across. While individual universities and high schools list awards on their websites, they never include all of them.
If you want to find a program that's the best fit for you, you have to do it by yourself. Researching scholarships can be a tedious process, and it can take weeks before you find some that you're eligible for. If you don't know where to begin, here are a few ideas on where you can start:
The best option you have is to use DoNotPay and bypass the research process altogether. With our app, you don't have to deal with finding programs on your own—you can get a personalized list of all available scholarships in under five minutes once you sign up.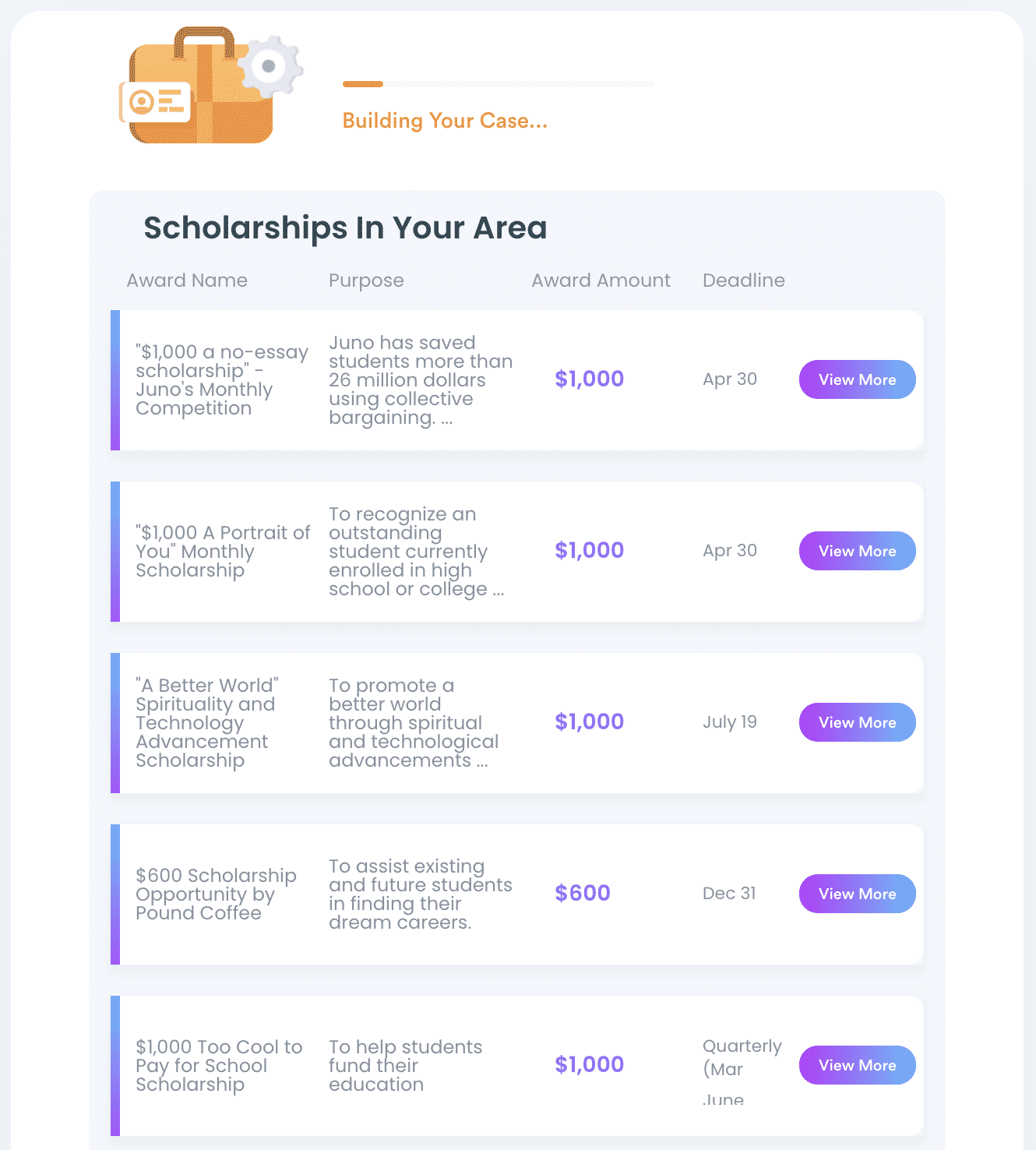 How DoNotPay Can Help You With Idaho Scholarships
With DoNotPay, you don't have to waste any time researching the available financial aid options! Our app allows you to find out everything you need to know about all scholarships you're eligible for. We can also apply for no-essay scholarships on your behalf.
You only need to complete the following steps:
Navigate to the Apply for Scholarships product
Answer a few questions about your academic performance and financial standing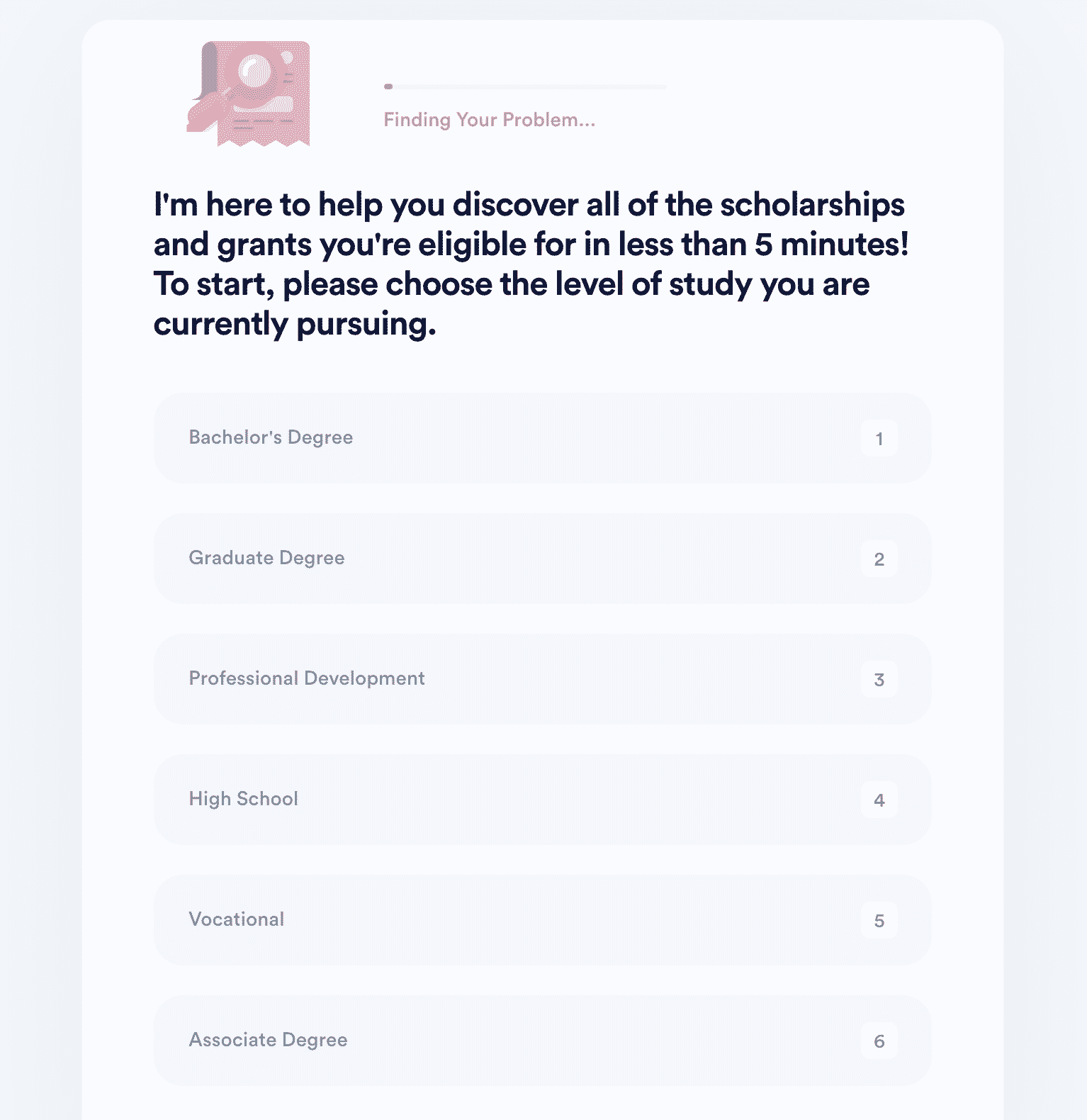 DoNotPay Turns Any Tiring Task Into a Piece of Cake
Are you tired of dealing with bureaucratic or legal matters on your own? You no longer have to—as soon as you subscribe to DoNotPay, we'll take any exhausting task off your plate.
Our app is capable of drawing up legal documents—including marital settlement agreements, child travel consent forms, powers of attorney, defamation demand letters, and affidavits to homeschool—getting them notarized remotely, filing complaints against companies, suing any individual or corporation in small claims court, sending FOIA requests, and so much more.
The World's First Robot Lawyer Offers So Much More
DoNotPay's capabilities don't end there—we can also: