Find Out Which Idaho Property Tax Exemption You Qualify For!
With an average urban tax rate of 1.32% and the rural rate of 0.89%, Idaho is one of the most expensive states for homeowners. Applying for an Idaho property tax exemption is one of the options for people who need to lower their property tax bills. 
How do you know if you're eligible to get the exemption? DoNotPay is here to help you determine if you qualify for one of the exemptions and show you the easiest way to apply.
Property Taxes From A to Z
Many homeowners aren't aware of the importance of paying property taxes. The taxing jurisdiction uses the revenue to fund crucial services beneficial to all residents, including schools, libraries, hospitals, and fire departments. Each county and school district determines the property tax rate based on the annual financial needs. 
Most homebuyers take the tax rate into consideration when looking for a property to buy, as it can influence their annual tax bill significantly. Some of the American states with the lowest property taxes are Louisiana, Hawaii, and Alabama, while New Jersey and Texas have the highest rates.
The following table shows the average property tax rate of the most populous counties in Idaho:
| | |
| --- | --- |
| County | Property Tax Rate |
| Ada County | 1.19% |
| Kootenai County | 0.94% |
| Canyon County | 1.42% |
| Bonneville County | 1.46% |
| Twin Falls County | 1.54% |
Property Tax Assessment Explained
Your county's property tax rate is only one of the factors that influence your property tax bill. The assessed value of your property is equally important, and it depends on multiple aspects, such as the property's curb appeal, location, neighborhood, and interior.
Each taxing jurisdiction has an assessor who appraises a property and calculates the owner's property tax bill. The assessor will visit your home to inspect it and perform a property assessment. You should keep him or her company so that you can point out both the good and the bad and ensure a fair appraisal. 
You have the right to request the property assessment card and schedule a reassessment if you think that there's been a mistake. 
Do You Qualify for One of the Idaho Property Tax Exemptions?
If you'd like to lower your property tax bill in Idaho, you should apply for a property tax exemption. While every Idaho county has different rules regarding the exemptions, most of them offer the following relieves:
Homeowner's exemption

Property tax reduction program

Property tax deferral program

Disabled veterans exemption
Homeowner's Exemption
The homeowner's exemption—in many other states known as the homestead exemption—deducts 50% of your property's value if the property is your primary residence. The exemption also applies to one acre of land, and the maximum exempt amount is $100,000. 
You should apply only once, and the exemption will stay valid until you:
Move to another primary residence

No longer own the property

Put the property in a trust
Property Tax Reduction Program
The program reduces qualified individuals' primary residence taxes for up to $1,320 based on their income. You qualify for the property tax reduction program—also known as a circuit breaker—if:
Your income doesn't exceed $31,900

You fit into one of the following categories:

Seniors

older than 65

Widow(er)s

Former prisoners

Single-parent children younger than 18

Blind and disabled residents

Veterans with a 10% disability
Property Tax Deferral Program
Eligible individuals who qualify for the property tax deferral program can postpone paying for the property taxes. The taxes will have to be repaid to the state with interest. You qualify for the program if:
The property in question is your primary residence

Your combined income doesn't exceed $46,488

You fit into the same categories as the property tax reduction program participants
Disabled Veterans Exemption
Veterans who are 100% disabled because of a service-related injury can get an exemption of up to $1,320 for their primary residence. The surviving spouses also qualify for the exemption for the same property. The property tax relief isn't transferable to a new home after the qualifying veteran passes away.
Reducing Your Idaho Property Taxes Has Never Been Easier Thanks to DoNotPay
The application process for each of Idaho property tax exemptions is different, which can be confusing. If you don't want to waste ages trying to figure out which documents to collect and which forms to complete, you should rely on DoNotPay. 
Thanks to our short questionnaire, we will assist you in determining whether you qualify for one of the exemptions and provide a guide to help you apply. Here's how you can use our feature:
Open

DoNotPay

Click on the

Property Tax

service

Answer all of our questions

Follow the steps provided in the guide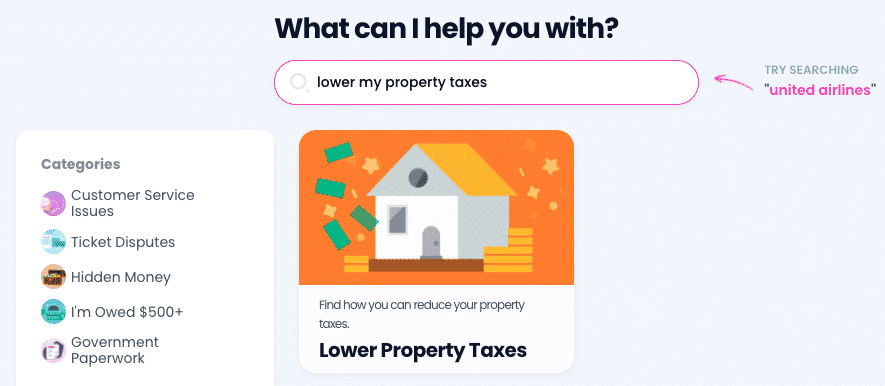 DoNotPay can help you lower your property taxes in any American state:
Property Tax Appeals Made Easy
Besides helping you pay property taxes, DoNotPay can also assist you in filing a property tax appeal. The guide we generate will include all the necessary info regarding the appeal, including:
DoNotPay Never Ceases To Amaze
Where there's one useful feature, there are nifty features galore!
Use our Virtual Credit Card to sign up for free trials and stop robocalls and spam text messages from reaching your phone. If you feel a free trial unrightfully turned into an expensive paid membership, we can help you request a refund or chargeback for the inconvenience.
We can further assist you in exercising your consumer rights by making a warranty claim in your place and verifying your online accounts with temporary phone numbers.
We can also break down the Freedom of Information Act for you and introduce you to online fax options and property tax reductions.
Clear Your Schedule With the Help of DoNotPay
DoNotPay is renowned for making our users' lives infinitely easier. Not only can we root out unwanted subscriptions for you—you don't need to do it manually one by one any longer—but we can unsubscribe you from unwanted email and snail mail lists.
Fire up our app and let it navigate the phone tree instead of you or use it to make a DMV appointment at your earliest convenience. Forget about googling clinical trials near you—DoNotPay can sort them out according to your needs and their individual eligibility criteria. 
We can fill out the paperwork that you need to file at your local small claims court to initiate a dispute. You can work around the U.S. penal system and have DoNotPay locate an imprisoned loved one instead of you trying to reach individual prisons attempting to do it yourself.
You don't need to go to great lengths to get in touch with a counselor to sign your college fee waiver either—DoNotPay does it for you and then forwards the necessary documents on your behalf.