Idaho Power of Attorney—What It Is, and How To Get One
A power of attorney (POA) is an important document that needs to be drafted with care. It can be a burden to do so, but DoNotPay can turn the process into a piece of cake! We'll break down the Idaho power of attorney document for you and help you draw one up in a matter of minutes!
How Does a Power of Attorney in Idaho Work?
An Idaho POA authorizes a person (the agent) to take care of and handle decision-making in the principal's name when they're unable to do so themselves.
A power of attorney agreement in Idaho can be:
Durable Power of Attorney
A durable power of attorney comes into effect upon the signing of the document and remains in force even after the incapacitation of the principal.
Springing Power of Attorney
A springing power of attorney takes effect once the principal is incapacitated. One or more physicians need to confirm that the principal is physically or mentally incapable of making decisions for themselves.
Idaho Durable Power of Attorney Agent Powers
When granted powers, the agent will have general and specific authority to handle the principal's matters. Check out the table below for more details:
General Authority To Deal With:
Specific Authority To:

Real property
Personal property
Stocks and bonds
Commodities and options
Banks and other financial institutions
Insurance and annuities
Estates, trusts, and other interests
Claims and litigation
Family maintenance
Retirement plans
Taxes

Create, amend, revoke, or cancel inter-vivos trusts
Make gifts
Create or change rights of survivorship
Exercise fiduciary powers that the principal has authority to delegate
Create or change a beneficiary designation
How To Get a Power of Attorney in Idaho
To get a power of attorney letter in Idaho, you can:
Download a template
Hire a lawyer
Write a power of attorney yourself
Use DoNotPay
Download a Template
The internet offers numerous POA templates. Once you find one that suits your needs the best, you can download it and print it out. When looking for a template, avoid amateurish-looking websites as they provide incomplete POAs.
This option is not reliable because not every template will suit your needs.
Hire a Lawyer
Having a lawyer create your POA document is a reliable option as they're professionals who know the ins and outs of Idaho laws. Although it's a safe option, it is also expensive.
Write a Power of Attorney Yourself
Creating a POA on your own may not be the best idea because of the document's complexity, but it's certainly doable. Here are the steps you need to follow:
Find an agent—The agent needs to be a trustworthy person who will act in your best interest
Provide information about all parties—Insert contact information of all parties, including their:

Names
Addresses
Phone numbers
Email addresses

Add the necessary dates—Insert the signing and effective dates of the POA
Specify the powers the agent is getting—Include the powers and special permissions that you're giving to your agent
Wrap it up—Sign the document and get it notarized as it's required by Idaho state laws
Want To Draft an Idaho POA? Here's What You Should Know
Before drafting your POA, you should familiarize yourself with the frequently asked questions, such as:
Can an agent alter the principal's will?
Can a power of attorney be created between two siblings?
What are the most common types of power of attorney documents?
Can an Agent Alter the Principal's Will?
A will can't be altered or changed by an agent.
Can a Power of Attorney Be Created Between Two Siblings?
Although the agent doesn't have to be a family member, a POA can be created between two siblings.
What Are the Most Common Types of Power of Attorney Documents?
The most common types of power of attorney documents are:
Creating an Idaho Power of Attorney Is a Piece of Cake With DoNotPay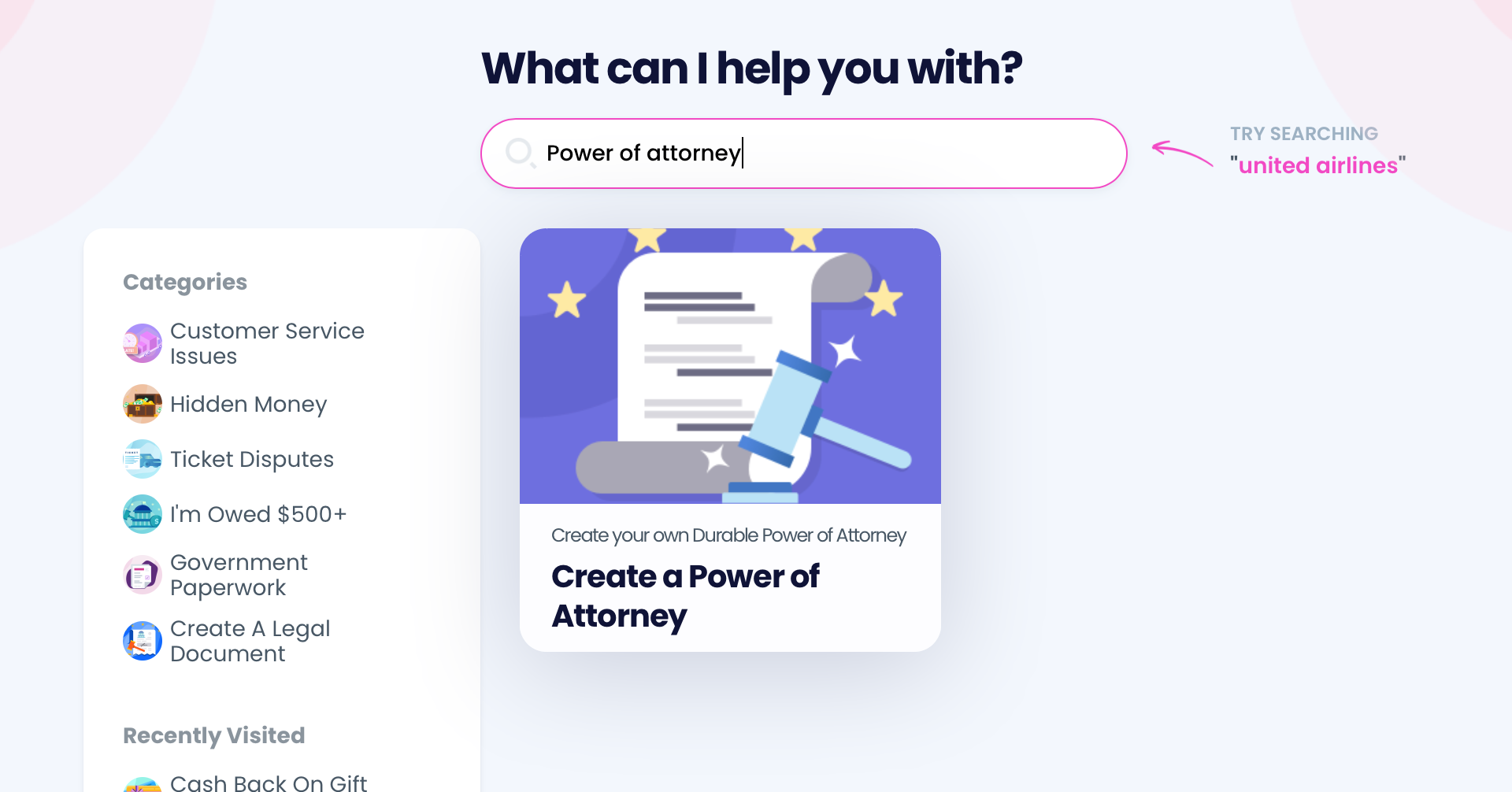 Want a power of attorney document without having to spend big bucks on lawyers or searching for a template all over the web? Use DoNotPay instead!
We will draw up a professional, tailor-made POA for you in minutes. Here's what you need to do to get one:
Select our Power of Attorney feature
Insert the details you want your POA to contain
Specify your agent's powers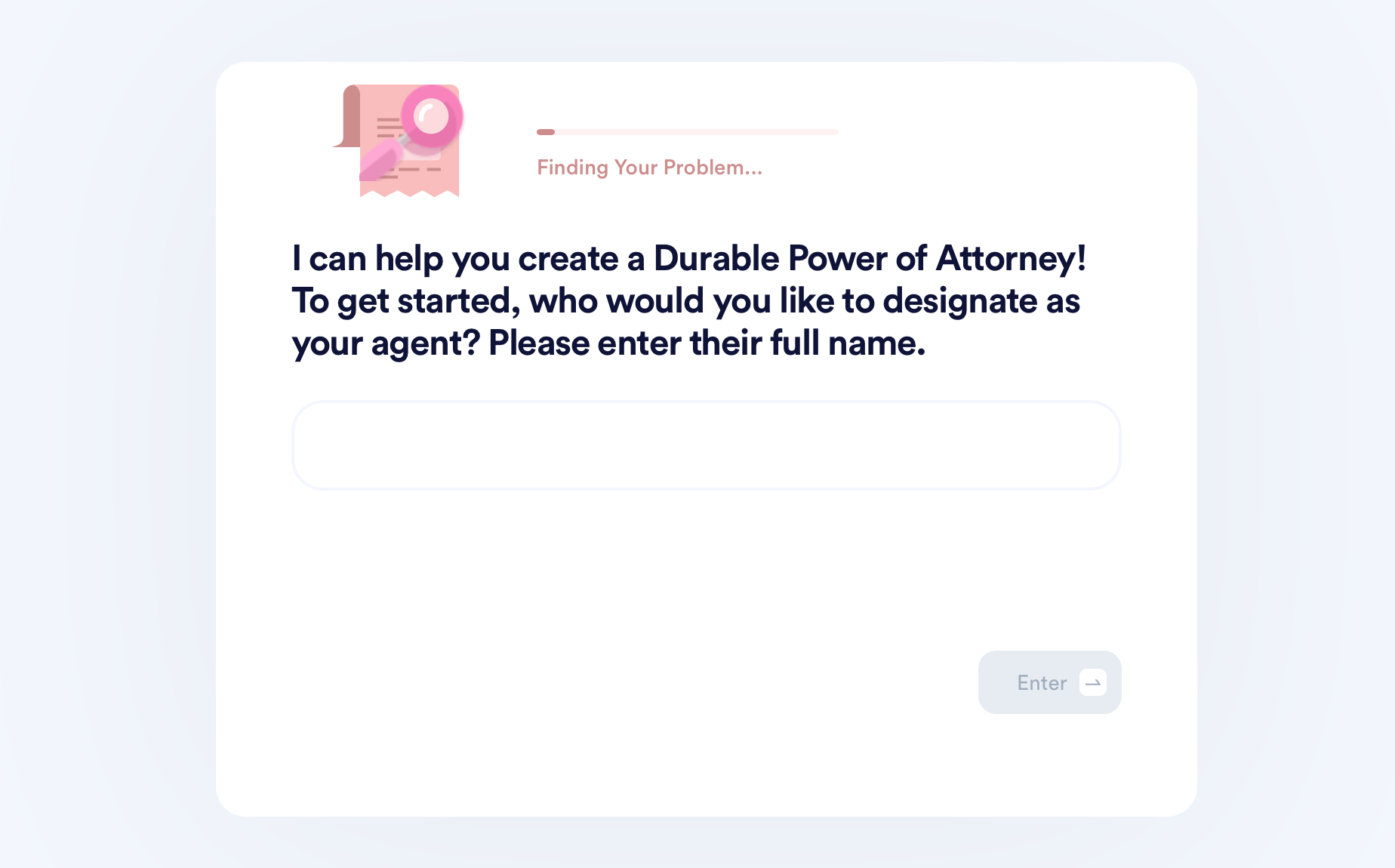 We'll automatically generate your POA document based on the information you provided. You'll also receive two notices that both parties will have to go over before signing the document.
Since you have to get your power of attorney agreement notarized, why not do it from the comfort of your home? We'll draw up a POA for you and ask if you'd like to get it notarized right away. If you go for this option, we will send you an email with a link that you should follow and set up an appointment with an online notary.
Want more POA-related information? Get answers to any of these questions instantly:
Rely on DoNotPay When You're Too Tired of Bureaucratic Hurdles
Are you sick of all the bureaucratic tasks you need to complete? So were all of our users before they signed up for our robot lawyer app. DoNotPay can take care of anything—you just need to click a few times, and we'll help you:
Can't Tolerate Corporate Attitudes? Neither Can We!
Our app's goal is to fight big corporations and help you get justice. If you feel like a company wronged you, we can assist you in suing it in small claims court. If you need to draw up a legal document, have it notarized, and fax it, DoNotPay can take care of that as well.
Feel like you're being discriminated against at your workplace? We have a product that will help you file a charge of discrimination with the EEOC in no time! Are you threatened by a stalker or harasser? No need to worry about it—DoNotPay will protect you and help you earn off them at the same time.