Going Over Ice Cream Shop Startup Costs? DoNotPay Compiles Top Info
Ice cream stores across the U.S. command a market size of six billion dollars, and the industry is expected to keep growing in the foreseeable future. Both ice cream parlors and trucks are in high demand in neighborhoods and tourist spots, but what is the initial capital requirement for such shops?
Before diving into ice cream shop startup costs, you should check out our app that helps manage several procedural tasks for businesses. Our Business Loan Request Letter product can draft watertight loan application letters and submit them in your stead. Sign up now to access our support services!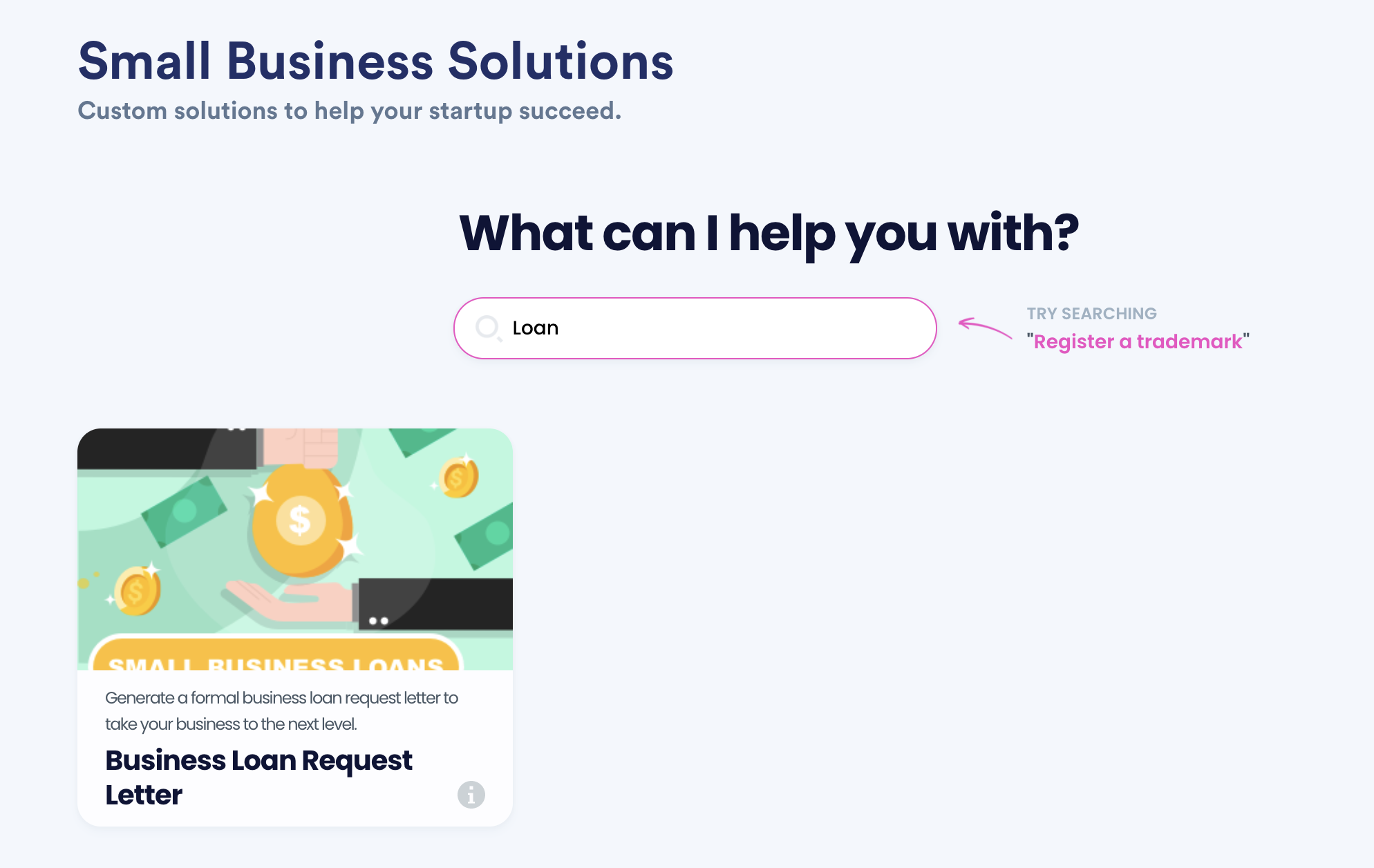 What Is the Startup Cost for an Ice Cream Shop?
The total investment in an ice cream shop mostly depends on your target scale of operations and the range of delicacies you plan to offer, but some other factors may also impact your initial outlay. This table will give you estimates for the total investment under different circumstances:
Basis
Type of Ice Cream Shop
Total Average Cost
Ownership
Franchise
$90,000–$4,50,000

The franchise fees, preset establishment standards, and equipment costs give rise to high setup costs, but such shops benefit from an existing customer base, which helps them breakeven quickly

Independent
$20,000–$100,000

The investment is lower due to no franchise fees or presentation commitment

Operational frequency
Seasonal
$15,000–$45,000

Most seasonal stores operate through trucks. There is no additional expense for maintaining a brick-and-mortar store

All-year-round
$40,000–$120,000

All-year-round shops have a diverse menu, which reflects in higher inventory and storage costs

Innovation
Traditional
$20,000–$100,000

Traditional shops can be self-operated, so they require minimal opening costs

Modern
$50,000–$200,000

New-wave concepts of self-serving or customized ice creams require higher investment for equipment and inventory but may have lower long-term employee costs
Starting an Ice Cream Shop? Note Down the One-Off Costs
We have prepared a list of cost heads you can expect when opening an ice cream shop for the first time—check them out in this table:
Cost Heads
Approximate Expenditure
Licensing and deposits
$1,000–$3,000 towards:
Space
$3,500–$60,000, depending on whether you purchase, lease, construct, or rent a place. You may have to shell out more to secure a place with high traffic
Equipment
$30,000–$70,000

Purchasing and assembling the equipment set forms the bulk of your initial investment. Depending on your menu, you may have to get equipment like:

Batch freezers
Hardening cabinets
Soft-serve machine
Topping dispenser
Waffle baking machine
Cold topping counter

Since equipment are capital expenses, you cannot claim them for a tax credit

Accounting setup
$2,000

This includes the cost of:

Setting up a POS (point of sale) machine
Tax registration

Marketing
$2,500

Marketing expenses include:

Cost of flyers
Logo design
Jingle design
Social media promotion
Revisit the Recurring Expenses for an Ice Cream Shop
While recurring expenses don't impact your setup costs, you have to include them in your working capital budget because you won't make a profit right away. Here's an overview of the potential expenses for a medium-sized shop:
Wages—The general payment rate is $10–$14 per hour, and your expenses will vary according to your number of hires
Utilities—$600–$3,000
Supplies and storage—$2,000–5,000
Sanitation—$500
Insurance—$1,000—$2,000, insurance premiums are usually paid annually
Repairs, maintenance, and contingencies—$5,000 (this is also an annual estimate)
Running Out of Money? Explore Available Funding Options
Many ice cream shop owners invest their own savings or borrow funds from friends and relatives. If self-funding is not an option for you, you can consider startup loans offered by banks, credit unions, and other financial institutions.
Let's look into the types of loans at your disposal:
SBA loans—The U.S. Small Business Administration links entrepreneurs to lenders and also guarantees 50–85% of loan repayment. You can also find long-term and short-term loan schemes with the SBA for special circumstances, like:

Support of minorities, like women and veterans

Conventional loans—For conventional loans, you need to approach various private and public lenders with your business plan. You may be offered loans on varying terms, collateral requirements, and other compliance matters. If you have bad credit, you may have to make do with high interest rates and strict repayment schedules
Temporary credit—If your cash requirement is small and you don't want to go for a microloan, you can look into credit facilities offered by your bank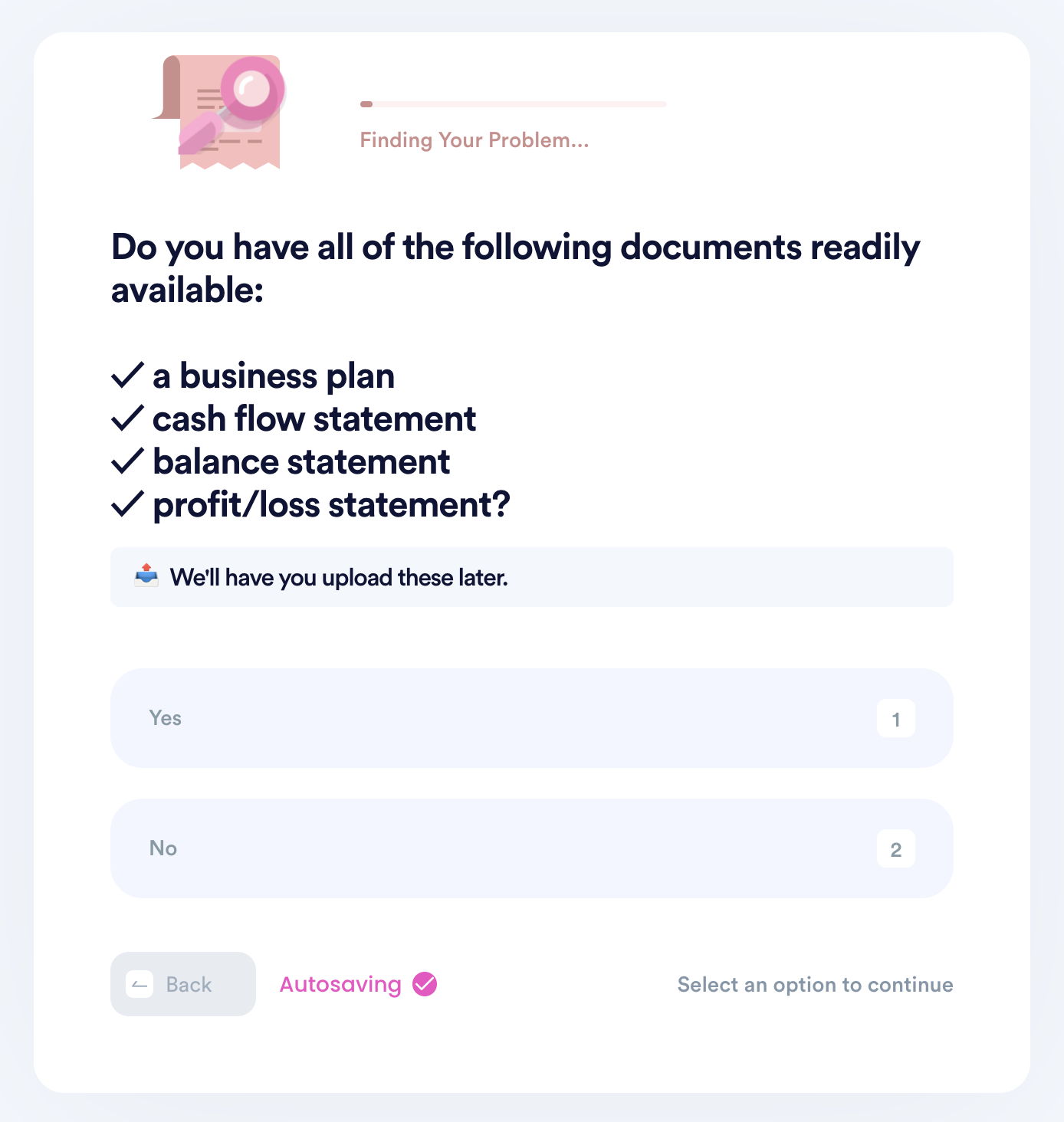 Get Loans Approved the Easy Way—DoNotPay Can Shift the Tide in Your Favor!
If you look into the way loans work, the process of application, scrutiny, and approval are both exhausting and time-consuming. To ensure your loans get sanctioned real quick, you need to:
Have rock-solid credit scores
Submit transparent financial statements
Present your business idea with a well-written loan request letter
DoNotPay understands this taxing act all too well, and this is why we have prepared a product that takes the burden off your shoulders. Our Business Loan Request Letter and Find Online Business Loan Lender products streamline the process by using your credit scores and business details to draft a robust loan application letter.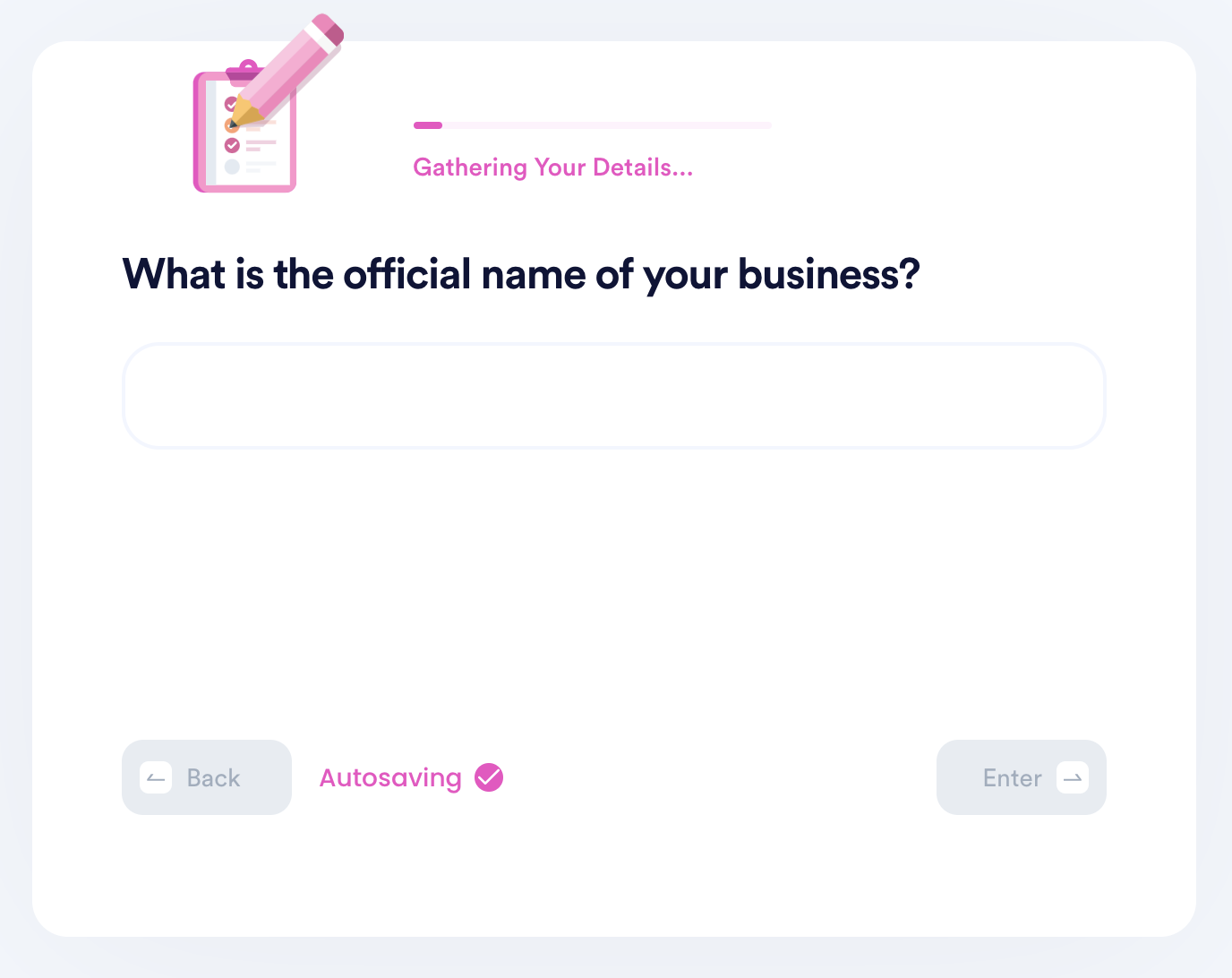 To use our services, do this:
Open DoNotPay and select Business Loan Request Letter (or Find Online Business Loan Lender if you want to look for online lenders)
Tell us your loan requirements—the amount needed, your choice of lender, etc.
Enter information about your business
Upload your financial documents
Once we get your documents, we will review your responses and etch out a fitting loan request letter that outlines all important information in the standard formal tone. We will then attach the submitted documents and send the application to the lender specified by you. With a top-notch presentation of essential details, your loan request will get the attention it needs!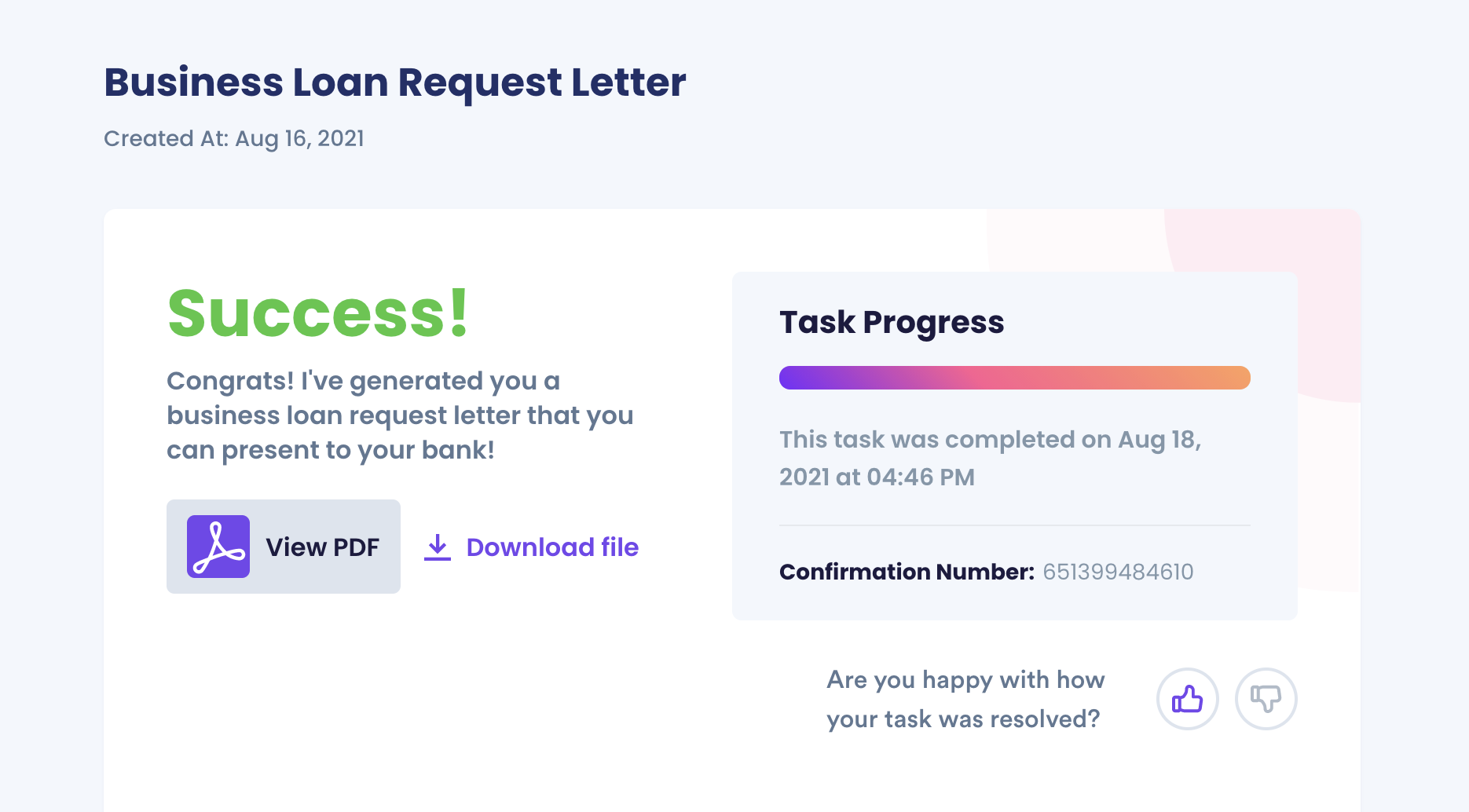 More Problems? We Offer More Solutions
Running a business also calls for various registration processes. Our app can show you the ropes on the following:
Employer Identification Number (EIN) registration
Privacy Shield program self-certification
DMCA agent registration
Do your employees need to submit 83(b) election forms to the IRS? We can help you:
Generate them
Distribute them
File them automatically
No Need To Tighten Your Belt With DoNotPay by Your Side
Handling finances in business can be a burden. There are many unforeseen costs, fees, and even fines. This is where the world's first robot lawyer swoops in!
Take a look at which DoNotPay's products can manage your issues:
| Problem | DoNotPay's Features |
| --- | --- |
| A client breached the contract and refused to pay | Client Breach of Contract |
| Another business copied your brand or used your slogan | Trademark Protection |
| A client initiated the chargeback process for no reason | Fight Chargebacks |
| You need more funds to keep your business afloat or grow it | Business Loan Request Letter |
| People posted bad reviews online that are fake, incorrect, or hateful | Remove Negative Reviews |
All the above-mentioned instances can make you lose money. Luckily, you can rely on our app to nip the issue in the bud.
We can also help you save money by providing you with free faxing and mailing services. No need to waste time or money on post office visits or fax machine purchases.