I Can Hear My Neighbors Through My Wall—What Can I Do About It?
While hearing your neighbors every once in a while is unavoidable, being exposed to everything happening next door can become a nuisance. It may be a sign that your apartment needs better soundproofing or that your neighbors are too noisy.
The noise can include blaring music, neighbor's dogs barking non-stop, or loud sex. Whatever it is, if the constant noise starts affecting your daily activities, you should do something about it.
will give you practical tips for dealing with the "I can hear my neighbors through my walls" problem and help you restore peace in a few easy steps!
Soundproof the Apartment
When living surrounded by neighbors, you are exposed to various sounds, such as:
Walking
Talking
Music
Shouting
Animals making noise
While you may have the right to a quiet environment, you can't expect to live in complete silence. If you can hear your neighbors even when they are performing everyday activities, you should try soundproofing the apartment first. That can also help you reduce the sounds coming from outside.
Apply the following tricks to minimize the noise:
| | |
| --- | --- |
| Soundproofing Tricks | Description |
| Using ceiling clouds and acoustic fixtures | Ceiling clouds are acoustic panels you put on the ceiling to reduce the noise and echoes. Make sure to get your landlord's approval before installing them. A less invasive option is to buy acoustic light fixtures that absorb the sound |
| Rearranging furniture | If you put bookcases and other heavy furniture against the dividing wall, you can reduce some of the noise |
| Seal windows and doors | Make sure the window casings and frames are fully sealed. Another practical solution is to install heavy curtains to muffle the outside sounds. As for the sounds coming from the hall, a quality weatherstripping between the door and the frame should fix the problem |
| Hang wall art and tapestries | Macrame and canvas wall art is great for absorbing sounds |
| Put thick rugs on the floors | If you have wooden floors, consider investing in a thick rug. Make sure to choose one with thick material or a rubber backing to muffle the sounds |
Talk to Your Neighbors About the Noise
Soundproofing the apartment cannot protect you from every kind of noise. If you think the neighbors are too loud, you should talk to them and get them to tone it down.
How you approach the conversation is crucial to solving the issue. You shouldn't talk to your neighbors when you're angry. It's better to wait until the anger subsides and approach the matter in a friendly manner.
When talking to your neighbors about the noise, you should:
Introduce yourself and tell them where you live
State the issue in a calm but straightforward way
Be specific about how the noise affects you (interrupts your work, sleep, or your child's afternoon nap)
Offer potential solutions to your neighbor, such as to:

Choose a different time of day for making noise (e.g., if they are playing a musical instrument)
Soundproof their apartment
Use soft slippers (e.g., if their heavy footsteps bother you)
Neighbors are mostly unaware of how their activities affect you. Talking to them may be enough to solve the matter.
If you're not comfortable addressing the issue in person, you can leave them a note.
Involve Your Landlord or Building Manager
Your neighbors may refuse to change their behavior after the talk. If that happens, you should seek help from your landlord or building manager.
Every building has a determined acceptable noise level all residents must respect. If your neighbors are renting the apartment, you should check the lease to see if they are breaking any rules. When you collect sufficient evidence, talk to your landlord or the building manager and ask them to deal with the noisemakers.
If your neighbors still refuse to listen, you should send them a demand letter. It serves as a warning before you file an official complaint against them.
DoNotPay Can Help You Draw Up a Top-Notch Demand Letter
Complaining to the police about the noise can become ugly. You can prevent the situation from escalating by sending your neighbors a demand letter. It should show that you are ready to take the dispute to the next level if they don't cooperate.
By using DoNotPay's Neighbor Complaint product, you will get a professional demand letter with:
Arbitration notice
Details of potential legal repercussions your neighbor may face
Expected compensation
Once you give us the deets about your situation, we will customize the letter accordingly.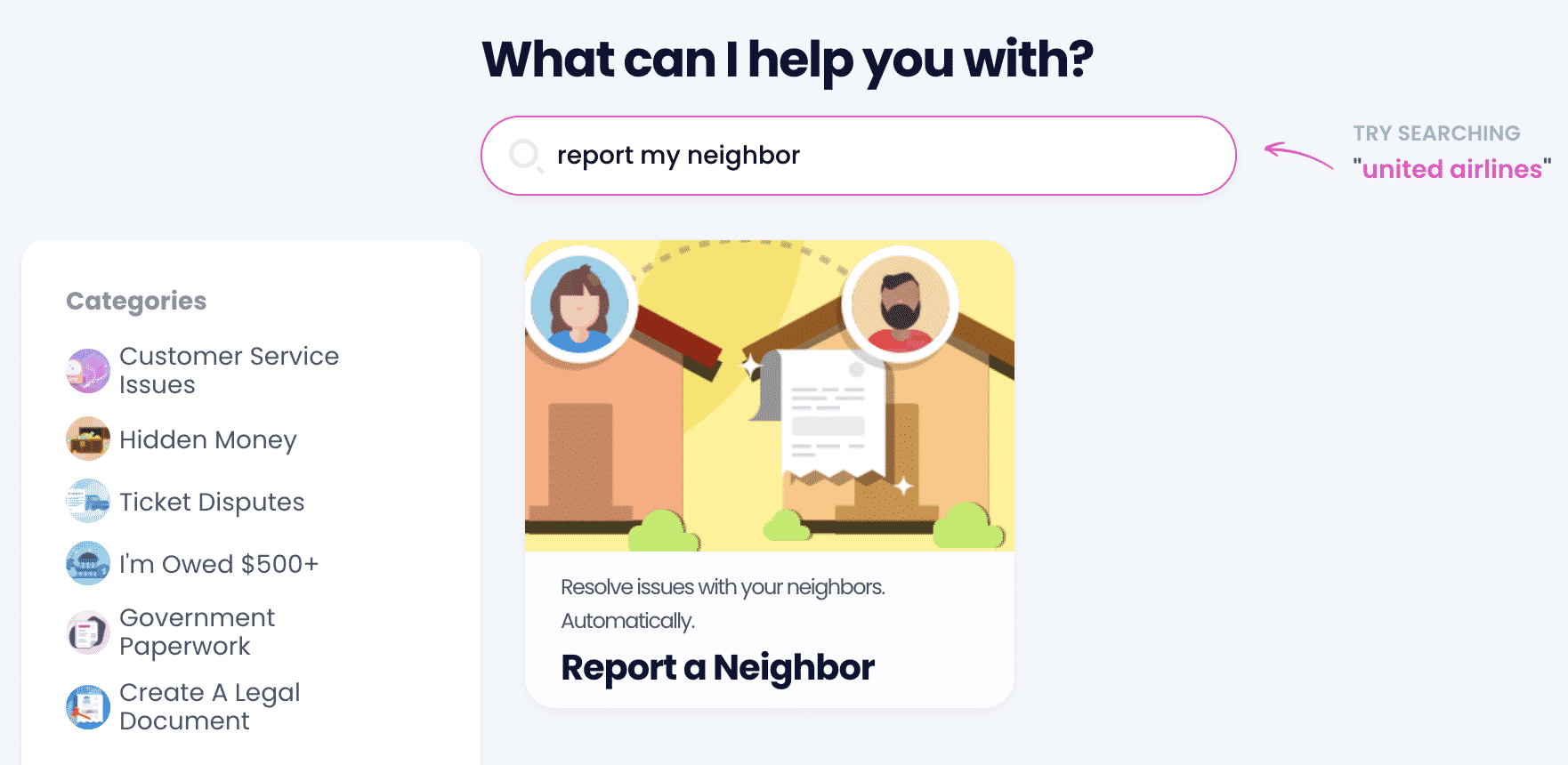 Here are the steps to take:
in any web browser and find Neighbor Complaint
Choose the type of issue you are experiencing
Answer out chatbot's questions
We will draft and send the letter to your noisy neighbors immediately.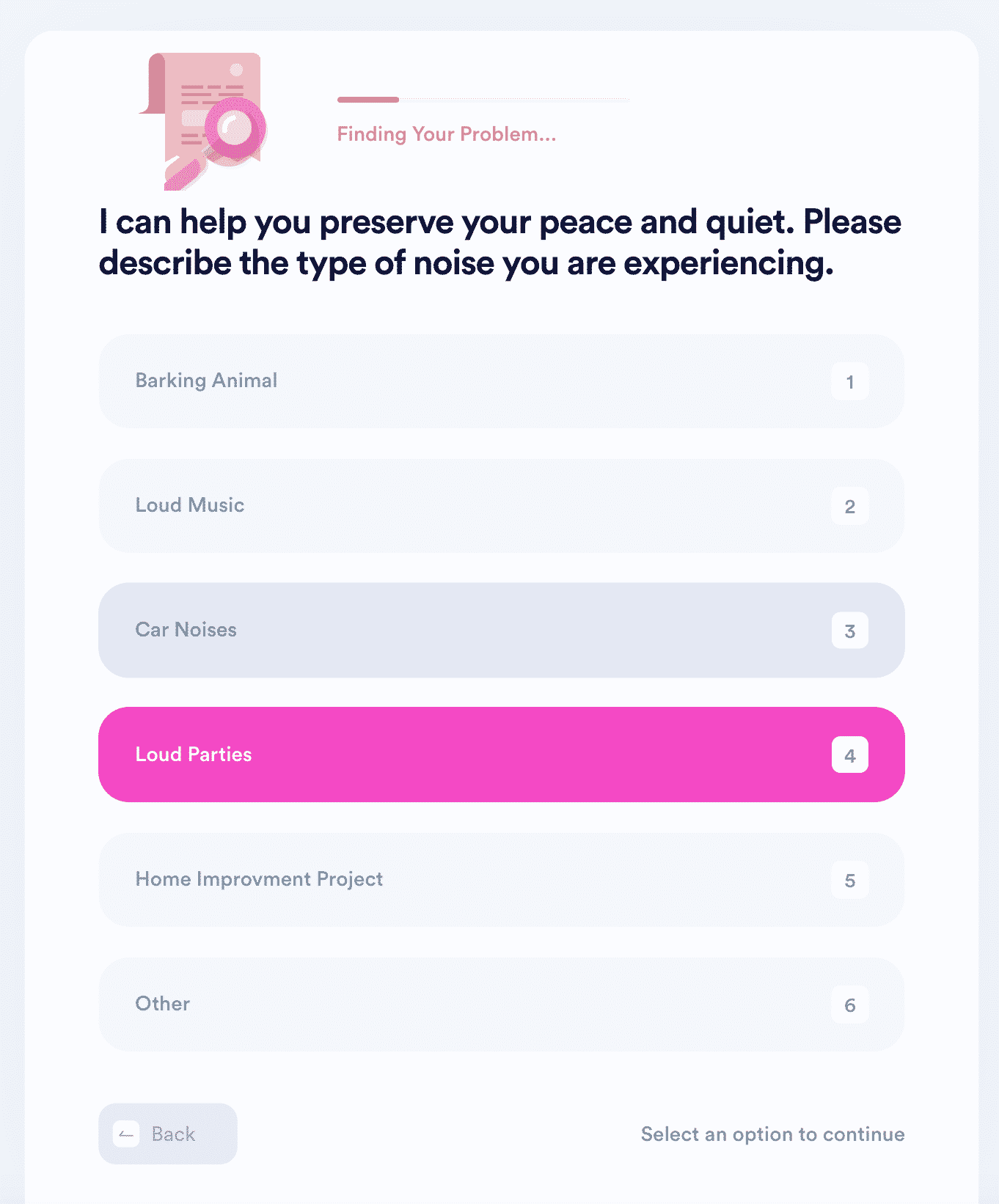 If they play dead, you can call the police. First, you should determine whether there's a violation of the city noise ordinance and gather evidence of the harassment. Use DoNotPay to learn how to document the neighbor's behavior and what other legal actions you can take to stop the disturbance.
Let DoNoPay Help You With Your Paperwork
Why waste time on bureaucracy if you can rely on DoNotPay to handle pesky tasks for you? Cancel all your subscriptions at once, find unclaimed funds in a matter of minutes, appeal parking tickets hassle-free, and discover the best way to get your documents notarized remotely.
In case you need help paying bills or you want to earn some money by participating in paid clinical trials, DoNotPay is here to help you out!
Fighting workplace discrimination is of utmost importance, but the entire procedure seems rather complicated. The same goes for the crime victims compensation application in most states. DoNotPay is here to change that. We will help you file a report, request compensation, and create numerous other documents, including demand letters for neighbor complaints.
Keep Your Online Safety in Check!
While internet safety should be one of your top priorities, staying anonymous while surfing the web is almost impossible. If you want to avoid giving out your number when registering for services, you should try out our Burner Phone product.
DoNotPay can also protect your credit card info, name, and email address, all through our handy virtual credit card. Sign up for free trials without worrying about unexpected charges.
With our app, you will learn how to deal with stalkers and harassers and how to access public records the easy way.
DoNotPay offers many other useful products that can help you prepare for government tests, have your college fees waived, and manage any annoying issue in minutes.