Fight and Waive I-751 Fees With DoNotPay
The U.S. Citizenship and Immigration Services (USCIS) requires people with conditional green cards to pay I-751 fees while filing a petition to remove conditions on residence. If you obtained permanent residency through marriage but have been married for less than two years, you're issued with a conditional two-year green card. You're then required to apply for a permanent green card before the conditional green card expires.
If the USCIS denies your petition, you may lose your residency status, and the agency may initiate removal proceedings against you. Therefore, the stakes couldn't be any higher. Besides filing in the complex Form I-751, you're required to pay more than $600 in fees during your petition. The USCIS doesn't consider any petitions without the mandatory fees unless you file for an  waiver.
However, petitioning the agency to waive your fees is a lengthy and complex process that's prone to mistakes. Errors in your application could lead to a denial, costing you the opportunity of becoming a U.S. citizen. Luckily, you can count on DoNotPay's refined expertise to help you breeze through this delicate process.
How to Avoid I-751 Fees as a Conditional Resident
The USCIS requires conditional residents to pay a $595 filing fee and an additional $85 biometric fee for themselves and each dependent included in the petition. These  add up quickly.
Recognizing that some people may not be able to afford the high fees, the agency established a fee waiver process. While helpful, the fee waiver policy is very strict. The agency requires you to demonstrate that you can't afford to raise the filing fee. USCIS considers each fee waiver request on merit and will only approve the most convincing applications.
You must demonstrate eligibility by filing Form I-912, Request for Fee Waiver, to request a fee waiver. You must provide documentation to demonstrate you qualify for the waiver by meeting one of three set criteria:
Your household is currently receiving means-tested benefits.
At the time of the filing, your household income does not exceed 150% of the Federal Poverty Guidelines.
You have an ongoing financial hardship that makes it impossible to raise the filing fee, such as medical bills or other emergencies.
How to Apply for I-751 Fees Waiver on Your Own
Once you've met these base requirements, you need to file Form I-912 to request an I-751 fee waiver. Here are the two main options at this stage:
Fill out the Request for Fee Waiver Form
Follow these steps:

Download and fill out the most current version of the Request for Fee Waiver form from the USCIS website. Be sure to provide all the required information under the eligibility criteria you choose. Failure to provide sufficient information or documentation may derail your fee waiver application.
Provide documents supporting your eligibility for at least one criterion. While you only need to qualify for one eligibility basis, you may choose more than one. However, you need to provide supporting documents for each eligibility basis you want the agency to consider.
If some of the information is in a foreign language, you must provide a full English translation. The translator must sign a certification attesting to their translation competency and that the English version of the documents is accurate and complete.
Once you've filled in all the required information and attached the necessary documents, you must sign the fee waiver request. Each applicant in the waiver application must sign the request. A parent or a guardian may sign on behalf of applicants below 14 years or persons with mental or physical impairment.

Write a letter
You can use a letter that captures all the necessary details instead of filling out the form. If using a waiver letter, ensure everyone requesting the waiver signs the letter. Be sure to attach the necessary supporting documents.

Finally, you must send your fee waiver request to the USCIS alongside your completed Form I-912. You should never send a fee waiver request separately. It must be accompanied by the petition for which you wish the USCIS to waive the fee.
Next Steps for Waiving I-751 Fees If You Can't Do It Yourself 
Filing Form I-912 might seem like a straightforward process. But remember, the USCIS evaluates each application on merit. Your application must tell a compelling story and thoroughly demonstrate financial hardship. Therefore, there's a likelihood of making mistakes or failing to demonstrate your financial woes fully.
Rather than take chances and risk a waiver rejection, you can leave a team of skilled professionals to do all the heavy lifting. Leaving DoNotPay to handle the I-751 fee waiver application makes for a hassle-free process while increasing your chances of success.
Here's how the I-751 waiver application process looks with DoNotPay:
1. Search "appeal fees" on DoNotPay, choose the Fight and Waive Fees product, and select the type of fee you want to appeal.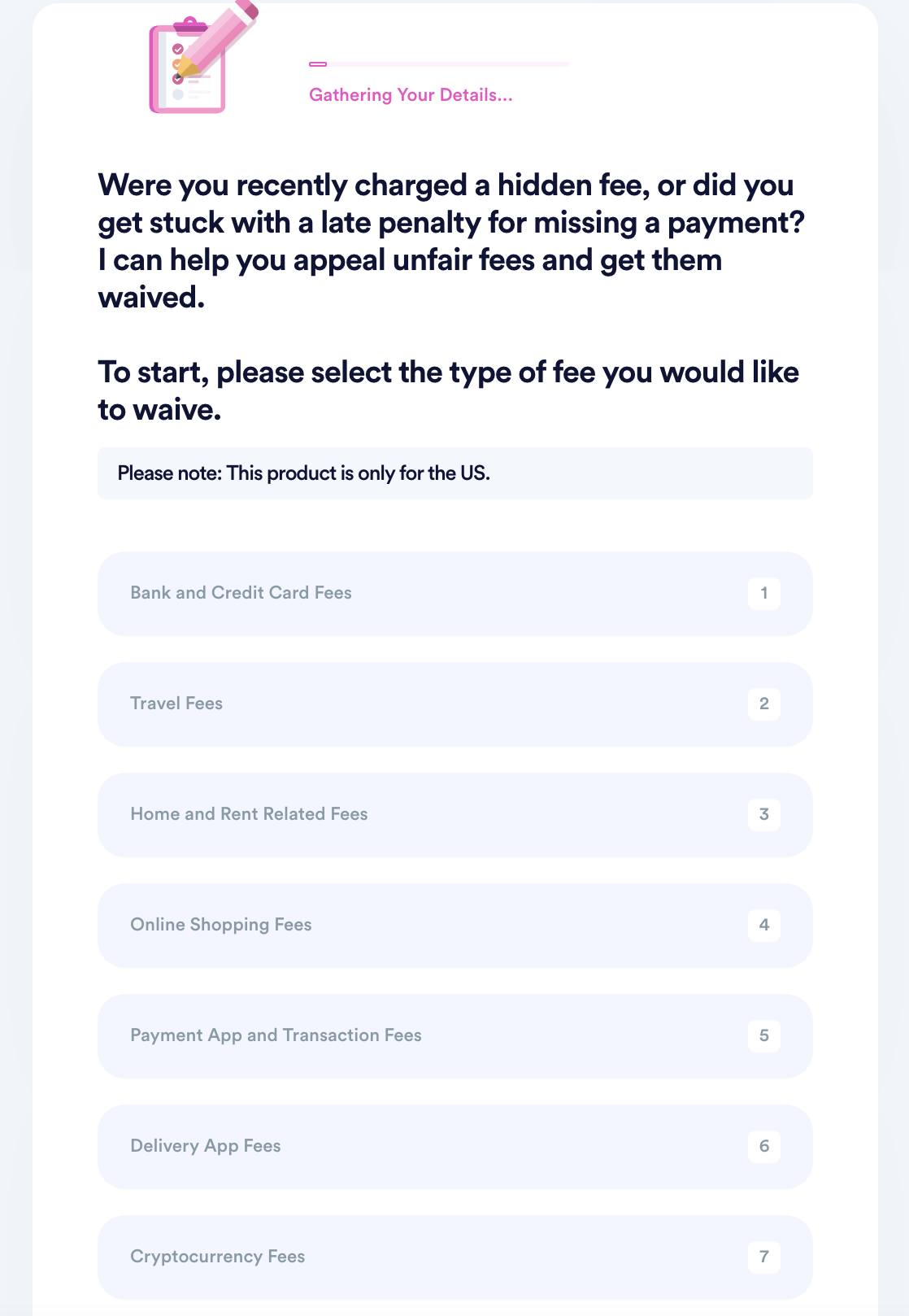 2. Select the merchant you want to appeal fees for and enter the details of your transaction, including an associated account if you have one.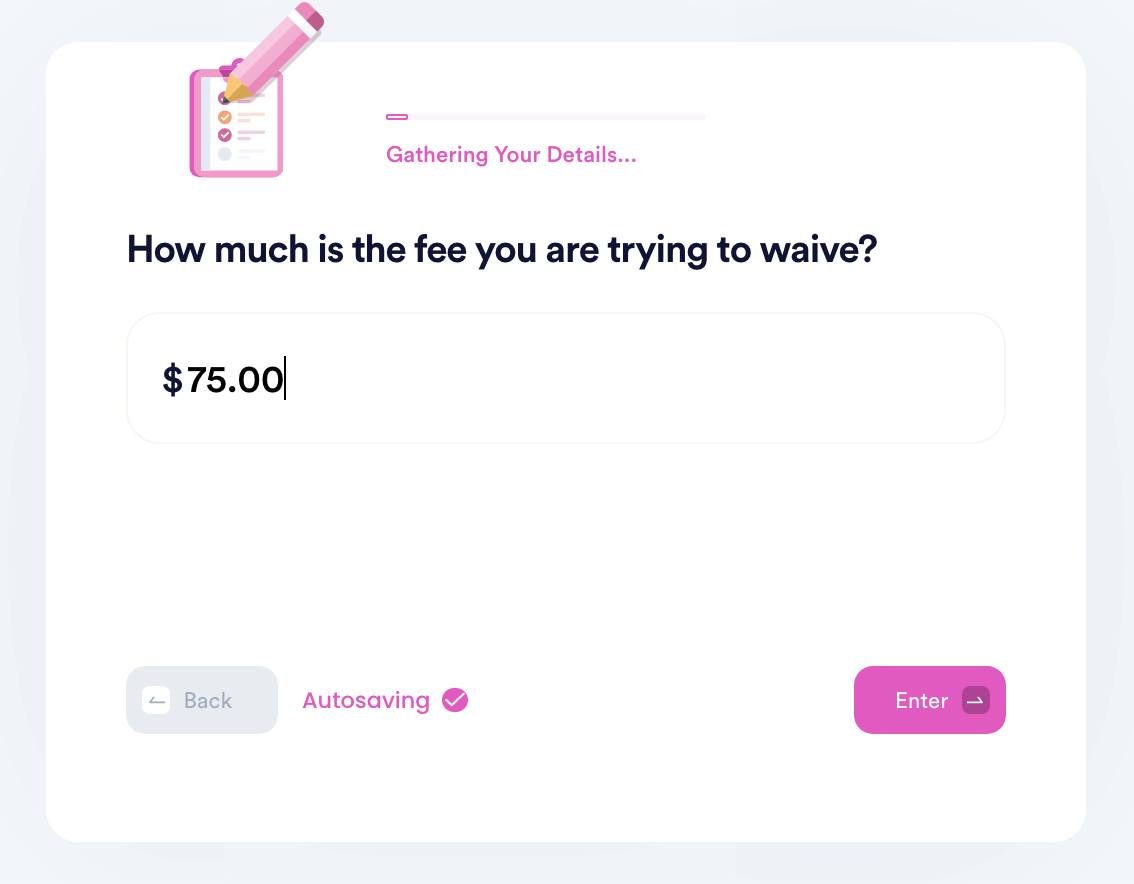 3. Submit your case! DoNotPay will generate the best argument for your case and make sure your fee waiver request gets sent to the merchant for processing.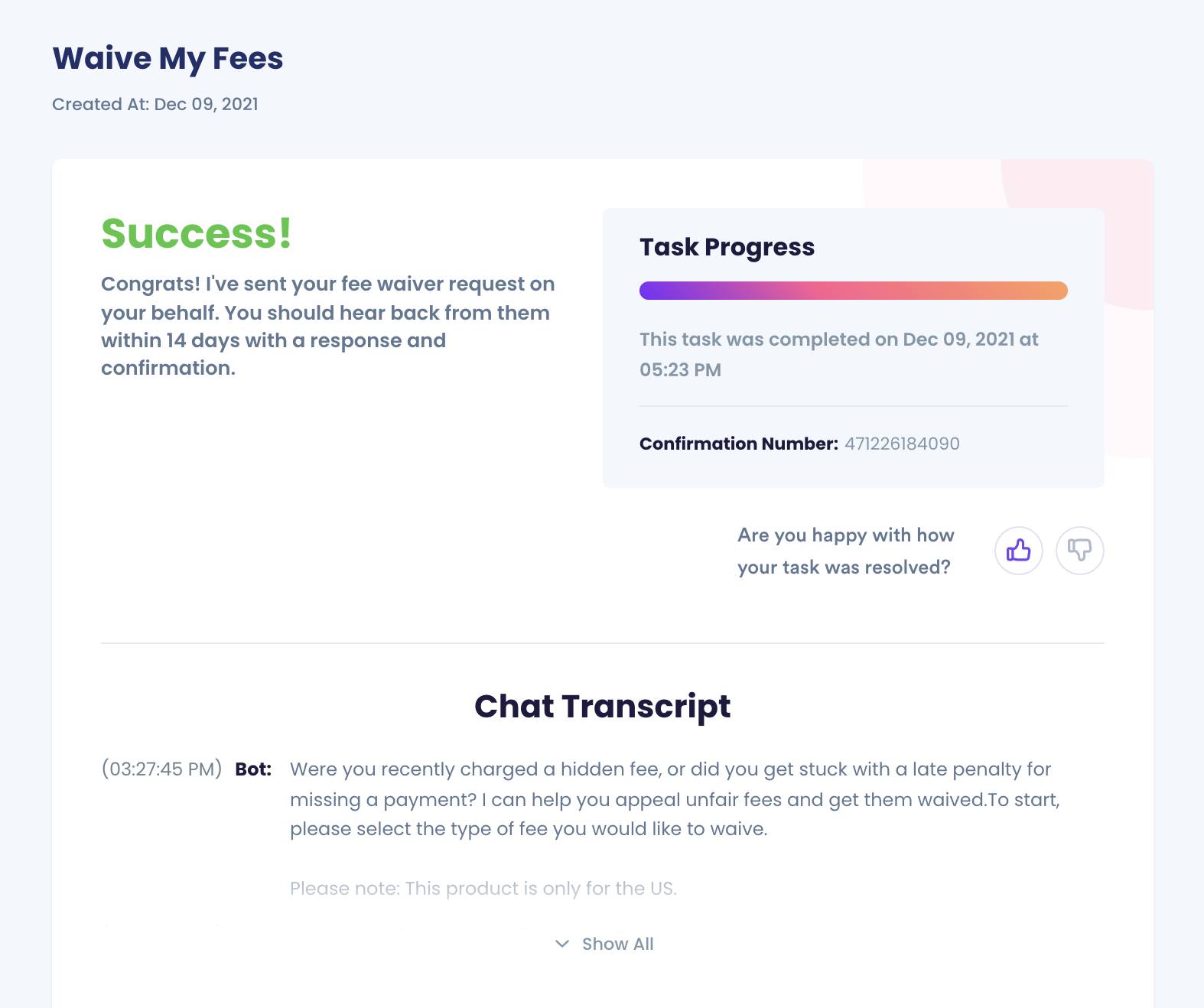 Why Use DoNotPay to Waive I-751 Fees?
Most people face stiff challenges filing Form I-912 because it doesn't have right or wrong answers, unlike other official forms. Besides providing the supporting documents, you must clearly explain your financial situation.
If you can't clearly express yourself in writing or have a poor command of written English, you might jeopardize your chances of success. At DoNotPay, we recognize these challenges and have simplified the process to make it: 
Fast—We've simplified the entire waiver request process into three steps.
Easy—You don't have to struggle to explain your financial hardships when filing in the challenging Form I-912.
Successful—DoNotPay has a proven track record of helping people get fee waivers and secure their permanent green cards.
What Else Can DoNotPay Do?
Besides ensuring that high petition fees don't stand in the way of your permanent green card and eventual U.S. citizenship, DoNotPay is committed to helping you escape other costly fees. Here are some of the fees we can help you avoid:
Robinhood fees

Shopify fees