The Ins and Outs of a Hypothecation Agreement
Whether you're a lender or a borrower, drafting a hypothecation agreement that will benefit both parties will give you a sense of security. The first step toward an airtight hypothecation agreement is understanding its significance, types, and benefits. We'll show you the ropes and walk you through the essential terms of hypothecation agreements.
What Is Hypothecation?
Hypothecation means using an asset as collateral to secure a loan without losing the title, possession, or ownership rights. As the loan is secured by an asset, the lender may offer a lower interest rate to the borrower.
While hypothecation is most common in home loans, there are various types, including:
Real estate hypothecation

Investment

hypothecation

Auto loan hypothecation

Business loan hypothecation
How Is Hypothecation Different From a Mortgage?
The definition of hypothecation may sound similar to that of a mortgage, but these two are different in the following aspects:
| | | |
| --- | --- | --- |
| Aspect | Hypothecation | Mortgage |
| Title | Both the title and possession remain with the owner (borrower) during the hypothecation unless the borrower defaults on the loan | The property's title is passed from the owner to the lender as a loan collateral |
| Tenure | Hypothecation agreements can be short-term or long-term agreements | Mortgage deeds are typically long-term |
| Indications | A hypothecation agreement stipulates that the borrower pledges their property to secure the loan | A mortgage indicates that the borrower is transferring the asset interest to the lender |
The Hypothecation Agreement and Its Benefits
A hypothecation agreement is a legal document that a lender and borrower enter into to secure the loan in case of borrower default. While the lender benefits from this agreement because it brings an added security in addition to a loan agreement, the borrower can also benefit from the hypothecation agreement.
A borrower can keep the ownership of a property even if they use it as collateral, which means, much like in a regular loan, they will repay the debt according to the agreed terms and keep their property.
As a hypothecation agreement allows for a secured loan, the lender can lower the interest rates. This would make the debt easier on the borrower and boost the chances of regular repayments.
What Should Hypothecation Agreements Cover?
The terms of a hypothecation agreement vary depending on the situation, type of loan, and type of collateral, but there are certain terms that almost every hypothecation agreement should include, such as the following:
Full names and addresses of the lender and borrower

Details of the debt—the amount and the interest rates

Payment method and schedule

Details of the collateral assets

Events of default

Remedies in case of default

Jurisdiction

Each party's liability

The rights and responsibilities of both parties

Dispute resolution

Signatures
What Happens if the Borrower Defaults on the Loan?
In case the borrower can't or refuses to repay the debt, the lender can take ownership of the property offered as collateral and sell it. In real estate, it can get a bit more complicated in terms of borrower default. Once the lender forecloses the property and sells it, any remaining proceeds would go to the previous owner (the borrower). If there's a second mortgage on the property, the lender becomes responsible for paying it off.
DoNotPay Can Draw Up Different Legal Documents for You
Writing contracts is no picnic, and you probably don't want to do it on your own. Hiring a lawyer is one option but a pricey one. Using contract templates might seem like the easy way out, but you should know that templates can be outdated and not contain everything you want your contract to cover.
Choosing DoNotPay to create numerous legal documents is fast, affordable, and professional. The number of documents we can generate for you grows by the day, and it currently includes the following:
Residential

lease agreement

General affidavit

Promissory note

Intent to purchase real estate

Estoppel certificate

Quitclaim deed

General business agreement
Using our app to write up documents comes with even more perks! We can help you e-sign, fax, and notarize them in a matter of minutes. DoNotPay also allows you to create an unlimited number of the legal documents that we offer.
How Do I Use DoNotPay To Create Documents?
Our Legal Documents feature is user-friendly and easy to access. Here's how it works:
Access DoNotPay from any

web browser

Search for the legal document you need

Answer our chatbot's questions
Your answers will help us customize the legal document to your needs and preferences.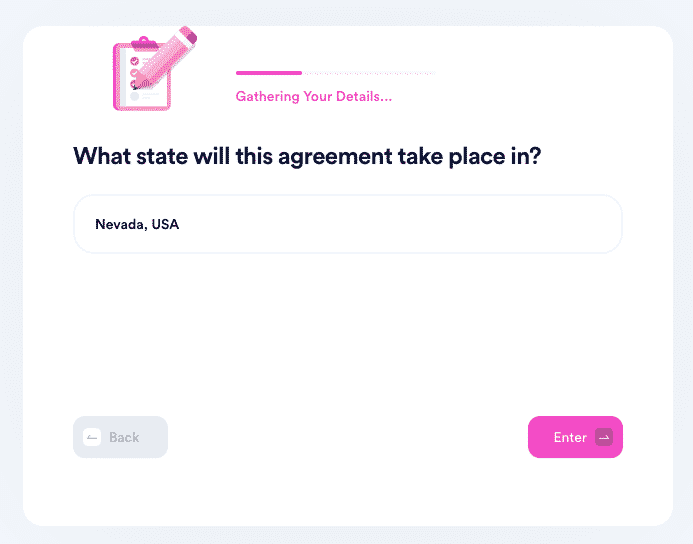 Get the Lowdown on Various Legal Documents With the Help of DoNotPay
For your loan and any other ventures, the hypothecation agreement isn't the only document you may need. This is where DoNotPay comes in! You can comb through our learning center and find guides and rundowns on numerous legal documents regarding business, real estate, personal matters, etc. Here's a fraction of what we can help you with:
Tired of Companies Not Taking You Seriously? Use DoNotPay To Put a Stop to It
If you're sick of companies that violate your consumer rights, DoNotPay is here to help. If you're struggling with reporting robocalls, requesting a refund, claiming any type of warranty, scheduling a DMV appointment, reporting spam text messages, or anything else, our robot lawyer will help you sue any firm or individual in small claims court.
With DoNotPay, you can also sign up for any free trial, cancel any subscription, avoid getting charged after your free trials end, and much more!
Want Your Money Back? DoNotPay Is Here To Help
Are you looking for your missing money? Do you want to get a refund for a delayed or canceled flight? Are you trying to flip the script on illegal robocalls and earn money off them? DoNotPay will assist you in dealing with any of these pesky issues!
We can also help you bypass phone number verification, sign up for clinical trials stress-free, ace any government test in a jiffy, and block spam emails for good.