Elements of an
HVAC Installation Contract Template
Explained
When getting a new heating or cooling system installed, it is important to pay attention to the contract you're signing. While it may seem unimportant at that moment, getting acquainted with the elements of an HVAC contract can prove crucial in case of performance issues. After all, problems with heating and cooling devices typically translate into expensive repairs and alarmingly big power bills.
This article will help you prevent all the potential issues by explaining key elements of an HVAC installation contract template.
HVAC Installation Contract—From A to Z
An HVAC installation contract is a legally binding document signed between an HVAC company or a professional and their client who's getting a heating or cooling system installed. It is also known as an HVAC contract or an HVAC agreement.
The purpose of this legal document is to outline the terms and conditions of the company's services and the client's obligations. Besides the main terms, an HVAC installation contract should specify the services that a company for repairs and maintenance is providing.
Pros and Cons of Signing an HVAC Installation Contract
When the service provider is installing, repairing, or maintaining an HVAC system, they will give you the opportunity to sign the contract. While having a signed HVAC installation contract is recommended, it is not required. 
Before making a decision, you should consider all the advantages and downsides, and you can check them out in the table below:
Advantages
Downsides

Knowing the type and price of the services

Having a guarantee that the services will be performed

Getting a set of guidelines and instructions in case of potential disputes

Experiencing extra charges for drawing up a legally binding contract

Making service cancellation much more complicated
Crucial Aspects of an HVAC Installation Contract
A good HVAC agreement should cover the following elements:
Performance guarantee

—Always ask the installer to provide a performance guarantee. They should define the optimal performance of the HVAC system—including the uniformity of the temperature—and specify what happens if the system fails to perform

Warranty of the installer

—The company should give you a warranty that covers a free repair due to poor workmanship, problems with the equipment, or any performance failure. Installer's warranty usually lasts one year 

Payment terms

—Choose the most flexible and convenient option when it comes to the payment schedule. You can negotiate these terms with the HVAC service provider. It is also recommended to withhold all the payments until the work is complete to motivate the contractor to finish the job faster

Insurance coverage

—Check whether the company provides insurance and compensation coverage for their contractors to avoid being liable in case they get injured. You should also confirm whether the company has liability insurance to ensure you will be covered in case something unexpected happens

Additional work specifications

—Define the contractors' responsibilities clearly, including the smaller tasks, such as:

Providing electrical supply and equipment support

Securing required permits

Patching holes

Painting

Clearing out the trash

Removing old equipement
How Much Does an HVAC Installation Contract Cost?
Hiring legal assistance for writing an HVAC agreement can cost between $300 and $500, depending on the complexity of the contract.
Luckily, having an attorney is not a necessity—you can draw up an HVAC installation contract by using a template.
How To Write an HVAC Installation Contract on Your Own
When drafting an HVAC service contract, pay attention to the following sections:
Personal details

—Legal names of the client and the company, addresses, and roles in the transaction

Service description

—Detailed description of the services that the contractor will provide

Payment information

—Total cost of the project, payment method, and payment schedule

Termination clause

—Predetermined terms and conditions of the contract termination

Indemnification provision

—Strategies for resolving potential disputes and determining who pays for the damages if necessary

Service modifications

—Terms regarding the changes in the contract

Governance

—Laws that will be in effect if a dispute occurs

Date and signatures

—Signatures of both parties to make the document legally binding
Creating documents is not an easy task. If you don't know how to write a contract, and see how it's done the easy way!
Drawing Up Legal Documents Has Never Been as Easy as With DoNotPay
Wondering how to write a legally valid contract without losing so much money? Wonder no more—we have the answer! Use our Standardized Legal Documents tool to draft various legal documents in a heartbeat.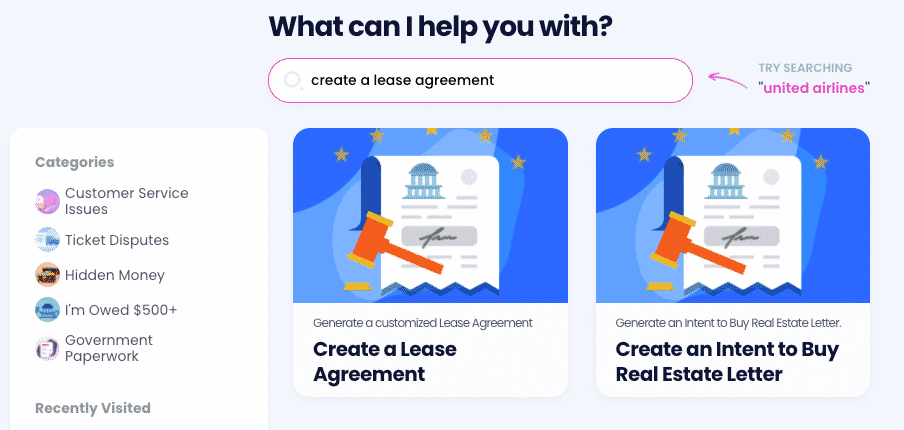 Check out some of the documents we can generate for you:
Quitclaim deed

General affidavit

Estoppel certificate

Intent to purchase real estate

Child care authorization form

General business contract

Promissory note
You can create any of these legal documents in three steps:
from a web browser

Tell us what legal document you need

Answer our chatbot's questions regarding the document you need
Once you complete our questionnaire, we will make a rock-solid legal document for you! 
DoNotPay Helps You Fight for Your Consumer Rights
Did you know that companies often reject first-time warranty claims?
You're probably familiar with how complicated the process of appealing parking tickets is. Trying to get a refund for an unsatisfactory purchase or a delayed flight has likely made you mad at least once.
Not anymore! DoNotPay makes all these issues go away in less than five minutes, and that is not all we can do for you!
You don't have to deal with customer service reps of any company on your own anymore—we do it all for you!
DoNotPay bypasses any bureaucratic obstacle for you—scheduling DMV appointments, delaying bill payments, getting in touch with your incarcerated loved ones, filing lawsuits in small claims courts, and claiming insurance policies.
Keep Your Data Safe With DoNotPay
Do you love free trials but are reluctant to disclose your credit card details, phone number, or email address?
Our app lets you try out different subscriptions in a risk-free way!
Use DoNotPay's Burner Phone feature to sign up for services without providing your phone number! We'll make sure robocall scammers and text spammers cannot harass you!
With our virtual credit card, you can sign up for any free trial and not worry about canceling it! Since the card is not linked to your bank account, no one will be able to charge you once the trial expires. An additional perk is that the card comes with a free email address, which means no spam emails from the company.