Don't Rely Only on a Husband and Wife LLC Operating Agreement Template
Creating legal documents can be a real hassle. Do you need to visit a law office every time you need a new contract for your business operations?
Can you trust a husband and wife LLC operating agreement template to draw up your LLC contract?
While templates are useful, DoNotPay offers other options you can consider and even use together to generate the necessary documentation.
Should You Make a Husband and Wife LLC Operating Agreement?
Limited liability companies (LLCs) need to have operating agreements in some states, including:
Maine

New York

Nebraska

Delaware
Here are some common circumstances when a spouse should become a member of the LLC—when the spouse:
Receives payment for his or her contribution

Interacts with the public on behalf of the LLC

Is regularly involved with the business operations
A spouse should be a member of the company when he or she regularly works in it since LLCs are established to protect their members from personal liabilities (e.g., for business debts).
You should keep in mind that:
All current members must agree to the new member's addition before amending the operating agreement

The spouse should have a certain percentage of the voting and profit rights to avoid possible complications with the Internal Revenue Service (IRS)
What Is the Purpose of a Husband and Wife LLC Operating Agreement?
The purpose of a husband and wife LLC operating agreement is to create a contract that outlines the management plan and terms if:
The company goes into liquidation

A spouse has to buy the other one out
Husband and Wife LLC Operating Agreement Template
To have a better understanding of what a husband and wife LLC operating agreement should include, here is an example:
Agreement Parts

Extra Information

Parties

In this case, contractual parties and members of the LLC are a husband and wife

Name

Here is where the name of the LLC is stated

Articles of organization

You should state here the name of the state institution where you filed the articles of your organization

Duration

Enter here the duration of the LLC, e.g., until dissolved

Principal office

You:

Should state here the initial address of the principal office

Can add that the members might relocate at some time

Registered office and registered agent

This part should include:

Company's registered office address

Name of the registered agent at the given address

Purposes and powers

You should explain here:

Why the LLC was set up, e.g., to conduct any lawful business that an LLC may engage in under the Act

What powers the company has, e.g., the power to do anything necessary

Title to assets

This part explains that the title to assets of the LLC are held in the name of the company

Members

You should list here all company's members':

Names

Addresses

Contribution amounts

Ownership interest, i.e., a specific percentage
How To Create a Husband and Wife LLC Operating Agreement
To make a husband and wife LLC operating agreement, you can:
Consult a lawyer

Do it yourself using online templates

Use DoNotPay's efficient

Standardized Legal Documents

feature
Do You Need To Visit a Lawyer?
A lawyer can create all legal documents and contracts for your business. While it might be a sound decision, you can end up paying a hefty sum for this service.
To reduce part of the costs, you can create the agreement yourself using the options listed below and then ask a lawyer to review the final version.
Is Using Husband and Wife LLC Operating Agreement Templates a Good Idea?
You can google available contract templates by typing the name of the document you need. While some platforms may offer useful and free templates you can use as the starting point and adapt to your project, you should keep in mind that a few websites might bill you for accessing, downloading, and editing their templates.
How Can DoNotPay Help Me?
DoNotPay keeps designing new user-friendly tools to help deal with taxing administrative procedures. One of our features—Standardized Legal Documents—can assist you in the creation of numerous documentation and legal paperwork you need to secure your personal or professional interests.
Not only do we have your interests at heart, but we also try to contribute to the reduction of your operational costs by offering you a way to:
Draw up a limitless number of contracts for the same price—

Combine and use our different products for the price of a single monthly subscription—some of the features can be used together to save your time, money, and energy
Get a Husband and Wife LLC Operating Agreement via DoNotPay
Our AI-powered app can simplify and speed up a lot of your everyday tasks. We are striving to create helpful solutions to your bureaucratic issues.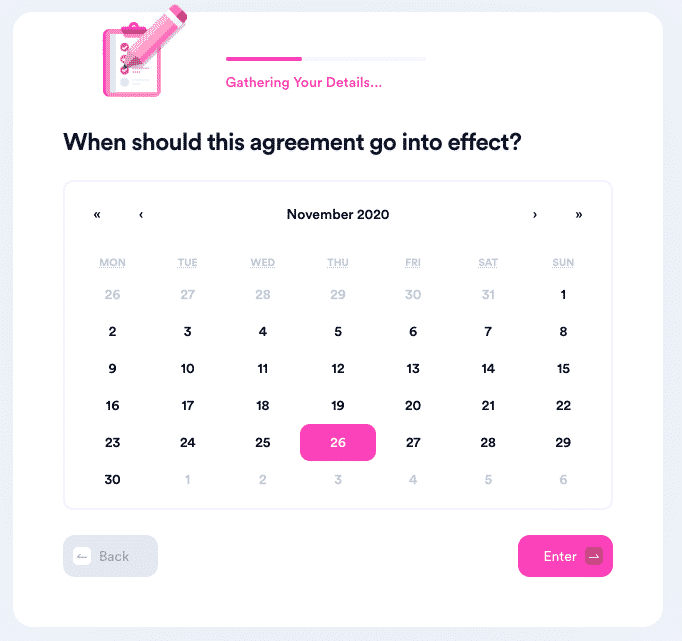 To create a husband and wife LLC operating agreement, and take these short steps:
Select the

Standardized Legal Documents

feature

Type in

Operating Agreement

Provide answers to a few basic questions our chatbot will ask
Upon these three steps, you will receive a husband and wife LLC operating agreement tailored to your specific circumstances.
DoNotPay Offers Help With a Variety of Legal Documents
Here are some other legal documents we can help you create smoothly:
Estoppel certificate

General affidavit

Quitclaim deed

Promissory note

General business contract

Intent to purchase real estate
DoNotPay Helps You Deal With Various Problems Worry-Free
DoNotPay has developed a wide variety of products you can use to manage numerous tasks.
Do you want to get a refund from a company? Are you wondering whether you can request compensation from airlines for poor Wi-Fi or canceled flights? Is hiring a lawyer to draw up legal documents too expensive for you? Sign up for DoNotPay and solve your issues in a matter of minutes!
Use our AI-powered app to get rid of robocalls, spam emails, and text messages.
Need help locating and canceling all your unused memberships? DoNotPay has a product for that too!
Prepare for your driving test using our Government Tests Prep feature and schedule a meeting with the DMV to take the test through the same app. We can even help you claim your car insurance or warranty and contest parking tickets in a flash!
Learn How To Protect Your Privacy With DoNotPay
Protecting your personal info online can be challenging but not impossible. The next time you come across a service that requires phone verification, make sure to use our Burner Phone product and have us generate a fake phone number you can use.
Our virtual credit card can help you sign up for free trials without having to disclose your name, email address, or credit card info.
Are you thinking about connecting with an inmate pen pal? Make sure to keep your real address a secret by relying on DoNotPay. Besides helping you send letters to inmates, we can also receive mail from the prison on your behalf, scan each letter, and send it to your email address.