How to Get a Hunting License In Minutes
Hunting is a popular sport in many areas of the country. Some people use rifles while others use bows to hunt. Unfortunately, you can't pack your gear and go hunting without any planning or forethought.
In most states and counties, you're required to secure a hunting license. There might even be a hunting season that's defined by the type of game you can hunt or the weapons you can use while hunting.
You might need a state and county hunting license depending on where you want to hunt, and it can be challenging to run down the requirements and arrange all the documentation you need. DoNotPay can make the process easier.
Who Is Required to Get a Hunting License? 
Eligibility for a hunting license depends on your location. In some states, there are age requirements to receive a hunting license, such as being at least 18 or 21 years old. You might want to take a hunting vacation to another state, but you need to check to make sure the hunting license doesn't require residency in that state.
Another thing to consider is a felony conviction. In most states, a convicted felon can't own a gun, which doesn't necessarily preclude you from hunting. However, some states won't issue a felon a hunting license.
Various Types of Hunting Licenses?
There are a variety of hunting licenses in most states, and it depends on your needs. Some of the most common include:
| | |
| --- | --- |
| General Hunting License | This type of license allows you to hunt small game, such as squirrels, rabbits, and small birds, during the traditional hunting season. |
| Big Game Hunting License | If you want to hunt big games, including deer and elk, you might need a special license. |
| Length of the Hunt | Some states allow you to procure a license for a single day or week instead of the entire hunting season. |
Getting to Know Hunting License Costs
The cost of the hunting license will vary by state and the type of license you choose. It can range anywhere from a few dollars to a few hundred dollars for a hunting license. Some states decide the cost of a license in relation to the need for managing the wildlife in their area.
How Much Will You Be Fined for Hunting Without a License? 
It's essential that you procure a hunting license, even when hunting on private land because most states will fine you for hunting without a license. The exact amount of the fine varies depending on the state and the number of previous offenses, but it will definitely be higher than the cost of securing a hunting license in the first place.
How to Get a Hunting License on Your Own
When you want to get a hunting license on your own, you may find the process cumbersome. You'll need to contact the Fishing and Game Department in your state to determine the steps you need to take. In some states, you're required to take a hunter's safety course before you can apply. You'll also need to submit documentation, such as a personal ID.
Is There an Easier Way to Get an Official Hunting License?
Whether you enjoy hunting as a sport or look forward to stocking your freezer with fresh meat, you need a hunting license before you set out to bow hunt or use a rifle. The requirements and protocol for obtaining a hunting license vary by state and county, making it challenging to know the steps you need to take. The DoNotPay app can make it easy to get the license you need.
Here's how you can use DoNotPay to get your hunting license:
1. Search "hunting license" on DoNotPay and select the state you would like a hunting license for.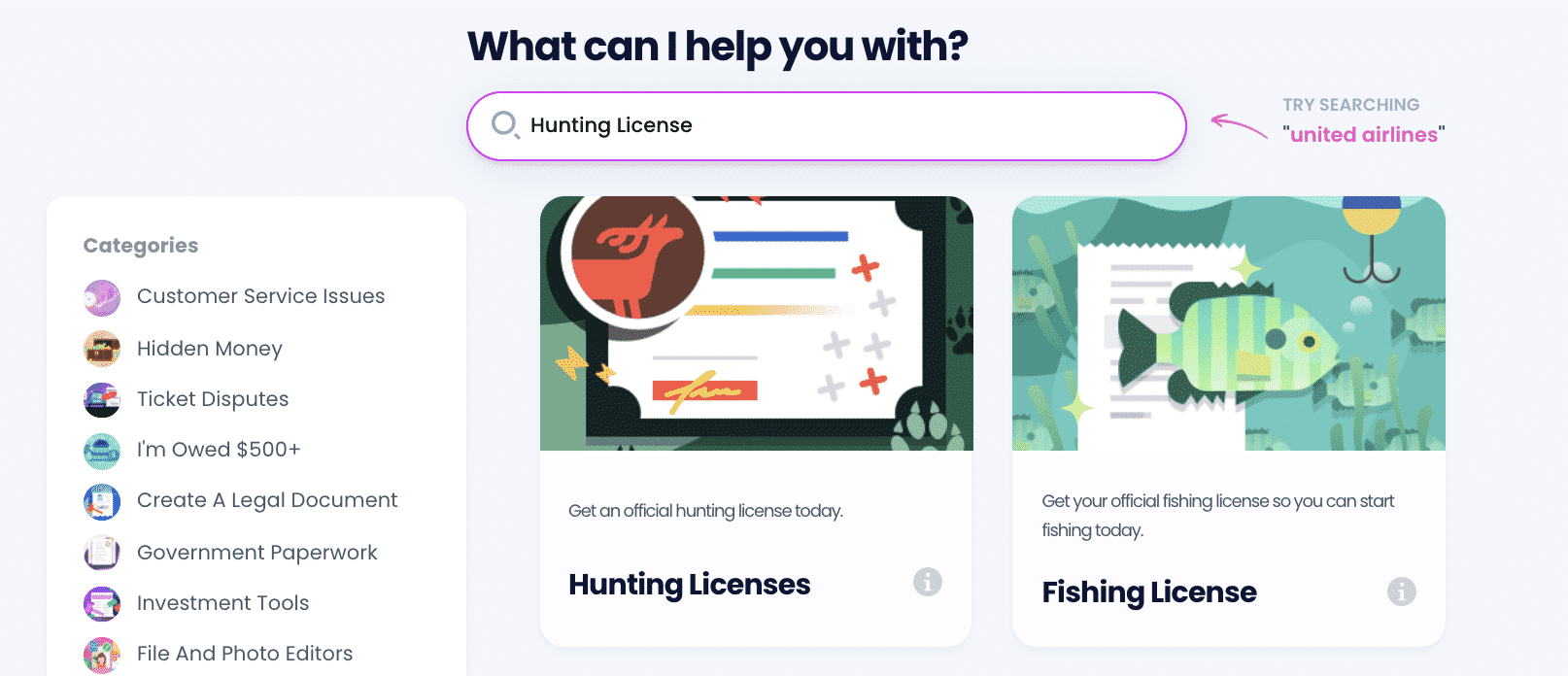 2. Indicate whether you are a resident or non-resident, and choose the type of license you want. For example, an annual or one-time pass, big game or small game license, bear tag, etc.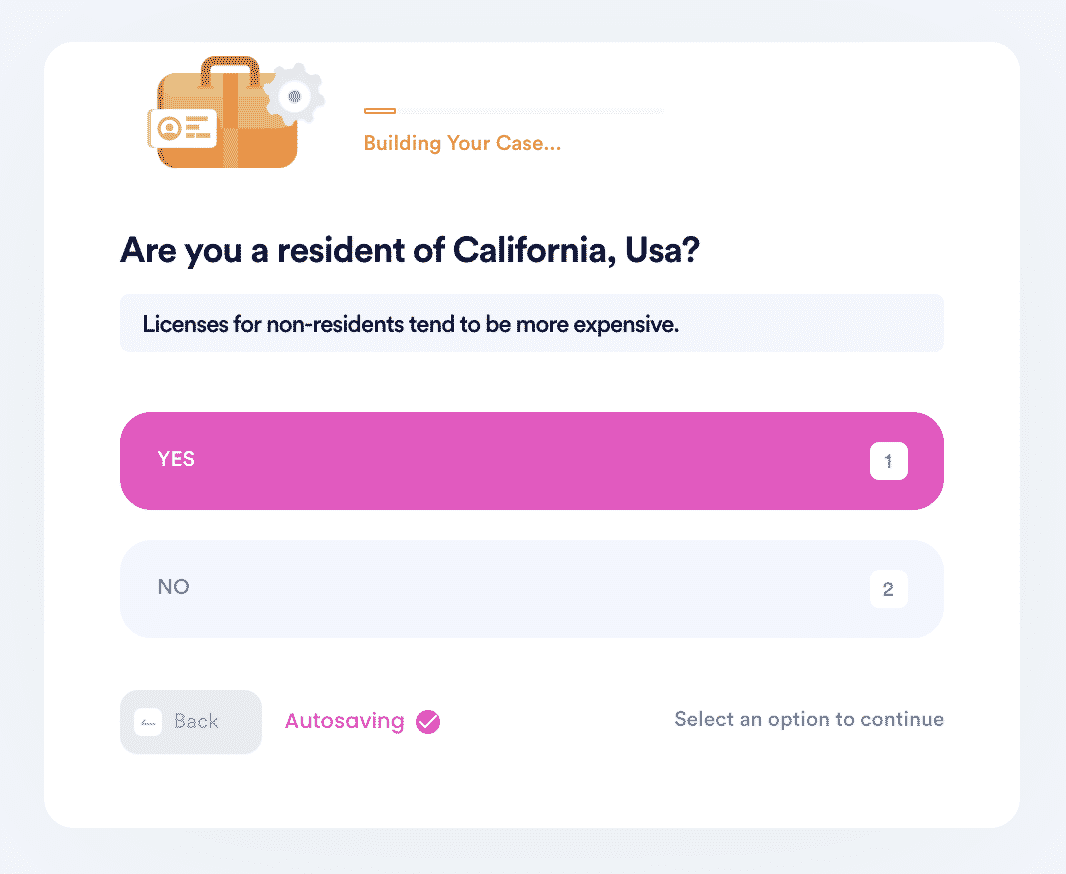 3. Provide your contact information, a copy of your government-issued ID, and pay the fee required by the state.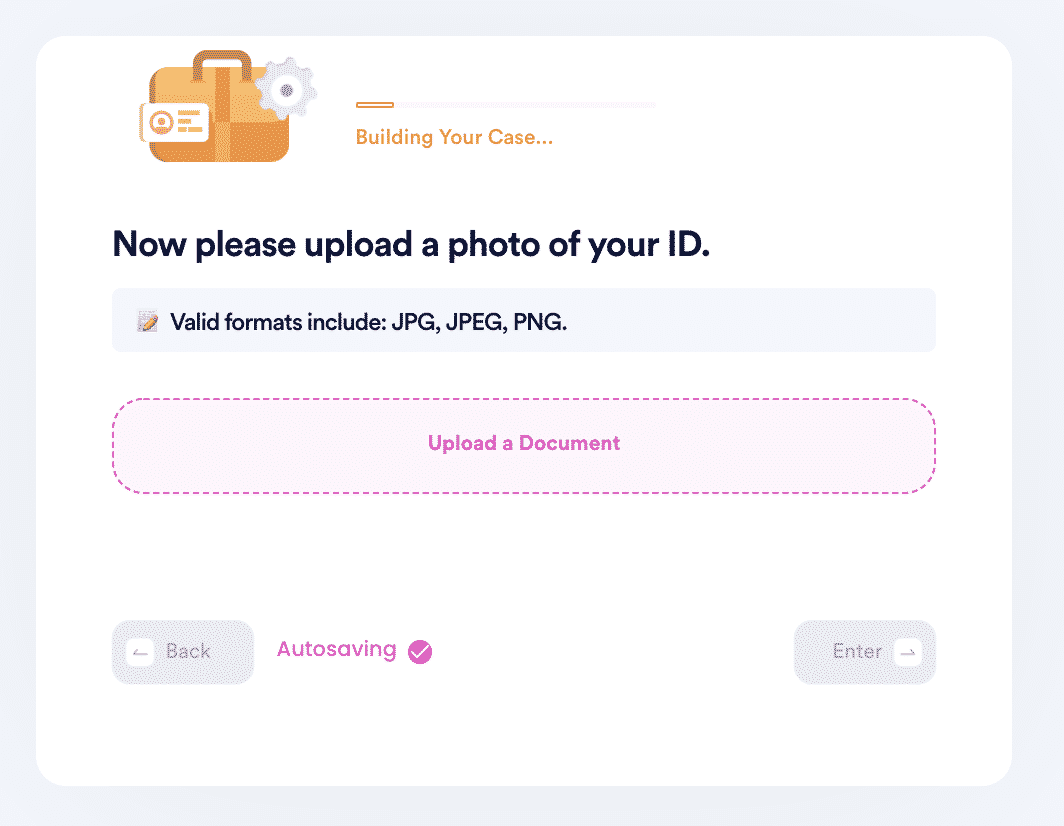 And that's it! DoNotPay will get the hunting license on your behalf, which will be valid immediately. Just download the file and print it as a temporary license, while a physical copy gets processed and sent to you by mail.
​​How Can We Help You in Getting a Hunting License Smoothly
When you're ready to get your hunting license, it's always a good idea to use DoNotPay. Here are three reasons to use the app:
DoNotPay is efficient. We have mastered all processes across the entire country so rest assured we can get you your much-needed license the fastest way possible.
We simplify the application process so there's no need for you to jump through hoops just to get a hunting license.
DoNotPay can guarantee results 100%. You can depend on this robot lawyer for anything and everything under the sun.
We Works Across Groups Countrywide With a Single Click
After you've used DoNotPay to get your hunting license, you'll have friends and family members asking how you managed it so easily. The DoNotPay app can help answer most questions that anyone has about getting a hunting license in almost every state and county. Here are some common ways the app can help:
What Other Tasks Can We Handle for You?
When you experience how DoNotPay has helped you get your hunting license so easily, we're sure you'll come back for more. Here are some other things that you can accomplish with the aid of DoNotPay:
Apply for your hunting license today with the help of DoNotPay!